one pan chicken with pineapple and veggies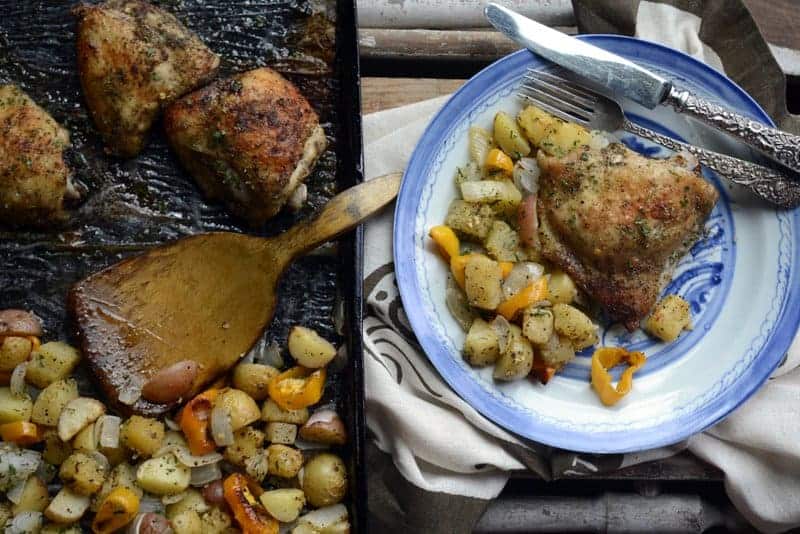 Thanks to Dole Sunshine for partnering with me for this post! I am the creator of this recipe and for the description and information that follows. For a full disclosure, click here!
Honestly, how can six little ingredients (not counting the salt and pepper) bring sooooooooooooooo much flavor and 'eye candy' appeal! I mean this is a dinner that you'll have little prep, minimal clean up and exploding flavors! Yes, this one pan chicken with pineapple and veggies is something that will be ready in no time, and even if it's 7:30 or 8 pm at night, you'll be able to prepare, cook, eat, clean up and still be in bed by 10!
Fruit with meat makes the meat even more flavorful. Very common in the Middle East, fruit and meat just go together. It can be dried fruits or fresh fruits. And, in this case, the pineapple tidbits in 100% natural juice are about as close to fresh as if you sliced up the pineapple yourself. When they absorb the spice mixture that you think is just for the savory vegetables, you get a whole new sense of what delicious is!
Sure hope you try this recipe! It's so simple, it's crazy. I'm thinking you could do it with pork chops, too, so go head and try it! xoxo ~ally
a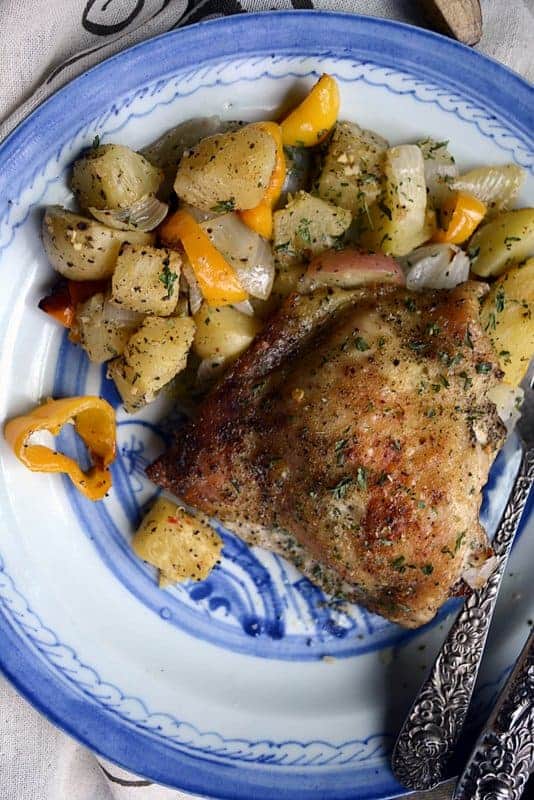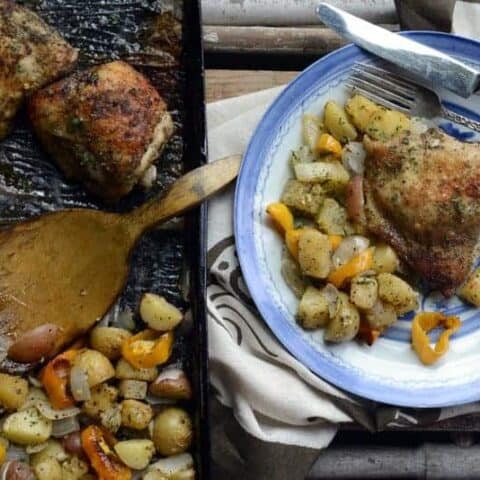 one pan chicken with pineapple and veggies
Yield: Serves 2 really hungry and 3 normal eaters!
Ingredients
Preheat oven to 400
4 organic chicken thighs (about 2 to 2 ½ pounds), skin on, bone in
4 tsp. McCormick's Asian Perfect Pinch, divided
2 tsp. sea salt, divided
2 tsp. coarse ground pepper, divided
2 cups baby potatoes, cut in quarters
2 cups sweet onions, cut in bite size pieces
8-10 mini peppers, cut in about ½" rounds, multi-color, stems cut off
3 cups Dole Sunshine Pineapple Chunks, drained well, patted dry somewhat
Instructions
Line a large cookie sheet with parchment paper.
Rinse and pat dry the chicken with paper towels. Put in a large mixing bowl. Liberally coat the chicken with cooking spray (canola or olive oil).
In a small bowl, combine the Asian Perfect Pinch spice, salt and pepper. Sprinkle half of this mixture on the chicken. Massage for a few minutes into the meat.
Place the meat on about one-third of the cookie sheet. Give the chicken pieces another coating of cooking spray.
In another large mixing bowl, combine the potatoes, onions, peppers and pineapple chunks. Liberally coat them with cooking spray. Toss and blend.
Sprinkle on the remaining spice/salt/pepper mixture and toss and coat the veggies and pineapples. Give pineapples/veggies another coating of cooking spray.
Spread them on the remaining part of the cookie sheet. Cover with double foil tucking around the sides of the pan.
Roast in a preheated 400 oven 40 minutes. Remove the foil, return to the oven and cook another about 20 to 25 minutes to brown the chicken and veggies. Remove and recover with the foil. Let the chicken rest about five minutes before serving.
Notes
Garnish with dried or fresh parsley. Looks real pretty!

You can turn on the broiler for a couple of minutes to brown if you want more golden brown and crisp on the chicken and veggies/pineapples.

Internal temperature of chicken should be 165.