one skillet easy turkey piccata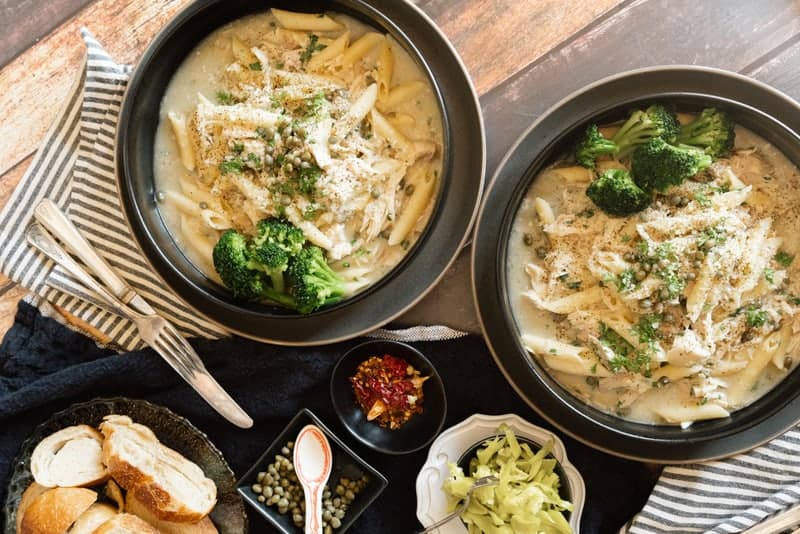 My one skillet easy turkey piccata is one of the best ways to transform your holiday turkey leftovers into something exquisitely gourmet!
One Skillet Meals
Who doesn't love easy one skillet meals. I mean you can make this one skillet turkey piccata in no time at all!
Skillet Recipes
Skillet recipes are super popular. Working moms, busy dads, empty nesters and most everyone loves something that totally easy, delicious and only one skillet for clean up.
Cheap and Easy Stove Top Recipes
Plus, who doesn't love cheap and easy stop top recipes. I love cooking on my stove top because it just is so retro almost. There's so much focus on kitchen appliances for cooking, multi-cooker, slow cooker, crock pot, InstaPot, that we forget the beauty and charm of the stove top. For me, it brings back the most magnificent memories of my amazing Mom in our postage stamp size kitchen cooking on the old Westinghouse stove and my fiesty piss n' vinegar Grandma Cook who had every 'eye' filled with a pot or pan for daily dinner.
Leftover Turkey Recipes
During the holidays, it seems that we're all looking for really tasty easy leftover turkey recipes. And, this recipe with pasta will make you rethink having turkey just during the holidays. It's absolutely divine!
Turkey Leftovers
Leftover turkey is perfect for soup. Most folks will make a big pot of turkey veggie soup. But, if you're looking for something more 'elevated' in terms of presentation, well, then this is your ticket!
Best Leftover Turkey Recipe
Honestly, I can confidently say that is is one of the best leftover turkey recipes I've created. I had my reservations. Not sure of the flavors, but it's a winner. And, if you have any leftover turkey drippings, broth, stock, then by all means use it in this recipe.
Most Popular Leftover Turkey Recipes
The most popular leftover turkey recipes are things like making sandwiches and soup. But, other popular ideas include casseroles, turkey salad (similar to chicken salad), and turkey chunky stew. According to the USDA, the five most popular ways to use leftover turkey are:
Tasty Turkey Leftover Recipes
To make really tasty turkey leftover recipes, you're going to need to add spices, flavorings, herbs and sauces. Standing alone turkey, especially white meat, can be pretty bland. But with some creativity like this piccata recipe, your turkey will be showcased!
Piccata
Have you had chicken or veal piccata? It's a simply fabulous dish made with just a few ingredients and super delicious. Wiki describes piccata as: "…meat, usually veal or chicken, that is sliced, dredged in flour, browned, then served in a sauce containing lemon juice, butter, and capers."
What is Turkey Piccata
Now my turkey piccata has some of the features of chicken or veal piccata, but not all of them. For instance, in preparing veal or turkey piccata, you use whole thin slices of the meat and you dredge it in flour and brown. We're not doing that. We're using turkey that's already cooked and we're chopping it up.
Chicken Piccata Recipe
Besides traditional chicken piccata, have you tried my chicken piccata soup! OMG! It's one of my most pinned recipes!
Easy Chicken Piccata
This easy chicken piccata soup if full of noodles or pasta. You make your choice. I love to use thick wide egg noodles, but you could certainly use other types of small pasta that lends itself well to being spooned as a soup.
Piccata Sauce for Chicken
The piccata sauce for chicken is very similar to this piccata sauce for the turkey. It's a creamy rich gravy that's punctuated with grated parmesan and capers, which add a subtle 'briny' flavor.
Piccata Pasta
Besides my piccata pasta, you might want to take a gander at some of these other easy tasty pasta recipes:
Bowls for Serving
One of my most ardent new passions for serving dishes are bowls! And, different bowls. They're so useful for almost any kind of dinner, lunch or breakfast recipe. You've probably seen them in my latest photos. Here are some of my favorites from Amazon!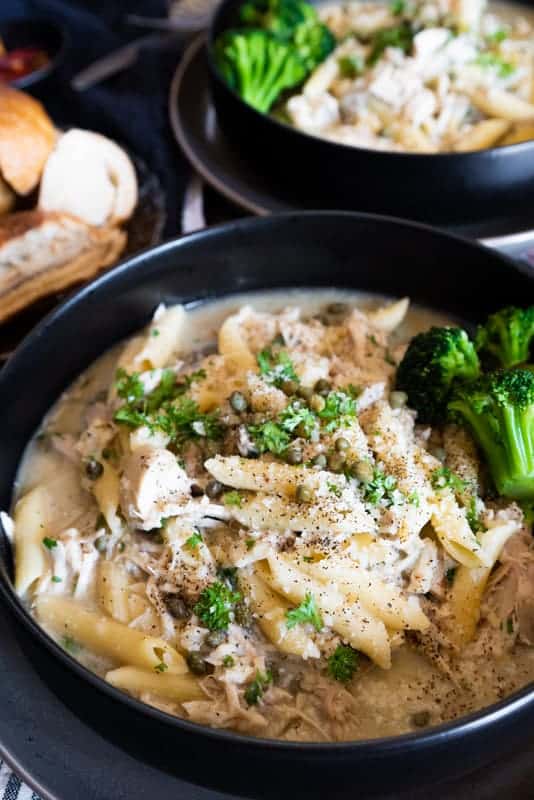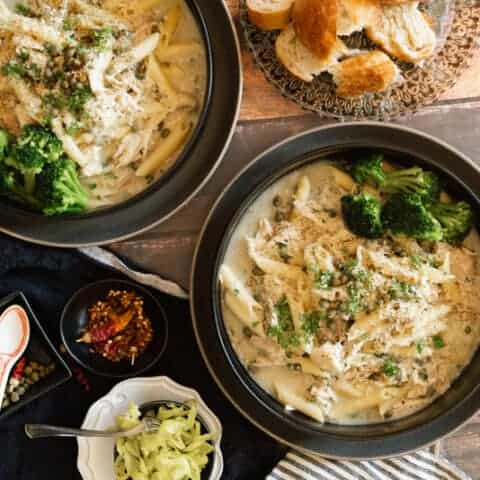 one skillet easy turkey piccata
Yield:
About 4 to 6 folks
My one skillet easy turkey piccata is one of the best ways to transform your holiday turkey leftovers into something exquisitely gourmet!
Ingredients
6 Tbl. butter, unsalted
¼ cup flour, all-purpose
3 cups chicken stock
1 Tbl. nutritional yeast
1 ½ tsp. onion powder
1 ½ tsp. garlic granules
¼ tsp. red chili flakes
1 small lemon, juice and zest
¼ cup capers, drained
½ cup grated parmesan, divided
¼ cup fresh parsley, chopped, packed
5-6 cup leftover turkey meat, chopped, packed
4-5 cups cooked penne pasta, cooked according to package directions
Instructions
In a large skillet over medium heat, melt the butter. Whisk in the flour into a paste.

Slowly add in the chicken stock then the nutritional yeast, onion powder, garlic granules and red chili flakes whisking continually to make into a creamy sauce. Salt and pepper to taste. Add in the lemon juice, zest, capers, one-fourth cup parmesan and parsley. Blend well.

Add the chopped turkey and blend.

Serve over pasta of your choice with extra parmesan.
Notes
You can certainly substitute any turkey broth or stock that you have for the chicken stock!
If you choose a spaghetti pasta or a variation thereof, like linguine, I recommend not mixing in the sauce with the turkey. Just serve a heaping scoop of this turkey piccata sauce over the cooked noodles.
Save some of your salted pasta water for using in the dish to thin. As the noodles absorb the sauce, your pasta can get thick and need loosening. The pasta water is perfect for this!