simple one-skillet oven chicken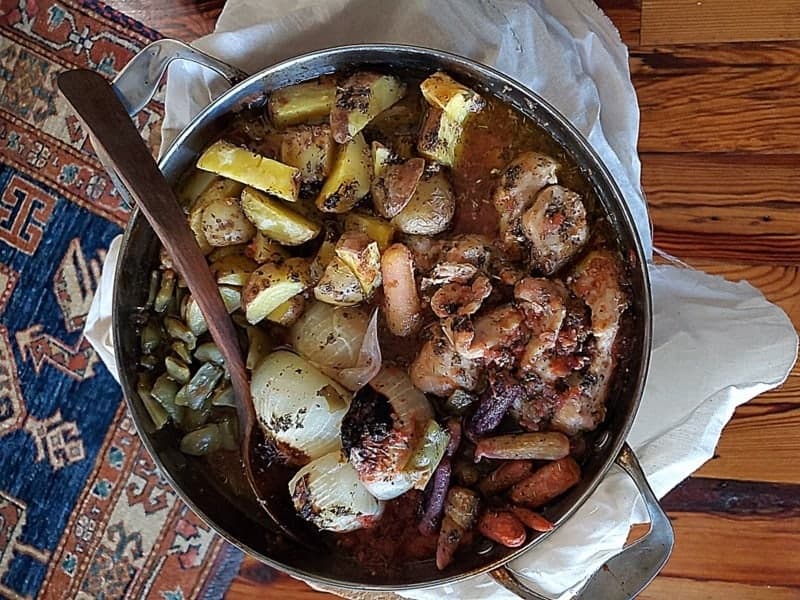 Easy meals are my specialty. And, this simple one skillet oven chicken is precisely that!
I know everyone is crazed with their multi-cooker, InstaPots and slow cookers/crock pots. But, for me, there's just something about putting one skillet of yumminess like this in the oven, letting it cook the old fashioned way, like Grandma used to do. And, then pulling out the one skillet chicken and serving it right from the vessel in which it was cooked!
You'll see that the seasonings for this dish are simple, salt, pepper and Italian seasoning mixture. And, with the addition of the nutritional yeast you're boosting flavor as well as healthiness. Put all this together before you leave for work, refrigerate and when you get home, pop it in the oven. And, if you have smart appliances, hey, you can preheat your oven as you're on your drive home!
Oh, I have so many wonderful, easy and healthy chicken recipes. Remember in some of then you can swap out chicken say for pork. Here are some winners you'll love! xox ~ally
Harrisa Chicken and Vegetables
Pineapple Enchilada Slow Cooker Chicken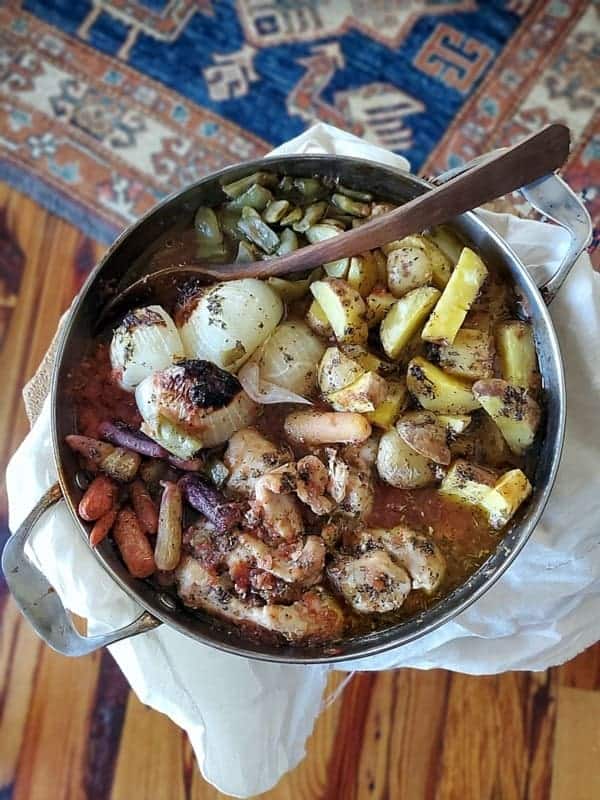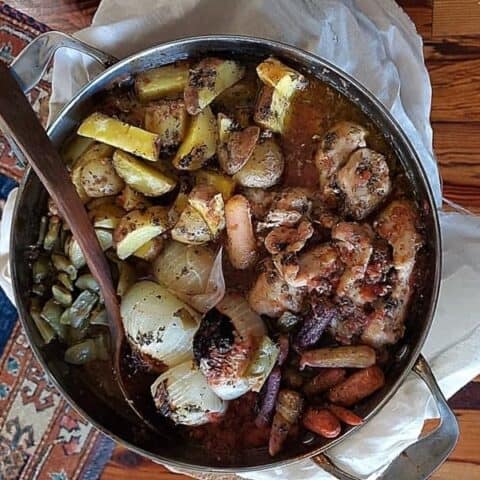 simple one-skillet oven chicken
Ingredients
Preheat oven to 400
2 cans (14.5 oz.) diced tomatoes
2 tsp. Italian seasoning mixture, divided
1 ½ tsp. sea salt, divided
1 tsp. pepper, divided
1 Tbl. Braggs Nutritional Yeast
1 ½ to 2 lbs. chicken pieces, your choice, boneless skinless or bone in and skinless
6-8 cups vegetables, onions, carrots, potatoes, zucchini, brussels sprouts (sliced), green beans (drained/canned or fresh)
¼ cup extra virgin olive oil, divided
Instructions
Put two tablespoons of olive oil in a about a 12" skillet (with lid). Add the canned tomatoes and blend in one teaspoon of Italian seasoning, one-half teaspoon of salt and pepper, and half of the nutritional yeast.
Place the chicken pieces and veggies in the skillet, each in a separate space. Sprinkle on the remaining Italian seasoning, salt/pepper and nutritional yeast. Drizzle with the remaining olive oil.
Bake in a preheated 400 oven about 60 minutes or until the chicken is 165 degrees. If you want some additional char and browning, then remove the lid, turn the oven to broil, and let the chicken/veggies brown more, usually about 5 minutes (skillet should be at least 10" from broiler).
Remove and let it cool. Time to chow down!