three layer meaty lasagna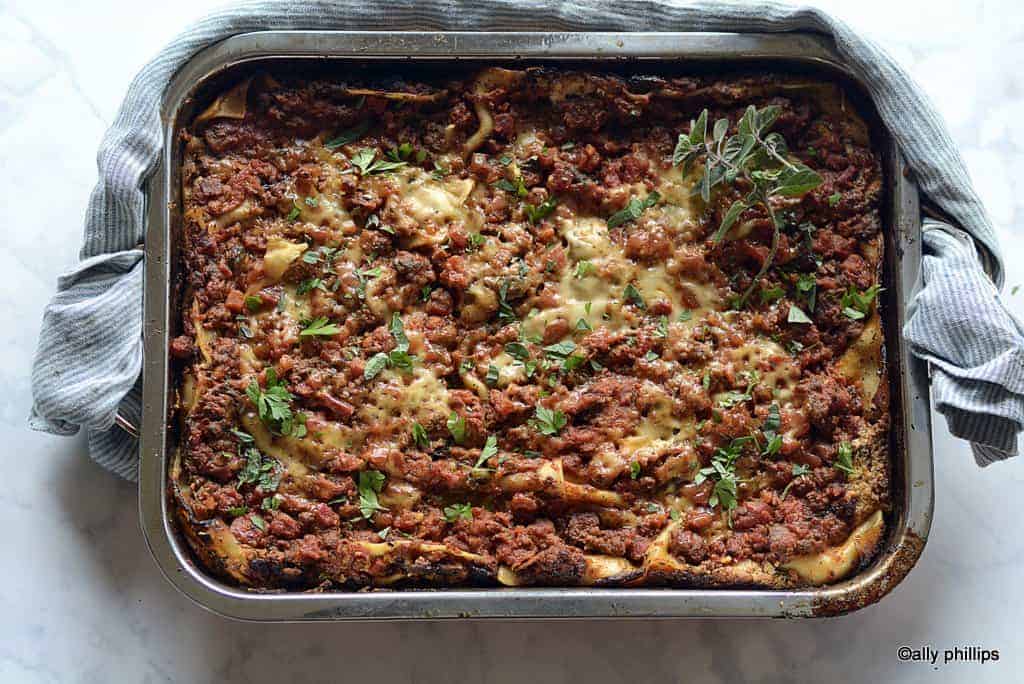 Lasagna
Three layer meaty lasagna is like tasting Tuscany in every bite! Each layer gives your palate Italian flavors that sparkle and delight!
As a consummate entertainer, I love any reason to celebrate and invite friends over for dinner. So, what better than election returns! This recipe regardless of your political persuasion is a hit and brings you all together breaking bread and thanking the Lord for living in the United States of America.
Lasagna Recipes
Lasagna styles. So many options. How many layers. What to put between the layers. Should I use ricotta cheese or cottage cheese. What kind of cheese? All of these options for making lasagna are up to you. But, there's one thing that we love love in our lasagna, and that's a great meaty sauce. There's nothing meatier and more delicious than this three layer super meaty lasagna.
Layering Lasagna
To give the meat even more flavor, we're going to cook it just a while longer with some Italian flavors. Tomatoes, basil, oregano. This mixture will become the basis for a hearty and perfect for your favorite lasagna recipes. After that cooking, it's a matter of layering the lasagna, baking it and then eating.
Simple Lasagna
Made with no cook pasta, it's really easy to put together once you have your meaty sauce. That's a separate recipe unless you want to throw something quickly together. Here's a quick idea. Brown some beef and pork, add Italian seasoning and then adding in some jarred marinara sauce. It's a way to pinch hit a meaty sauce and still be able to make this luscious lasagna. The three layers are each distinct and can stand on their own with pasta. But, in combination and baked together, it's heavenly!
All you need with this lasagna is a salad. Now, not just any salad. Here are a few I'd recommend:
Farm Hub Market Salad
Bleu Cheese Coleslaw
The Harvest Table Peachy Salad
Iceberg Gorgonzola Salad
chorizo beef meatloaf with spicy sweet chili sauce

Oven Ready Lasagna
You decide whether you want to noodles that require boiling before layering or buy the noodles that are no bake, which I used in this recipe. They're just so convenient. And, save yet another cooking step making lasagna even easier on weeknight. Now, you can make this one day and serve the next day. The flavors will simply ooze and mingle becoming even more delicious!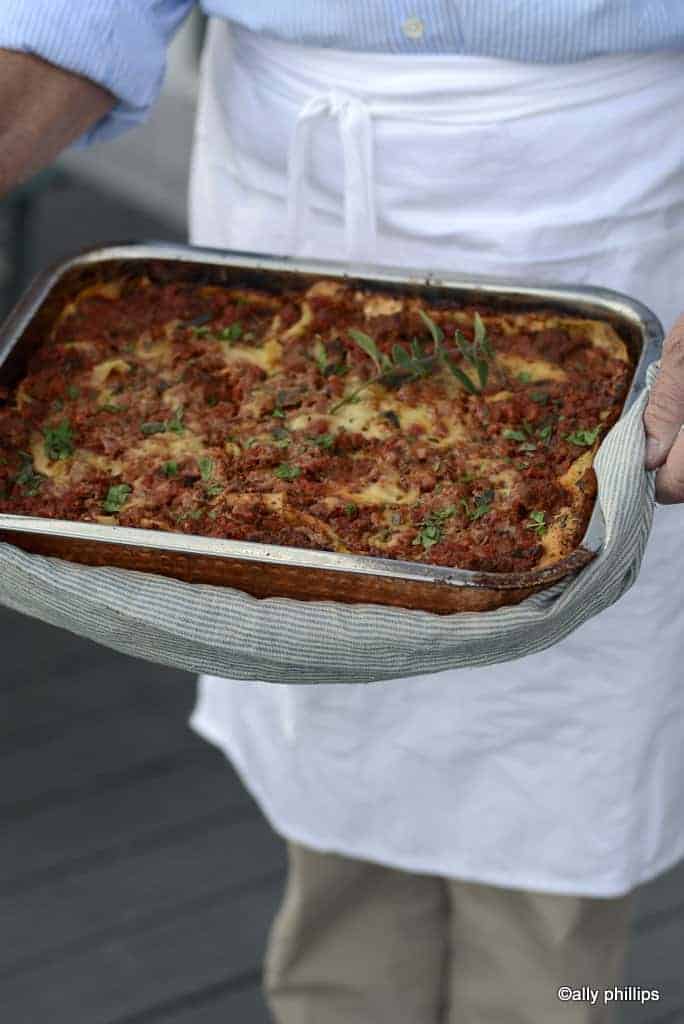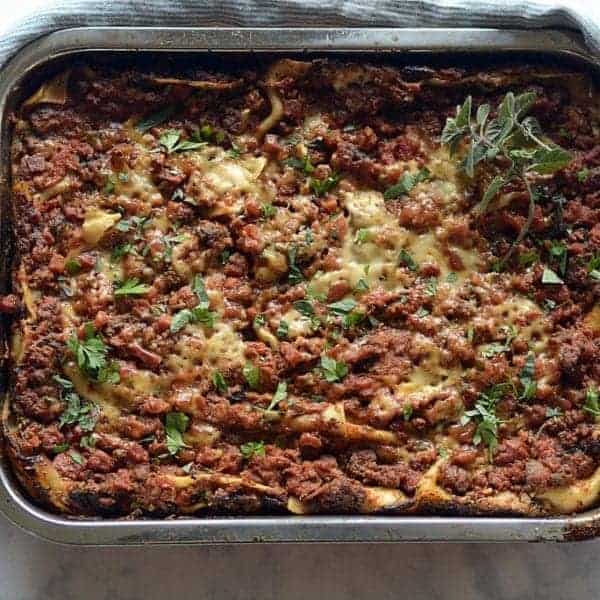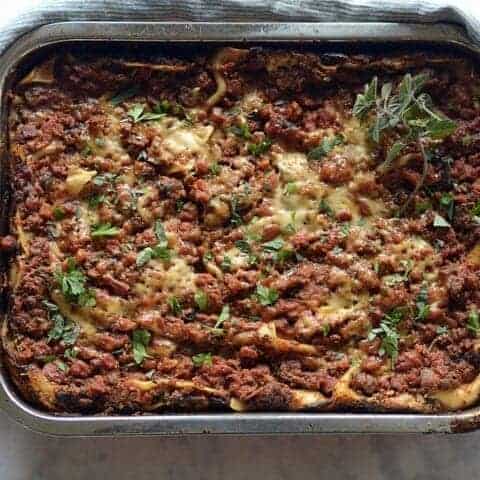 three layer meaty lasagne
Yield: One 11 x 15" lasagne pan

Three layer meaty lasagna is like tasting Tuscany in every bite! Each layer gives your palate Italian flavors that sparkle and delight!
Ingredients
Preheat oven to 350
¼ cup extra virgin olive oil
18 pieces oven ready lasagna, I used Pastifico G. Di Martino brand. Optional brands
1 ½ cups ricotta
1 ½ cups cottage cheese, 4% small curd
¼ cup fresh basil, chopped
1 tsp. sea salt, divided
1 tsp. coarse ground pepper, divided
5-6 small tomatoes, cut into 3-4 slices each
16 ounces fresh mozzarella, torn into bite size pieces
2 tsp. Italian dried seasoning mixture
1 cup parmesan cheese, shaved
Instructions
LAYER 1: Put the olive oil in the pan and coat the bottom and sides. Add six pieces of lasagna. In a medium size mixing bowl, combine the ricotta, cottage cheese, basil, one half teaspoons of salt and pepper. Mix and blend. Drop in dollops on to the lasagna pieces and gently spread out.

LAYER 2: Add six pieces of lasagna atop layer one. Cover with the tomatoes and the remaining salt and pepper. Put the mozzarella pieces on top the tomatoes.

LAYER 3: Add six pieces of lasagna atop the tomatoes/mozzarella. Sprinkle with the Italian seasoning mixture. Top with the Bolognese sauce. Spread out over the lasagna. Top with the parmesan cheese.

Use double foil and tightly cover the pan extremely well. Bake in a preheated 350 oven about 50 to 60 minutes. Turn off heat and let the pan stay in the oven another 30 minutes. Remove and serve.
Notes
This lasagna freezes well. Cut into serving pieces. Wrap tightly and securely and freeze. Keeps about a month.