This recipe has been developed over nearly 30 years.  It won the 'Gallo Family Vineyards' family recipe contest.  Once you try it, you'll know why.  I've had many many many make this recipe, and they have never been disappointed.
I know, it sounds pretty 'impressive' to add the word 'famous' to something.  I mean famous is reserved for names, things, and places like Abe Lincoln, the Grand Canyon, the Titanic, Martin Luther King, Jr., JFK, Clark Gable, Brad Pitt, Lady Gaga, Picasso's artwork, Simon Cowell, Michael Jackson, Michael Jordan, Einstein's Theory of Relativity, Gordon Ramsay…but a recipe…famous…come on, Ally, get real! Bohemian Bolognese.
Well, I'm here to tell you that my bolognese sauce is, indeed, famous…in my house, amongst my friends and family and at my dinner table.  It's in demand.  It's oftentimes duplicated but never really replicated entirely.  It's been 30 years in the making.  And, I've had critics beyond the likes of those I faced on MasterChef Season 2.  Who?  My three sons!!  Pleasing their palates was tough when they were growing up, but making them beg for more is an even more daunting task.  AND, the real coup de gras of the fame of this bolognese is when your grown sons ask  if you can show their wives or special girlfriends how to make the sauce!
Finally, I entered this sauce in Gallo Family Vineyards Recipe contest, and it was the winner!  Our family was featured in the 'centerfold' of the NOV 2011 issue of Taste of Home magazine, and the Gallo family says, "It's tasty traditions like yours that keep us gathering around the table for family toasts to come."
A reminder…this recipe makes a lot!  Freeze in different size containers for using later.  Get creative and use in various ways!  Lasagna, pizza, open-faced sandwiches on crusty Italian bread…whatever!
And, puuuhhhhleeeze, don't let this recipe scare you!  It's really not that daunting, and all the work that goes into it, is well worth it!  It's like at the age of 54, I hiked the Grand Canyon from rim to rim with my husband and another couple complete with heavy backpacks and all our gear and vittles.  I was scared #%(#%(less to cross the bridge over the raging and frightening Colorado River from the North Rim to the South Rim!  With a deep breath and determination, I did (and I don't like heights!)…and, it was worth it!  Same with this recipe…some things are just worth the extra effort.  Lastly,  don't be afraid to add your own special touches to the bolognese like olives (green or black), grilled shrimp, some extra cherry tomatoes…things that just rock your plates!
I've had many people make this recipe, and all have come back with rave reviews (and, no I don't think they're blowing hot air!); however, one of the most special gals who made it is Machelle from Machelle's Cooking Corner~~I'm very humbled and grateful for her sharing of this experience.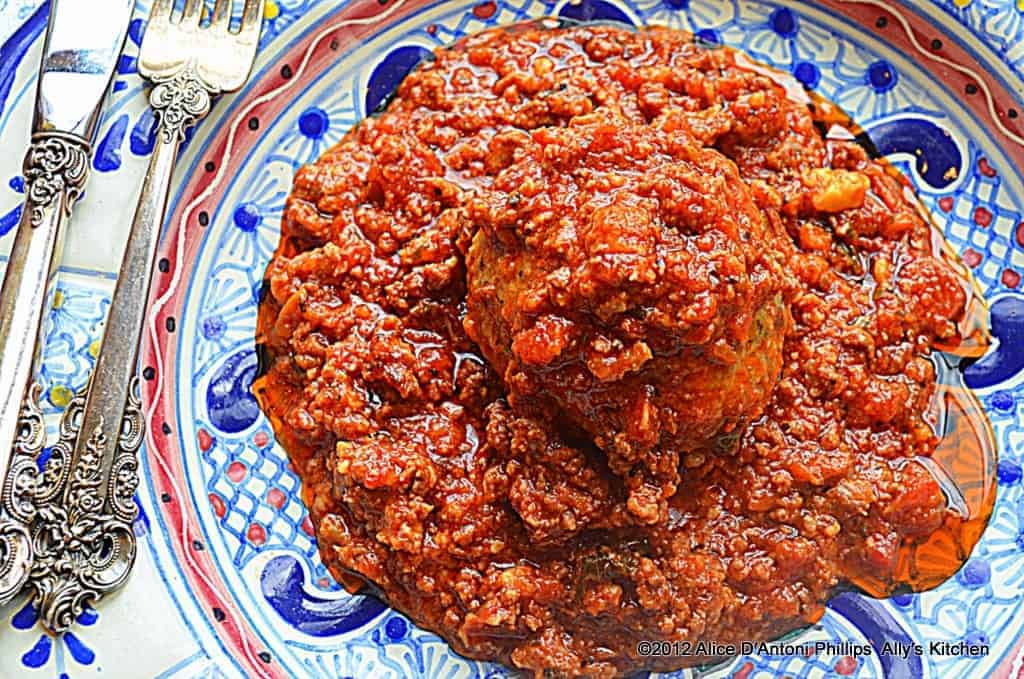 Ingredients
1/3 cup extra-virgin olive oil
5 Tbl. butter, unsalted
2 carrots, finely, diced
1 medium onion, diced (if you prefer shallots, that's fine, too)
2 ribs of celery, finely diced
(NOTE: You can pulse the carrots, onion and celery in a food processor.)
6-8 garlic cloves minced or thinly sliced (your preference)
¾ lb. beef, ground
½ lb. veal, ground
½ lb. pork, ground
½ lb. Italian sausage, ground (remove casings if in sausage form)
1 cup pepperoni, diced
1 (12 oz.) can tomato paste
1 (28 oz.) can Italian crushed tomatoes
1 (15 oz.) can diced tomatoes
1 cup heavy cream or half and half
1 cup red wine
¾ cup fresh herbs, chopped, combination of basil, oregano, Italian flat parsley, thyme
¾ tsp crushed red peppers
Kosher or sea salt and freshly ground black pepper to taste
¾ cup of shredded parmigiano-reggiano
Parmigiano-Reggiano, Parmesan or Asiago for grating/serving
2 cups pasta water, reserved from cooking pasta and for thinning the sauce as it cooks and thickens
Instructions
In a large heavy-bottomed saucepan, heat the olive oil and butter over medium heat.
Add the onions, celery, and garlic and sauté over medium heat until translucent and soft but not browned.
Add the beef, veal, pork, Italian sausage and stir into the vegetables. Turn up heat to high and continue stirring and breaking meat clumps apart. You want the meat to brown.
Turn down heat and add the tomato paste and blend into meat mixture.
Allow this mixture to 'fry' about 5 minutes continually stirring so it doesn't stick. Add crushed tomatoes, diced tomatoes, and pepperoni stirring for about 5 minutes.
Add milk and wine, blend then add crushed red peppers, fresh herbs, and shredded cheese and blend.
Add sea salt and pepper to taste.Simmer over medium-low heat for several hours (2-3) stirring occasionally. Season with salt and pepper to taste.
The salted pasta water can be used if you need more liquid to thin or get all the juices out of the cans.
Notes
Choose your favorite type of pasta. Cook it al dente.
After draining mix all pasta in large pot/pan with about a cup or more of the sauce coating lightly all the pasta.
Serve in a large spacious (preferably white) bowl. Spoon over pasta a heaping amount of fresh Bolognese sauce.
Grate fresh cheese and garnish with whole basil sprig or some of the chopped herb mixture.
https://allyskitchen.com/bohemian-bolognese-2/
©ally's kitchen intellectual property