The Harvest Table Peachy Salad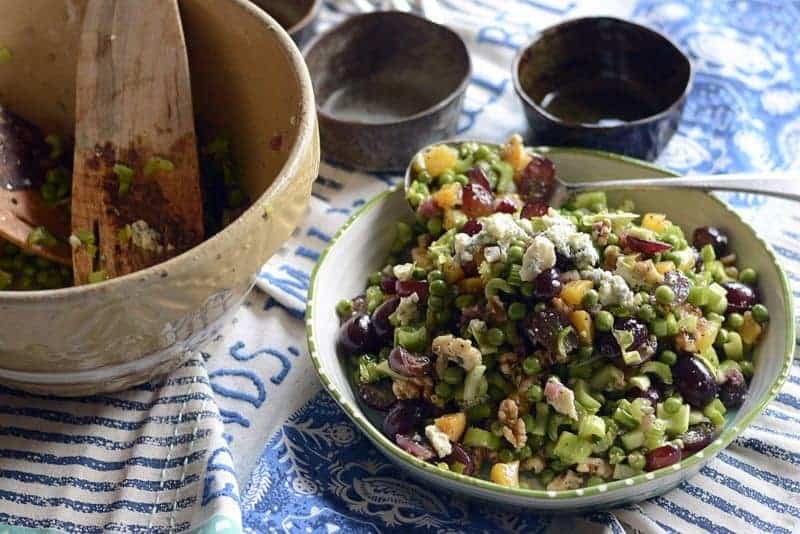 Try The Harvest Table Peachy Salad when you need a refreshing side dish, and it won't disappoint.
The Harvest Table Peachy Salad
Thanks to Dole Sunshine for partnering with me for this post! All the opinions and creativity are solely my own. For a full disclosure, click here!
Peach Salad
I suggest trying a salad peaches for those who love unusual, exciting, and non-standard combinations in dishes. The salad turns out to be very tasty, completely unlike any other salad, light and nutritious. You can serve it for dinner. Give it a try!
Pea Salad Recipe
Salads with peas are tasty, satisfying, and original. They quickly become family classics and "haunt" us all our lives – they prepare for all significant feasts: from birthdays to the New Year. Peas go well with any vegetables, meat, and sausages. Check out my berbere potatoes with leeks & jalapenos, and fall harvest butternut squash & collards soup. OMG! It's a winner and perfect for grilling, picnics and more.
How Do You Make Pea Salad?
This easy Pea Salad is an old fashioned classic recipe served cold and enjoyed all year round. This is a quickly prepared recipe, and is always juicy and crunchy at the same time. It is a healthy lunch, or used as a cold dinner salad for hot summer nights. Excellent for potlucks.
Nice and Easy Salad Recipes
Easy, fresh, and healthy salad recipes that can be on your dinner table in no time! Nice and Easy Salad Recipes and healthy salad recipes make the best of fresh seasonal produce. They're filled with bright flavors and a variety of delicious textures.
Tasty Salads to Make at Home
Try tasty and best ever healthy salads, bursting with nutritious ingredients, delicious flavours and textures, including meat, fish and veggie options. Here's my favorite chocolate cinnamon iced coffee dinner recipes! Big yum!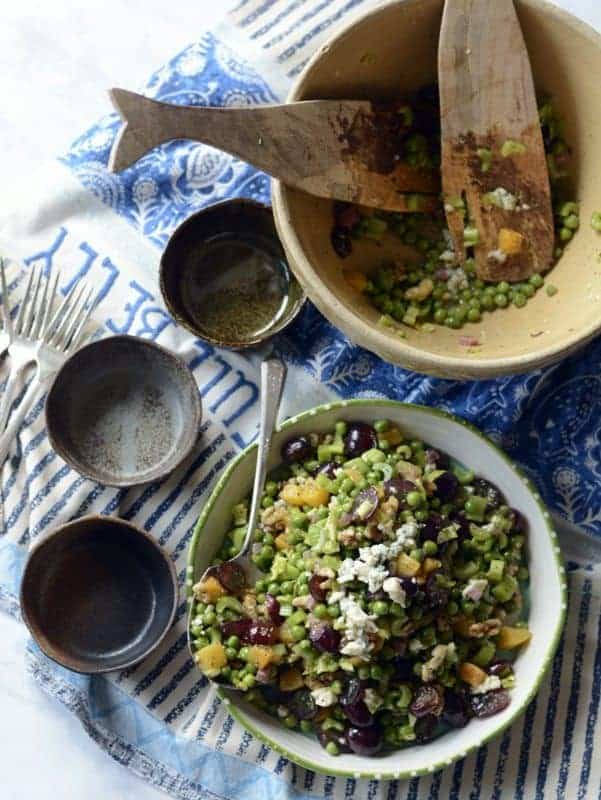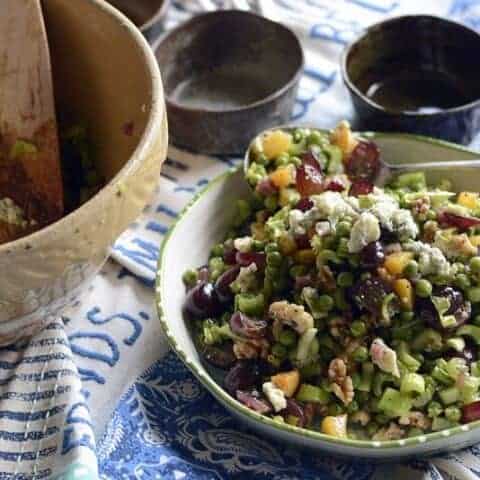 the harvest table peachy salad
Try The Harvest Table Peachy Salad when you need a refreshing side dish, and it won't disappoint.
Ingredients
2 cups petite peas, previously frozen and completely thawed & drained
2 containers Dole Sunshine Fruit Cup Peaches, drained (will be about 1 cup diced peaches)
1 ½ cups celery, slices
½ cup walnuts, chopped
2 cups red seedless grapes, sliced in halves lengthwise
¼ cup aged prosciutto, diced
1 tsp. sea salt
1 tsp. coarse ground pepper
1 ½ tsp. dried Italian seasoning
1 lemon, juice
¼ cup extra virgin olive oil
½ cup gorgonzola cheese crumbles
Instructions
In a large mixing bowl, combine the peas, peaches, celery, walnuts, grapes and prosciutto. Toss with your hands to blend.

Sprinkle on the salt, pepper and Italian seasoning. With your hands (yes, there's love in those fingers and palms), toss and blend. Drizzle on the lemon juice & olive oil. Blend again.

Refrigerate about 30 minutes before adding the gorgonzola and serving.