No doubt I love my multi-cooker which has so many settings that enable me to do many things. But, sometimes I just want to use my oven for some recipes that could be done in that multi-cooker. I simply want the change in cooking technique. So, if you want to use your slow cooker for this recipe, have at it! I'd say cook on high for at least 5 hours.
This recipe for country style bbq pork ribs is super simple. How much easier can it get with just four ingredients. And, you're going to be amazed at the flavors you're getting with these four carefully selected ingredients.
Imagine all the possibilities once you make these country style bbq pork ribs. Fajitas. Burritos. Slap on a bun be it hamburger or hot dog. Create a mound of nachos with this bbq pork! Oh, lawsy, it's just hard to say how many things you can do once you have this magnificent 'starter'!
Want to try my Mexican Fajita Bowl? Here you go. Just click!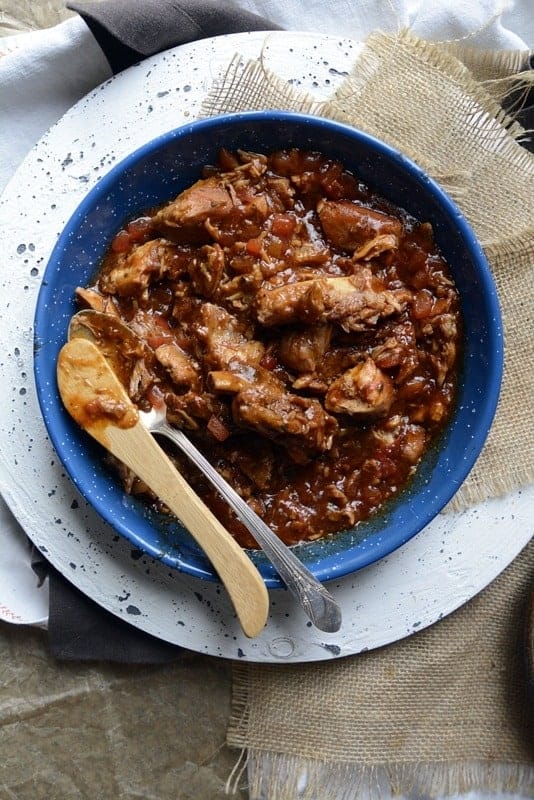 4 ingredient country style bbq pork ribs
Ingredients
Preheat oven to 425
1 ½ to 2 lbs. country style pork ribs, individual ribs
1 cup BBQ sauce, your favorite
1 ½ cups pineapple juice
1 ½ cups fresh salsa
Instructions
Whisk together the BBQ sauce and pineapple juice. Put the pork ribs in a small Dutch oven.
Pour the sauce over the ribs. Place a piece of foil over the pot then the lid. Crimp the foil around the edges to create an airtight pot.
Cook in a preheated 425 oven for 65 minutes.
Remove and let the ribs rest about 15 minutes then add the fresh salsa and blend. Cover with lid for another about 15 minutes. .
https://allyskitchen.com/4-ingredient-country-style-bbq-pork-rib/
©ally's kitchen intellectual property