Usually when you make a pot roast, you make a big one. You probably have leftovers. The meat is tender tasty and perfect for so many other dishes. Once you taste this pot roast lasagna, the next time you make a pot roast, you'll probably buy a much bigger one then freeze the cooked meat for this recipe later! Cooking once and eating two or three times sure does save time, energy and money. Plus, it's just darn smart for busy families, people with hectic lives and more. With a little planning, you can do a big pot roast and get three meals, each different, from it! And, when I say planning, it's simply a matter of thinking, ok, I'll do pot roast and sides first, then a lasagna, and if there's any left after that, let's do sandwiches or a hearty vegetable soup.
To give the meat even more flavor, we're going to cook it just a while longer with some Italian flavors…tomatoes, basil, oregano. This mixture will become the basis for a hearty and perfect lasagna. After that cooking, it's a matter of layering the lasagna, baking it and then eating. You decide whether you want to noodles that require boiling before layering or buy the noodles that are no bake, which I used in this recipe. They're just so convenient. And, save yet another cooking step making lasagna even easier on weeknight. Now, you can make this one day and serve the next day. The flavors will simply ooze and mingle becoming even more delicious!
Next time you have that leftover pot roast, forget soup or sandwiches. Think Italian lasagna! The meat is so 'meaty' and the texture of the shredded roast adds an entirely new dimension to lasagna.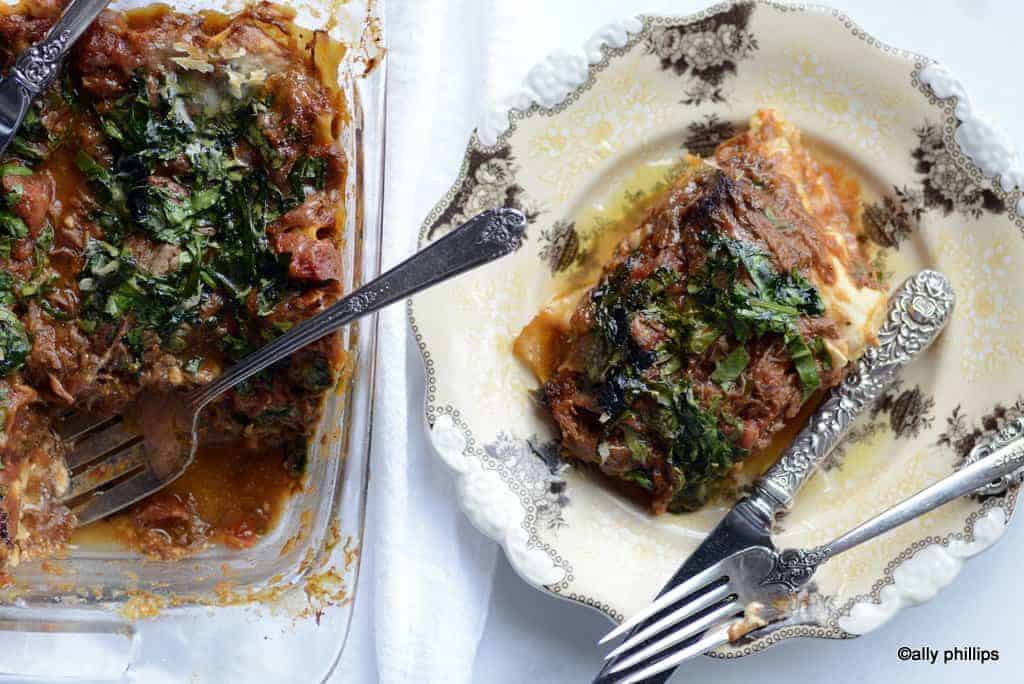 Ingredients
4-5 cups

leftover

pot roast , meat only
2 cups spicy tomato juice
1 (15 oz.) can tomatoes, diced
1 Tbl. Basil, dried
1 Tbl. Oregano, dried
½ tsp. red chili flakes
6 oven ready lasagna pieces
1 ½ cups ricotta, nearly room temperature to spread easily
1 tsp. coarse ground pepper
2 burrata mozzarella balls, cut in 3-4 slices each (can substitute regular mozzarella)
1/2 cup fresh basil, chopped
1 cup fresh spinach, chopped & firmly packed
2/3 cup parmesan, freshly grated preferred
Cooking spray
Instructions
In a large heavy pot over medium high put the meat, tomato juice, tomatoes, basil, oregano and chili flakes. Bring to a boil (uncovered) and cook, stirring occasionally, for 20 minutes. Reduce heat to medium low, cover with a lid and simmer another 20 minutes.
In an 8x8 deep casserole (about 3+" deep) put 1 ½ cups of the pot roast mixture. Start your layering. Two lasagna pieces. Spread ricotta on top. Sprinkle with pepper. Two lasagna pieces. Place mozzarella, fresh basil then add about 2 to 2 ½ cups of meat mixture. Add final two lasagna pieces and top with more meat sauce, spinach and parmesan.
Coat the top with cooking spray. Use double foil and cover casserole dish tightly. Bake in a preheated 350 oven for 50 minutes. Remove to a cooling rack and let it sit about 20-30 minutes before serving.
Notes
This pot roast lasagna can be assembled the night before, refrigerated (uncooked), then cooked.
You can also make completely the day before, refrigerate then reheat (low temperature, 250, about an hour in the oven.
https://allyskitchen.com/pot-roast-lasagna/
©ally's kitchen intellectual property