Chardonnay Raspberry Spicy BBQ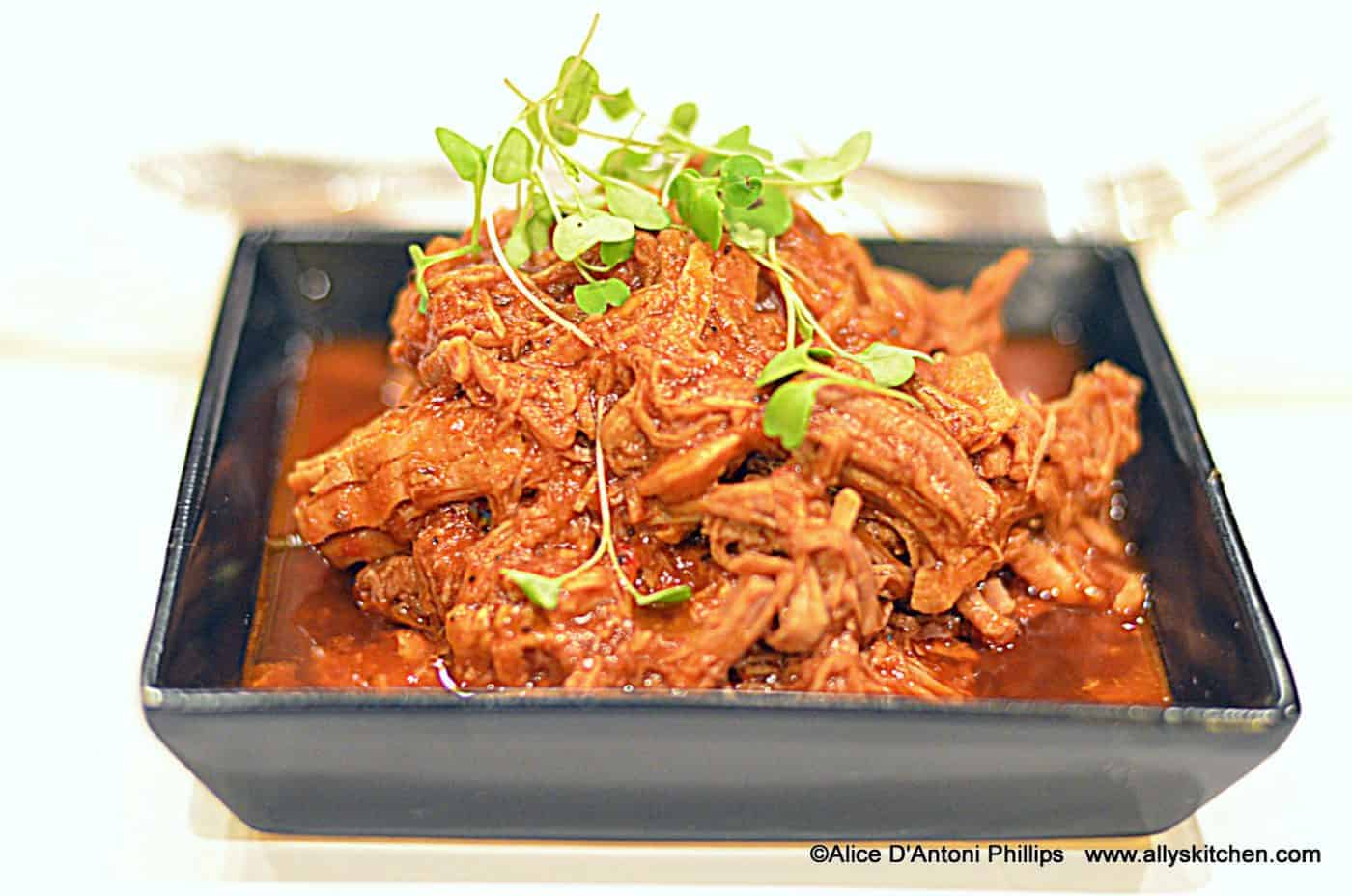 So many of my recipe and ingredient creations come from a subconscious spinning of my brain. Must be my right creative side, then it shifts to my left, language, side. Another inspiration for new recipes is what I literally find marked down and/or on sale at the market. In this case, this pork tenderloin was marked down by half price, and I knew I wanted to create something.
I actually got cannellini beans and was thinking a pork tenderloin chili, but when I got home, unwrapped that beautiful tenderloin and took a sip of my chardonnay ***sip sip*** it all changed! The other white meat wanted a cocktail, so why not bathe it in chardonnay! After it cooked and became fork tender, it started absorbing even more of those luscious juices. I didn't want to contaminate with a jarred BBQ sauce, so I decided some red, some spice, some sweet, and it all came together. You could substitute another flavor jam depending upon your taste buds. There's something special about the Dole Packaged Foods' mandarin oranges, too!
In keeping with the chicness of this BBQ, I used these micro-arugula greens, fresh and a littl' peppery, they were a nice change from coleslaw, and they let the BBQ flavors shine. Another option would be watercress. And, if you want the bun, have at it!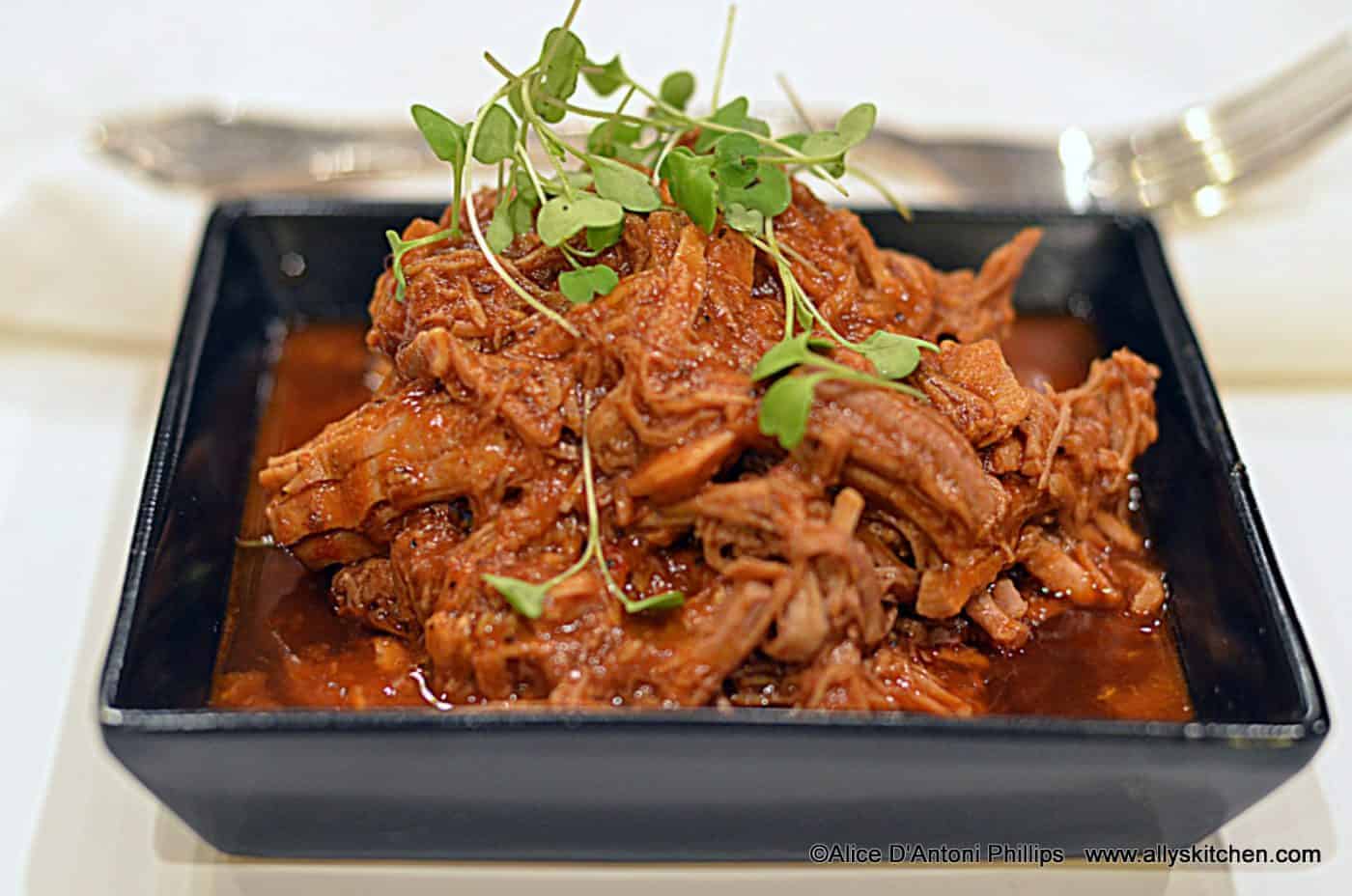 Preheat oven to 425 then reduce to 350
What you need & What you do:
1/4 cup extra virgin olive oil
4 chopped garlic cloves
1 1/2 to 2 lb pork tenderloin cut into 5-6 chunks
1 tsp sea salt
1/2 tsp coarse ground pepper
1 tbl Simply Asia 'Sweet & Spicy Saigon' seasoning
3/4 cup chardonnay + about 1 1/2 cups water (Note: you can substitute chicken broth, apple juice or white grape juice)
In a heavy pot with a tight lid over medium heat, put olive oil and garlic and saute. Scoop out garlic and turn up heat to medium high. Add pork chunks and brown somewhat. Sprinkle salt, pepper and seasoning mixture on the pieces. Toss and blend. Pour in the chardonnay and let it sizzle about 3-5 minutes then add the water. Cover tightly and put in a preheated 425 oven for about an hour. Check occasionally to see if you need to add more water which should almost cover the pork. Reduce the heat to 350 and continue to cook checking for water. Take out, remove water to about halfway on the chunks, then start pulling apart the pork with a fork. Cover and let it sit about 20 minutes absorbing the juices. (You can return to the oven, but make sure it's off!)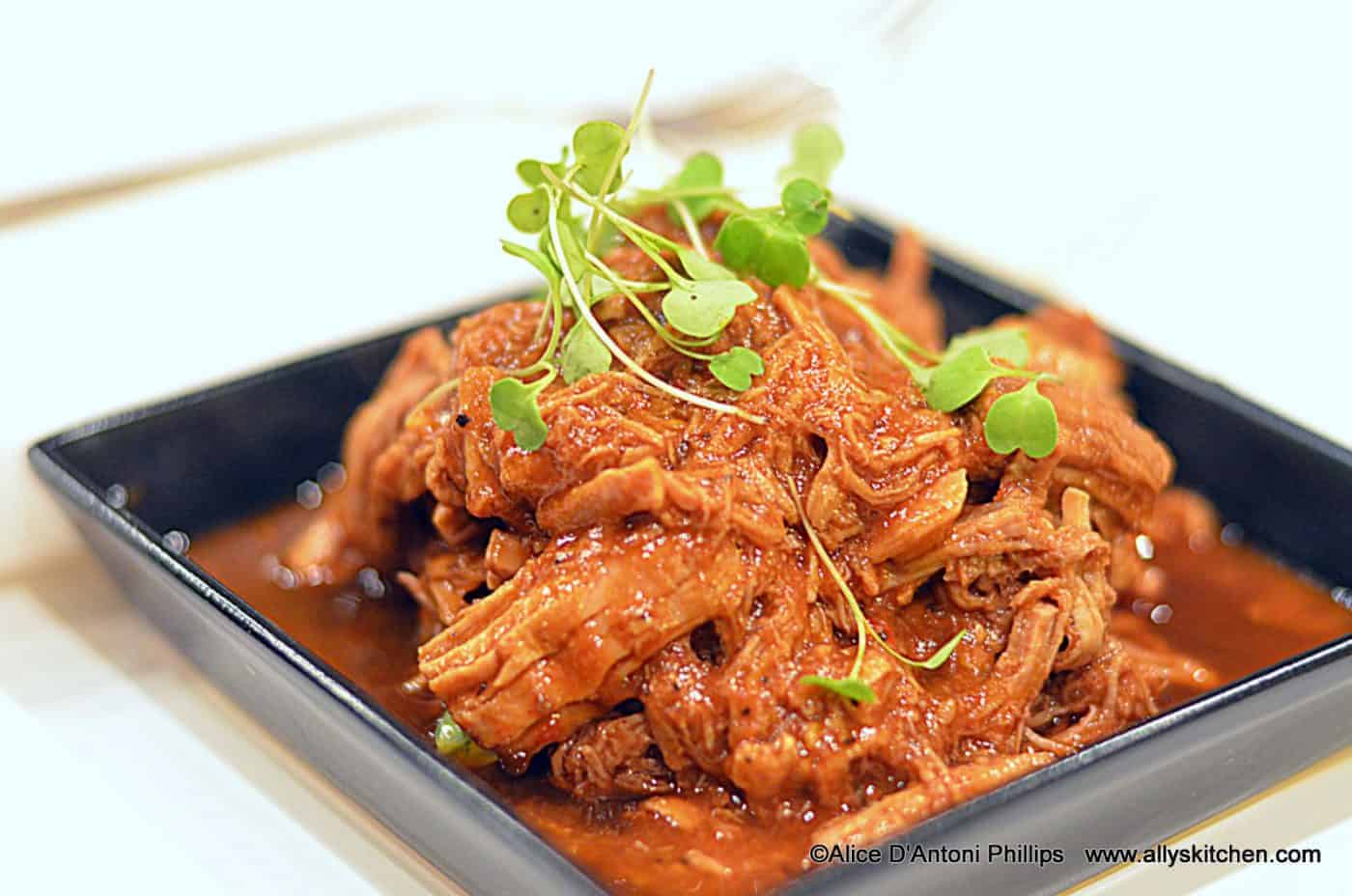 2 tbl Korean Sweet & Spicy Sauce (Annie Chung product–you can substitute another hot sauce)
1/2 cup ketchup
3 tbl Worcestershire sauce
1 tbl raspberry jam
4 oz drained crushed DOLE mandarin oranges (I use the small cup size.)
Put the pork on a medium low heat and add the spicy sauce, ketchup, Worcestershire, jam, and mandarin oranges. Blend together and let this cook, infusing the flavors, about 20 minutes. Ready to serve!
© alice d'antoni phillips www.allyskitchen.com