lemon infused salmon with a fruit spinach medley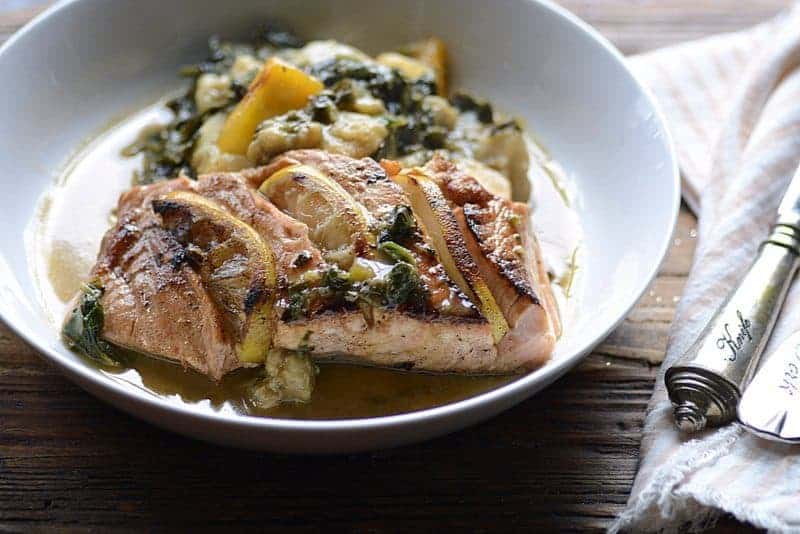 Finding new ways to use food products takes creativity. Sometimes we get stuck in the same old way of doing things. That's how I came up with the idea for this lemon infused salmon with a fruit spinach medley. Another reason for this type recipe is to create something that's quick and easy. Something that you can do after a long day's work. You're not slaving in the kitchen. This meal is done in less than 30 minutes, and you can be assured that you're eating healthy. Good stuff for young millenials and GenX'rs juggling so many things in life. Then, of course, it's great for the Baby Boomers who want good eats in a flash.
Dole Sunshine has a new line of frozen fruit and vegetable products that are intended to be used for smoothies and the power drinks that are just so popular today. I decided to give them a try, but rather than put them in a blender and make a cleansing drink, yes, one of those power drinks, I decided to steam the fruits and veggies in a skillet with salmon that had been seared and cooked.
Inside this bag of goodness were mangoes, bananas, apples, pineapples and spinach. All the flavors that I knew would work well with salmon. Well, bananas were probably a surprise, but I decided that since there were only a few slices, rather than pick them out, I'd let them stay. (You can call that decision when you're making it.) To that I added more fresh spinach. And, what happened was this amazing fruity tropical Caribbean like side medley was created. It was perfect with the salmon!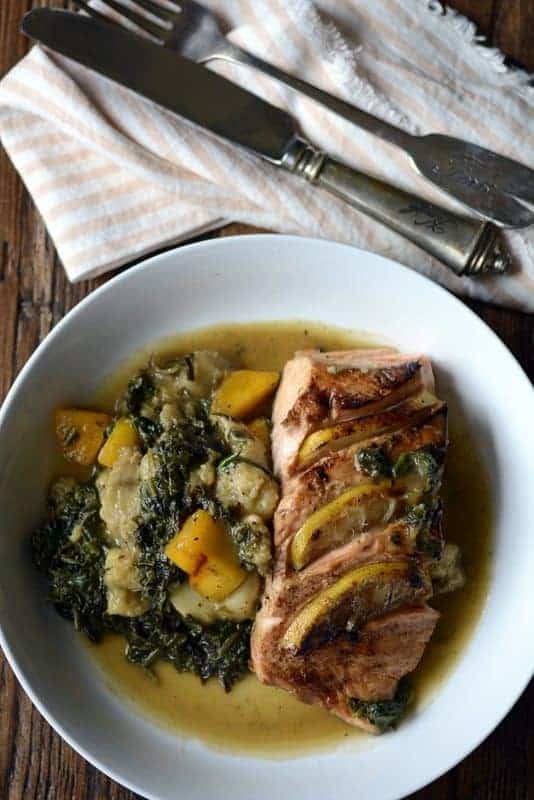 Thanks to Dole Sunshine for partnering with me for this post! All the opinions and creativity are solely my own. For a full disclosure, click here!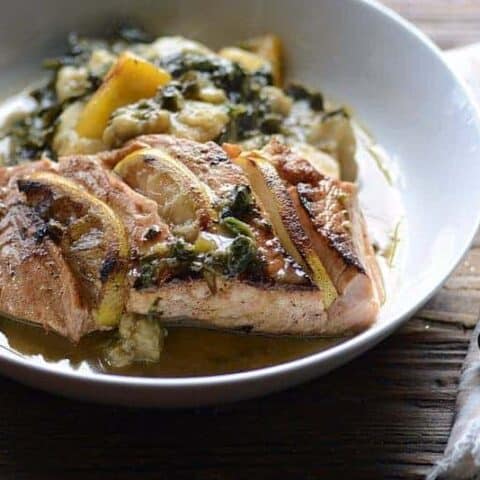 lemon infused salmon with a fruit spinach medley
Ingredients
1 lb. thick cut salmon, trim off edges
½ lemon, cut into 4 half-moon thin shapes
½ tsp. sea salt
2 Tbl. Butter, salted
1 cup Dole Sunshine Orange Pineapple Juice
1 tsp. coarse ground pepper
¼ cup grated parmesan reggiano
1 tsp. serrano pepper, finely minced
2 cups Dole Sunshine Fruit Medley, thawed & drained
3 cups fresh spinach, roughly chopped
Instructions
In the salmon flesh using a sharp knife, make 4 about ½" deep slits scoring the fish. Stuff the lemon slices into these slits.
Sprinkle the salmon with salt. In a large cast iron skillet over medium high heat, let it get hot then put in the butter and let it melt.
Add the salmon, top side down first, cover and sear for about 2 ½ minutes. Remove the lid, carefully flip the salmon, cover and sear another 2 minutes. Remove salmon to a plate.
In the hot skillet add the juice, pepper, parmesan, serrano pepper and deglaze the skillet. Reduce heat to medium. Add the fruit and spinach, toss, cover and cook about 3 minutes.
Add the salmon back to the skillet. Turn heat to low. Cover and steam for 3 minutes. Ready to eat.