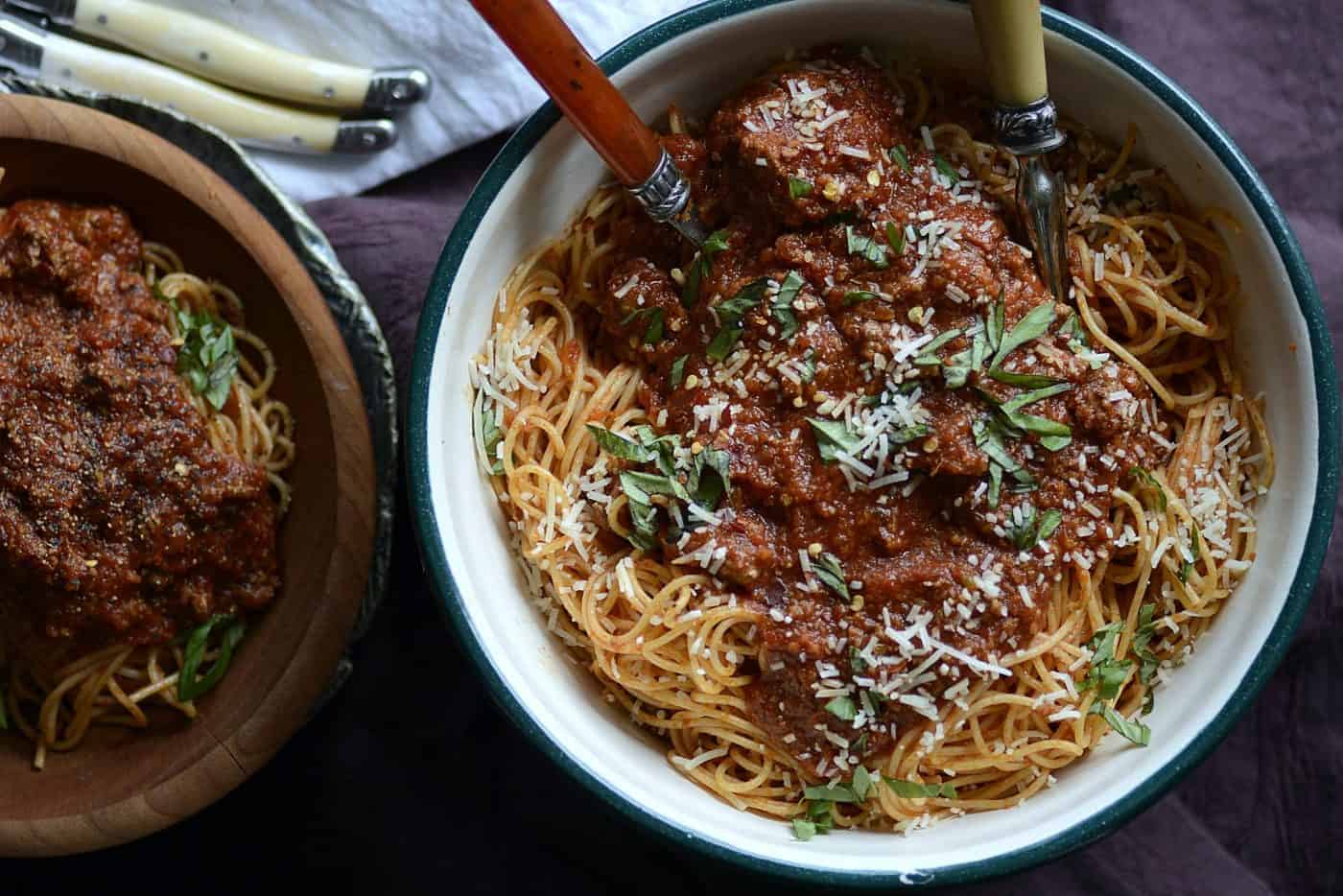 Bolognese Sauce
Others will think that you've been in the kitchen all day making this easy lamb bolognese. Thick, rich, meaty and full of flavor! Pasta will be divine!
Besides being easy and 'quick', this bolognese sauce can have multiple uses. Want lasagna? Here you go, the sauce. Need a quick pizza sauce. Here you go, thick n' rich. Just add your toppings. Need soup base. Well, look no further, this sauce can save your some time. Oh, you're thinking chili? Yes, this can be the beginning of your luscious creation!
Beef Bolognese
Bolognese can be made with different types of meats. Beef bolognese might be most popular. But, my 'take a lot of time and cook all day' bolognese isn't made with just one type of meat. In fact, it's truly amazingly delicious, but it does take time to make. In case you want to have something to serve that's this spectacular, then here's the recipe.
But, I don't always have the time to invest in my 'takes most all day' bolognese recipe, so that's why I've created this easy bolognese recipe.
Lamb Ragu
Is there a difference between the words ragu and bolognese. Well, ragu basically means recipes where you used minced, chopped or ground meat. You're going to saute vegetables, like your carrots, celery and onions. And, then you'll add it to your meat or meats. Lamb ragu and bolognese are uniquely alike!
Bolognese Recipe Easy
Who doesn't love a rich thick flavorful bolognese? And, one that is relatively quick and easy to make?
While I have a couple of other bolognese recipes on my website that are dynamite killer good, I wanted to create one that took less time and had fewer ingredients. But had all the power and punch that you want when you think Italian bolognese. Plus, I wanted to do it with ground lamb, so here you go 'easy lamb bolognese'!
Lamb Bolognese Recipe
Grab your ingredients. Pull out the food processor. Put a big stock pot on the stove. And, in a couple of hours you're gonna be doing a kitchen happy dance. This lamb bolognese recipe is super easy. Have your pasta ready because you'll be chowing down in no time.
It's really hard to believe you get this flavor without much effort or work. And, if you want to use another type or types of ground meat, instead of lamb and beef, have at it. The addition of genoa salami adds a tad of fat for more flavor. Trust me, your family will put you on a pedestal and your friends will think you're a real chef!
The Absolute Best Bolognese Recipe
As I said, I've got several bolognese recipes. And, the absolute best bolognese recipe is hard to choose. But, take a look at some of these options. Here's my recipe that Gallo Family Vineyards selected as their favorite!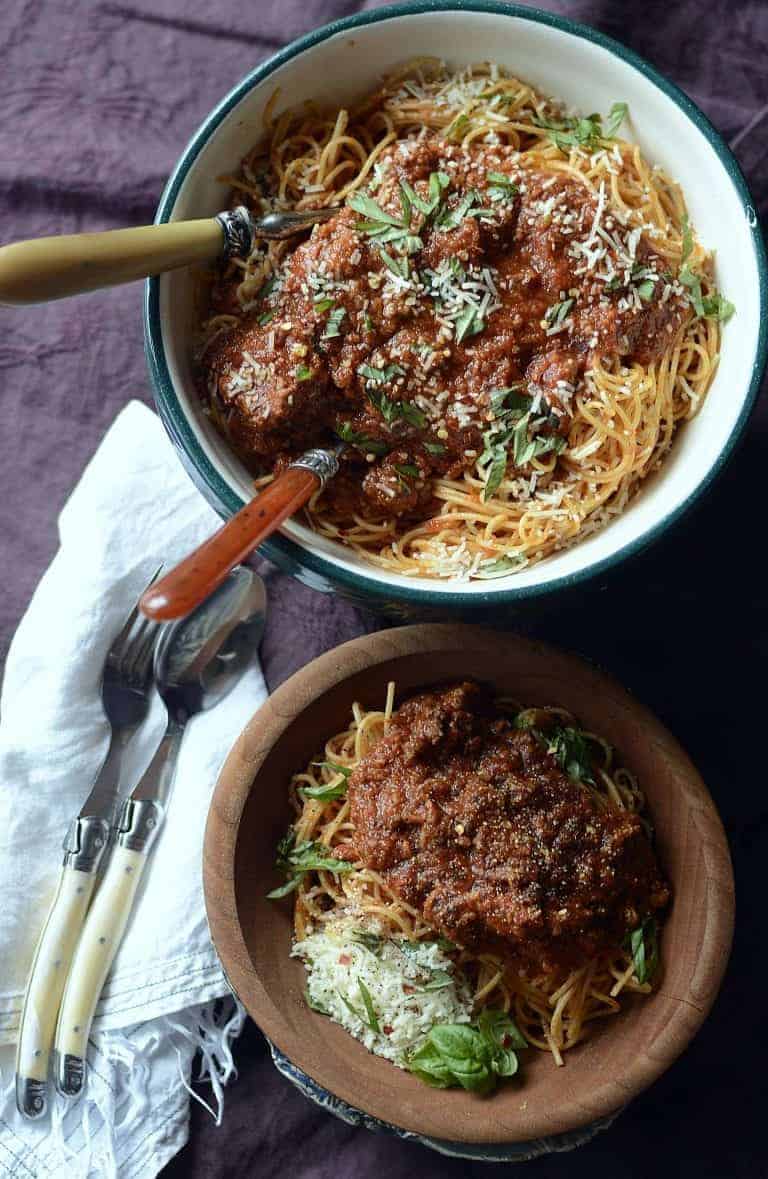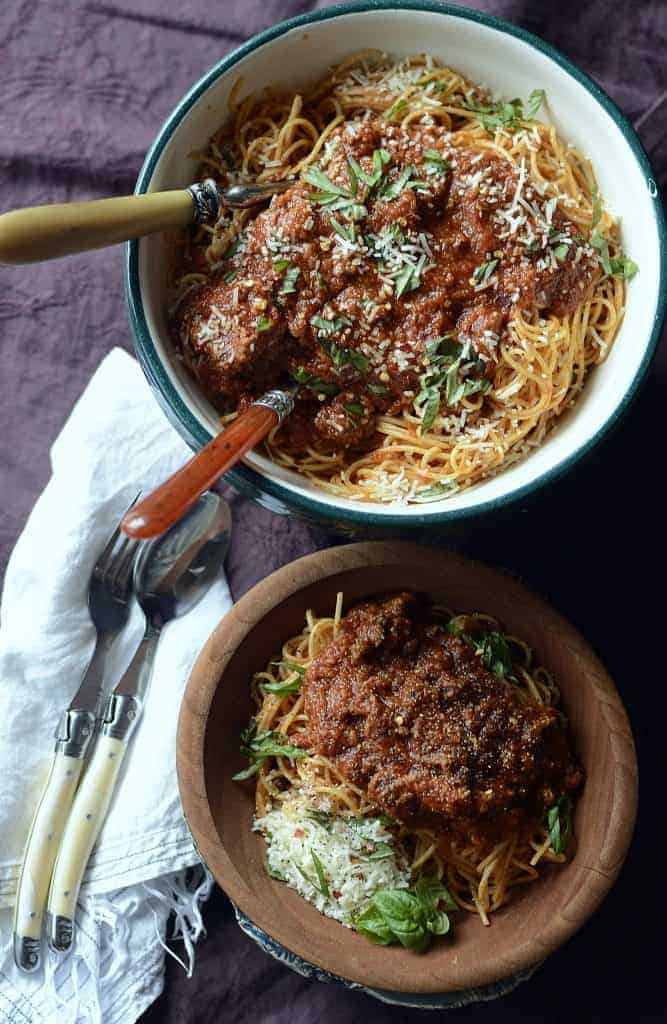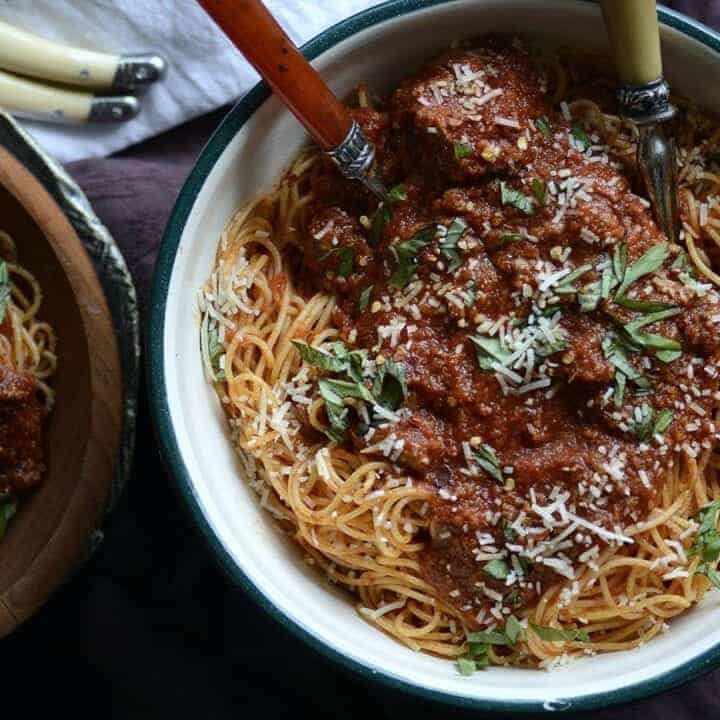 easy lamb bolognese
Others will think that you've been in the kitchen all day making this easy lamb bolognese. Thick, rich, meaty and full of flavor! Pasta will be divine!
Ingredients
1 cup carrots, chopped
1 cup sweet onions, cut in chunks
1 cup celery, cut in 3-4 pieces
5 garlic cloves, peeled
2 tsp. sea salt
1 tsp. coarse ground pepper
1/3 cup extra virgin olive oil
1 ½ pounds ground meat, 1 lb. lamb + ½ pound beef (you can choose what type you want to use)
1/3 cup genoa salami, diced
1 jar (25 Oz. organic marinara sauce + 2 cups water (rinse out jar & use in sauce)
1 Tbl. dried Italian seasoning
1 tsp. red chili flakes
1 can (12 oz.) tomato paste
¼ cup Parmesan reggiano
GARNISH
Parmesan reggiano
Fresh basil sliced
Instructions
Put the carrots, onions, celery, garlic, salt, pepper and olive oil in the food processor and grind into a fine mixture.
In a large heavy pot over medium high heat, put the ground mixture and sauté about 5 minutes. Add the chunks of meat and brown (about 5-7 minutes). Add the salami and blend in.
Add the marinara sauce (plus water), Italian seasoning, chili flakes, and tomato pasta. Stir and blend. Bring to a simmering boil and cook about 20 minutes. Reduce heat to medium.
Cover with a lid and cook for about 45 minutes stirring occasionally. Add the parmesan. Blend in. Reduce heat to low and simmer until ready to serve.
Notes
Make ahead a day or two, and it's even better!

This sauce freezes well!