The Best Moroccan Pot Roast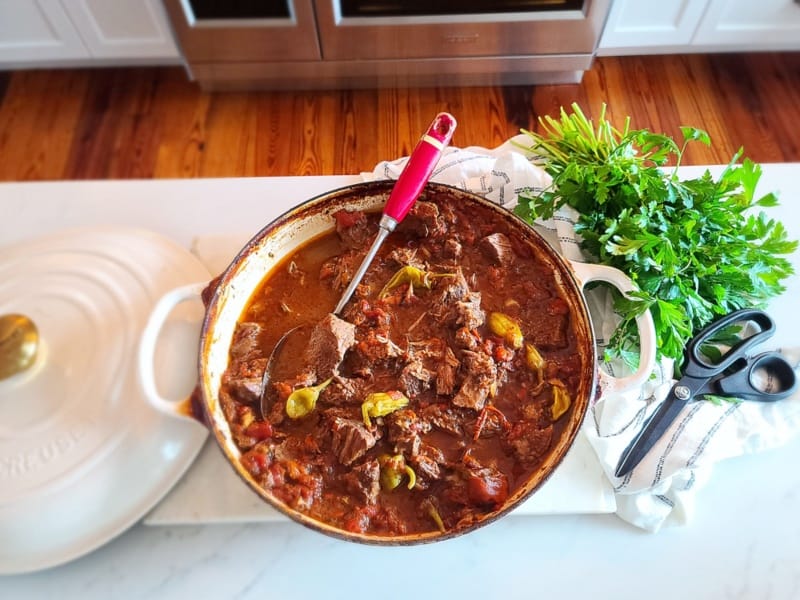 Oh, this spin of harissa on this roast truly makes it The Best Moroccan Pot Roast1 It's one pot. Super simple. And, oh, the aromas!
Oven Pot Roast Recipe
An oven pot roast take time to cook.
Since the chuck roast cut is from the cow's shoulder, it's a heavily exercised muscle.
Yes, this gives great flavor. But, on the flip side, it makes the meat tough.
You can cube this cut of meat for stews and soups, but, again, it takes some time for the smaller pieces to tenderize.
Easy Oven Pot Roast
You can use this recipe in a slow cooker or multi-cooker. You might want to try the pressure cooker setting for meat. Check out this recipe!
This pot roast, even just the meat, is a meal. And, if you want to skip vegetables, why not pair this roast with my Easy Asian Cucumber Salad. I promise explosions of flavors!
How to Cook a Roast in the Oven
Cooking a roast in the oven is the best way in my humble opinion.
It's the old-fashioned way of cooking way before there were multi-cookers, crock pots, InstaPots and other gizmos and gadgets.
This is also a great chance for you to invest in a Dutch oven! Here are some of my favorites. And, believe me, I use mine all the time!!
Yes, the Le Creuset is the deluxe "Mercedes" of the Dutch ovens, I think, and that's what I have. You keep these pots for a lifetime and even hand them down to other generations, kind of like cast iron skillets. There are other options! So check out each and see what you think.
Pot Roast Recipe
Now I cooked this pot roast in my Le Crueset braising pan. That's because I opted to roast the veggies in the oven to go with the pot roast. But, if you're adding the vegetables to the pot roast, do so when the pot roast is about an hour and 15 minutes into cooking. The meat and vegetables will cook together.
Moroccan Beef Recipe
OK, so what makes this 'Moroccan'. Well, it's in large part the seasoning mixture. Harissa. But, hey, regardless of culture, pot roasts have some basic similarities.
Moroccan Pot Roast
This Moroccan Pot Roast is simply the pot roast. I served with roasted vegetables. But, if you want to do a side of rice or mashed potatoes, well, with all the broth in this roast, that would be fabulous!
Here's my favorite mashed potatoes recipe!
Garlic Onion Rustic Mashed Potatoes with Fresh Herbs
Moroccan Lamb Pot Roast
It's not difficult to simply swap out meat and make this a lamb pot roast. That's the flexibility of lamb and beef, I think. You can swap out these red meats. And, if you're looking for a great lamb stew (I mean on a cold winter's night!), then you have to try my Chunky Lamb Stew!
Moroccan Chickpea Pot Roast
Nothing's more Moroccan than chickpeas. And, it's so easy to add a can of drained chickpeas to this recipe. I'd do that after the meat's all cooked. Just add the beans, cover and let them heat in the residual steam/heat of the roast.
Moroccan Pot Roast Apricots
And, the very same with dried fruit. Middle Eastern cuisine is beautifully prepared many times with dried fruits.
A touch of sweet with whole dried apricots or slice them in thin slivers and add for just a hint of sweet in bites.
Pepperoncini Pot Roast in Oven
OK, I love the briny flavors of pepperoncini. And, the most famous of the pot roasts with pepperoncini is the Mississippi pot roast. But, my pot roast gives you those similar flavors with simple ingredients!
Homemade Harissa Powder
So, here's my recipe for harissa from my cookbook. I'm sharing it with you because I want you to explore the flavors and enjoy the variety of things you can do with this spice mixture.
Middle Eastern Harissa Recipe
Here in America, we love our ketchup, and I'm hoping you'll put harissa on the table next to your salt and pepper, chili flakes, hot chili sauce or other condiment that makes most everything a little better!
Harissa Recipe
The main ingredients in a dry homemade harissa are usually piri piri, a type of chili pepper, serrano peppers or other hot chili peppers, plus spices and herbs, like garlic, coriander, red chili powder and caraway seeds. But depending on which household you live in or what region you're from, it might include other things like cumin, , red peppers and lemon juice.
For a Round Up of my Harissa recipes, just click!
Juicy Pot Roast in Oven
Here are some more of my pot roast recipes. Yes, you can see, I love them!
Bourbon and Brown Sugar Pot Roast
Blue Plate Special Easy Pot Roast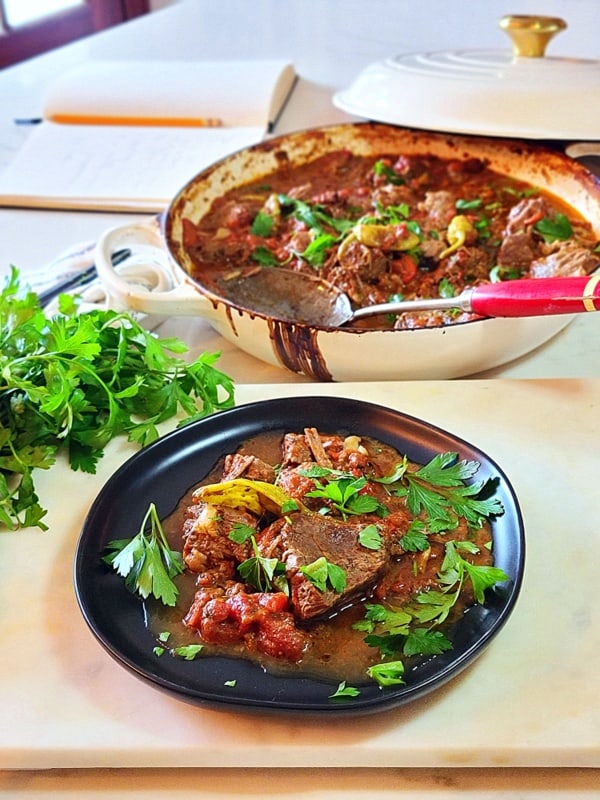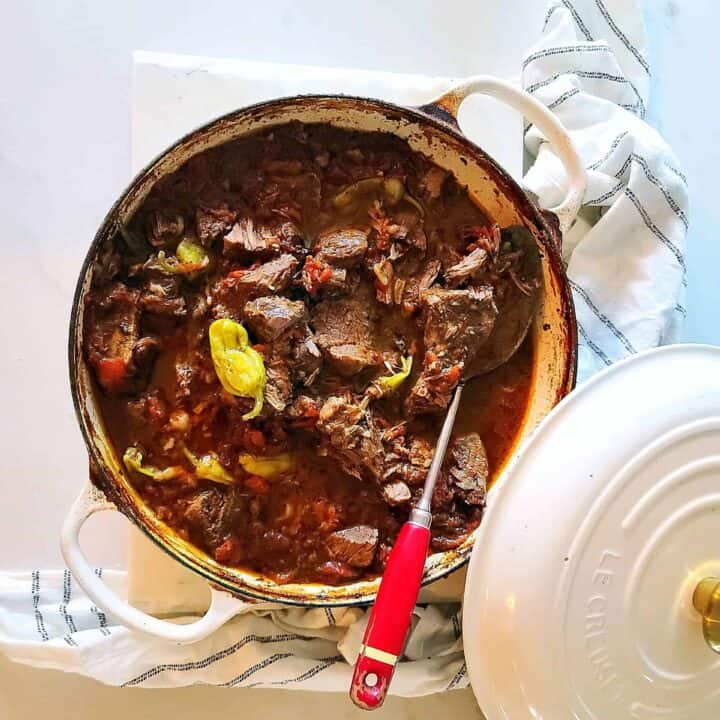 The Best Moroccan Pot Roast
Ingredients
Preheat oven to 400
3 Tbl. Harissa, dry
4 Tbl. Parsley, dried
2 Tbl. Nutritional yeast
6-8 garlic cloves, peeled and smashed
1 can (14.5 oz.) tomatoes, diced + 2 cups water
2 cups fire roasted red peppers, with about ¼ cup liquid, buy at grocer
1 cup pepperoncini, with about ¼ cup juices
2.5 to 3 lb. sirloin tip roast, cut into 5-6 pieces
Sea salt and pepper to taste
Instructions
1. Preheat oven to 400

2. In a small bowl, mix together the harissa, parsley, nutritional yeast.

3. Put the garlic cloves in a large braising pan (with lid). Add the tomatoes/water, peppers, pepperoncini and spices. Blend together.

4. Put the chunks of meat in and nestle into the liquid. Cover.

5. Put on a cookie sheet and in the oven. Roast for about two hours and 15 minutes. Check about every 45 minutes to see if you need to add any more liquid.

6. Remove and let the roast rest about 5 minutes then roughly shred/tear apart the meat chunks. Cover and let it sit in the juices for about 7-10 minutes.