pepperoncini chipotle chili beans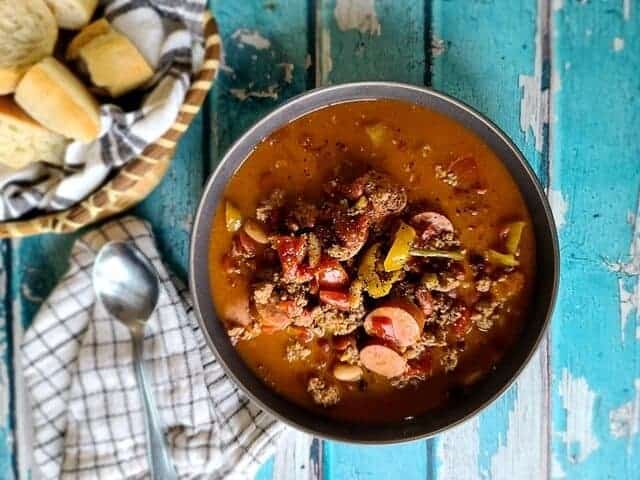 Taste the pepproncini flavors in the chipotle chili beans! A slight vinegar tang, heat of the chipotle, the meatiness, and the beans! Yes!
Chipotle Chili Recipes
If you've never had a chipotle chili beans recipe using chipotle and pepperoncini, well, get ready for fabulous! Smokey chipotles are quite popular and you can buy some delicious sauces and salsas that can help give you that authentic Latin and Mexican inspired taste. And, that what this chili does. It's got hints of your favorite Mexican food at
What is Chipotle Sauce
It's pretty simple. Chipotle sauce is made with chipotle peppers. Essentially chipotle peppers are ripened jalapeno chiles. They're smoked and dried and can be ground up and used in pastes, sauces and more. Mexican and Tex Mex cooking uses these peppers in the smokey flavored adobo sauce.
What is Pepperoncini
Pepperoncini is a mild and sweet chili pepper. Also known as Tuscan peppers or golden Greek peppers, it's a delicious pepper ring or whole pepper that can be used in a variety of ways with foods and recipes.
Pepperoncini Peppers
These peppers can be purchase much like other peppers. And, you'll find quite pepperoncini peppers in the pickle section of your grocery store. I buy both the whole and the sliced rings because I use these pickled peppers, as Peter Piper's tongue twister goes, for lots of things. Like olives, these peppers make just about anything tastier for me!
Recipes with Pepperoncini
Probably one of the most 'famous' recipes with pepperoncini is the Mississippi Pot Roast. And, that's really good. But wait til you taste the pepperoncini and the juice in this chili bean recipe.
Best Chipotle Sauce
There are quite a few options when it comes to choose a chipotle sauce for this recipe. I like the La Constena brand, and I find it at WalMart. It's got a great price point. And, is always available. Experiment with other brands (I do this all the time.) and find out what you like best!
How to Make Chili Beans
I love making chili beans the old-fashioned way. On the stove top. That's because I can achieve a thicker sauce like gravy finish by regulating the heat from high to medium to low during the cooking process. Yes, you can make chili beans in a slow cooker or multi-cooker, but, for me, chili beans are best when they're made on the stove top. However, I've been known to use my multi-cooker and slow cooker, so it might be a draw depending upon the ingredients.
What Kind of Beans for Chili
I get asked the question, what kind of beans for chili all the time. Well, it depends on what kind of bean or beans you like best. I love to mix my beans with red chili. If I'm doing a white chili then I'll use only white beans, great northern, navy and/or cannelini beans. And, in my red chili I like more kidney beans than any other kind. They're more substantial and have a great creamy texture.
Chili Over Rice
A full meal is to make rice and serve the chili over rice. Another thing I've done is serve over pasta! Yes, pasta. I typically use a small pasta like an elbow macaroni, mini penne pasta or a bow tie pasta. Really a great hearty meal!
Chipotle Black Bean Chili
Finally, if you want to go truly Tex Mex then when you make this recipe use only black beans. It's going to be a beautiful meal, and, for me, with chili, the more beans, the merrier!
And, if you're looking for more unusual twists on chili, then check out some of these recipes I've created: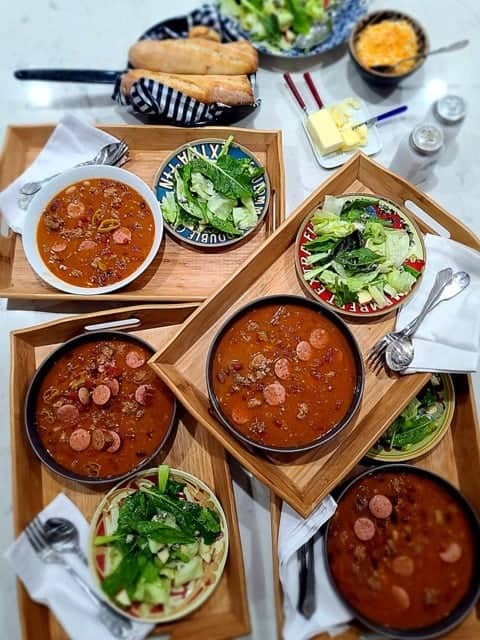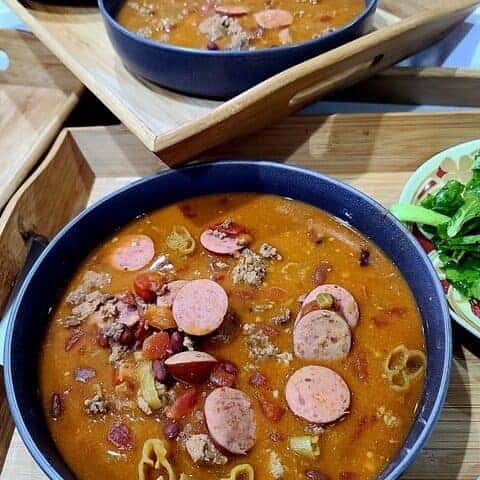 pepperoncini chipotle chili beans
Taste the pepproncini flavors in the chipotle chili beans! A slight vinegar tang, heat of the chipotle, the meatiness, and the beans! Yes!
Ingredients
Serves: 8+
3 Tbl. oil
1 lb. ground pork
1 lb. Italian ground sausage
1 package (13 oz.) smoked turkey sausage kielbasa, sliced in about 1/2" pieces
1 pouch (1 oz.) onion soup mix
3 tsp. ground cumin
2 tsp. garlic granules
2 tsp. smoked paprika
2 tsp. sea salt
1 can (8 oz.) chipotle salsa pepper sauce + 1 can water
1 can (10 oz.) cream of celery soup + 1 can water
3 cans (14.5 oz.) diced tomatoes, rinse cans with one cup of water, total
½ cup French onion dip
4 cans (15 oz.) beans, your choice, kidney, pinto, cannellini, black, combo or one type bean, rinse cans with one cup of water, total
½ cups sliced pepperoncini rings + ½ cup of the juice
Instructions
In a large heavy cooking pot (with a lid), put the oil. Turn heat to high. Add the pork and ground sausage and brown. Add the turkey kielbasa and blend into this meat mixture and cook about 5 minutes.

In a small bowl, whisk together the soup mix, cumin, garlic granules, paprika, and salt. Sprinkle on the meat mixture and cook about 5 minutes stirring and blending well.

Add the chipotle salsa/water, celery soup/water, diced tomatoes/water, French onion dip, beans/water, and pepperoncini rings/juice. Blend well. Cover. Turn heat to medium high and bring to a simmering boil for about 30 to 40 minutes stirring occasionally.

Reduce heat to medium. Cover and cook another about hour, stirring as needed.

Making this chili a day ahead only makes it better!