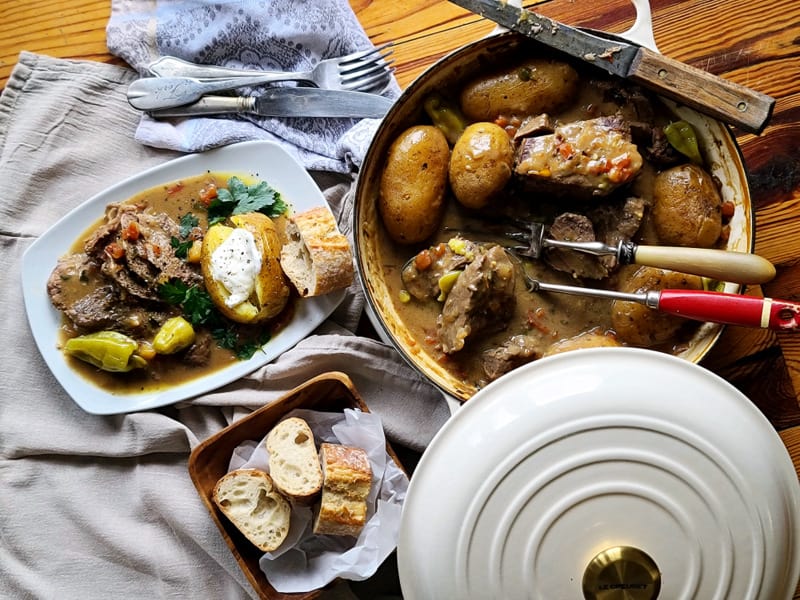 America is a melting pot of different cuisines. And, this easy all-American pot roast sure does capture the best of those cultural flavors!
Pot Roast Recipe
Every home cook needs at least one go to, the best pot roast recipe. And, this all-American pot roast is just that!
Mexican Pot Roast Dutch Oven
Now I love cooking a pot roast the old-fashioned way. In the oven. And, either in my braising pan or a Dutch oven. This pot roast has that hint of Mexican or Latin in it with the addition of the pico de gallo!
Cuban Pot Roast
Now if you want to give this pot roast some Cuban twist then why not add some garlic and fresh citrus. While the pico de gallo I used has mango in it, you might want to add a tad more to the roast. And, drizzle on some olive oil to intensify that flavoring.
Chuck Roast
For this roast, I decided not to use a chuck roast because I wanted the finished roast, which I actually cut in half to cook faster, to slice nicely. You can use these types of cuts, shoulder, round tip, sirloin tip, bottom round, top round, eye of round. I chose what was one sale!
Seasoning for Pot Roast
Now seasoning a pot roast is the key to deliciousness. And, this seasoning mixture I've put together is totally insanely delicious.
I make a lot of pot roasts. And, my best barometer of tastiness if my husband, Ben. He gives this one thumbs and toes up!
Pot Roast Recipes for the Oven
Of course you can do this recipe in a slow cooker or multi-cooker. But, I'm afraid it might not be as good. Cooking a pot roast in the oven is just something that comes with a magical finish and flavors. And, you're going to absolutely love the aromas!
Easy Pot Roast
Having a go to easy pot roast recipe is a must. And, if you want THE best kind of pot to cook a roast in, well, here're two of my hands down only choices.
Yes, I KNOW these are expensive investment pieces. But, if I could only have a five pots, pans and skillets in my collection, these two would be there. These pieces never go out of style. They're about as durable as it gets. And, they're so beautiful, you'll want to leave them on your stovetop.
Le Creuset Signature Braising Pan
What to Serve with Pot Roast
Gosh, there are so so many things that I love to serve with a good hearty pot roast. Most of the time, they're vibrant vegetables and salads!
Amazing Roast
What makes this recipe so luscious is the flavors in this amazing roast. There's a creaminess from the cremini and shitake cream soup that you just can't get with anything elese.
Flavorful Pot Roast
Other flavor components are the nutritional yeast, the peperoncini and not to forget the pico!
Company Pot Roast
Yes, this is the pot roast you want to serve to company. It's perfect for a weeknight dinner or you can gussy up the table and sides and make it a holiday meal. And, if there are leftovers, daggone, it makes THE BEST vegetable soup!
Pot Roast Side Dishes
Picnic Fresh Italian Green Beans
Butternut Squash Cranberry Bake
Asian Chicken and Ramen Noodles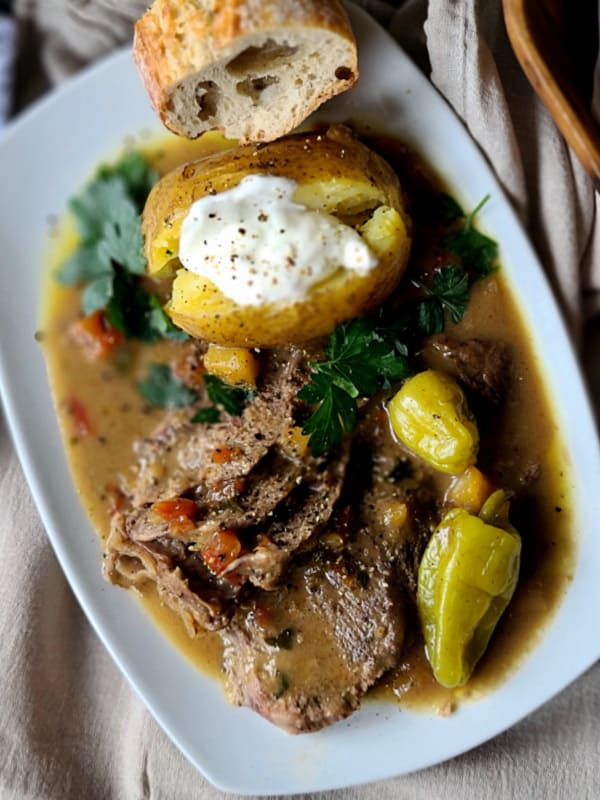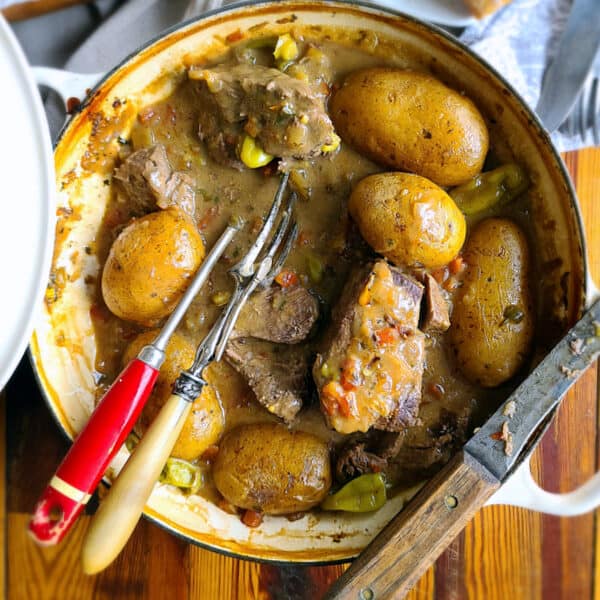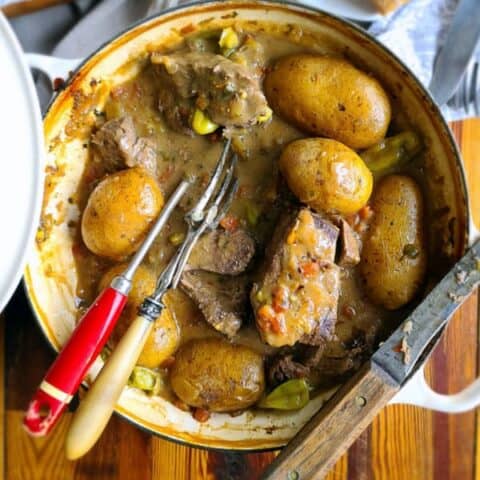 all-american pot roast
Ingredients
Preheat oven to 450 then lower to 400
2 ½ lb. beef chuck shoulder roast, or similar cut of beef
1/2 cup flour, all-purpose
2 tsp. sea salt
2 tsp. pepper
2 tsp. smoked paprika
1/4 cup avocado oil
1 sweet onion, French slice
3 garlic cloves, sliced
16 oz beef bone broth
2 Tbl. nutritional yeast
1 cup fire roasted red pepper strips, jarred
1 cup peperoncini, whole, about 8-10, with one cup of the juice
10 oz. pico de gallo, can be store bought
6-8 Yukon potatoes, washed, medium size, leave whole
Instructions
Cut the beef roast in three to four pieces.
Mix together the flour, salt, pepper and paprika. Toss the meat in this mixture.
Put the oil in a large braising pan or Dutch oven. over medium high heat. Add the beef and brown for a few minutes. Then add the onions and garlic and cook another couple of minutes to incorporate the flavors.
Add the remaining ingredients and blend well.
Cover tightly. Cook in a preheated 450 oven for 30 minutes. Reduce heat to 400 and cook another about 75 minutes+ or until the meat is tender. Test with a fork to see if meat pulls apart easily.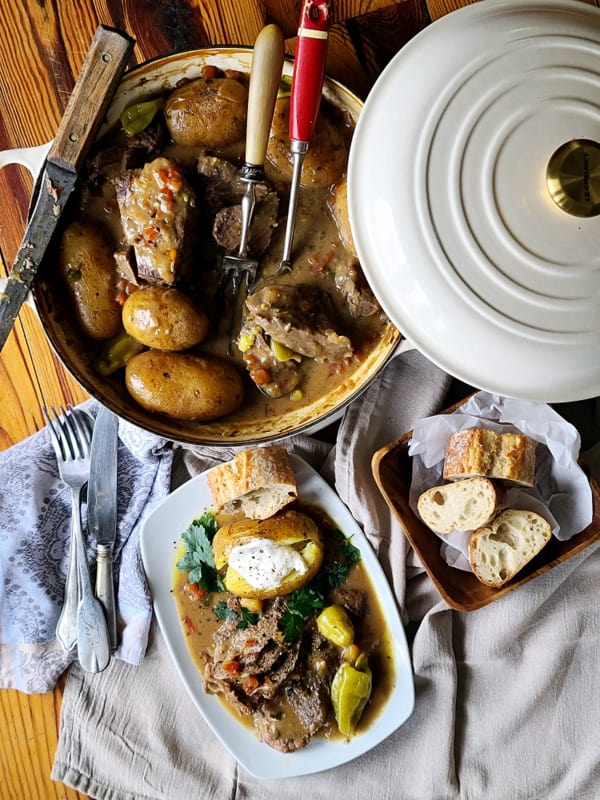 Three Fun Amazon Finds!