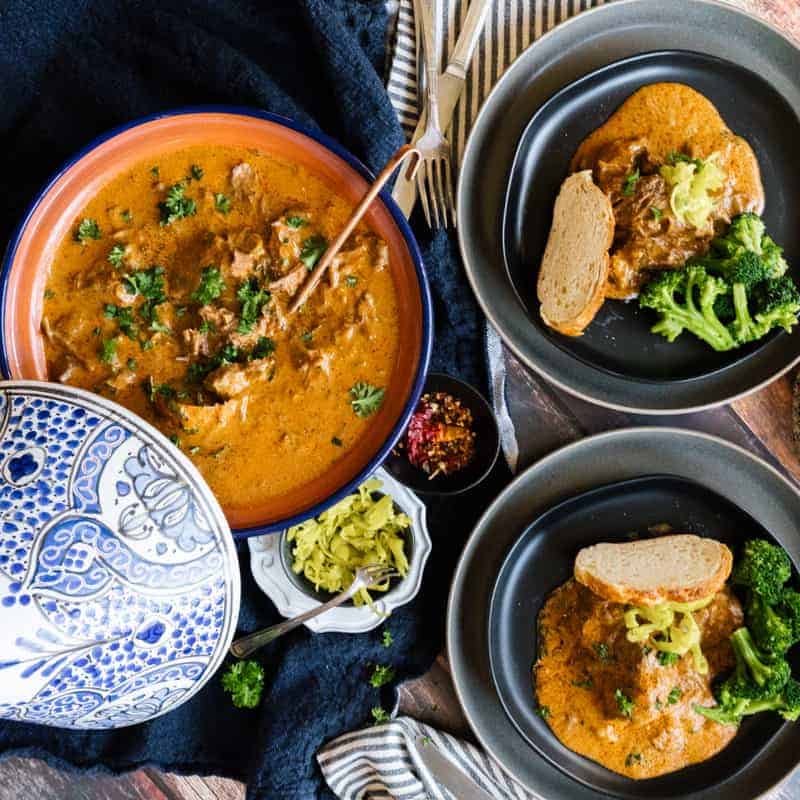 Oh, this easy whiskey pot roast is the kind of dish that gets better on day two! And, it's perfect anytime. A family favorite! Full of love!
Drunken Pot Roast
Drunk pot roast gets it tipsy from whiskey! But, hey, if you don't want to use whiskey, which is most all cooked out in the process of cooking, then there are some substitutions in the recipe. Just check the note section.
Whiskey Pot Roast
This pot roast is so simple. You're going to pull together the ingredients that make the 'liquid' pour. Give it a blend. Then put the meat chunks in your pot, cover with the magic potion liquid and put it in the oven to cook!
Easy Crock Pot Roast
I love making pot roasts for my family. And, they're always a hit.
One tip on your pot roast. Like a bolognese sauce or spaghetti sauce, it's better the next day. So you just might make it, refrigerate then serve the next day.
The time in the refrigerator gives those flavors time to come together, plus, in my humble opinion, the liquid congeals more and becomes more of a thick gravy.
How to Cook a Pot Roast in a Dutch Oven
Cooking a roast in the oven in a Dutch oven pot is the old fashioned way. I like the old-fashioned way.
But sometimes I need to save time, so I do use my multicooker. You might want to try my slow cooker Colorado pot roast or my tavern style pot roast. Both outstanding!
Beef Pot Roast Recipe Oven
Beef pot roast in the oven reminds me of growing up in Appalachia. Mom would buy a big ol' chuck roast, the inexpensive cut of beef, usually once or twice a month depending upon budget and sales going on.
She'd cook the roast in the oven, and when we'd come home from school, especially on wintry days, it was like a waft of heaven when we walked through the door!
Whiskey Beef
Mom didn't use whiskey in her beef. Had she had it, I think she would have. In fact, Mom never started having a cocktail until in her latter years of life, like 60+. I suppose at that age, you deserve it if you want it.
And, she loved her whiskey (or bourbon) and coke. When someone would pour her a drink, she'd watch, take a long drag from her cigarette and say, 'Don't be so stingy with that whiskey!' That was Mom. Full of piss n' vinegar!
Bourbon Pot Roast Recipe
If you haven't tried my bourbon and brown sugar chuck roast, then you must!
In fact, it's in the Top 10 of my most pinned PINS!
Bourbon Pot Roast
Adding spirits to your cooking means loads of flavor and depth to your food.
And, if you want to use bourbon instead of whiskey in this recipe, no problem. It's a one for one swap.
Pot Roast Variations
So many pot roast variations out there. Want a Mediterranean pot roast, here you go!
In the mood for a Middle Eastern pot roast, well, this Moroccan pot roast is for you or the Israeli Beef Roast.
Maybe you want your pot roast to have a Mexican flair!
Mississippi Pot Roast Recipe
Probably one of the most popular pot roasts is the Mississippi pot roast.
My pot roasts incorporate some of the ingredients of the Mississippi like pepperoncini.
But this classic All-American pot roast with just seven ingredients is one of my best! I'll serve it up with hamburger dill pickles and pepperoncini!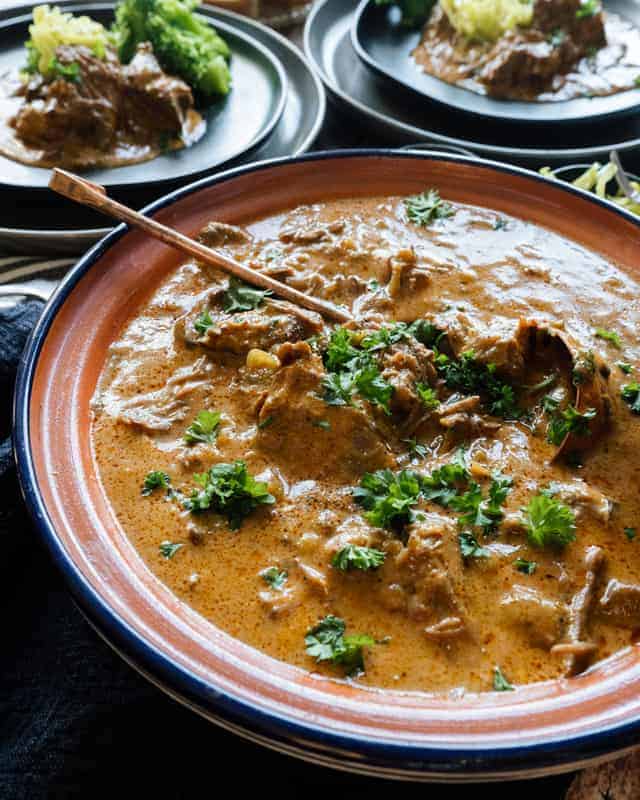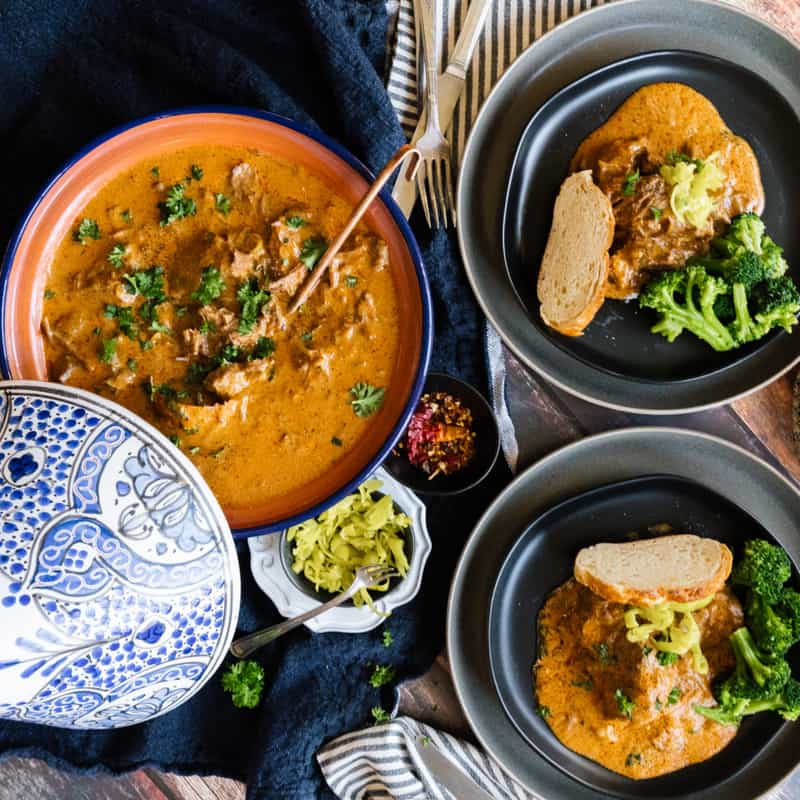 easy whiskey pot roast
Yield: About 6-8 servings
Ingredients
2 ½ to 3 lb. chuck pot roast, cut into 6-8 smaller chunks
2 tsp. salt
2 tsp. paprika
2 tsp. garlic granules
2 Tbl. nutritional yeast
1 (10.5 oz.) can cream of celery + 2 cans water, see notes below
½ cup chive cream cheese
¼ cup brown sugar
1 (1.1 oz.) onion soup mix
¼ cup double concentrated tomato paste
½ cup whiskey
3 Tbl. butter, unsalted
Salt and Pepper to taste
Instructions
Preheat the oven to 425.

Put the chuck chunks in a large Dutch oven. Combine together the salt, paprika, garlic granules and nutritional yeast and sprinkle on the meat.

Add the cream of celery soup, water, cream cheese, brown sugar, onions soup mix, tomato paste and whiskey. Stir and blend.

Cover the pot with foil. Put the lid on. Put the pot on a cookie sheet. Cook in a preheated 425 oven for 3 to 3 ½ hours or until the meat shreds with a fork. Add the butter to the tender meat, broth and blend.
Notes
Can substitute organic cream of mushroom or organic cream of cauliflower soup

Whiskey Substitutions:
Non-Alcoholid Sweet Wine
Apple Juice
White Grape Juice
Sparkling Apple Cider
If using a slow cooker, set on HIGH for 6-8 hours.

Check out these products:
Frontier Natural Products Organic Onion Soup and Dip Mix
McCormick, Just 5 Simple Ingredients, Dip & Seasoning Mix, Classic French Onion
Watkins Onion Organic Dip Mix