Chuck roasts are usually cheaper cuts of beef with more fat marbleing. They're usually not as tender unless you work your magic when cooking it!  Now the thing I totally LOVE about a chuck roast or 'stringy beef' as we also call it is that it cooks slow and low, and it creates this succulent aroma in the house that just scream  comfort food'!!!
When you walk through the door, your senses will be slammed mack daddy right against the wall, and you'll know that a burst of love is not long from being on your plate!  With the bourbon and brown sugar then the array of spices in this roast, which has spa hours in the oven basking in the juices, you'll think you're eating an expensive tender filet mignon!  Go ahead smile and know that you just scored an economic home run! That's what Bohemian Bold cooking is all about. Taking peasant simple ingredients, those that are inexpensive and common, and transforming them into something chic and luxurious!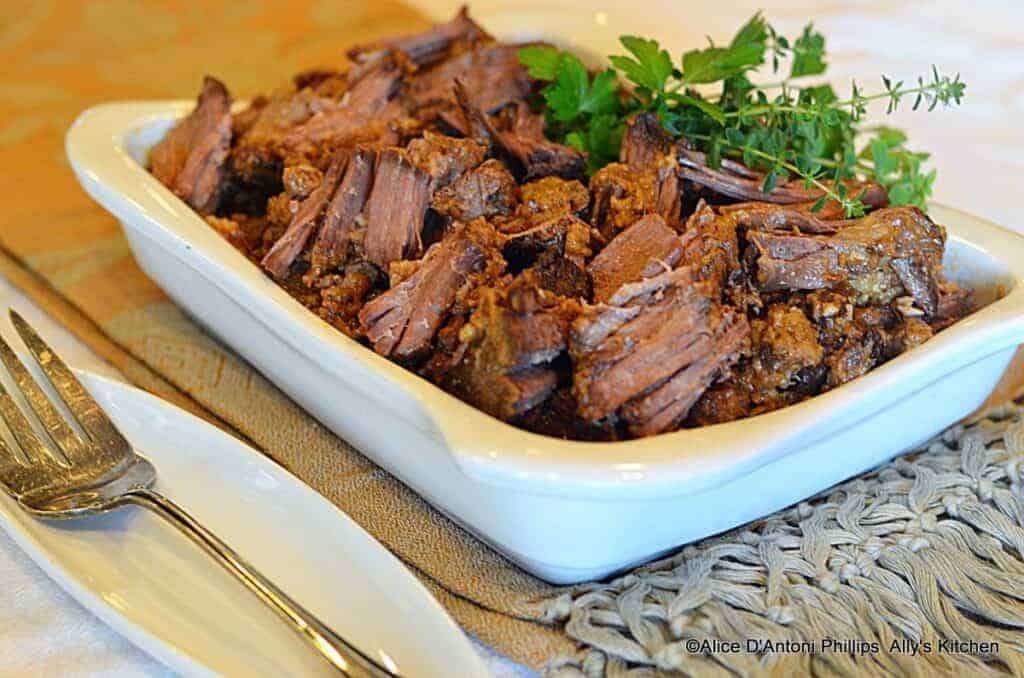 bourbon & brown sugar chuck roast
Ingredients
Preheat oven to 400 the reduce to 325
3 1/2 to 4 lb chuck roast cut into big pieces
1 tsp. sea salt
2 tsp. coarse ground pepper
4 Tbl. brown sugar 
1/2 cup bourbon, substitute orange or pineapple juice for non-alcoholic
6 cloves garlic sliced
2 tsp. Thai Spice mixture Thai spice includes sesame seeds, coriander, paprika, garlic, onion, cilantro, cinnamon, nutmeg. Order on Amazon
2 tsp Greek Mediterranean seasoning (dry seasoning)
1/2 tsp. red chili flakes (more if you want spicy!)
2 Tbl. extra virgin olive oil
1/3 cup double concentrated tomato paste
1/3 cup gourmet peppers
1 cup water
1/3 cup flour, all purpose
1/3 cup canola oil
Instructions
Coat the chuck roast pieces with salt and pepper and put in a large bowl.
In another bowl, combine the brown sugar, bourbon, garlic, Thai spices, Greek spices, olive oil, tomato paste, peppers and water and whisk together blending it all together well.  Pour over the meat and using your fingers, work in the mixture into the meat for about 2 minutes.  Set aside and let it just hang out for about 30 minutes.
In a large roasting pot, put the oil.  Turn heat to medium high.  Using tongs, remove the meat from the bowl, shake off excess marinade, and put on a large plate.  Coat pieces with flour.
Put meat in the hot oil and sear on all sides.  Reduce heat and slowly add in the marinade plus another 1 1/2 cups of water.  Cover tightly with a lid and put in a preheated 400 oven for one hour.  
Reduce heat to 300.  Check to see if you need to add a little more water (or beef broth).  Cook another 1 1/2 hours.  Remove and meat should tear apart with a fork.  There will be a thick gravy. Thin with more water or beef broth.
https://allyskitchen.com/bourbon-brown-sugar-chuck-roast/
©ally's kitchen intellectual property