blue plate special easy pot roast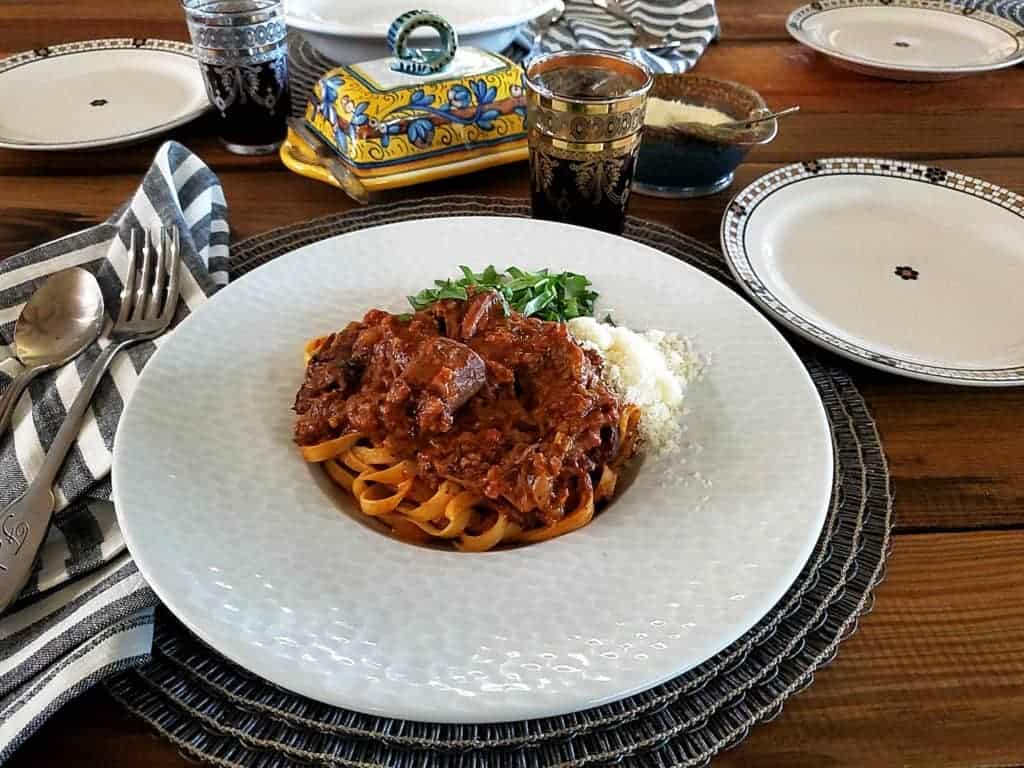 Blue Plate Special
According to Wikipedia, here's the scoop on the blue plate special. This blue plate special is a taste of nostalgia in every bite.
Blue-plate special or blue plate special is a term used in the United States and Canada by restaurants, especially diners and cafes. It refers to a low-priced meal that usually changes daily.
The term was very common from the 1920s through the 1950s. As of 2007, there are still a few restaurants and diners that offer blue-plate specials under that name, sometimes on blue plates, but it is a vanishing tradition. The phrase itself, however, is still a common American colloquialism.
A web collection of 1930s prose gives this definition: "A Blue Plate Special is a low-priced daily diner special: a main course with all the fixins, a daily combo, a square for two bits.
It's almost spiritual to me how food brings up so many memories of childhood, growing up, adulthood and mommyhood. Family affairs and holidays were always centered around the big table of food. And, nothing makes me happier than trying to reconstruct some of the dishes that brought me so much joy and happiness.
If you remember the mid-20th century and if you grew into adulthood in the 1950s, 60s and 70s, then you probably remember five and dimes, soda fountains, dime stores, GC Murphys and blue plate specials. This blue plate special easy pot roast sure does take me home to growing up in Logan County, West Virginia.
Mom and Dad would make Saturdays a special occasion once or twice every six to eight weeks and take us into the big 'city' of Logan. One of our favorite things to do was to eat lunch at 'The Rainbow Grill' where we could always find a blue plate special. And, if we ate everything on our plates, dessert. My absolute choice was Boston Cream Pie.
How to Slow Cook a Roast in the Oven
Some of my basic tips for how to slow cook a roast in the oven:
Cover the meat tightly.
Make sure it's covered completely and there's ample liquid for evening cooking.
Long, slow cooking with with liquid (braising) tenderizes the meat fibers.
Use a heavy deep Dutch oven pot with a lid. I also put doubled foil on the pot, then the lid on top.
Check occasionally to see if you might need to add liquid, water or beef stock/broth.
Cut your larger roast into four to five smaller pieces. It cooks faster.
Test your meat's tenderness with a large fork. The roast pieces should easily shred.
The 400 degree oven allows the roast to truly 'roast'.
Something Different to do with Chuck Roast
Are you looking for something different to do with chuck roast? Then why not try serving this blue plate special easy pot roast over pasta. It makes a hearty almost 'bolognese like' meat sauce that's just fabulous with some chopped fresh basil over the pasta noodles. Another thing different about this chuck roast is that I'm using a full jar of marinara sauce in it. Try to buy your favorite brand and the best brand you can afford because it makes a huge difference in the overall flavors.
You can't beat just a good ol' pot roast!
Slow Cooker Colorado Pot Roast
Chuck Roast Recipes
Now, when you're looking at chuck roast recipes, you want to choose on that's easy and simple! And, I love cooking a pot roast in the oven because it's another way for me to connect with my past. Now don't get me wrong, I don't want to go back to the past. Hey, I love my present and look immensely forward to the future. But, there's something about the past that can give a sense of warmth if you've got sweet memories.
And, since we didn't have any real gadgets and small appliances, oh, yes, a mixer, the oven and stove top got a good workout in Mom's cooking. Another reason I love cooking this pot roast in the oven is because of the aromas that waft through the house during the cooking time. And, I love cooking and serving in the beautiful blue Le Creuset.
I sure hope you try this recipe! Maybe it'll conjure up in your memories some of those good ol' days when life was extraordinarily simple, economic times could be tough and history was being made.
You'll probably want to try more of my pot roast recipes! Oh, gosh, this All-American Pot Roast is a must!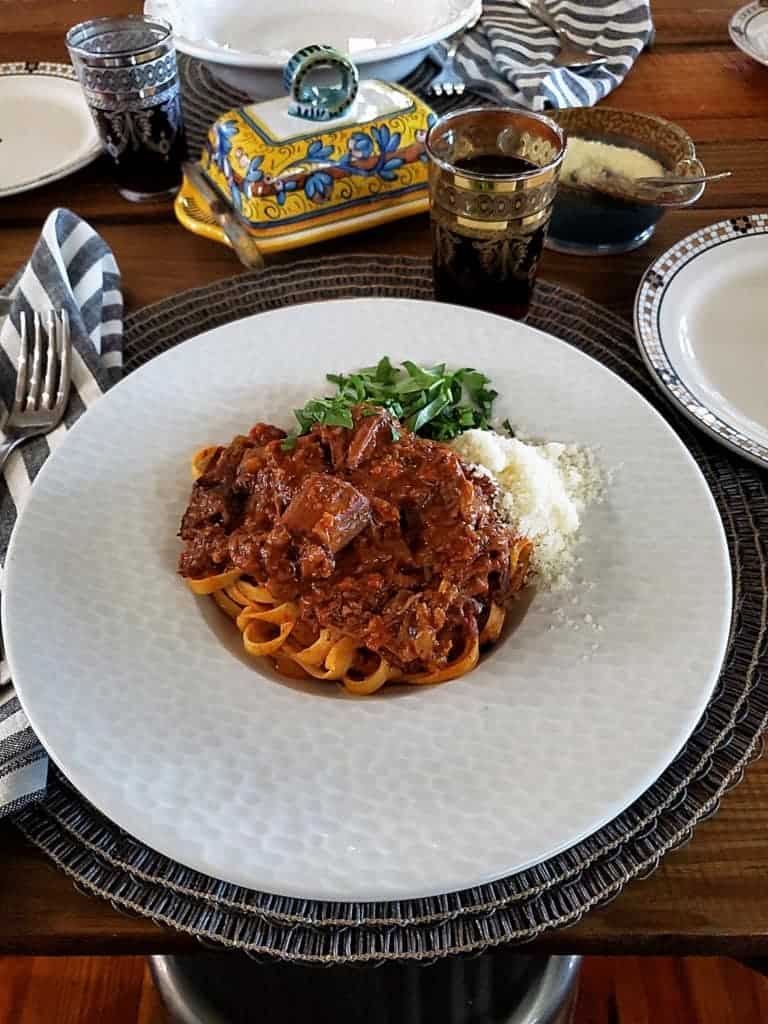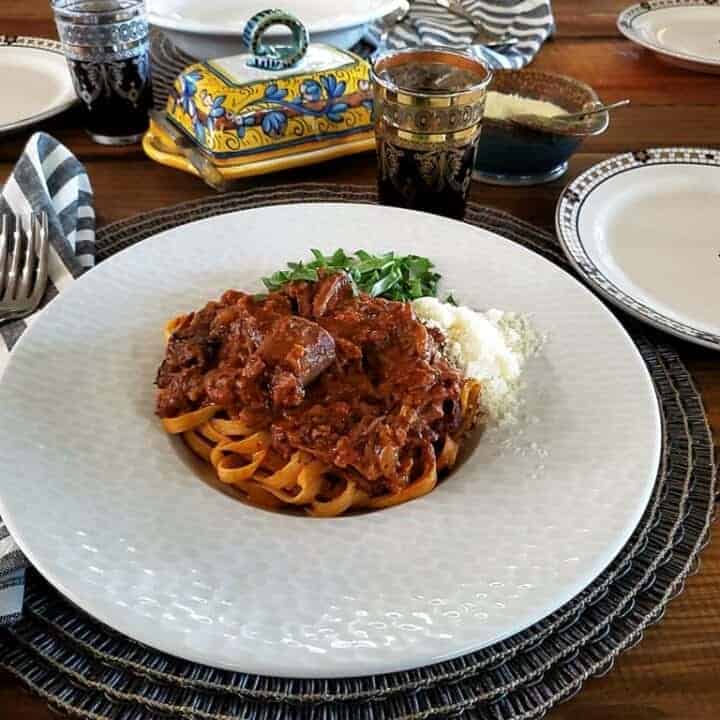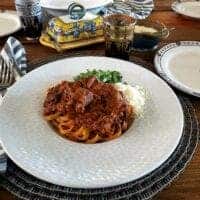 blue plate special easy pot roast
Blue plate special easy pot roast is comfort food. Reminds me of my childhood. Yes, this easy pot roast recipe sure does bring back memories of those good ol' days!
Ingredients
Preheat oven to 400
3 lb. chuck roast, cut into 4-6 smaller pieces
½ cup flour, all purpose
¼ cup oil
1 tsp. sea salt
1 tsp. pepper
2 Tbl. nutritional yeast seasoning
2 Tbl. No-Salt seasoning mixture, such as Mrs. Dash or Costco brand
1 sweet onions, French slice
4 oz. mushrooms
1 (28 oz.) jar marinara sauce + 4+ cups water
Instructions
Coat the chuck roast pieces completely with flour.

Put the oil in a large Dutch oven pot over medium high heat. Let it get hot. Add the beef chunks and brown on both sides. This will take about 8-10 minutes. Turn off heat.

Combine the salt, pepper, nutritional yeast and no salt seasoning mixture in a small bowl then sprinkle over the meat. Add the oinons, mushrooms marinara sauce and four cups of water.

Cover the pot. Put in a preheated 400 oven and cook for 2 hours. Check to see if you need to add more water. Continue cooking another hour. Meat should begin shredding easily with large forks.

(If the sauce is too thick add more water.) If not, cook another about 15 minutes or until the meat is totally tender.

Remove from oven to the stove top. Serve as you like!
Notes
So many things you can do with this pot roast! Make sandwiches, sliders, use as a base for stews and soups.

Serve over mashed potatoes or baked potatoes.

Serve as over pasta. Be sure to coat your cooked pasta in some of this gloriously delicious gravy!