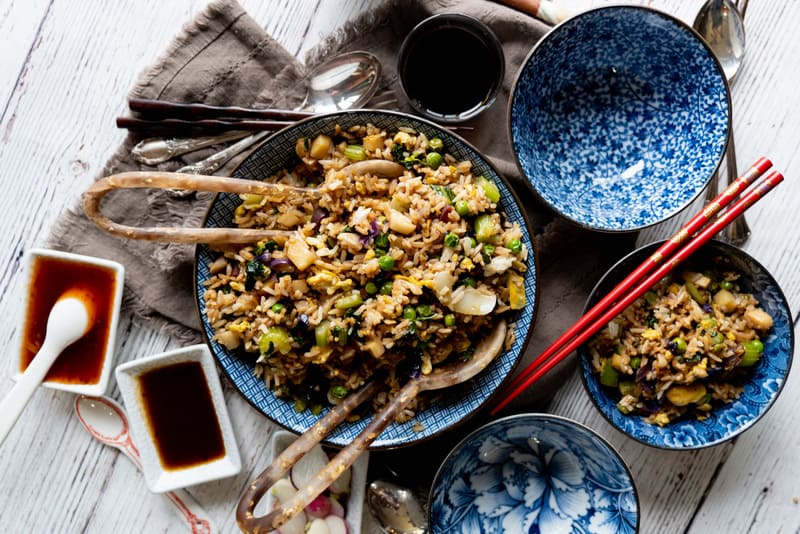 Asian fried rice. Kid approved. Simple and ez to make. Full of healthy fresh vegetables and all those Asian flavors you love! Why do takeout!
Restaurant Style Fried Rice
Oh, yes, you can order take out Chinese. But, why not make this easy Asian fried rice! It's totally better than 'restaurant style' fried rice. And, super simple. Plus, you get the added bonus of aromas that don't come with takeout!
How to Make Fried Rice
Making fried rice at home isn't complicated. You just need to do a tad bit of planning ahead. And, that planning ahead means making your rice the day before and chilling it.
Easy Fried Rice Recipe
If yo use a fresh bowl of warm rice in this recipe, well, you might not get the textures you want. You see, warm rice doesn't fry well when it hits the pan. You'll get soggy clumpy rice. Not gonna be whatcha want!
Egg Fried Rice Recipe
So the best idea is to make your rice a day or two ahead of time. Refrigerate it. Then you're good to go. If you have leftover rice from dinner, don't toss out. Use it for this recipe. OK, one last thing about using chilled rice, if you just flat out forget, then not to fret, you can still make this recipe. Just take that newly made rice, line a cookie pan with parchment paper, spread out the rice and chill it in the refrigerator or freezer. Careful if you put it in the freezer. You don't want to freeze it!
Vegetarian Fried Rice
What kind of rice to use in making fried rice. Well, my personal opinion is jasmine rice. Jasmine rice has a really nice flavor and texture. And, it's why so many Chinese restaurants use it in their fried rice dishes.
Now just by the nature of this dish, it's vegetarian. But, if you want to add a protein, then you can. Maybe grilled chicken or shrimp?
Asian Fried Rice Recipe
One thing I love about this recipe is that it's kid approved. Not a lot of fru fru in it. Lots of fresh vegetables. Yes, you can use frozen, but, hey, clean out your crisper and use up all those veggies. And, if you want your fried rice a little more seasoned and spicy, then consider my Asian Curried Fried Rice & Chicken.
Sauces for Fried Rice
Depending upon your palate, you can let everyone add their favorite sauces to the fried rice. Whether it's a sweet chili sauce, sriracha, a mustard hone sauce or just Texas Pete hot sauce, it's all up to the person who's going to be enjoying this recipe. Want something really different and contrasting to serve with this recipe, then you have to try this Rice Grape Salad!
Rice with Egg
Now I love my rice with eggs. And, if you want to make it three or four eggs, then no problem. To me, the more scrambles the better.
Simple Fried Rice
Simple fried rice is just that. Simple. The ingredients are fresh. The preparation effortless. The cooking uncomplicated. If you're looking for your fried rice to have a hint of sweet, then check out my Chinese Stir Fry Rice & Pineapple!
Fried Rice Seasoning
And, as for the seasoning in this recipe. Well, the oyster sauce (or you could substitute fish sauce), sesame oil and soy sauce go a long way in flavoring. Add your salt and pepper to taste. And, if you want to throw in some red chili flakes or even some diced jalapeno or serrano peppers, then have at it. Just make sure it's kid approved!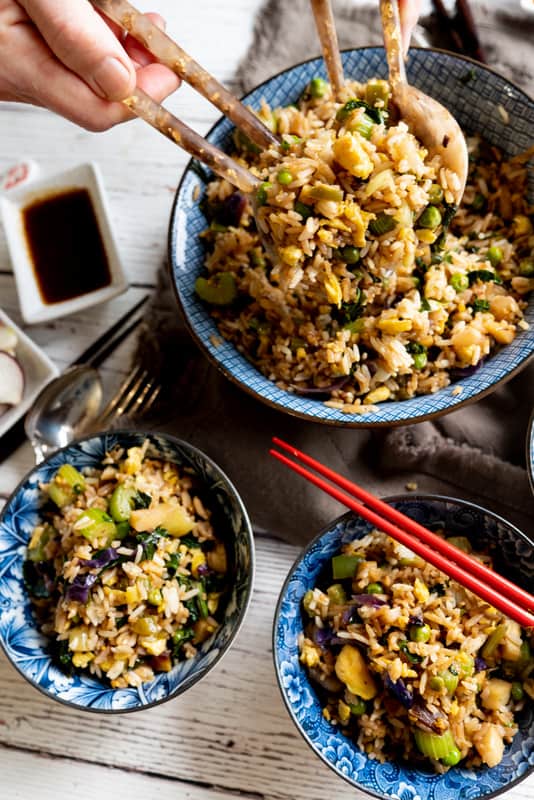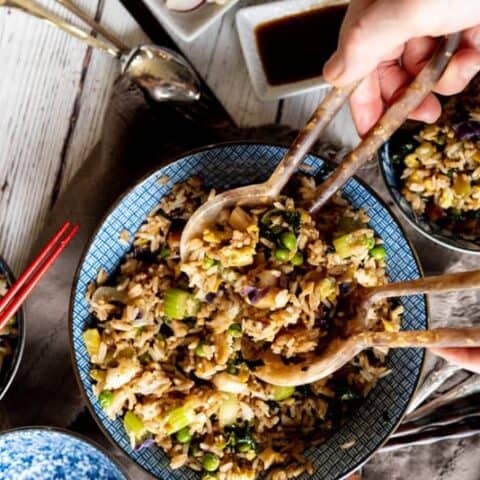 easy asian fried rice
Ingredients
4 Tbl. butter, unsalted, divided
2 eggs, whisked
4 garlic cloves, minced
6-8 cups assorted veggies, small dice, slice or chop, carrots, onions, peppers, celery, turnips, parsnips, kale, peas, green onions, cabbage
Salt and Pepper to taste
5 cups rice, cooked and chilled (I like jasmine rice)
2 green onions, sliced
¼ cup soy sauce
3 tsp. fish sauce
3 tsp. toasted sesame oil
Instructions
In a large skillet over medium high heat, put one tablespoon of butter and melt. Add the egg, scrambled. Remove from pan to a dish and set aside.

Add the two tablespoons of butter to the pan, melt and add the assortment of vegetables and sauté about 5-6 minutes until the veggies are tender.

Salt and pepper to taste (remember we're adding soy sauce too, so don't over salt). Stir occasionally.

Turn the heat to high and add the remaining butter, chilled rice, soy sauce, fish sauce, sesame oil and blend and cook about 2-3 minutes.

Make sure the scrambled egg is in small pieces and add. Blend into the rice.

Taste for additional soy sauce or salt and pepper.