Easy Asian Cucumber Salad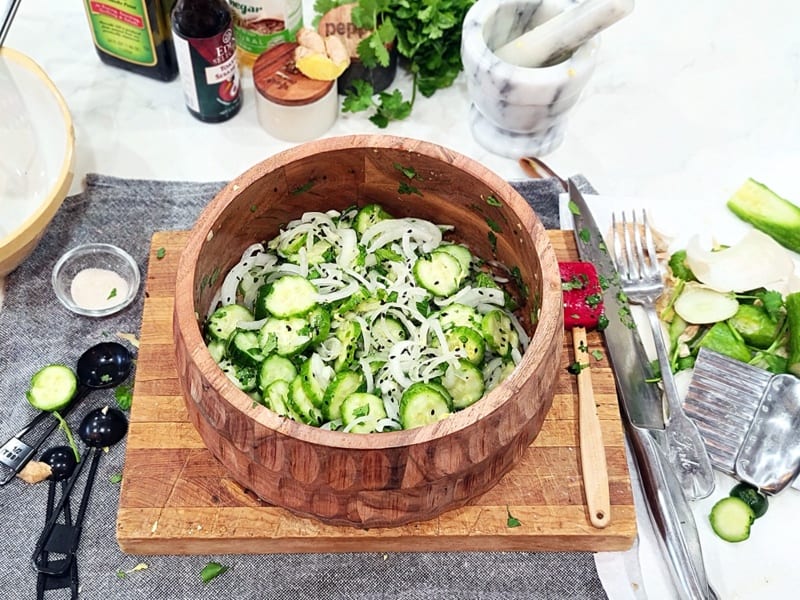 Easy Asian Cucumber Salad is new for your tastebuds! Full of healthy ingredients, crunch, crisp and happy! Every bite's refreshing!
Cool Cucumber Salad
Nothing's better than a cool cucumber salad. And, if you've not tried my Appalachian Cucumber Salad or Crunch Veggie Salad, then you must!
And, y'all know that I love love serving in wood pieces. Check out my Amazon storefront 'Wooden Serving Pieces' for some amazing options to add to your collection of serving pieces! There's lots of other categories that I've curated, too, like boho head gear and more!
Easy Cucumber Salad
Easy salads make dinner or a meal so much better.
The beauty of this salad is that you can prepare the dressing ahead of time and refrigerate. You can also slice the onions. I'd hold off on the cucumbers. They tend to get soft and mushy pretty quickly.
And, if you're in the mood for something creamier but still with the freshness of that crunchy cucumber, then this creamy cucumber yogurt salad is the ticket!
Recipes with Cucumber
Now recipes with cucumbers can be quite different. I mean if you haven't tried my Cucumber Galette, you must! It's absolutely delicious! And, only three ingredients. Yes, you heard me right!
What Salad Can I Make with Cucumber
Oh, you can make a lot of salads with cucumbers. Here are a few of my favorites! With purple cabbage, you've got super fiber and nutrition, The Best Purple Cabbage Salad.
And, how about a breakfast salad with pancetta. And, of course, cucumbers!
How to Make a Cucumber Salad
Making a cucumber salad is super simple as you can see from this recipe! All you need to do is slice the cukes.
Now, I love to dress up the cucumbers. After I wash them well, especially if you're not removing the outter skin, you can score with a fork and then make slices. Each slice has a fluted perimeter. Really cute!
And, another way to cut cucumbers is with a wavy crinkle cutting tool.
And, here's another idea. Just pair this salad with my Moroccan Pot Roast and you'll have an international meal!
Dressing for Cucumber Salad
The dressing for this cucumber salad is really easy to make.
If you don't have a mortar and pestle, buy one! They're super inexpensive, and I have several options for you at my Amazon Storefront!
Go to 'Small Kitchen Tools'!
Healthy Cucumber Recipes
All of my recipes, especially the salads, with cucumbers are basically super healthy. I do love cucumbers with my fried chicken tenders and waffles. Not sure that qualifies as healthy!
Best Cucumber Salad Recipes
So, I really think you should be able to find some great cucumber salad recipes right here on my website.
Cucumbers were a huge part of my growing up in Appalachia. Mom always planted them. And, we ate at boatload of them in the summers in just about everything. Lots of times, we'd just grab a cucumber and eat it like a popsicle!
Cucumber Side Dish
You can bet I'll have some kind of cucumber side dish on my holiday tables.
Cucumbers are healthy and low calorie.
"There are just 16 calories in a cup of cucumber with its peel (15 without). You will get about 4 percent of your daily potassium, 3 percent of your daily fiber and 4 percent of your daily vitamin C. They also "provide small amounts of vitamin K, vitamin C, magnesium, potassium, manganese and vitamin A." Source
Alrighty, time to eat some serious cucumbers!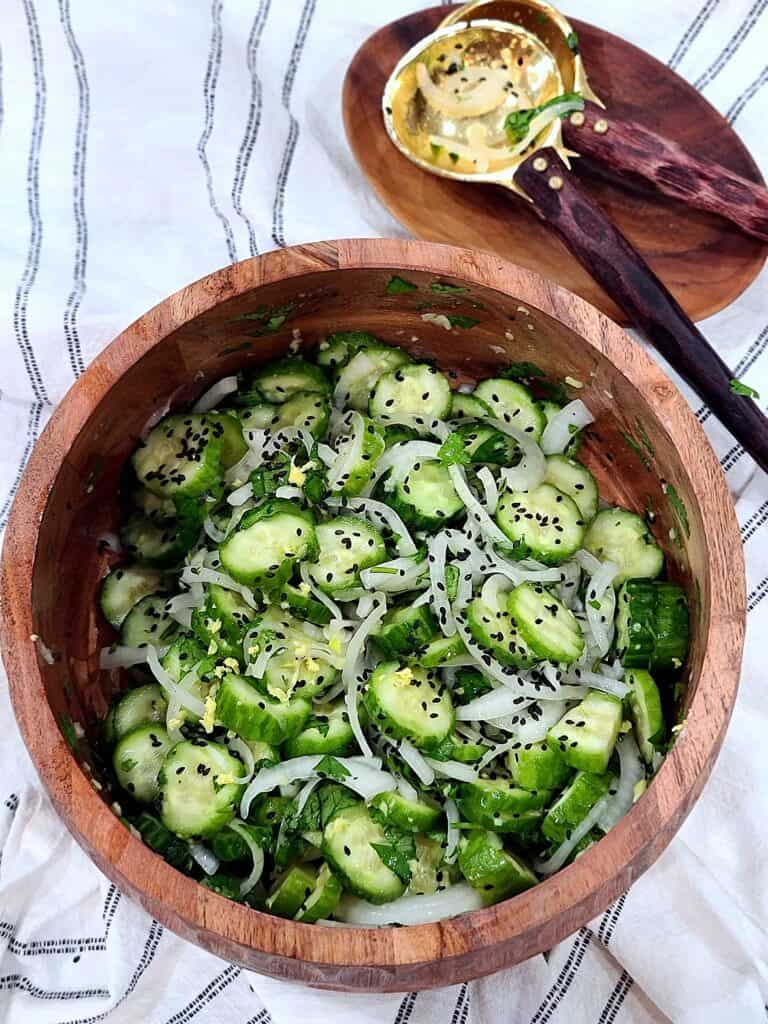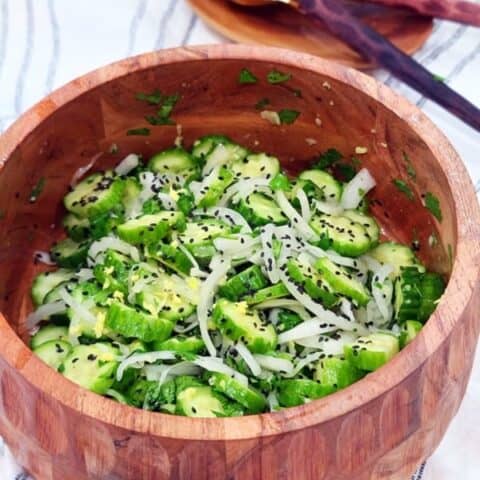 Easy Asian Cucumber Salad
Ingredients
DRESSING
3 Tbl. rice wine vinegar
2 tsp. sugar
3 Tbl. avocado oil
2 tsp. toasted sesame oil
2 sweet onions, sliced very thin
2 inches fresh ginger, peeled and sliced
2 large garlic cloves, peeled and sliced
1 tsp. sea salt
SALAD:
8-10 small cucumbers, washed well, dried, cut into slices
1/4 cup toasted sesame seeds, white or black
3-4 Tbl. fresh cilantro, chopped
Instructions
Put the rice wine vinegar, sugar, avocado oil and sesame oil in medium size wood bowl. Whisk together. Add the onions.
Put the garlic, ginger slices and salt in a mortar and work into a mash. Scrape into the bowl with the dressing/onions. Blend well.
Set aside to marinate for about 15 minutes.

Add the cucumber, sesame seeds and cilantro. Mix and let it sit for about 10 minutes or refrigerate until ready to serve.
Grate a little more of the fresh ginger on top prior to serving.
Notes
SUGAR SUBSTITUTES:
Coconut Sugar
Honey
Sugar Alternative Low Calorie
CUCUMBERS:
Best ones to use: English cucumber, Persian cucumbers, cocktail cucumbers. And, if in season, Armenian or lemon cucumbers.
SUBSTITUTIONS:
Red onions for sweet white onions.
White or black sesame seeds (but both toasted)
Toasting Sesame Seeds: Put in a small skillet over medium heat. Shake and move the pan for a few minutes until you see the seeds turning a golden brown (white seeds). You'll sense a slight aroma, too. Remove and let the seeds cool before adding to your salad.