orange sriracha glazed chicken with peppercorns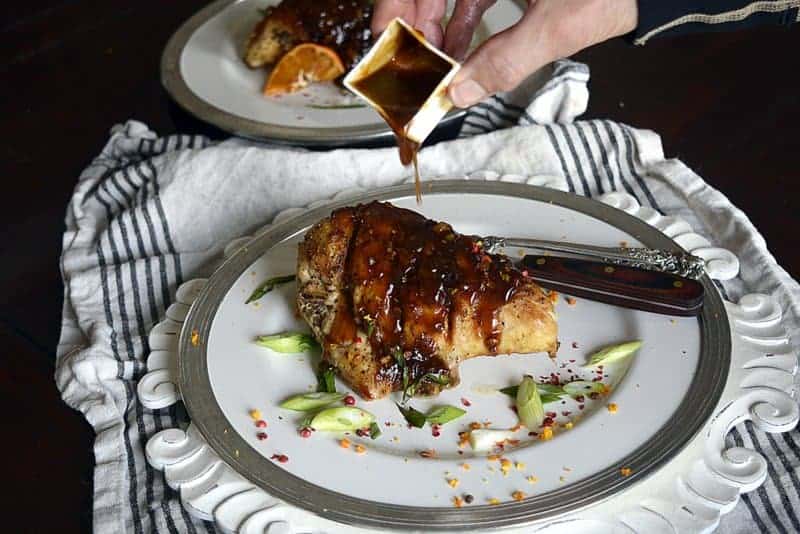 Orange sirirach glazed chicken with peppercorns. Sounds kinda fancy, doesn't it? Maybe fancy to you means difficult to make? Well, if so, you're in for a big surprise. This dish is so outrageously easy to make that you'll be using it as one of your 'go to' recipes for dinner parties and quick evening meals.
If you didn't already know, chicken is an obsession with people and eating. Most everyone loves chicken. According to Pinterest, 'chicken recipes' outranks 'recipes' in searching. How 'bout that! And, I must say, I'm one chicken lover. In fact, I could start sprouting pin feathers any day. Yes, that's how much I and my family love chicken!
In a quest to vary my chicken preparation, I'm always looking for new innovative flavors for chicken. And, it doesn't matter what type of chicken, this orange sriracha glazed chicken with peppercorns will work whether it's wings, thighs, legs or the whole bird. I just happened to have bone in skin on chicken breasts in my refrigerator, so that's why I used them.
There is a special technique that I used with the chicken breasts that helped infuse the glaze into the meat. I made three diagonal, about one-fourth inch to one-half deep, slits in the meat prior to pan searing and cooking. Then when the warm glaze was poured on them, it seeped into the chicken better. You can gently pull those openings apart after cooking if needed.
Recipe Decor
Another thing that I love about creating recipes is introducing you to maybe small things, ingredients, techniques, cooking equipment, that you might not use. And, in this case it's the whole peppercorns. I crushed them in a mortar and pestle because I wanted to retain some of the 'crunch' and 'ruggedness' of the entire peppercorn. Why did I use pink? Well, because that's what I had in my pantry. Plus, they're really pretty, love the color, and it adds 'style' to the finished dish. Yep, I believe in #prettyeating! You can use multi-colored if you like. I don't think I'd use simply black because of the lack of 'color', which is another small feature of making this recipe different. If you've never used whole peppercorns, then try it. They do elevate, in my opinion, some recipes. And, because they're not terribly expensive and because they last, you might want to keep some in your pantry inventory. You might even want to keep them in the freezer to extend freshness.
Sure hope you enjoy this recipe as much as we do. It can become a staple on your weekday menu because it takes little time at all. Just add a green or salad, and you're in business, my foodie luvs! And, remember, life is too short just to eat dinner, make it a memorable dinner! xoxo ~ally
PS~I always love your comments, so take a few minutes to leave some love!
*smooches & hugs*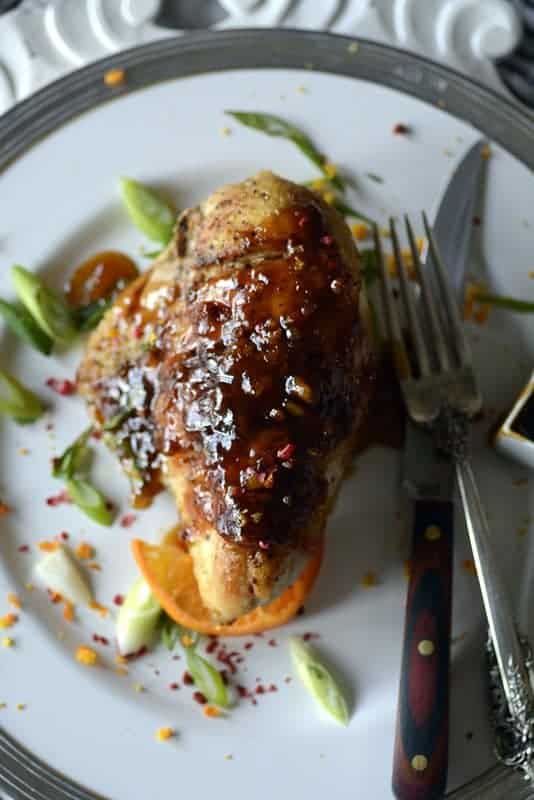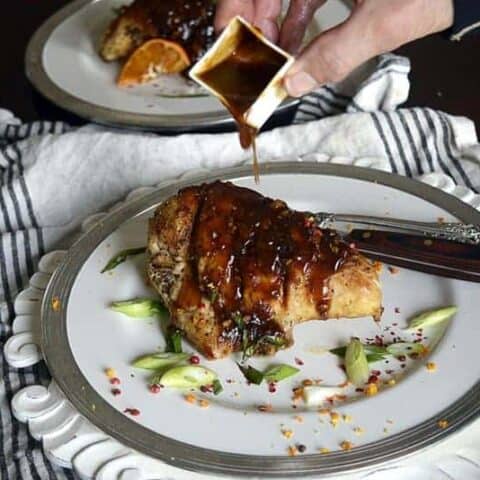 orange sriracha glazed chicken with peppercorns
Ingredients
Preheat oven to 400
CHICKEN:
3 chicken breasts, bone in, skin on, medium to large size
1 tsp. sea salt
1 tsp. coarse ground pepper
1/2 cup extra virgin olive oil, divided
GLAZE:
1 Tbl. garlic, minced
1 ½ cups orange marmalade
1/3 cup orange juice
¼ cup soy sauce
2 tsp. sriracha
1 Tbl. peppercorns, crushed, divided (I used pink peppercorns.)
1 orange, zest & juice
GARNISH:
3 green onions, chiffonade sliced
Instructions
CHICKEN: Rinse and pat dry the chicken. Take a sharp knife and make three diagonal slits, about one-fourth to one-half inch deep, in the meat. Coat with the salt and pepper (massage into the slits). Heat a deep cast iron pot on high. Put in one-fourth cup olive oil. Let it get hot. Reduce heat to medium high. Pan sear on both sides about 4-5 minutes.
Loosely cover the pot with doubled foil. Continue cooking for about 25-30 minutes in a preheated 400 degree oven.
Meanwhile make the glaze. When chicken is done (should be about 165 degrees when checked), remove (remain covered) and let it rest until ready to serve with glaze.
GLAZE: Put the remaining oil in a medium size skillet on medium heat. Add the garlic and sauté about two minutes. Add the marmalade, orange juice, soy, sriracha and half the peppercorns.
Whisk together well. Let it come to a simmering boil for about 12-15 minutes. It will thicken. Add the zest and remaining juice from the orange. Blend together well. Drizzle over the chicken gently massaging with a spoon into the slits.
GARNISH: Serve with green onions, some orange zest and crushed peppercorns.
Notes
If the glaze is too thick, simply whisk in some orange juice! Freshly squeezed works, too.

If you want to extend this recipe and substitute a bone in thick pork chop with the glaze, then you're in for another culinary explosive treat!