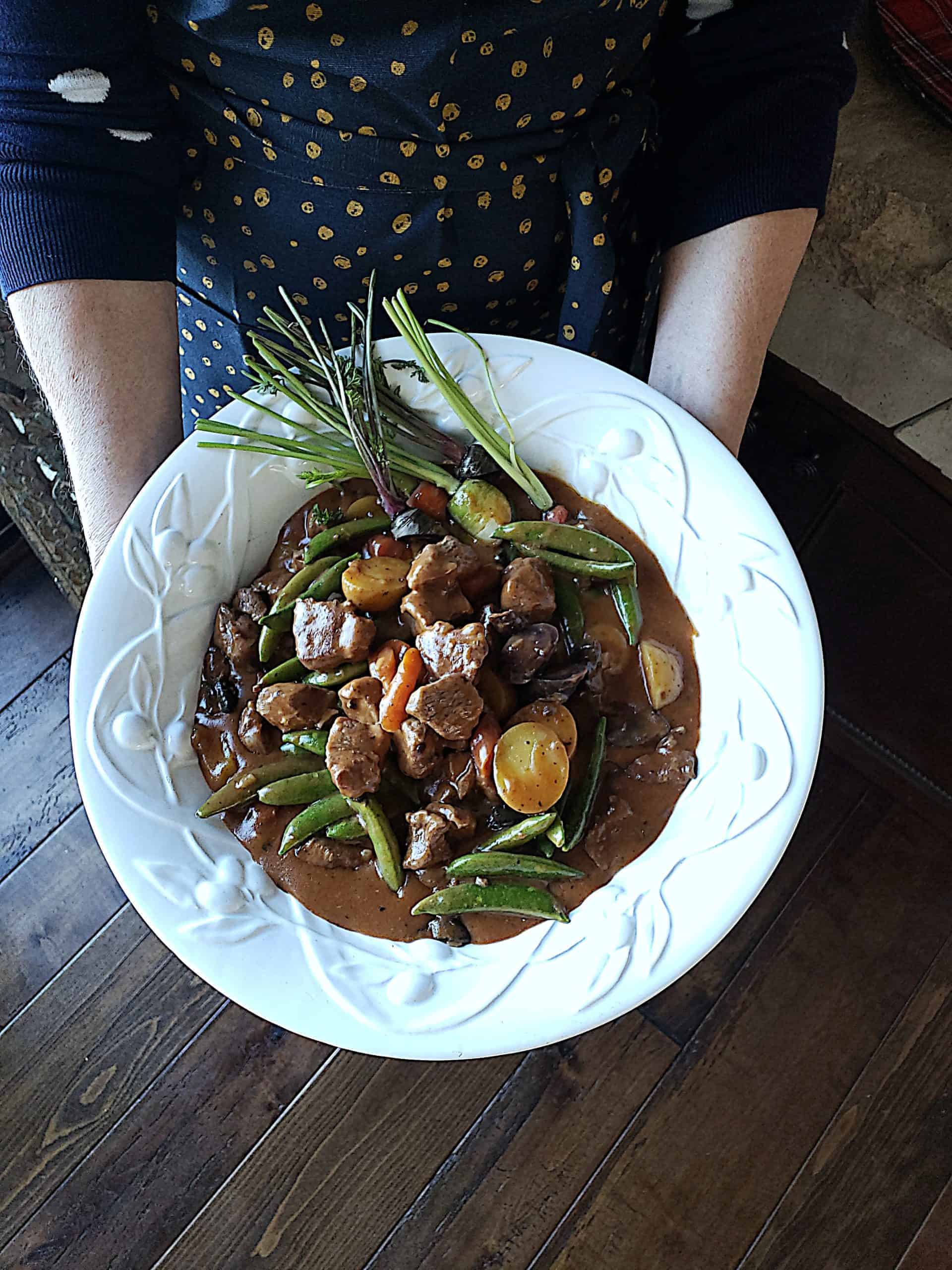 Lamb
Lamb stew is a sure dinner 'winner'! Thick, rich, meaty and healthy, chunky lamb stew gets better as leftovers. Aussie lamb is the best lamb out there!
This is a sponsored post in partnership with True Aussie Beef and Lamb. Bring home the flavors of Spring with these other great recipes from True Aussie Beef and Lamb!
Let's talk about some things lamb related and clear up the misconceptions!
Lamb is too pricey. Not true. There are different cuts of lamb making it really affordable even for weeknight meals. And, like most other meats, lamb is featured on sale. Buying larger quantities of lamb at Costco is a great way to save money. You can then divide and conquer and freeze smaller amounts of the lamb for different recipes.
Lamb is just for special occasions. Oh, no, it's not. It's perfect for weeknight meals, weekend grilling and always special occasions. Just think of lamb as you would beef, pork or chicken. It's a red meat that's meant to be enjoyed more than just on holidays.
Lamb is hard to cook. Oh, wow, now this IS a misconception! Certain cuts of lamb are so easy to cook that a 10 year old could do it. For instance, quickly seasoning and searing or grilling lamb loin chops or long bone lamb chops. EZ PZ! Then you have ground lamb and it's just like ground beef, bison, chicken, turkey and other ground meats. Super simple. Make into burgers, chili, tacos and more!
Cooking Lamb Takes a Long Time. Hey, just like cuts of beef, some cuts of lamb require low and slow cooking. That takes time. On the other hand, the same is true with more tender cuts of lamb, like beef, it cook can cook quickly depending upon your technique.
Dinner Idea
We're always looking for healthy dinner ideas. And, how good is lamb stew for you to eat? Healthy proteins are part of our nutrient requirements. And lamb racks up high quality in our protein requirements. Pasture raised lamb is lean and it naturally contains thirteen essential nutrients including things like iron, zinc, Omega-3 and B-vitamins.
By now you're probably convinced to cook more lamb, so check out these great recipes at the True Aussie website. In fact, you'll be sure to fine more of mine!
Irish Stews
Irish stews are made with mutton, which are mature sheep. This dinner idea for Aussie chunky lamb stew is made with lamb. Like an Irish stew this Aussie lamb stew is loaded with vegetables. There's a delicious thick rich sauce or gravy, and this lamb stew is hearty and belly-filling any time of the year.
You can find different cuts of lamb at your local Costco. Or check out your zip code to see where else you might find True Aussie lamb.
I started with a boneless leg of lamb. That's because I wanted to trim and cut my lamb chunks to my desired size. And, the leg of lamb was more than I needed for this recipe, so I could save the rest for another recipe, like minced lamb for tacos and pizza!
You have the option of using vegetables of your choice, but I wanted to make this a more traditional stew for Easter. I did add a pop of crunch and green with the stew by adding in the sugar snap peas right before serving. These don't actually need to be 'cooked' and certainly not overcooked. There's something about the crispy texture that pairs well with the creamy gravy in the stew and the other root vegetables like carrots and potatoes.
If you have any leftover gravy from this stew, save it! Because it's very thick, you can use as a base for a soup! And, what a soup this will be!
Lamb for Stew
Cooking lamb shouldn't intimidate you. I know that sometimes it does for many folks, but, it's as easy to cook as other meats like beef, pork and chicken. And, lamb is a meat that you don't have to 'save' for a special occasion or holiday. It's perfect even for a week night meal. So, what are some tips for cooking that True Aussie recommends:
Bring your meat up to room temperature before cooking – and prevent it from drying out.
Grassfed meats require less cooking time – about 30% less is a good rule of thumb.
Allow steaks, chops and roasts to rest 5-10 minutes before cutting – it keeps them nice and juicy.
You know, pasture raised lamb (and beef) is just flat out GOOD. It's good for the animals. Good for the environment. Good for the land. Good for the farmers. It's GOOD for you!
If you're not familiar with Aussie lamb, then let's do a quick simple review. It's so important to know more about where our food comes from and what happens way before you make your purchase of it. You can certainly read more about True Aussie Beef and Lamb at their website! Here are some important aspects of it from their site.
Lamb from Down Under has the all-natural advantage. It's free-range and naturally fed on our abundant pasturelands, so it's mild tasting and naturally lean and tender. Plus, Aussie Lamb is free of artificial additives and hormone growth promotants — a pure product of its pure environment.
Holidays
After a long, sometimes hard, dreary and cold winter, I think lots of folks are itching for Spring. Spring represents so much more than warmer weather. It welcomes sunshine, longer days, extended daylight, renewal and growth, beautiful flowers, planting of gardens and fun holidays, like Cinco de Mayo and St. Paddy's Day, and very reverential holidays, like Easter. Spring also is a time that we can dust off our outdoor dining furniture and do some serious al fresco dining! Whether it's in the yard, on your patio, a deck, where ever, breaking bread with family and friends in the great outdoors is just special
When you host these Spring dinner parties, you're usually looking for something extra special. And, this Aussie Chunky Lamb Stew is just perfect! Let's just tick off some of the practical reasons:
It's done in one big stock pot or Dutch oven. That makes for super simple.
There're no real technical steps and culinary skills required for this recipe. So, yes, you can do it!
It's packed full of flavor and super healthy nutrients. It's what I call 'close to the Earth' eating.
You've got a gorgeous presentation. All you need are a few side salads, and dinner is served!
Lamb Recipes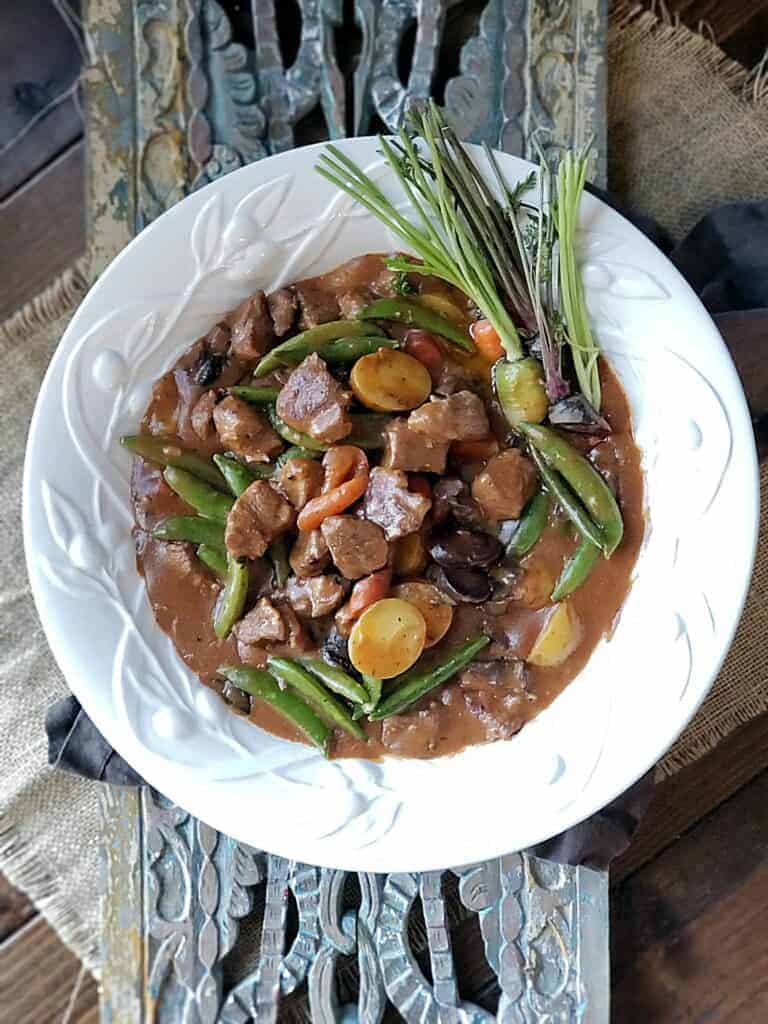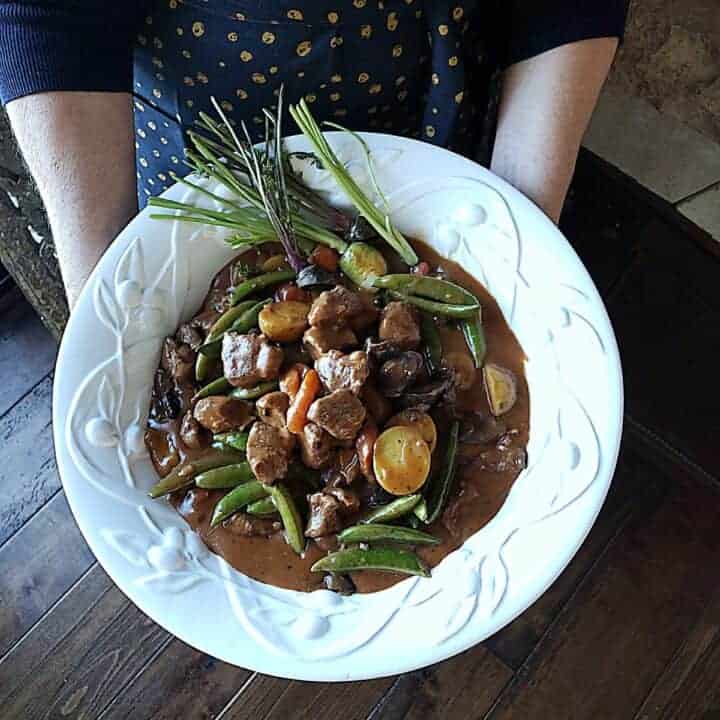 aussie chunky lamb stew
Lamb stew is a sure dinner 'winner'! Thick, rich, meaty and healthy, chunky lamb stew gets better as leftovers. Aussie lamb is the best lamb out there!
Ingredients
Preheat oven to 350
3 lb. Aussie lamb cubes, about 2" each, find it zip code
1 ½ cups flour, all-purpose
1 ½ tsp. sea salt
1 tsp. pepper
½ cup oil, canola or vegetable
3 tsp. Italian seasoning mixture
1 Tbl. garlic puree
4 cups filtered water, divided
1 pkg (1.2 oz.) Lipton Onion Soup
2 (12 oz.) Cream of Mushroom soup, plus rinse out one box with water, Pacific Brand
4 oz. concentrated tomato paste
VEGGIES:
2 cups mushrooms, your choice
3 cups Dutch Baby Potatoes, cut into bite size pieces
2 cups rainbow carrots, sliced
2 cups sugar snap peas
Instructions
Put the flour, salt and pepper in a large mixing bowl and blend well. Add one-third of the lamb chunks and toss. Shake off excess flour and put on a parchment paper covered cookie sheet.

Repeat until all lamb chunks are flour coated.

Put a large dutch oven pot on the stove on medium high heat. Let it get hot then add the oil and let it heat. Add about one-third of the chunks at a time and brown on all sides. Push browned meat chunks to one side of the pot until all is browned.

Add two cups of water and deglaze the pot. Blend and add the Italian seasoning and garlic puree Then add the onion mushroom soups, tomato paste and blend well.

Cover the pot with doubled foil and the lid. Cook in a preheated 350 oven for one hour.

Remove pot from oven and add the mushrooms potatoes and carrots. Gently blend and stir. Replace foil and lid and return to oven for another 45 minutes.

Remove from oven and blend the meat/veggies. Keep covered and right before serving add the snap peas, blend, cover and let them steam for a few minutes.