This slow cooker caribbean jerk pork and red lentils is one thick rich unbelievably deeelish soup! And, it's the kind of recipe that you can adjust the liquid and make it into a really thick stew that you could eat with a fork. And, that's what I did!
Using the bone in pork chops in this recipe did so much more than just add pork. That's because bones provide so many nutrients and value to your eating. There's something called gelatin in the bones and that helps with thickening. And, then there are lots of vitamins and minerals in those bones. While the bone in a bone-in pork chop is not majorly huge, it does have pack some extra value for your end product. So, why not make that happen while you're cooking!
Now, I served these bowls of luscious goodliness with a kale/cabbage/nut/dried fruit salad. What a contrast on the palate. The crunchiness and hints of sweetness of the salad with the creamy spiciness of the caribbean jerk pork and red lentils was just fabulous! And, both salad and soup were served in a large bowl. That's because I like my soup thick. Actually, thick enough to eat with a fork, and that's what I did! Enjoy my luvs!! xoxo Peace & Namaste ~ally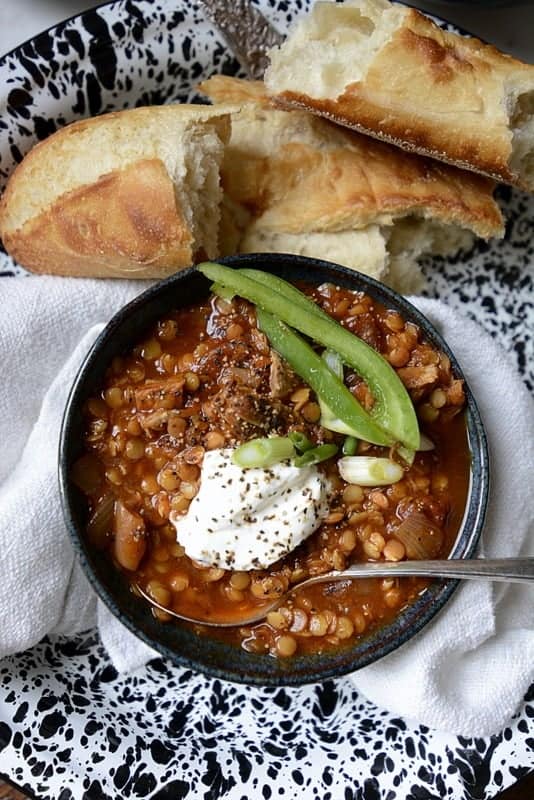 slow cooker caribbean jerk pork and red lentils
Ingredients
¼ cup extra virgin olive oil
2 lbs. pork chops, bone in, thick cut
3 cups V8 juice
1 (15 oz.) can tomatoes, diced + 1 can water
1 (1.25 oz.) pkg. chili seasoning
1 ½ cups sweet onions, diced
1 ½ tsp. sea salt
1 tsp. coarse ground pepper
2 cups dried red lentils
GARNISH
Sour Cream
Green Onions, sliced
Green Pepper, sliced thinly or diced
Instructions
Put the slow cooker on high for 4 hours. Add the olive oil, pork chops, juice, tomatoes, water, chili seasoning, onions, Caribbean seasoning, salt, and pepper. Cover and let it cook.
Remove the pork chops and debone cutting/shredding the meat into bite size chunks. Return to the slow cooker. Put the bones back in the mixture. (Wring out all the value!) Add the lentils and blend. Cook another hour on high.
Add water as needed. You determine whether you want the mixture really thick or soupy. Remove the bones before serving!
Serve with optional garnishing.
Notes
This is a meal! Just add a salad and you're all set!
Leftovers can be frozen. Use freezer zip lock bags or freezer containers.
Depending upon your preference for consistency, add liquid (water, chicken stock, beef stock, vegetable stock) to lessen thickness. (We like our thick! Can even eat with a fork!)
https://allyskitchen.com/slow-cooker-caribbean-jerk-pork-and-red-lentils/
©ally's kitchen intellectual property