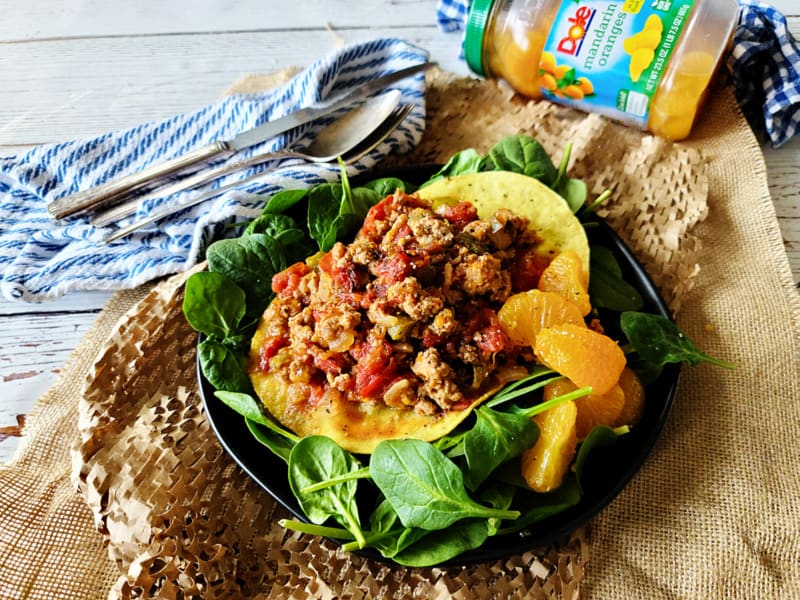 Easy pork tostadas will be a family favorite! So simple to make. And, you've got the subtle hint of sweet with the creole heat of spicy! Yumm!
Traditional Mexican Dishes
Thanks to Dole Sunshine for partnering with me on this recipe! I am the creator of this recipe and for the description and information that follows. For full disclosure, click here!
Tacos Tostadas
We're all quite familiar with tacos. In fact, tacos are like apple pies. So American now.
But, what about tostados? Just what is a tostado. What makes it different from a taco?
Mexican Pork Tostadas
Tostadas, like tacos, are corn tortillas. They're baked or fried. Very crispy. And, tostados are like big round tortilla chips! What do you do with them? Well, just about anything you want.
Pork Tostada Recipe
Tostados can be topped with refried beans, cheese, chicken, ground beef, and many other toppings. Think of it as a 'flat' taco. Yes, you can still pick it up. When you bite into it, expect fallout. So have a fork or spoon ready. Another way to think of a tostado is like a big crispy pizza. Mexican pizza at that. Really, what's not to love about it?
Ground Pork Tacos
Now ground pork is my favorite meat to use with tacos or tostados. And, if I'm making a large batch I might do two to one, chicken or turkey and pork. The pork adds that amazing flavor. While the ground chicken or ground turkey saves the fat and calories. Simply using chicken or turkey as the meat base just doesn't deliver for me.
When you add the mandarins and the juice to the ground pork, well, expect the flavors to explode. You've got the spice of creole seasoning and the unexpected subtle sweet of the mandarins. A perfect pairing.
Tasty Mexican Recipes
Think of topping the tostado also with the pork and mounds of healthy sauteed or roasted veggies, too. What a meal! And, I'd recommend it be delivered as a tostado, but have that fork and knife because you're going to crunch up that tostado and eat it like broken up tortilla chips with your tasty meat and veggies.
Easy Traditional Mexican Dishes
This recipe using pork is similar to a tinga, a popular Mexican dish. Tinga is usually shredded beef or chicken but you can used ground. Tinga is full of smoky chipotles and also chorizo, Mexican sausage. Quick and easy to prepare, it's done in no time. Add some fire roasted tomatoes and it's a quick weeknight favorite.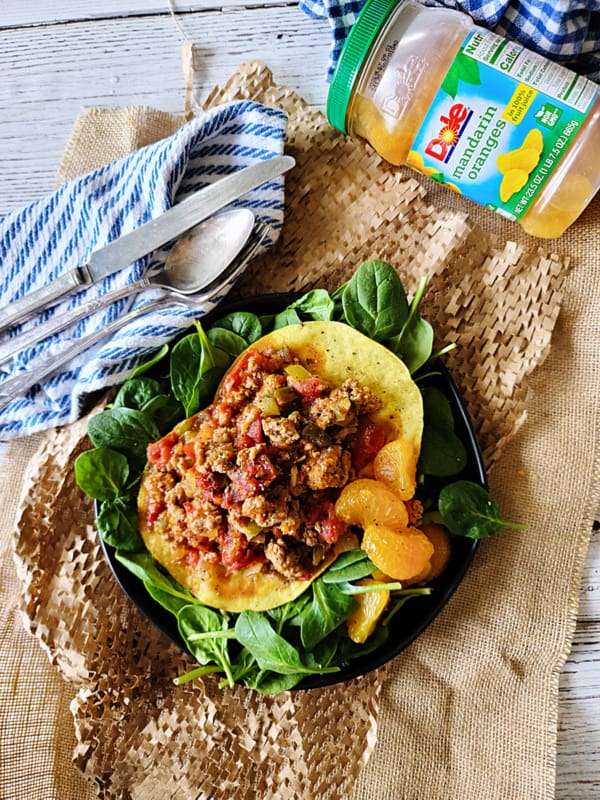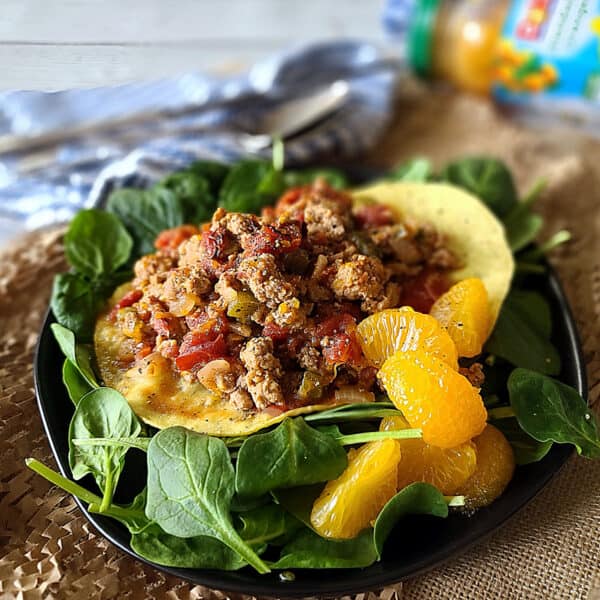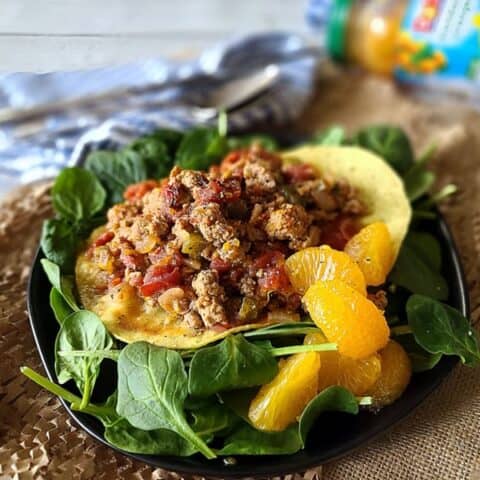 creole pork tostadas
Ingredients
1 (23.5 oz.) jar Dole Sunshine Mandarin Oranges, all liquid drained and reserved, fruit set aside
3 Tbl. extra virgin olive oil
¾ cup green peppers, small dice
¾ cup sweet onions, small dice
1 lb. ground pork
2 tsp. Creole seasoning mixture
1 (14.5 oz.) can diced tomatoes, fire roasted if possible
FOR SERVING:
1 Package corn tostadas
5 oz. fresh baby spinach
Instructions
In a large heavy skillet over medium heat, add the olive oil, green peppers and onions. Sauté about 5 minutes. Crumble the pork and brown. Add the seasoning mixture and blend well.

Add the Dole mandarin juice reserving ¼ cup. Add one cup of mandarin pieces and the diced tomatoes. Blend well. Increase heat to a simmering boil.

Leave uncovered and let the mixture cook on a simmering boil, stirring occasionally, for 14 to 18 minutes. Turn off heat.

SERVING:
Put the spinach in a large bowl. Toss in about 2 tablespoons of olive oil and the remaining mandarin juice. Salt and pepper to taste.


On the plate, put some fresh spinach, tostadas and a big scoop of the pork mixture along with extra slices of mandarins.
Notes
Serve with other add on garnishes: sour cream, grated cheese, pickles, peppperonicini, chopped onions, green onions, hot sauce and more.