Easy Cheesy Cuban Mojo Potatoes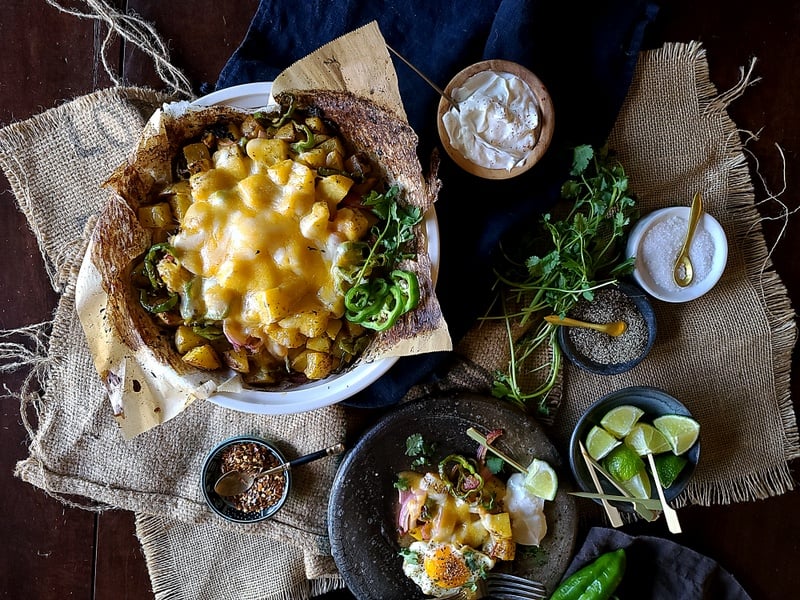 You might want to double this recipe for Easy Cheesy Cuban Mojo Potatoes because they're even better as leftovers! Oh, the Latin flavors!
And, this recipe won first place in the Tillamook and Chef's Roll competition!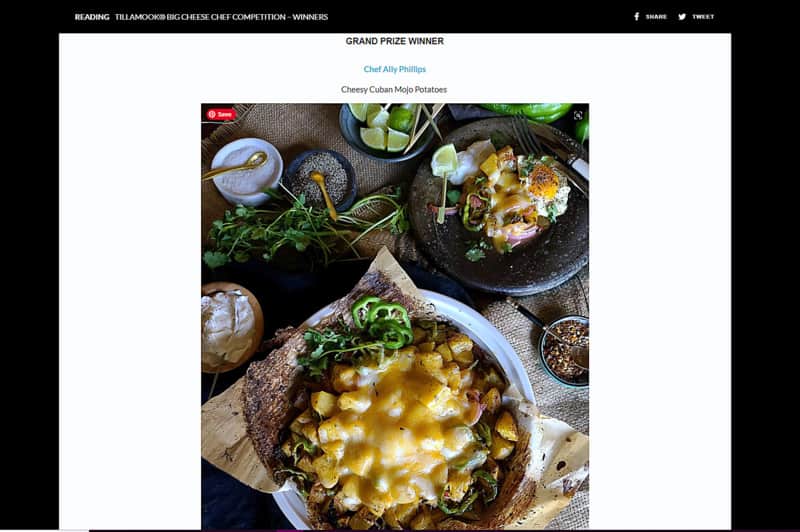 Cuban Roasted Potatoes
Some recipes I create I take my time uploading and sharing. Others I do them pronto because they've gotten rave reviews from my taste testers. These Easy Cheesy Cuban Mojo Potatoes are in the latter category!
Cuban Potato Recipes
You'll find lots of recipes for Cuban potatoes if you Google. But, you'll not find one as delicious as these potatoes, and easy, so no need to look any further. We're using one of my favorite potato varieties, too. Yukon Golds!
Mexican Potatoes
Mexican potatoes are meant to have some heat, spice and kick. But, you don't want this to be overwhelming. And, these potatoes have just the right amount of spicy to excite your palate. It's a subtle heat that lingers only momentarily. Then you want the next bite to have that same sensorial experience.
Potatoes with Mojo Sauce
What makes these potatoes fabulous? The Mojo sauce that the potatoes soak in for a while before you put them in the oven to roast.
We're going to use Cubanelle or Anaheim peppers and purple onions, too. But, these are added near the end of the roasting of the potatoes.
Anaheim peppers aren't super spicy and hot. You can actually eat them raw. On the Scoville Scale of heat, they're at about 500 to 1,000 SHU.
A point of reference with these ratings. A bell pepper is at zero while jalapenos can get as high as 8,000 SHU.
Cuban Mojo Chicken
Looking for more Latin inspired recipes. Then this Mojo Cuban Chicken is the real deal!
mojo cuban chicken
What is Cuban Mojo Sauce
According to Wiki, "In Cuban cooking, mojo applies to any sauce that is made with garlic, olive oil or pork lard, and a citrus juice, traditionally bitter orange juice. It is commonly used to flavor the cassava tuber and is also used to marinate roast pork."
Mojo sauce has so many applications. Not just for meats, I'm using this Mojo Sauce for roasted vegetables and even as a 'vinaigrette' like dressing for cabbage coleslaw.
Cuban Side Dishes
If you're a bean lover then these Cuban Black Beans with Yogurt Sauce will dazzle your palate!
cuban style black beans with yogurt sauce
Cuban Fried Potatoes
Nothing's better than fried or roasted potatoes. And, I have several recipes that I think you'll love. They're simple and quick and you can't stop eating them.
Berbere Potatoes with Leeks and Jalapenos
Harissa Fried Potatoes and Green Olives
Middle Eastern Roasted Potatoes
Cuban Potatoes Oven
Potatoes roasted in the oven are truly effortless. You put them on a parchment paper lined cookie sheet and the hot oven does the rest of the heavy lifting! One thing I love to do when the potatoes are just about done is to switch to broil (keep pan at least 12 to 16 inches from broiler) and get a nice crispy golden brown on the potatoes, onions and peppers.
Cuban Potato
The potato you must use, no exceptions I think, for this recipe is the Yukon Gold. Why?
Yukon golds are characterized by their smooth, thin eye-free skins. The flesh is slightly yellow and sweet. They're perfect for baking, roasting, boiling and they handle grilling, pan frying and high-heat roasting, too. Finally, these potatoes are absolutely delicious!
Cuban Potato Side Dishes
Potato side dishes are so perfect for many family dinners. From potato salads to baked, smashed, fried, casserole, mashed and more, there's nothing like a comforting potato to accompany your meal.
My family loves these Cuban Mojo Potatoes with the cheesy topping that you can't beat! But, get adventurous and try a cheesy melted topping on these two tater recipes. And, if you like eggs, then topping potatoes with an egg is just divine!
fried potatoes and onions
Garlic Onion Rustic Mashed Potatoes with Fresh Herbs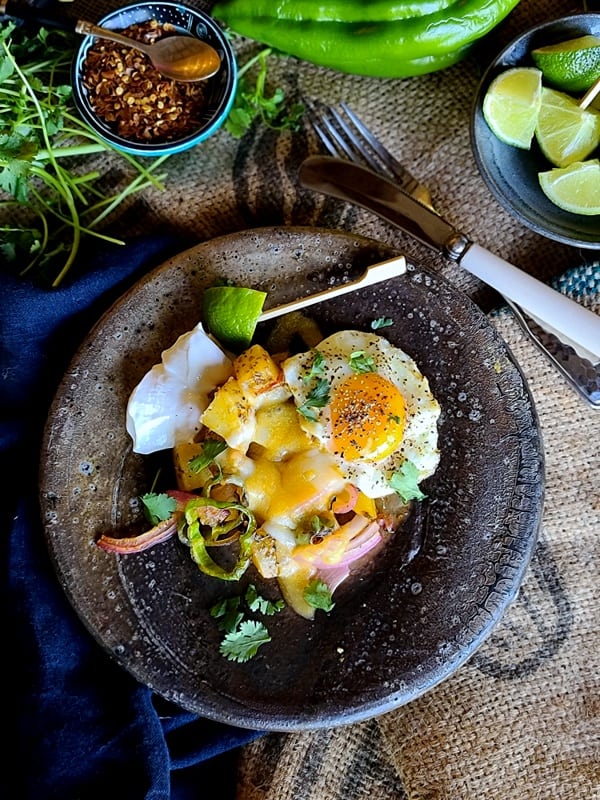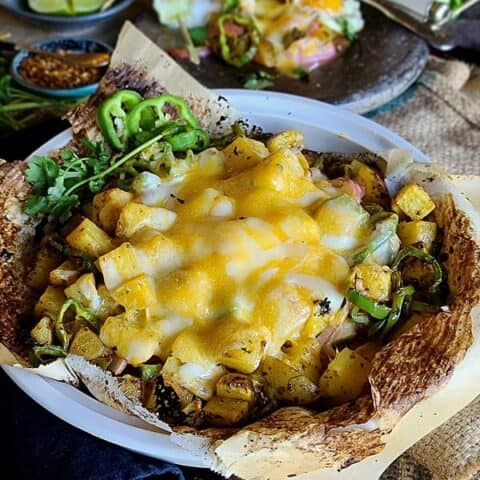 Easy Cheesy Cuban Mojo Potatoes
Ingredients
Preheat oven to 400
MOJO MARINADE:
5 garlic cloves, peeled, cut in halves
½ cup orange juice
2 lemons, juice and zest
3 limes, juice and zest
¾ cup extra virgin olive oil
1 tsp. ground cumin
1 ½ tsp. smoked paprika
3 tsp. dried oregano
½ cup fresh cilantro, loosely packed, most stems removed
1 tsp. red chili flakes
1 tsp. sea salt
1 tsp. coarse ground pepper
POTATOES/PEPPERS:
5 cups Yukon potatoes, cleaned and bite size cuts
½ red onion, cut in half and French slice
2 cubanelle peppers, thin ring slices, remove most of the seeds
8 oz. Tillamook Cheddar Jack
Instructions
In the food processor, put the garlic, orange juice, lemon juice/zest, lime juice/zest, olive oil, cumin, paprika, oregano, cilantro, red chili flakes, salt and pepper. Pulse into a brothy mixture. Makes about 2 cups.

Put the potatoes in a large mixing bowl. Pour three-fourths cup of the mojo marinade on the potatoes. Mix well and let them sit for about 30 minutes.

Preheat the oven to 400. Pour the potatoes/marinade on a parchment paper lined cookie sheet. Roast in the oven for 20 minutes. Pull the cookie sheet out. Blend in the onions and peppers and roast another ten minutes.

Turn oven to broil (sheet pan should be about 14-16" from broiler) and brown potatoes for about 3-5 minutes. Turn off oven.

Remove from the oven. Mound up the potatoes somewhat. Cover with cheese. Return to oven and let the cheese melt (just a few minutes—watch carefully).

Garnish and serve with fresh lime, lime zest, cilantro, sour cream. Serve immediately