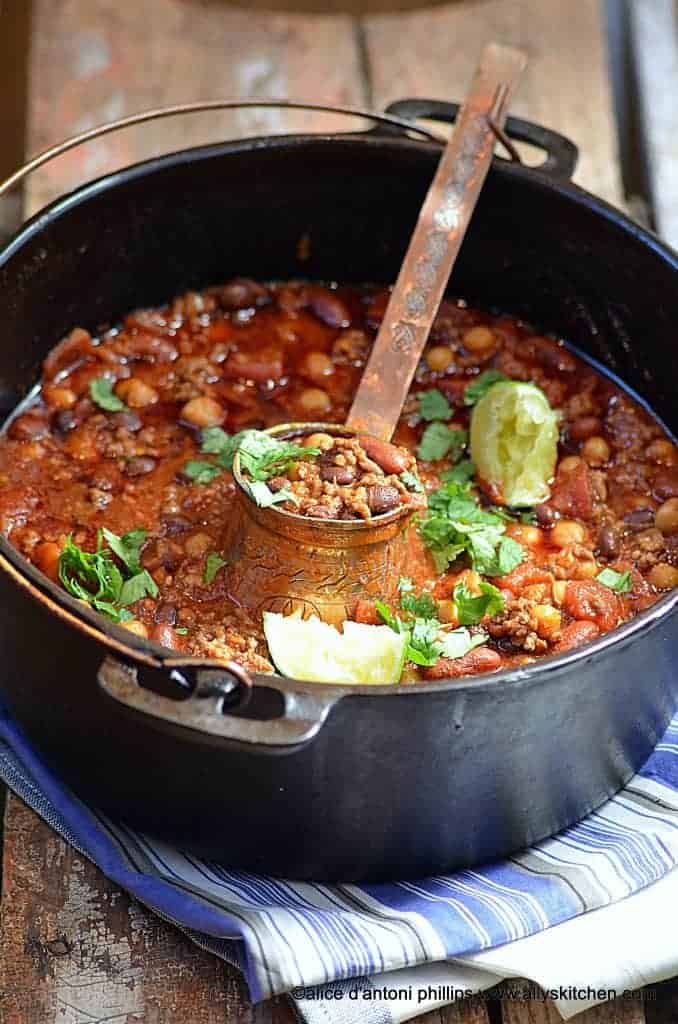 Mexican Foods
Mexican chorizo chili has all the components needed to be in the BEST chili Hall of Fame! There's one secret ingredient that makes it pop!
If there's one cuisine that I absolutely love and could eat daily, that would be Mexican food or basically Latin-inspired food, Cuban, South American. Mexican foods like the music and decor is vibrant. Plus, it's delicious, fresh and fun. Of course, beans and corn are staples of Mexican food.
Chorizo
Chorizo is a basically made of chopped pork and pork fat. Seasoned with smoked paprika and salt, there're also varieties of spicy chorizo and sweet chorizo. Depending upon your recipe, you'll use which is best. One of the most succinct ways to get the low down on chroizo is this article from Epicurious. It's low-carb but by no means considered a health food. But, the fat from the pork gives your chili some deep rich flavors that you just can't get from leaner meats. Chorizo is so very versatile and great for so many recipes. Like anything else that might not be super healthy for you, use it and eat it in moderation and in recipes like this Mexican chorizo chili!
Chili Recipes
Chili recipes in general are all over the board. Lots of chili recipe secrets floating around, too. But, there are some basics to chili recipes. The best chili recipe like this Mexican chorizo chili should have these components:
A definite hearty meaty flavor
A lot of ground meat or meats
A combo of chili flavor with other elements to balance, hot, bitter, sweet, fresh and fruity
A deep red thick sauce
Best Chili Recipe
What makes this one of the best chili recipes out there?
You'll use a pale lager that adds some unique dimension to this chili, plus a tad bit of sweet. The spices, chorizo, cilantro, lime all come together with reckless abandon. And, yes, all make you realize you are south of the border as you savor each bite. Now if you want to 'err' on the side of less spicy, then just omit the chili powder and smoked hot paprika. You can always add them back, add less or more. Around our table, we love those chilis that just make your lips sear and tinge just a tad.
This chili is the kind that gets better the next day, so you just might want to make a day ahead of when you want to serve it. It gives those flavors time to merge their juju energy and become even more boholicious!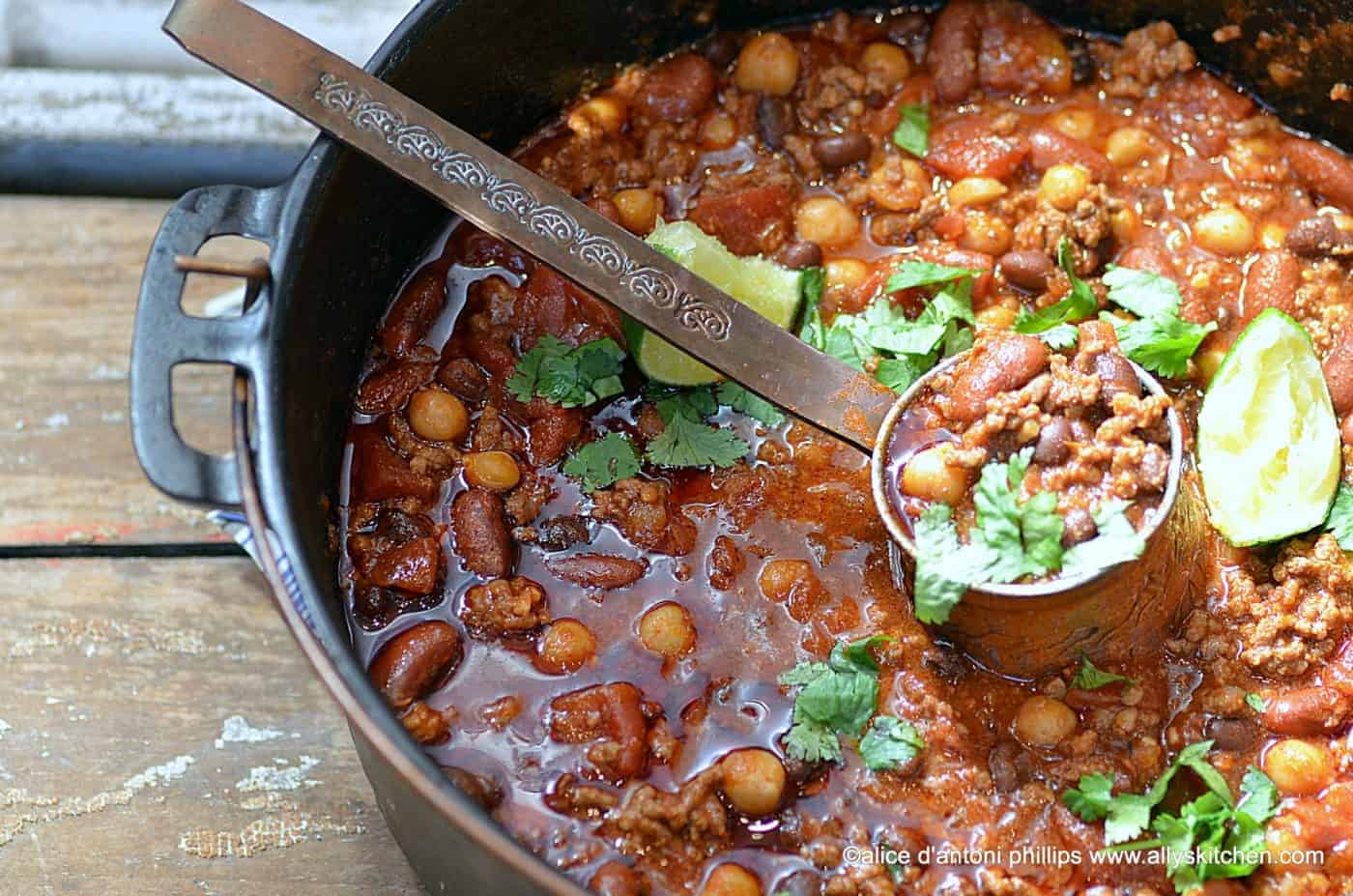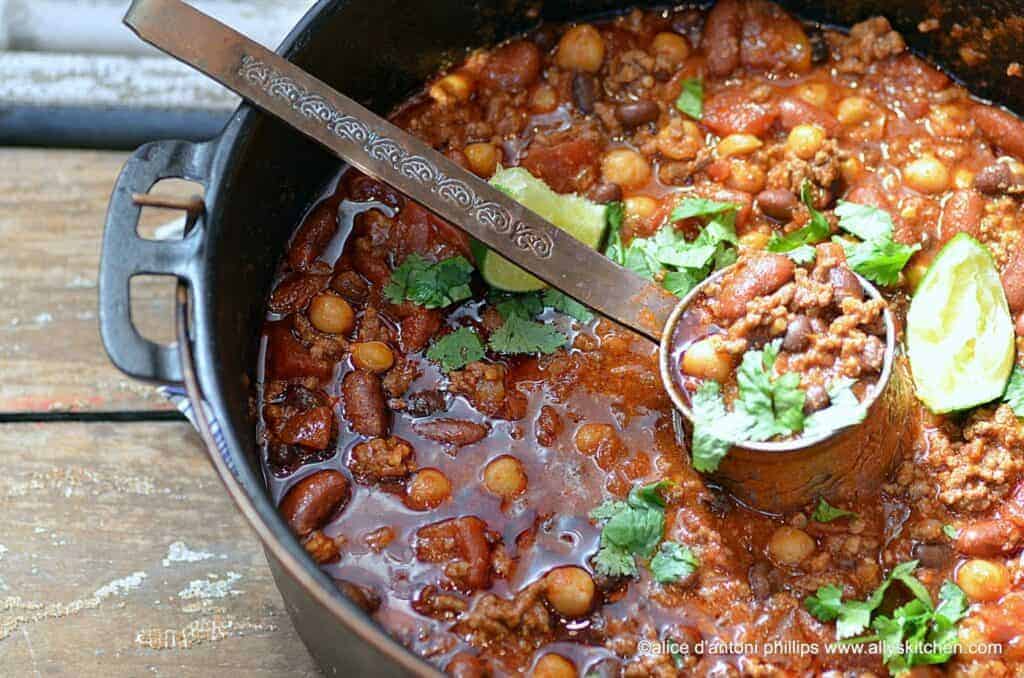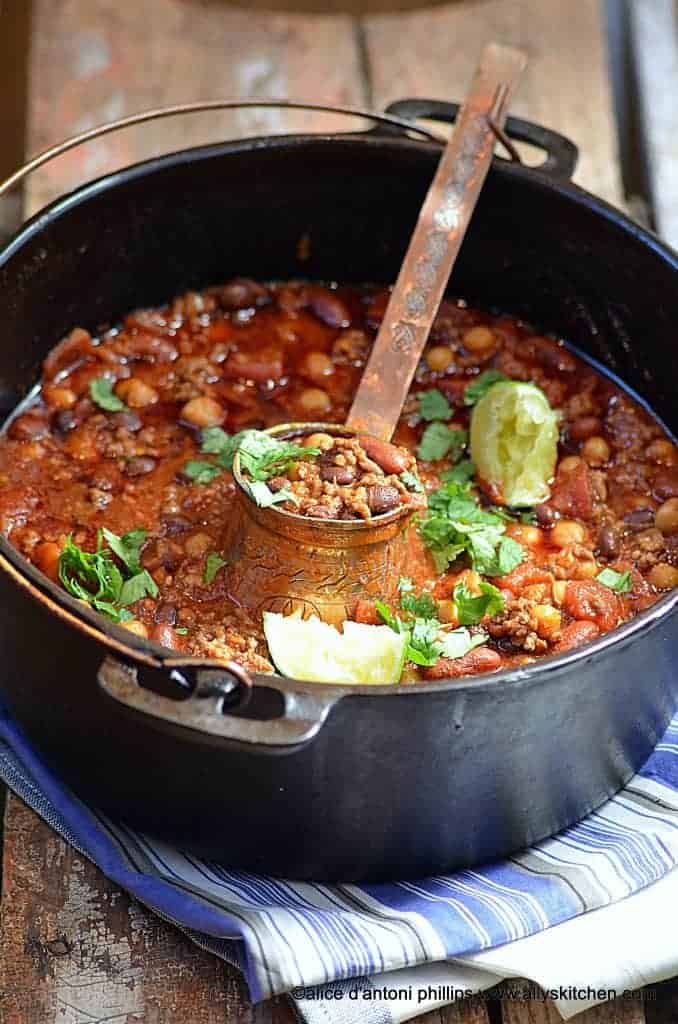 mexican chorizo chili
Yield: About 8+ hungry folks!

Mexican chorizo chili has all the components needed to be in the BEST chili Hall of Fame! There's one secret ingredient that makes it pop!
Ingredients
3 Tbl. coconut oil
½ cup sweet onions, diced
1 Tbl. garlic, minced
1 lb. ground beef (85/15)
10 oz. beef chorizo
1 ½ tsp. sea salt
2 tsp. ground cumin
¼ tsp. chili powder (your choice: flakes, ancho chili powder, serrano smoked chili powder)
½ tsp. smoked hot paprika
12 oz Corona beer (can substitute apple juice)
2 (15 oz.) cans chopped tomatoes
3 (15 oz.) cans beans, drained, your choice, I used a combination of different beans.
8 oz. spicy hot V8 juice
½ cup cilantro, chopped
1 lime, sliced into 8 wedges
3 cups corn, previously frozen (optional)
Sour Cream (optional)
Instructions
n a large heavy cast iron pot over medium heat, melt the coconut oil, add the onions and garlic and sauté about 5 minutes stirring several times. Increase the heat to medium high and add the chorizo and beef and brown crumbling with a wooden spoon.

Add the salt, cumin, chili powder, smoked hot paprika and blend in. Add the beer, blend, reduce the heat to medium and let it cook about 5-7 minutes, stirring occasionally.

Add the tomatoes, drained beans, juice and blend. Reduce heat to medium low and cook about 45-60 minutes. Reduce the heat to simmer/low until ready to serve. If the chili is too thick, add some water or chicken broth.

When ready to serve, garnish with cilantro and a squeeze of lime juice. And, a dollop of sour cream is totally optional! But the creaminess it will offer might just make you smile wider!