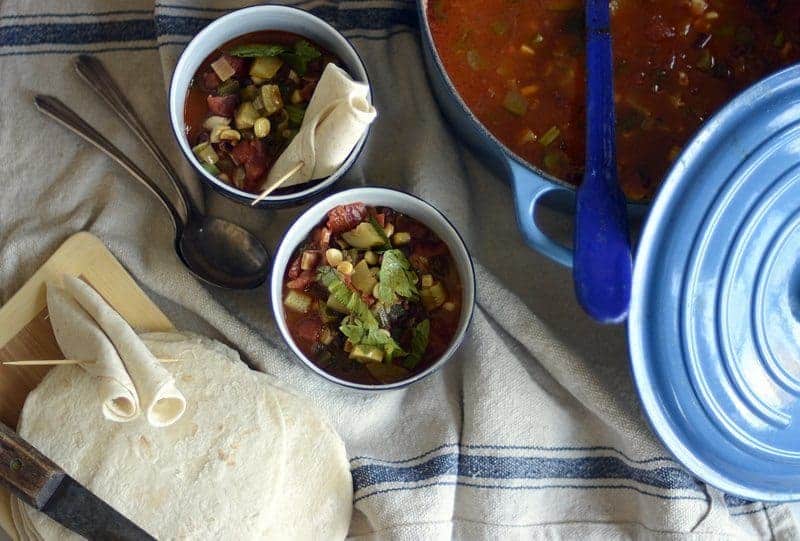 A good rich soup is a meal for us. Making soups with depths of flavor in a short amount of time can be challenging. But, this taco veggie soup defies all odds, and in no time at all you have a fabulous soup that, yes, gets better and better on days two and three. So, think about making it ahead of time, refrigerating, then taking out when it's all 'aged' and more delicious. Kind of like fine wines!
This soup is meatless, and to add some 'meat' flavor, I used bacon drippings as my oil (hey, if you don't want to do that, try a mixture of butter and olive oil for good flavors). Another idea would be to use a beef shank bone or fry up some chorizo if you prefer. Another ingredient that kind of takes the place of meat is the addition of two kinds of beans for protein. If you want to add a third can, honestly, this broth can take it.
I've always emphasized that food tells history and history is food. Such is the case with soups which have been around since cooking probably started. Soups go by other names. Think stew, pottage, porridge, gruel. Soups are the 'forgiving' foods. You really can't mess them up and even if you do mess them up, they're more 'fixable' than say a souffle or cheesecake! Soups usually are considered starters for meals, while the heartier stew takes on the heavy weight of the entree, but I contend that soup can be the entree and the heavy hitter filling you up as well as anything. I assure you that with a side salad or bowl of coleslaw and some kind of bread, be it cornbread, soft tortillas, crusty hot bread, even crackers, this taco veggie soup will rival any meal!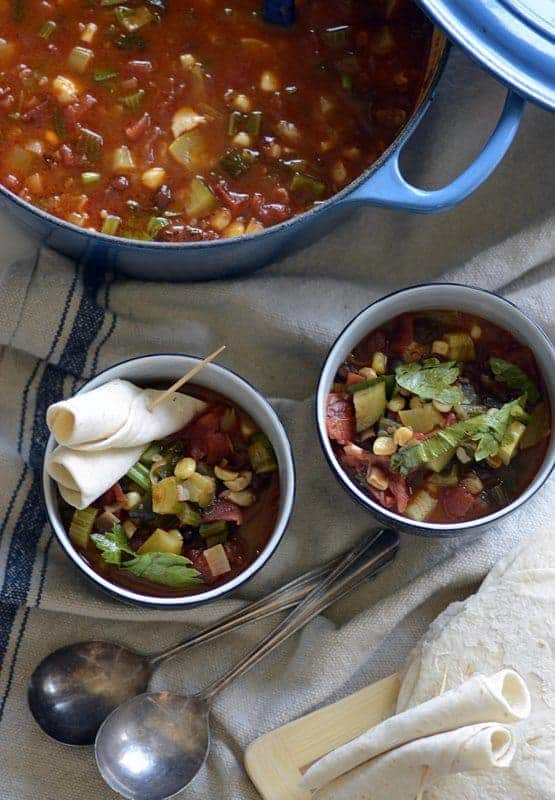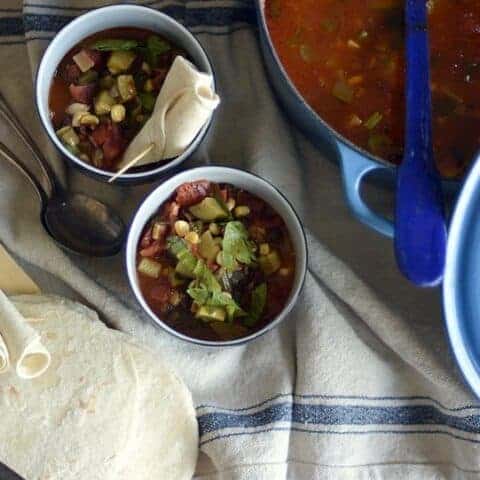 taco veggie soup
Ingredients
¼ cup bacon drippings
2 Tbl. garlic, minced
½ cup leeks, sliced thinly
32 oz. chicken broth
1 package (1.25 oz.) taco seasoning
1 ½ tsp. sea salt
2 tsp. coarse ground pepper
1 tsp. red chili flakes
1 can (14.5 oz.) diced roasted tomatoes
1 can (10 oz.) tomatoes and green chiles
1 can (15 oz.) black beans, drained
1 can (15 oz.) pinto beans, drained
1 medium zucchini, diced
1 medium squash, diced
½ cup poblano peppers, diced
2 cups corn, frozen
2 cups celery with leaves, sliced
Instructions
In a large heavy pot over medium heat, put the bacon drippings, garlic and leeks. Sauté about three minutes until soft and translucent.
Increase heat to medium high and add the chicken broth, taco seasoning, salt, pepper, chili flakes, tomatoes (both cans), blend, cover and cook about 15 minutes.
Add the black beans, pinto beans, zucchini, squash, peppers, corn, and blend. Bring to a simmering boil. Cover (keeping lid askew to allow steam to escape) and cook about 25-30 minutes.
Reduce heat to medium, add the celery and cook another about 30 minutes.
Notes
Serve with soft flour tacos rolled into cigars and sliced diagonally in half.