Thick Red Lentils & Red Peppers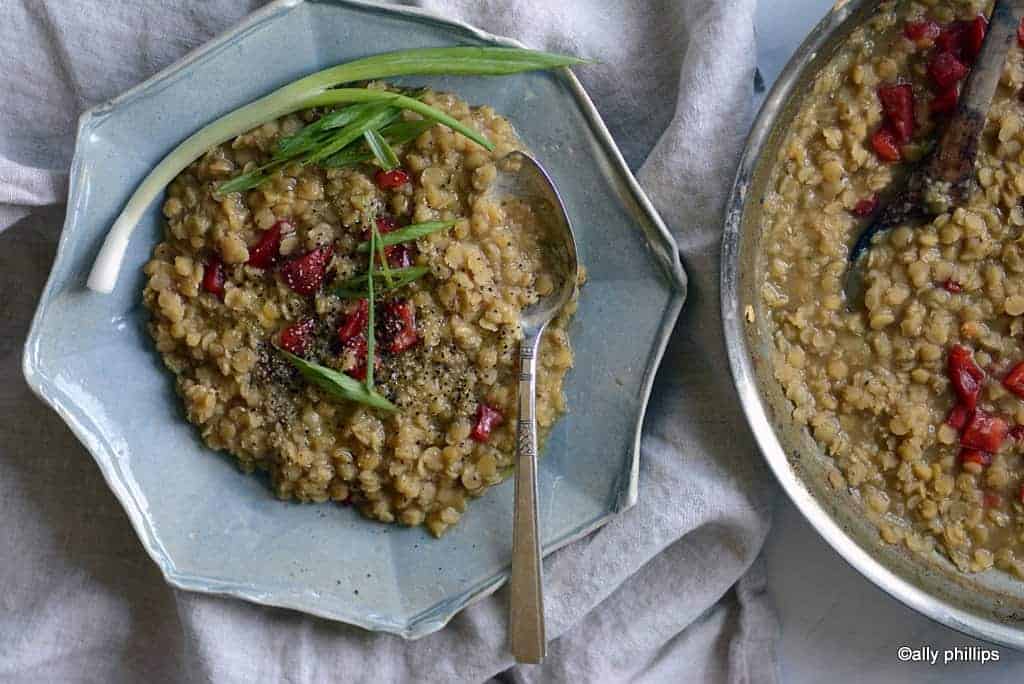 I have no idea why I don't cook lentils more often. I mean I love legumes. And, lentils have all the other wonderful attributes of their bean and pea cousins. Low in fat, no cholesterol, high in folate, potassium, iron and magnesium. They also have the good fats and what we love, fiber, both soluble and insoluble fiber. What I love even more about this skillet of thick red lentil soup & red peppers is that it can be served in a bistro like plate or shallow bowl. I love my lentils thick and creamy. Almost like oatmeal. Just seems like I'm eating something more substantial.
Now, there are really only four ingredients in this recipe. Not counting salt, pepper and the garnishing, which isn't complicated at all. So, this recipe is super easy. You just have to stick with it as it's cooking. check on it cuz you don't want those lentils to burn. In under and hour, you're gonna have a plate of good tasty tender red lentils that can be a starter or the main meal.
The primary seasoning in the lentils is the Mrs. Dash Beef Stew Seasoning mixture. You might be thinking, beef stew seasoning? Well, hang with me. I'll explain why. First of all, you're getting huge flavor from this seasoning. It's reasonably priced. And, it's Kosher certified. It has a long shelf life. And, it's salt-free. It serves as a thickening agent for the lentils, and it adds robust dimensions of flavor. If you want your lentils more 'spicy' then throw in some hot sauce or red chili flakes. Next time you're picking up dried beans, throw in a bag of lentils. They cook in a flash, and are simply divine!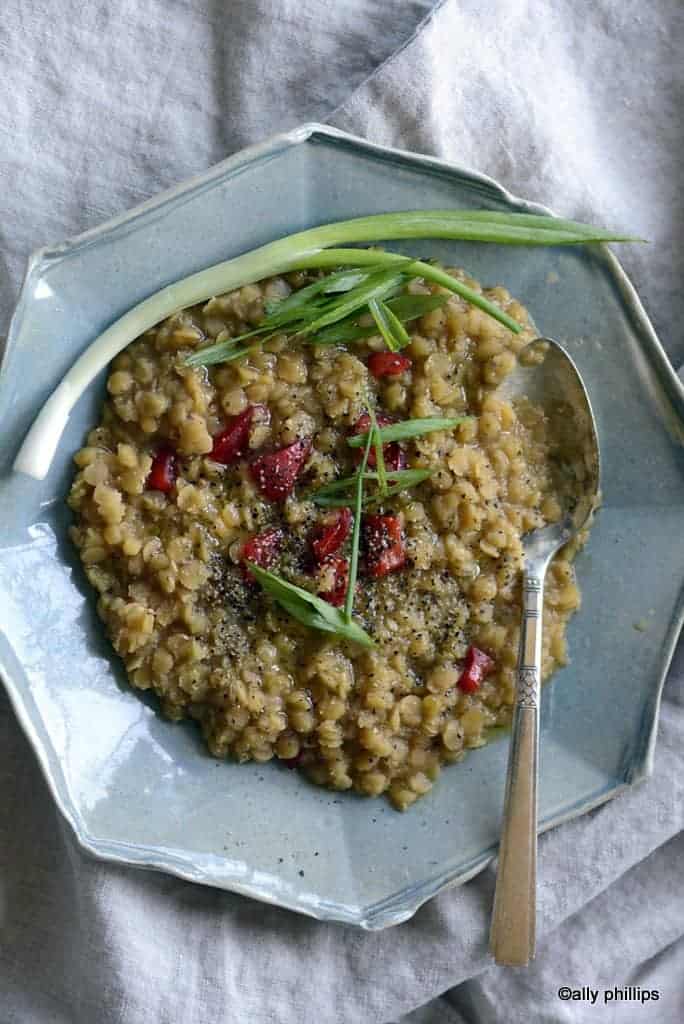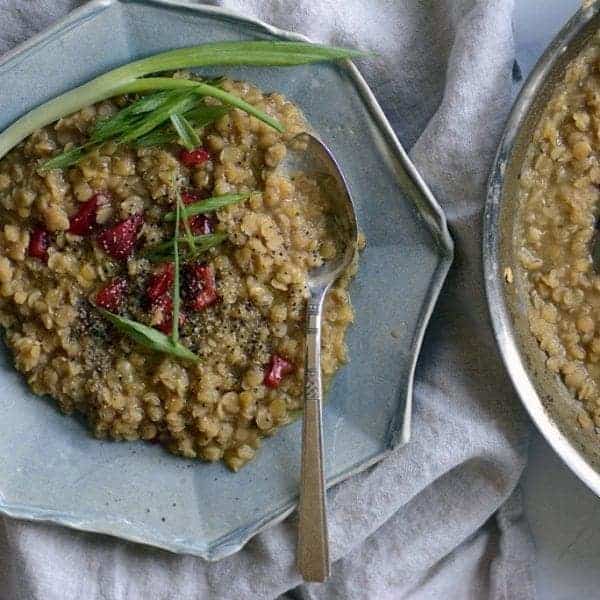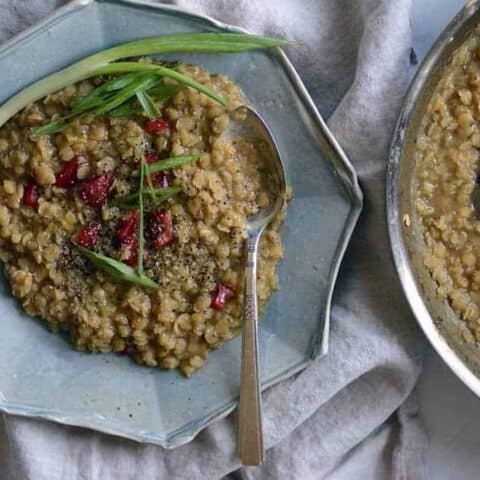 Thick Red Lentils & Red Peppers
Thick Red Lentils & Red Peppers has only four ingredients. Not counting salt, pepper, and the garnishing, which isn't complicated at all. So, this recipe is super easy.
Ingredients
1 ½ cups red lentils, dried
5 cups vegetable broth, divided
½ package(1.25 oz.) Mrs. Dash Salt-Free Beef Stew Seasoning mixture
½ tsp. sea salt
½ tsp. coarse ground pepper
½ cup red bell pepper, diced
GARNISH:
Green onions
Extra Virgin Olive Oil
Instructions
In a large skillet (about 3"+ deep), put the red lentils and three cups of broth. Bring to a boil on high heat. Let it cook about 10-13 minutes stirring occasionally.

Reduce heat to medium low, a simmering boil. Add the remaining broth, half of the packaged of the seasoning mixture, salt and pepper. Whisk together to dissolve the seasoning mix. Cover and let the lentils cook about 20-25 minutes. Stir a few times and add water if the mixture needs more liquid.

Turn heat to low. Cook until tender, about 15-20 more minutes. Add in the red bell peppers.

Serve immediately with a drizzle of olive oil and green onions.
Notes
Lentils cook fairly quickly. You want to make sure you have constant liquid in them.

If you like your lentils a tad more 'soupy' then add in more broth or water. I love thick creamy lentils that are almost the consistency of oatmeal.