Spinach Feta Greek Meatballs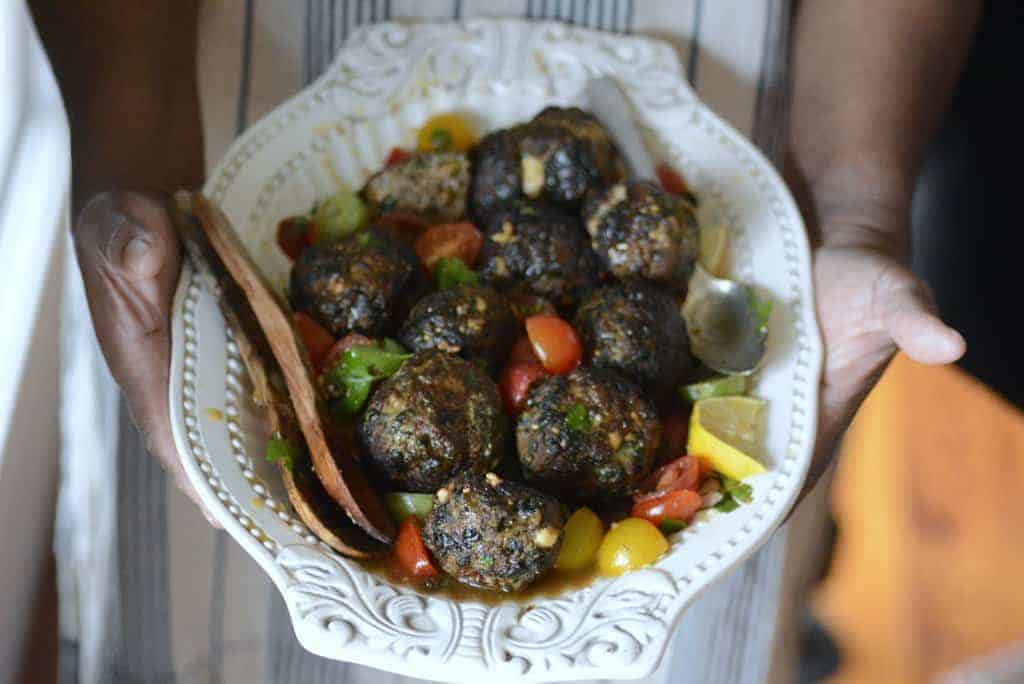 My mouth was watering as I thought of how good these meatballs would be with a simple fresh lemon and olive oil vinaigrette.
Spinach Feta Greek Meatballs
The most time-consuming part of this spinach feta greek meatballs recipe is patting out the water from the thawed spinach! That's it! I probably used multiple paper towels. It's quite amazing how much water there is in the frozen chopped spinach. While I didn't make them 'bone dry', I did remove much of the liquid.
Bacon Dripping Skillet Steak Eggs
What's better than bacon and eggs for breakfast? Such a hearty dish will help you not feel hungry until lunchtime and will give you strength for the whole day. This breakfast looks special, and it doesn't take longer than usual.
Meatballs With Spinach And Feta
It tastes so good, thick, sour, and perfect for meat dishes! These meatballs are also loaded with feta cheese and fresh spinach–which is a great way to sneak some veggies into your diet. Very simple in execution, at the same time, I would like to offer you a delicious and appetizing snack option. Memorize and repeat the recipe!
Greek Meatballs
Juicy, mouth-watering aromatic and delicious! Greek meatballs, perfect appetizer or makes a great meal for a family dinner. Want more delicious recipes, try
Bacon dripping skillet steak eggs
Spinach lemon stuffed salmon
French onion lamb meatballs
Greek isles grilled chicken
Easy harissa shakshuka
How to Make Greek Meatballs
Depending upon what you like, you can make these meatballs the size you prefer. If you're using them as an appetizer, then make them marble size. If you're using them as an 'entree' for dinner, as I did, then I made them large. Large enough that a couple of them was perfect for a meal.
Greek Meatballs with Feta
Now how you serve them also is another option for you. I had these fresh heirloom tomatoes and fresh sweet basil. My mouth was watering as I thought of how good these meatballs would be with simple fresh lemon and olive oil vinaigrette. However, if you want to cover them in a marinara sauce, then you'll be just as happy. Like so many things that get better the next day, bolognese sauce, pot roast, soups, and more, that's what happens with the spinach feta greek meatballs. Anything leftover can be sliced for a sandwich, crumbled for a sauce, or chopped and thrown into a soup.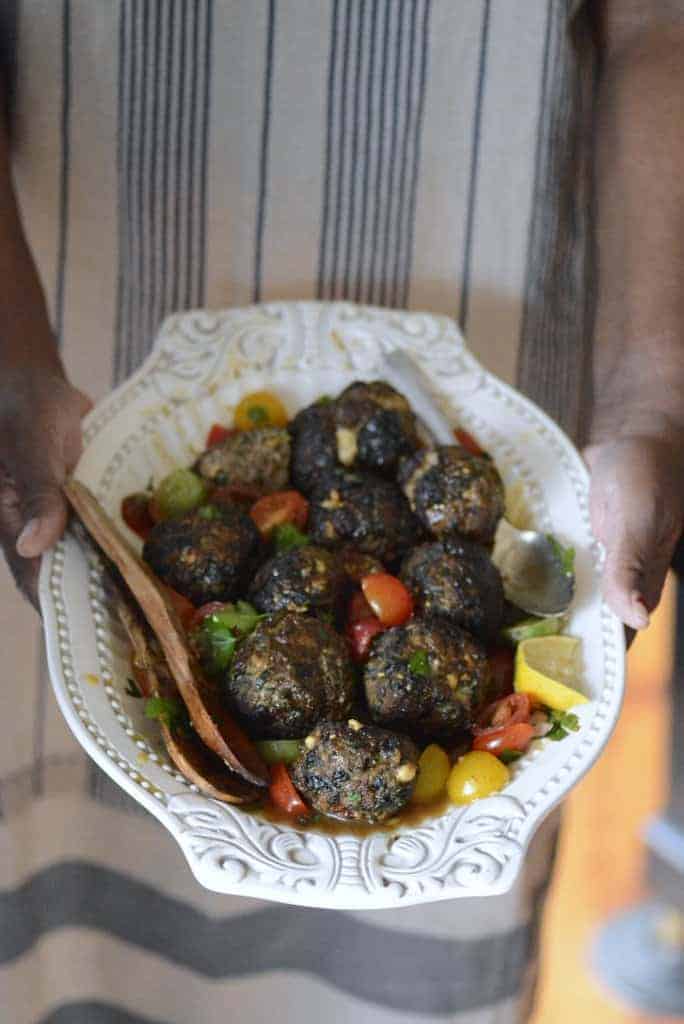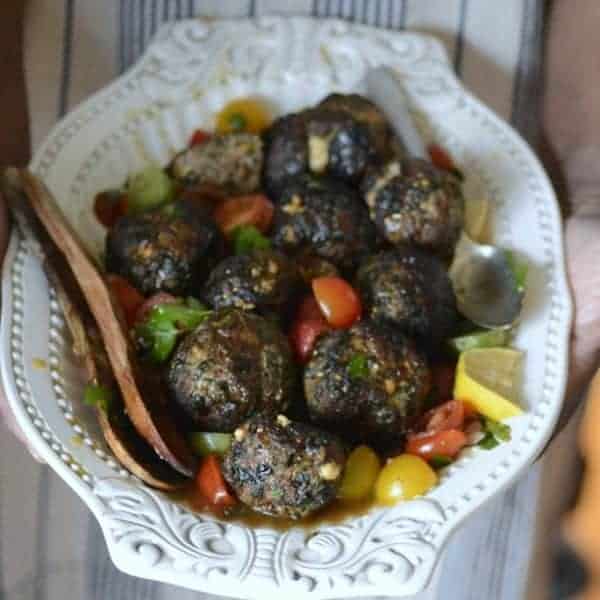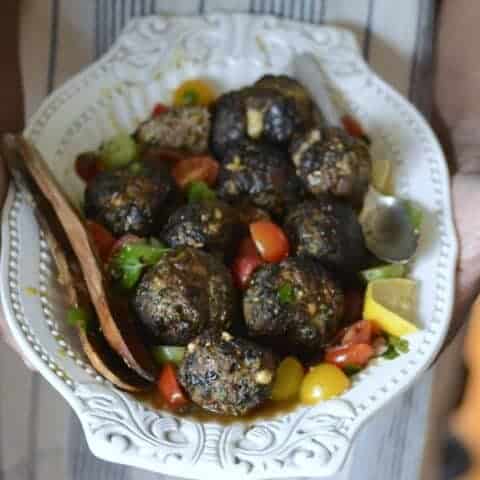 Spinach Feta Greek Meatballs
Yield: About 12 large meatballs

My mouth was watering as I thought of how good these meatballs would be with a simple fresh lemon and olive oil vinaigrette.
Ingredients
Preheat oven to 350
1 lb. ground beef
½ lb. hot ground sausage
2 tsp. sea salt
1 tsp. coarse ground pepper
1 Tbl. + 1 tsp. Greek dry seasoning mixture
2 eggs, beaten
10 oz. frozen spinach, thawed, patted dry with paper towels and shredded apart
½ cup feta cheese crumbles
2/3 cup breadcrumbs
¼ cup oil (I used grapeseed.)
Tomato-Basil Salad
4 cups cherry tomatoes, sliced lengthwise in halves
¼ cup fresh flat parsley, chopped
¼ cup fresh basil, chopped
½ tsp. sea salt
½ tsp. pepper
¼ cup olive oil
1 lemon, juice
Instructions
In a large mixing bowl, combine the ground beef, sausage, salt, pepper, Gree seasoning and eggs. Blend together well. Add the spinach, feta, bread crumbs, blend well, then roll into about 12 meatballs. Use a large cast iron skillet (10"+) to brown the meatballs before putting in the oven. Put the oil in the skillet.

Turn heat to medium high. When hot, add about half of the meatballs, reduce heat to medium and quickly brown on all sides. Remove them to a cookie sheet lined with parchment paper. Repeat browning with remaining meatballs. Loosely cover meatballs with doubled foil. Bake in a preheated 350 oven about 20 minutes. (Prepare Tomato-Basil Salad) Remove and let the meatballs cool slightly.

Tomato-Basil Salad: Put the tomatoes, parsley and basil in a mixing bowl. In a small bowl, whisk together the salt, pepper, olive oil and juice. Drizzle on tomato mixture. Toss and blend. Serve the meatballs on the tomato-basil salad!
Notes
Roll the meatballs into your desired size.

Leftover meatballs are great! Just put them in a skillet (I sliced the large ones in halves), cover with jarred marinara (a good brand), some fresh basil and let them steam. Deeeeeelish!!