I owe a big thank you to my foodie friend, and MasterChef roommate, Beth, for teaching me how to make beurre blanc and beurre rouge sauce.  Beth runs cooking classes in her hometown right outside of Chicago.  She's a consummate home chef and even more extraordinary entertainer ~~her website 'Beth's Table' is full of information and ideas.  Beth and I literally were thrown together in a hotel room nearly two weeks, not knowing each other from Adam's house cat, when we were on season 2 of MasterChef…we got to know each other real fast, and we've been dear friends since.  There's something about intense bonding that creates lasting relationships!
Foodies are sharing souls–and, this is a sauce that Beth learned from one of her professional guest chefs, so she naturally shared with me.  I wanted to give it a test run, so I decided to do the beurre blanc sauce with a big fat juicy bone-in pork chop…I must say freakin' amazing!  You can make a beurre rouge sauce by substituting red wine and use on whatever meat(s) you want, like steak!   While I've done similar sauces for meats, using the same pans in which the meat was cook because of the immense flavoring left behind, I didn't have a fancy French name for it.  This makes me feel like more of a 'real' chef' now that I can say 'beurre blanc' ~~burr BLAHNGK and 'beurre rouge'~~burr roojh…I just know you're impressed (tsk tsk).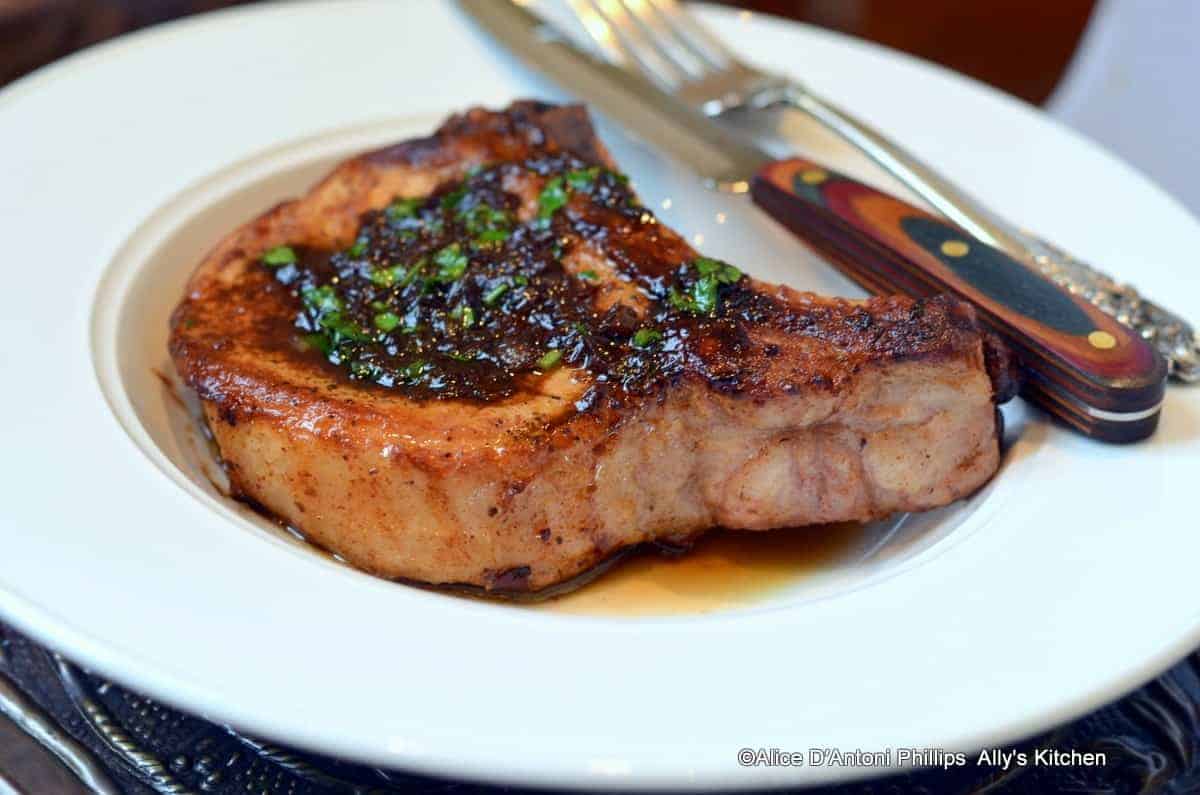 Serves: 2
What you need:
2 large thick (about 2") bone-in pork chops
2 tbl coconut oil (or your choice)
2 tbl butter
1 tsp sea salt
1 tsp coarse ground pepper
Beurre Blanc Sauce
1 tbl oil
3 tbl chopped shallots
2 tbl balsamic vinegar
1 cup white wine  (I used chardonnay.)
6 tbl cold butter cut into chunks
¼ cup finely chopped fresh Italian parsley (optional)


What you do:
In a heavy cast iron skillet on medium high heat, put oil and butter.  Salt and pepper both sides of each pork chop and pat into the meat.  Put chop(s) in the skillet and sear on each side about 2-3 minutes to get a nice golden brown.  Reduce heat to medium low and continue cooking another 5-7 minutes on each side turning several times.  When done, remove the chops to a plate and set aside.  Reduce heat to low on skillet, do not remove drippings. Wait a couple of minutes before starting the sauce.
Beurre Blance Sauce:
Put shallots in skillet and caramelize 3-5 minutes on low heat.   Add balsamic vinegar and wine to deglaze skillet.  Be sure to scrape the sides and bottom of the skillet to get the good stuff. Whisk and stir until the liquid is reduced to about half its original amount.  You now have a concentrated flavor.
Start whisking in the cold butter, one cube (or tablespoon) at a time.  Stir and whisk.   When completely melted, add the next tablespoon until all are incorporated in the sauce.  When done with all butter, whisk in parsley and immediately put a couple of tablespoons on each pork chop.  This is a delicate (and rich!) sauce; do not let it sit.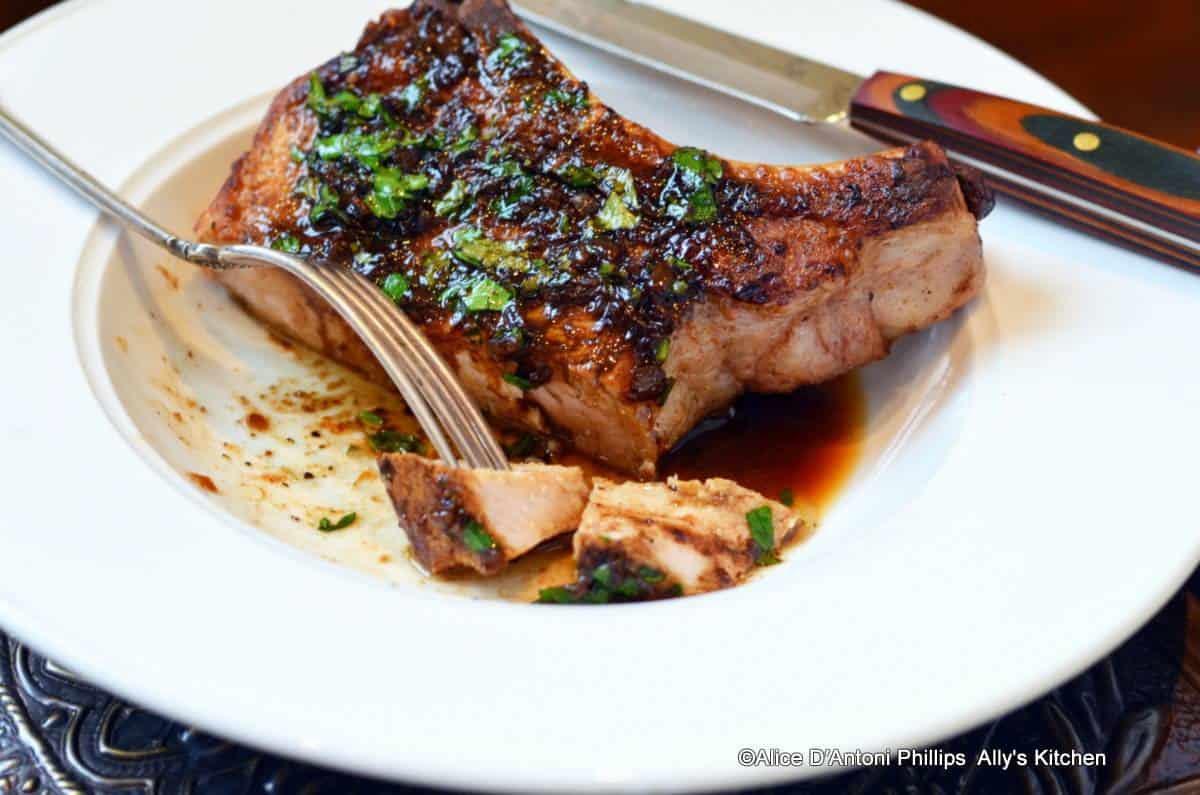 ©Alice D'Antoni Phillips  www.allyskitchen.com