skillet stuffed chicken with spinach & ricotta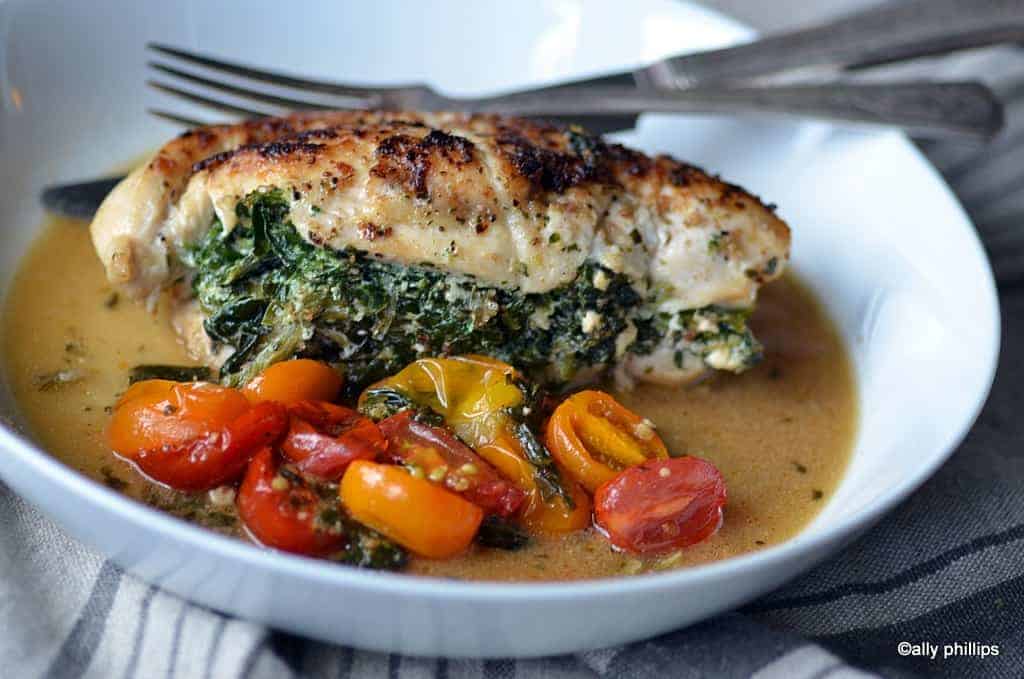 When I learned that Emilie from The Clever Carrot had inked a cookbook contract, I was super excited. I just knew everything in it would be mouth-watering, healthy, easy and super delicious. When I got my copy of the book, I was not disappointed. There are so many things I love about this cookbook. Let me just name a few of them!
I like the names of the chapters in the Table of Contents. They speak to me. It's things like 'Back to Basics' which is making staples like broths.
There's a chapter titled 'Process This' which focuses on clever uses of your food processor for quick and easy prep.
Then there's a chapter of versatile marinades that do double and triple duty. You'll find that in the chapter called 'Freezer Marinades'
Another outstanding behind-the-scenes aspect of Emilie's fabulous cookbook is that she did all the photography herself. Since I did the same thing with my cookbook, I know the intensity of the responsibility needed for making this dream come true. It's not easy. Not only must you be a darn good cook, but you have to be multi-talented with things like food styling and photography. That's what Emilie is~one multi-talented dear friend who's giving you, me and the world a part of her heart.
Unintimidating, easy-to-follow and simple recipes that translate into elegant nutritious eating, The Clever Carrot has indeed proven that she is clever crafty talented home cook!
Finally, I love love chicken for so many reasons. Most of all, it's healthy. I'm always looking for creative and easy ways to prepare and serve chicken. Here's more great ideas from Positive Health Wellness '20 Easy 15 Minute Chicken Dinner Recipes'!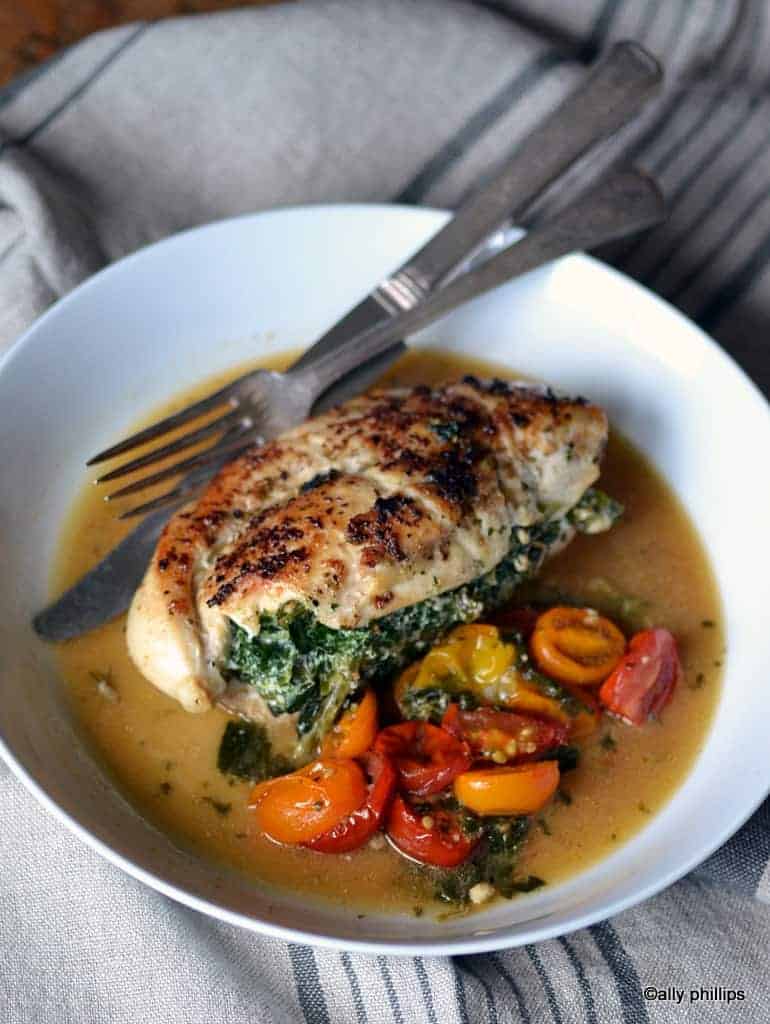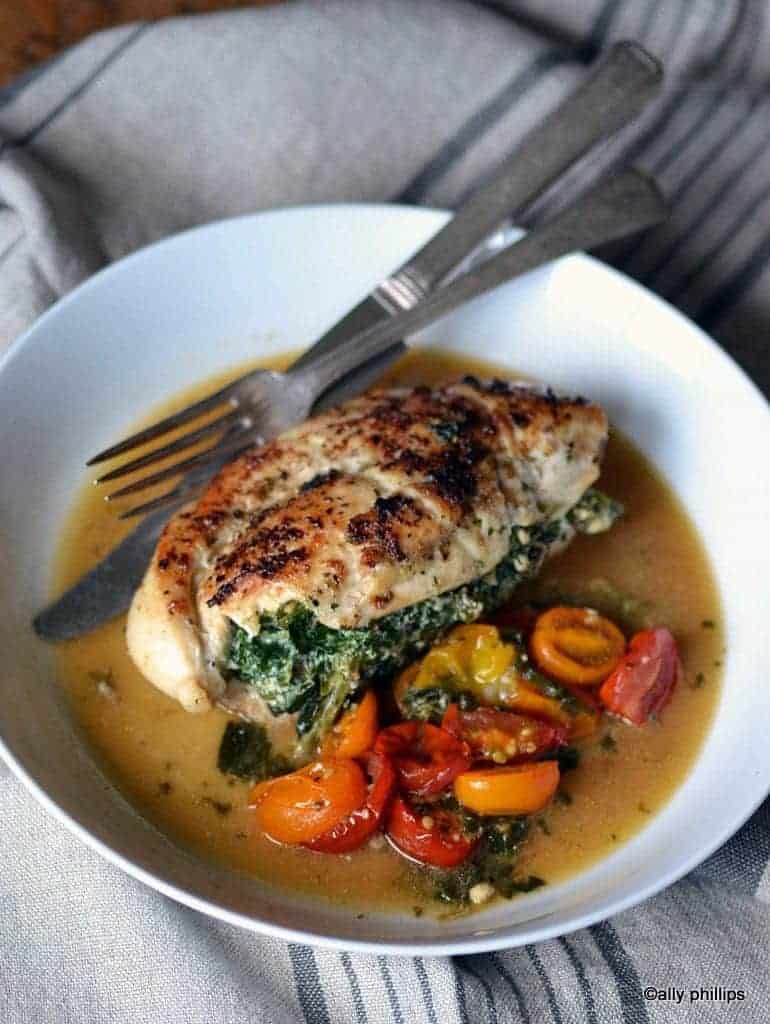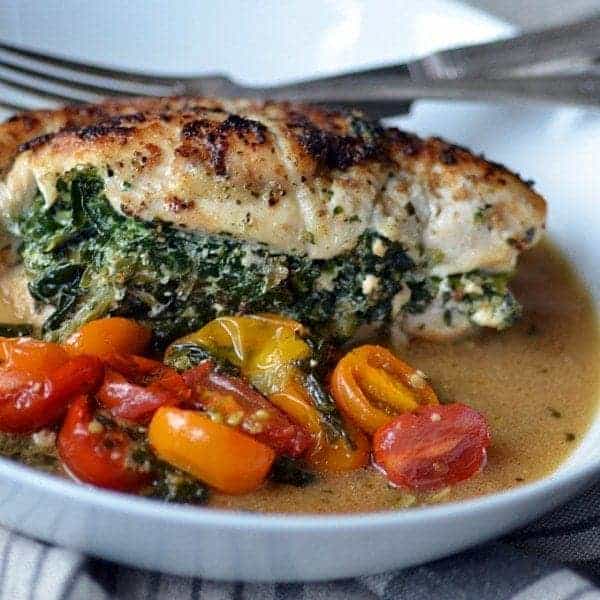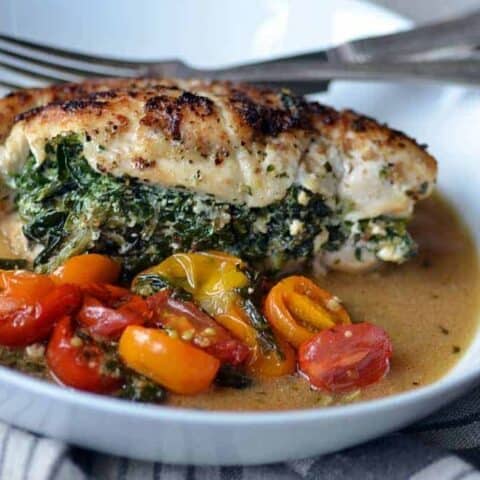 skillet stuffed chicken with spinach & ricotta
Ingredients
1 (10 oz.) box frozen chopped spinach, thawed
1/2 cup ricotta
Coarse sal and freshly ground black pepper
4 chicken breasts, boneless and skinless
Everyday Spice Blend (Page 85 of Cookbook)
1 Tbl. olive oil, plus more as needed
*1/2 cup white wine (my addition~not in original recipe)
1 heaping cup cherry tomatoes, cut in halves
1 Tbl. butter, unsalted
Everyday Spice Blend
2 Tbl. coarse salt
1/2 tsp. garlic powder
1/4 tsp. sweet smoked paprika
1/4 tsp. ground coriander
Mix all together and blend. Store in airtight container.
Instructions
Preheat oven to 425
Thaw spinach and use paper towels to soak up as much excess water as possible. You want your spinach nice and dry. Put in a bowl with the ricotta, salt, pepper and mix well.
Slice chicken breasts lengthwise about three-quarters of the way through to create a pocket.
Stuff each chicken breast with equal amounts of the spinach/ricotta filling. Sprinkle chicken with the 'Everyday Spice Blend'. Use cooking twine to wrap and hold the chicken together.
Use a 12-inch cast iron skillet. Turn heat to medium. (I alternated between medium and medium high because I wanted a good brown searing on the chicken.) Add olive oil. Put one to two pieces in (don't crowd) and sear chicken for 3-4 minutes on each side. Remove to a plate. Repeat with all the chicken. Deglaze skillet with wine. (You can substitute chicken broth or apple juice.) Use a wooden spoon to scrape all the good stuff from the skillet.
Snip and remove cooking string.Put chicken back in skillet. Add the tomatoes and butter.
Cover with foil or a lid. Bake in a preheated 425 oven about 18-20 minutes. Cooking time will also vary depending upon the thickness of your chicken.