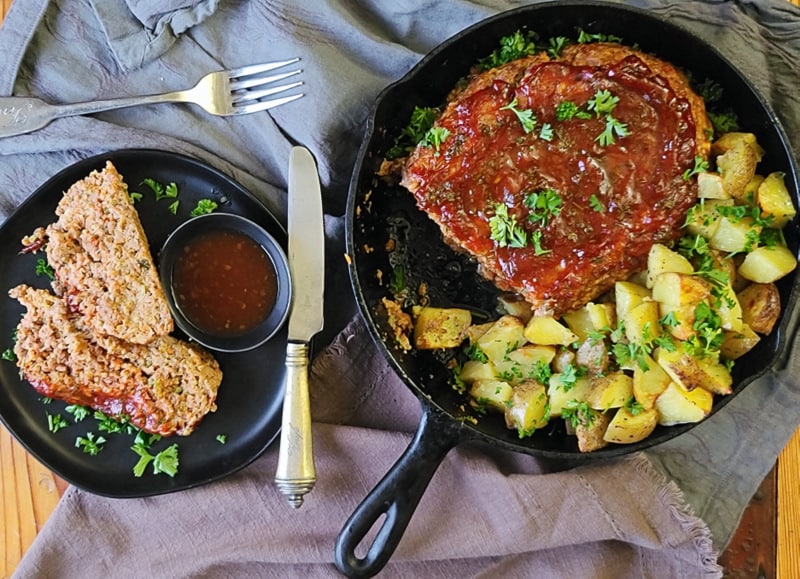 Not your Grandma's meatloaf! Asian style meatloaf is full of flavor and so moist and tender. No dryness here! And, the sauce on top? Pop Pop!
Thai Red Curry Recipe
I do love curry. It can be red or yellow curry. It can be dry spice curry or curry paste. Doesn't matter because it makes food so delicious.
Asian Curried Fried Rice & Chicken
Red Curry & Cumin Chicken Soup
Red Curry
Red curry is made up of lemongrass, peppercorns, cumin and coriander seeds, coriander root, kaffir lime leaves, shrimp paste, galangal, shallots, red chili peppers and garlic. You know it's good!
Thai Red Curry Paste Recipes
You have so many ways to use red curry paste and curry dry seasonings. I've put it in scrambled eggs, egg casseroles, dried beans, pastas and more. It's really like any other type of spice mixture. So don't be afraid to experiment with your curries!
Best Red Curry Paste
I've tried several red curry pastes and here are some of my favorites. You can source them on Amazon!
Thai Red Curry Paste Brands
If you do a Google search for Thai red curry paste brands, you'll find even more. Another option is to make your own curry paste. It takes more time, effort and energy, but totally worth it!
Thai Pastes
Curry pastes come in three main colors, green, yellow and red. The color of the paste is determined by the chilies used and the other ingredients in the paste.
Asian Style Meatloaf
This Asian style meatloaf has a distinct twist and flavor. Yes, it's 'kinda' like old-fashioned meatloaf, but it isn't your Grandma's meatloaf.
Asian Meatloaf
Meatloaf has its roots in Germany, Scandinavia and Belgium. It's like the first-cousin of the meatballs. In American, meatloaf originated in scrapple. That's a mixture of ground pork and cornmeal served up by Pennsylvania German-Americans since colonial times.
Asian Meatloaf Recipe
Any meatloaf must be juice and moist. Nothing works when it comes to dry meatloaf. And, what do you do to keep your meatloaf moist, tender and juicy as it cooks?
I've made a lot of meatloaves and here's what I believe keeps it moist and juicy. Don't over work and mix your ingredients in the bowl. You're going to keep working the meatloaf once you put it in the baking dish to shape it. And, another thing, the addition of the celery/onion/carrot minced mixture. These vegetables enhance the flavor. They add nutritional value. And, it because these veggies have water in them, it helps keep the meatloaf moist as it cooks.
Meatloaf with Soy Sauce
If you want to put a splash of soy sauce in the meat mixture, no problem, go ahead and do it. But, only a small splash for pop and flavor. Otherwise, reserve the soy sauce for the topping sauce, which is divine!
Asian Turkey Meatloaf
You can use other types of ground meat in this meatloaf, like turkey, chicken, veal, lamb. If you're using turkey and/or chicken, you really need a ground meat like pork that adds more flavor from the fat content. If you don't want to use pork, then I'd combine with my chicken or turkey ground meat an 70/30 ground beef.
Thai Meatloaf Recipe
Thai flavors are just divine. If you really want to shake up a traditional recipes, like meatloaf, then use the ingredients that define Asian food, ginger, garlic, soy, curry, sweet and spicy chiles. These are some of the things in this recipe that collectively make this one fine very different meatloaf!
Easy Meatloaf Recipe
Here are a couple of more recipes for easy meatloaf. And, to me, meatballs are just 'baby' meatloafs in balls!
Elk Meatloaf with Green Chiles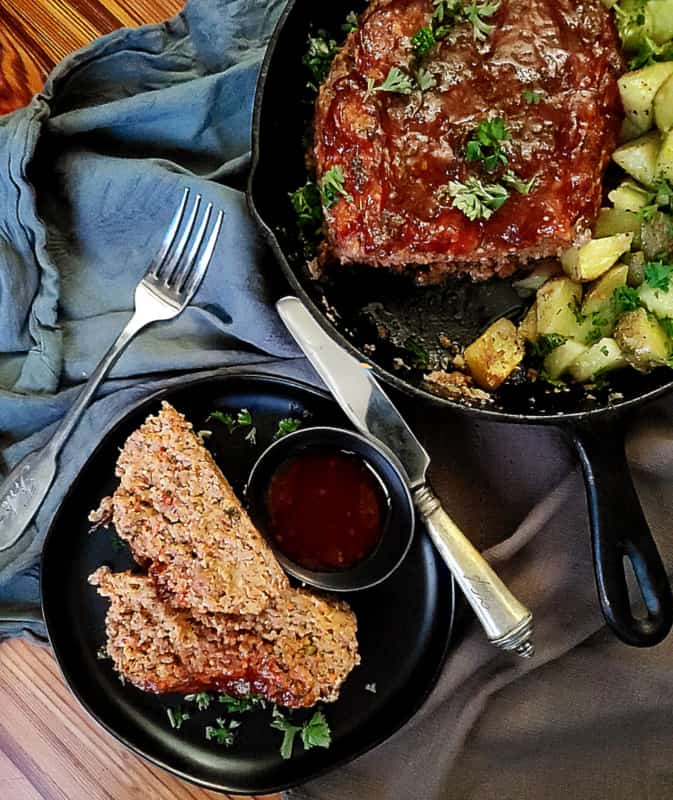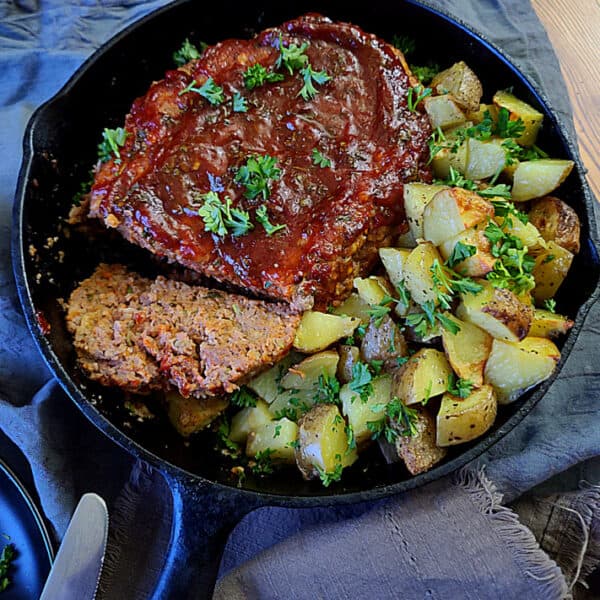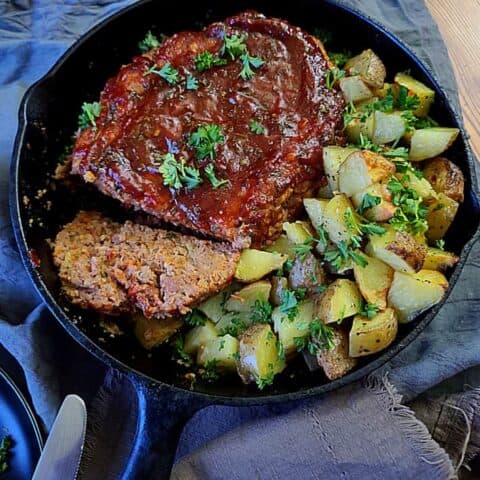 asian style meatloaf
Not your Grandma's meatloaf! Asian style meatloaf is full of flavor and so moist and tender. No dryness here! And, the sauce on top? Pop Pop!
Ingredients
Preheat oven to 375
MEAT:
1 lb. ground beef
1 lb. Italian ground pork
SEASONING MIXTURE:
1 celery stalk with leaves, cut into 4-5 pieces
1 carrot, cut into 4-5 pieces
1 sweet onion, small, cut into quarters
2 garlic cloves, peeled
1 tsp. salt
½ tsp. red chili flakes, optional
¼ cup red curry paste
2 Tbl. extra virgin olive oil
2 eggs, whisked
25 saltine crackers, crushed finely
TOPPING SAUCE:
½ cup ketchup
3 Tbl. soy sauce
3 Tbl. sweet chili sauce
2 Tbl. red curry paste
1 tsp. ginger paste
Instructions
Put the meat in a large mixing bowl and blend together.


In a food processor put the celery, carrot, onion, garlic cloves, salt, red chili flakes, red curry paste and olive oil. Pulse into a fine mixture. Add to the meat mixture. Mix well.


Add the eggs, blend well, then add the crushed saltines and blend well.


In a large cast iron skillet (about 10-12") (or baking dish), put the meat and form your loaf.


In a small mixing bowl, combine the ketchup, soy sauce, sweet chili sauce, red curry paste and ginger paste. Set aside.


Shape the top of the meat making a slight concave area and a 'rim' around it. Slather on the topping sauce.


Bake uncovered in a preheated 375 oven for about 30 to 35 minutes. Internal temperature should be about 160 (pork).


Remove from the oven, cover loosely with aluminum foil and let it rest about 15 minutes, then slice and serve.