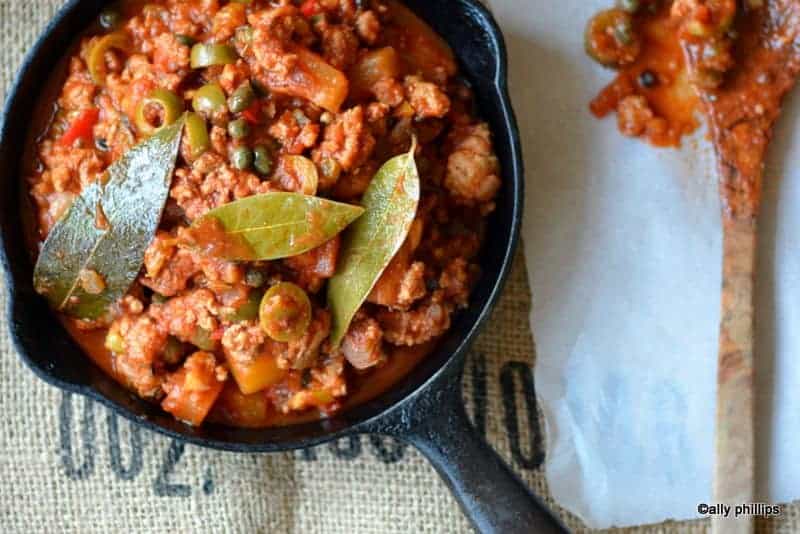 Latin picadillo is the kind of comfort food that makes you feel warm and yummy inside! Simple and full of spices, it's gonna be a hit!
Cuban Picadillo
Picadillo is wonderful! It's a dish that's popular in Latin cultures, from Cuba to the Philippines, Mexico and Central and South America
Mexican Picadillo
It's essentially the same, but very different (I know that's an oxymoron!) depending on the location and culture!
Picadillo Tacos
Basically, it means 'minced' as in ground meat. Traditionally, beef is used, but I decided to use ground turkey just because that's what I had. What I love about this dish is its versatility in flavors and textures and in how you can serve it.
Picadillo Beef
My recipe seems to combine some of the features of several Latin cultures. I stopped short of adding beans and potatoes, but, hey, this is a Latin 'hash', so it's up to you as to what you might want to throw in!
Yes, you can choose your ground meat. I used turkey because it was on sale! But, you can use beef, pork, and/or chicken!
How to Make Picadillo
I did another recipe with this Latin picadillo that I call picadillo wraps. Holeeeeeeschmoleeeee, it's great eating! Oh, yeah, while there's a list of ingredients here, don't be concerned, it's mostly spices that you just put in a bowl and mix up!
It's so easy to make picadillo. All in one skillet. And, it's better on days two and three.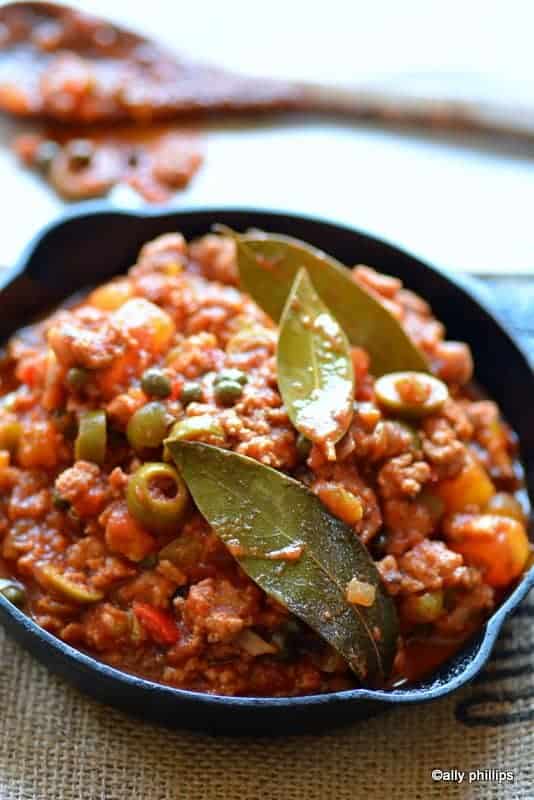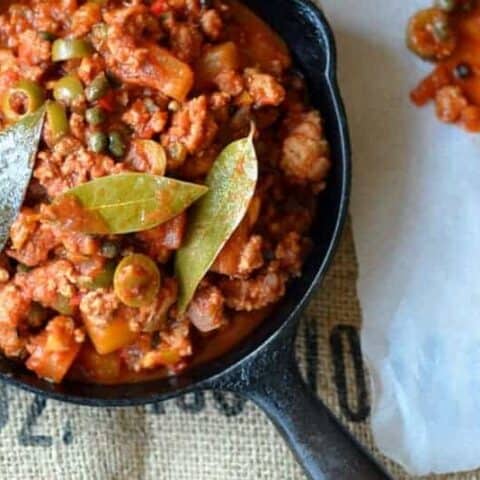 latin picadillo
Ingredients
2 tsp. ground cumin
1 tsp. dried oregano
1 tsp. dried tarragon
1 tsp. ground coriander
1 tsp. sea salt
1 tsp. peppercorns
3 bay leaves
3 Tbl. Olive oil
1 cup peppers, multi-colored, diced
1/3 cup red onion, diced
½ serrano pepper, diced & some of seeds removed depending upon your heat desire (I'm into spicy!)
2 Tbl. Garlic, minced
1 lb. ground turkey
1 ½ cups chicken broth
6 oz. tomato paste
2 Tbl. Capers
1/3 cup green olives, sliced & with pimentos
½ cup Dole Packaged Foods Tropical Fruit, with juices
¼ cup Dole Packaged Foods dates, chopped
¼ cup Dole Packaged Foods Golden Raisins
Optional Garnishes
Fresh Lime
Cilantro, chopped
Sour Cream!
Instructions
In a small bowl, combine the cumin, oregano, tarragon, coriander, salt and peppercorns. Put the bay leaves to the side.
In a large cast iron skillet over medium heat, put the oil. Let it get hot. Add the peppers, onions, garlic and sauté about 3-5 minutes. Add the ground turkey and brown breaking up into chunks of meat. Add the spice mixture and blend into the meat.
Mix the chicken broth and tomato paste together in a large measuring cup and make into a thick mixture. Pour into the skillet and blend well. Reduce heat to low.
Add the bay leaves, capers, green olives, fruit, dates and golden raisins and let this mixture simmer about 20-30 minutes. Ready to eat!
Notes
Serve over rice or pasta.

Serve over a bed of chopped iceberg lettuce with dollop of sour cream and some tortilla chips.

Stuff into a pita pocket. Serve like a sloppy joe. Your choice!