hurricane sesame glazed chicken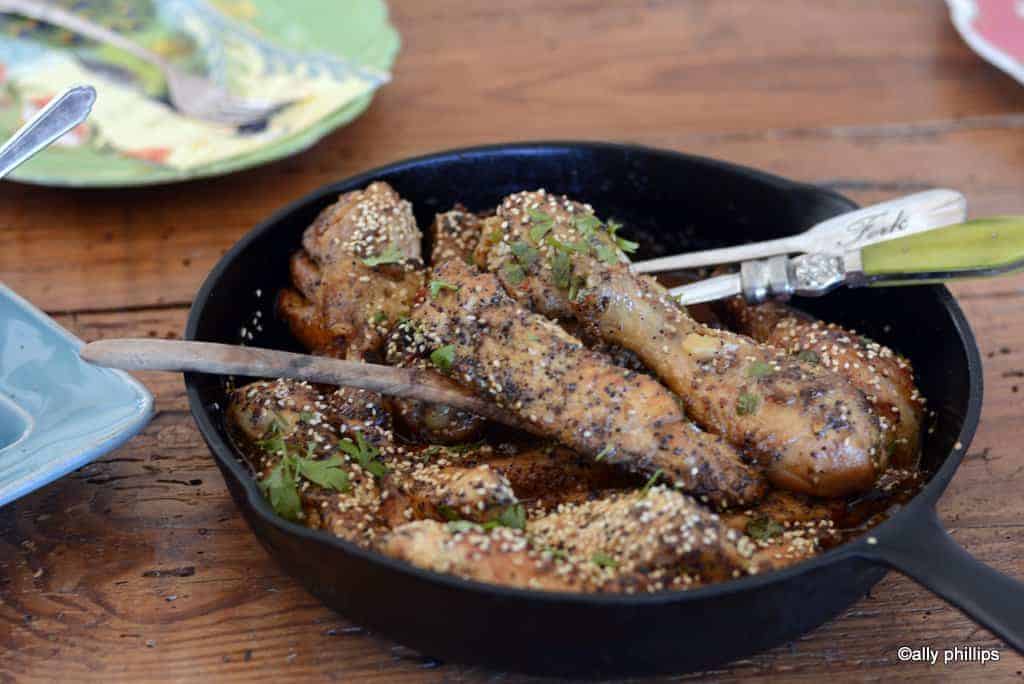 Hurricanes are a tragic natural disaster. Living on the coast of South Carolina, I don't look forward to 'hurricane season'. Unlike the 'holiday season' it's fraught with some underlying anxiousness each time a 'disturbance' starts circulating in the far away Atlantic ocean. This hurricane sesame glazed chicken recipe is inspired by hurricane season. In particular, Hurricane Matthew that struck the coast of South Carolina on 8 September 2016. Yes, we were almost in the eye of the tiger, and we experienced significant damage. However, on the bright side, it could have been worse!
For about five days, we were without power. I'm so so thankful I wasn't born in the 1800s when there wasn't power. Oh, the conveniences we take for granted just can't be enumerated. For days, as I'd go into a room, I'd immediately flip the switch. Such a force of habit. There were so many things I was thankful for, like flushing toilets, cool outdoor temperatures, sunshine, low humidity, ice to buy and more. These were things that got us through these days that made it easier in the initial cleanup.
Having a gas stove was a blessing. That meant I could still cook. And, cook I did. Chicken, beef, frozen vegetables, pork, lamb, veal and more. Endlessly between cleaning out refrigerators, freezers, raking, bagging debris and more. We live on a small dirt road. There are 13 families. So, I was delighted to invite and feed neighbors as we all were in the same boat and knew what was happening with each other. Besides my freezers were full of great food, so it had to be cooked and eaten.
When you don't open a freezer, it's amazing how long food will stay frozen without power. Then when you move things out and start loading it up with 30 to 60 pounds of ice, it preserves even longer. I knew I had some great chicken legs and boneless skinless breasts in the freezer that I wanted to use for a neighborhood lunch on day 2 of cleanup.
Everyone on our sand street was busy working hard. Chain saws. Huge yard size garbage bags. Removal of all the debris that has washed into the yards from the enormously high tide that made the water literally crash into our homes.
It was a sheer joy to gather folks around 'Kate' my farm table that's outdoors for this chicken dinner. It was sunny, warm and low humidity. Perfect for cleaning up. And, everyone was hungry. Some of the grocery stores, restaurants and fast food places were still cleaning up, so finding somewhere to get a quick lunch wasn't easy. This luncheon hit the spot. We all gathered round. Talked about our cleanup, the storm, all that we were ever so thankful for because we were healthy, alive and coming together.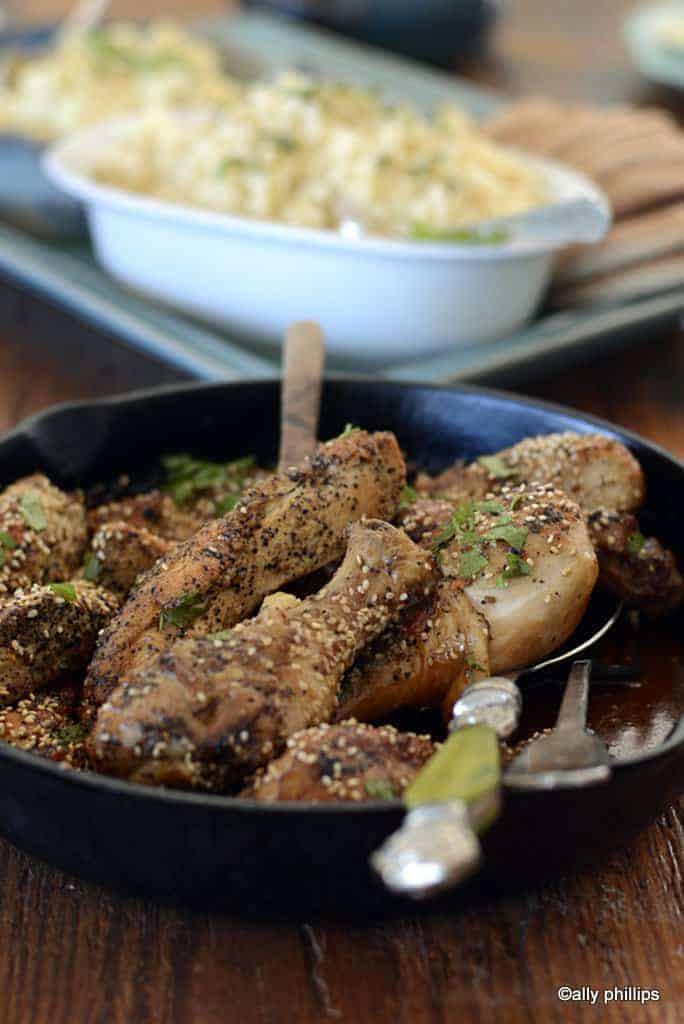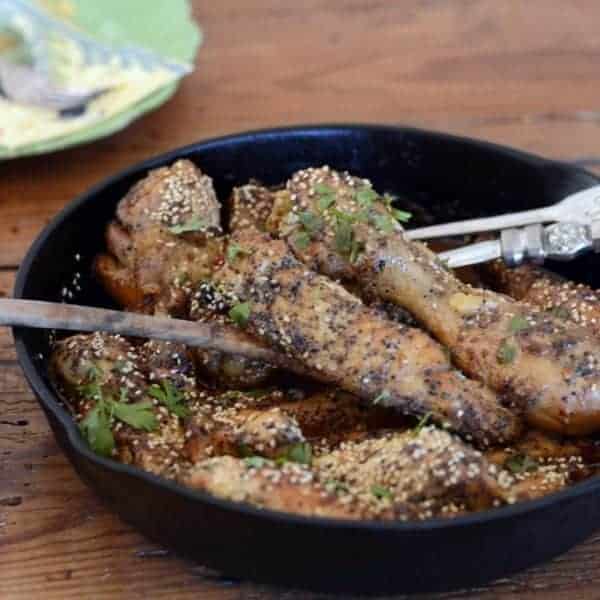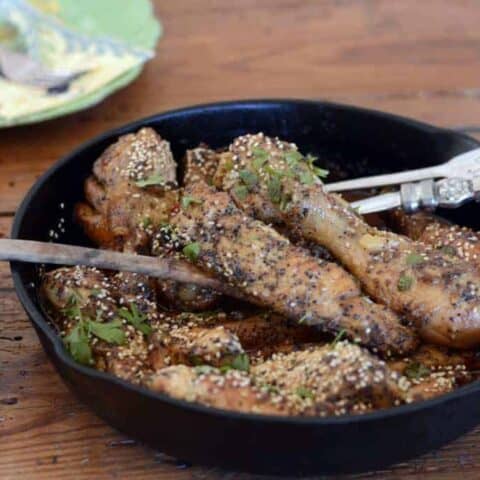 hurricane sesame glazed chicken
Ingredients
Preheat oven to 350
4-6 chicken drumstick legs
2 boneless skinless chicken breasts, cut in strips (3 strips per breast)
½ tsp. sea salt
½ tsp. coarse ground pepper
¼ cup oil
½ cup Saucy Mama Miso Orange Sesame Dressing & Sauce
1 Tbl. mustard, classic yellow
2 Tbl. honey
2 Tbl. sweet chili sauce
3 Tbl. toasted sesame seeds
Parsley for garnish
Instructions
Coat the chicken with the salt and pepper.
Heat a large (10+ inches) cast iron skillet on medium high. Let it get hot. Add the oil. Put the chicken legs in first and pan sear/brown all over for about 7-8 minutes.
Remove to a plate. Add the chicken strips and pan sear for about 5 minutes to brown on all sides.
Return the chicken legs to the skillet. Turn off heat.
In a medium mixing bowl, combine the Saucy Mama, mustard, chili sauce and whisk together. Pour over the chicken. Make sure it's all well coated. Cover the skillet tightly.
Cook in a preheated 350 oven about 18-20 minutes. Remove. Take off lid. Sprinkle with sesame seeds. Recover and let chicken sit in the warm oven about 5 minutes.
Garnish with parsley. Serve immediately.
Notes
Any cut of chicken will work. Depending upon the size will determine cooking time. Wings will cook quicker than bone in breasts and large bone-in thighs.

Internal temperature for larger bone-in meat pieces should be about 165.