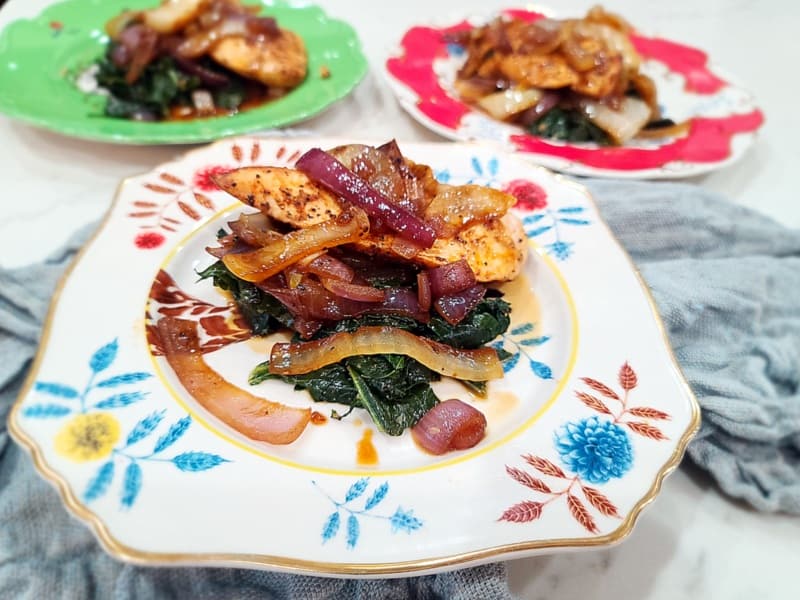 One pan harissa chicken is absolutely fabulous! Serve over your favorite sauteed greens. For me, it's collards! Flavors of North Africa!
Homemade Harissa Seasoning
Homemade harissa and Ally's Kitchen go hand in hand. Because here in my kitchen, I want to take you around the world to taste new flavors without even having to go through TSA security! And, with this simple and easy recipe for harissa, I think you'll be using it, like I do, on soooooooooo many things!
What is Harissa
So what is harissa? Let me introduce you to the chili sauce or ketchup of the Middle East. It originated in Tunisia. Traditionally created to season goat, lamb, or fish stew, harissa's popularity grew rapidly. It soon spread to other countries like Libya, Algeria, Morocco, France and Germany.
Harissa Recipe
The main ingredients in a dry homemade harissa are usually piri piri, a type of chili pepper, serrano peppers or other hot chili peppers, plus spices and herbs, like garlic, coriander, red chili powder and caraway seeds. But depending on which household you live in or what region you're from, it might include other things like cumin, , red peppers and lemon juice.
For a Round Up of my Harissa recipes, just click!
Recipes with Harissa
I have lots of delicious recipes with Harissa. So get ready to explode with unique flavors, like one in this list that won me 25 grand and really changed the trajectory of my cooking adventure!
Harissa Fried Potatoes & Olives
Harissa Buttermilk Baby Back Ribs
Harissa Eggplant and Roasted Red Peppers
Chicken with Harissa
Chicken with harissa is one of my most favorite ways to season chicken! And, now I'm going to show you how to make your own harissa. It is just so ridiculously simple.
And, the homemade version is infinitely better than anything you could buy from a grocer, gourmet shop or anywhere! Just click here for my YouTube video on making homemade harissa!
Now I loved serving this harissa chicken over pan sauteed collard greens. Here's my recipe! But, you could also do chard, turnips, kale, spinach. The greens go really well with the kick of the harissa!
Harissa Chicken Breast
I like using chicken breast meat for this recipe. But, you could certainly use boneless (skinless or not) chicken thighs.
The reason this recipe can be prepared so quickly is because the chicken breasts are thin sliced. If you're using a thicker cut, you'll have to cook longer. Remember your internal chicken temperature should be 165.
Harissa Chicken One Pan
Doing everything in one pan makes life so much easier. Less clean up, too.
There's not a lot of broth that's generated from the chicken. If you want more, I suggest you use Kettle and Fire Chicken Stock. Add about one cup of stock. Click here to get your 20% discount on your order. Use the code ALLYSKITCHEN at checkout!
And, if you're in the mood for Polish Beef Sausages and Japanese Purple Potatoes (so yum!), then you'll want this one pan meal!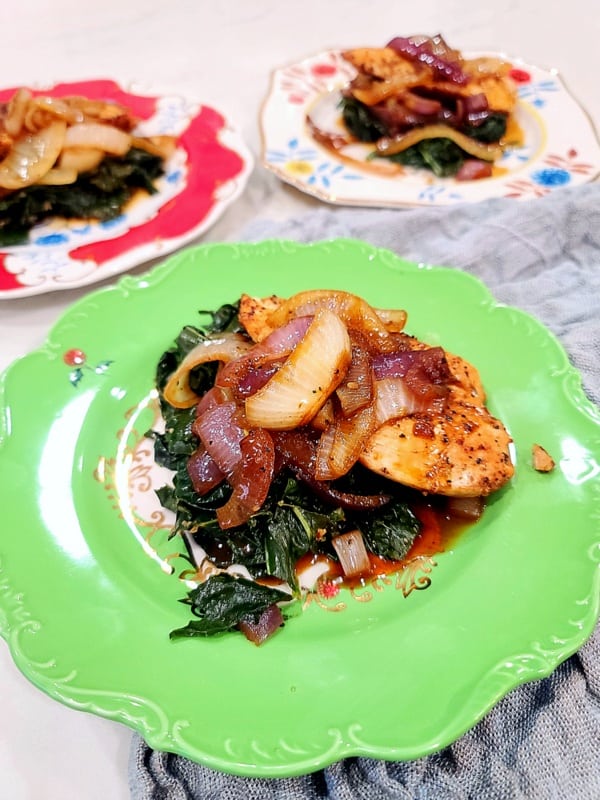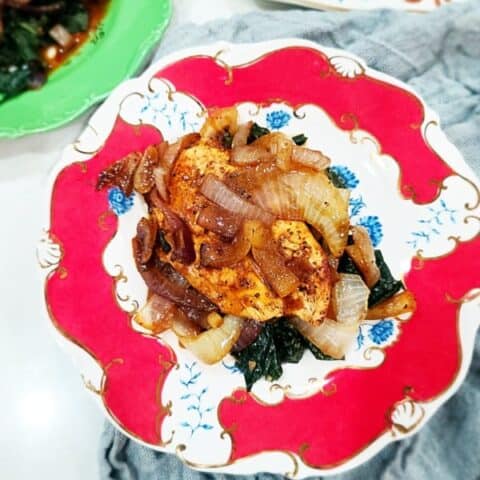 One Pan Harissa Chicken
Ingredients
1 lb. chicken breasts, thinly sliced, boneless skinless
4 Tbl. extra virgin olive oil, divded
2 tsp. harissa spice mixture
4-5 cups sweet onions, sliced
Instructions
Put the chicken breasts in a medium mixing bowl. Add three tablespoons of olive oil and the harissa. Toss and blend well.
Heat a large cast iron skillet on medium high. Add the remaining olive oil. Put the chicken breasts in and pan sear on each side about 4 minutes.
Remove to a plate. Cover with a lid.
Reduce heat to medium. Add the onions. Salt and pepper to taste. Sauté about 4-5 minutes.
Put the chicken (and any juices) on top the onions. Cover. Reduce heat to simmer. Let the chicken cook another about 10 minutes.
Ready to over your favorite sauteed greens!