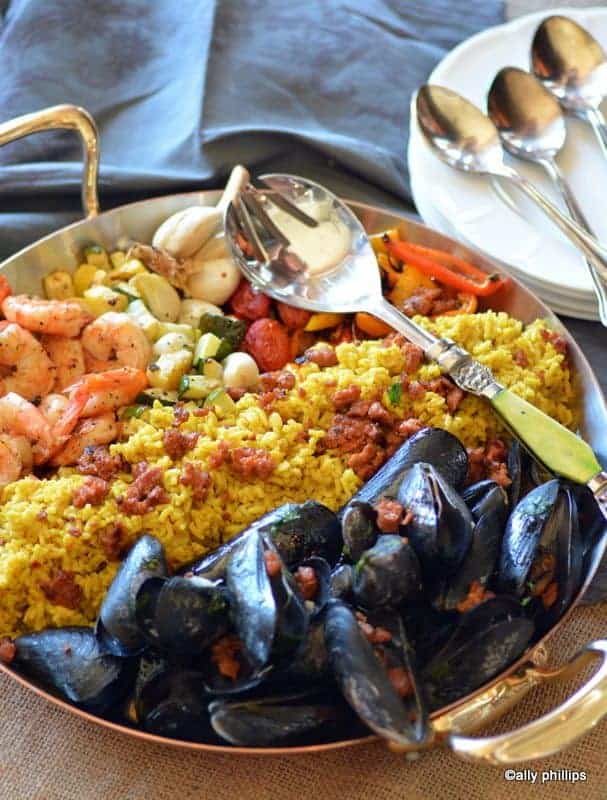 Take the daunting out of creating paella! With my easy Latin paella, you'll be serving up this delicious dish in no time! Rave reviews, yes!
Quick Easy Paella Recipe
Creating a paella can seem daunting. The way I've created my 'boho paella' is in steps. It's truly an easy Latin paella.
Actually, creating each component of the paella and then combining it all, each separately, in a beautiful paella pan lends itself to letting folks choose what they want on their plates.
Mixed Paella Recipe
Now usually paella is done in one pan and all the ingredients are cooked then blended together. You decide how you want to arrange the final 'look'.
I just liked the separation of each of the beautiful ingredients in the pan.
Spicy Seafood Paella Recipe
The big thing you'll be missing is the toasted rice bottom of paella that is called socarrat.
However, that could be achieved somewhat (and that's the operative word) by putting the cooked rice in the paella pan in a little oil and letting it simmer 'fry' on low for 15 or 20 minutes.
And, as for spicy heat level, that you can regulate according to your particular palate. Another option is to have extra thinly sliced jalapeno or serrano peppers on the table or even red chili flakes. Yes, for those who like it spicy!
Paella Recipes
There are lots of ways to create your paella. And, don't say 'paella' pan. Paella means "pan" in Valencian and Catalan. Because I'm doing the rice differently, my recipe is somewhat unconventional.
For the die-hard paella recipe maker, it could be 'blasphemy', but my shortcuts are forgiving and allow you to make the dish more easily, I think.
Shrimp Paella Recipe
Yes, we're using shrimp in this recipe. But, we're also going to use mussels, which I love, and chorizo. Chroizo will add some firey flavor and enhance all the flavors that are in the pan.
Rice Paella
Paella is basically a rice dish. Short or medium-grain rice tends to soak up the liquids and flavor. Another good rice that can be used is arboria, an Italian rice. I used a short grain yellow rice.
The microwaving procedure for the rice, for me, is much more reliable and easier; however, if you want to do it the 'pot or paella pan on the stove' way, go for it! You can really put together the rice and veggies, then add whatever meat or seafood(s) you want.
Best Paella Recipe
Of course, the best paella recipe is the one that folks gobble up. And, I assure you that this dish was devoured.
You can go totally vegetarian and no meats or seafood in your paella. What's most important are the flavors and this dish has it all!
My goal with this paella recipe was to make it as simple and easy as I could so as to encourage you to dive into this kind of recipe and not be intimidated by complexity of preparation!
Chorizo for Paella
There is a difference between chorizo and regular ground pork.
Chorizo comes in a variety of options. Chorizo is spicy and has tons of flavor.
If you don't want to use chorizo, a somewhat 'substitute' would be pepperoni.
Like chorizo, pepperoni is seasoned with paprika. But the pepperoni doesn't have the spice and heat, so you'll need to add chili peppers. Or you can use regular ground pork, spicy Italian ground pork, or spice up your ground pork with hot paprika and some chili flakes.
I'm a fan of chorizo and use it in lots of recipes.
Ground Chicken Chorizo Italian Meatballs
Buffalo Chroizo Flatbread Pizza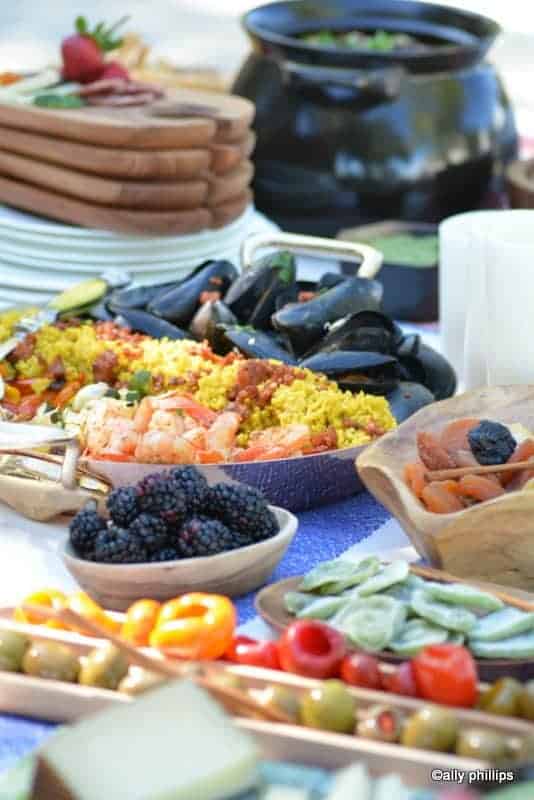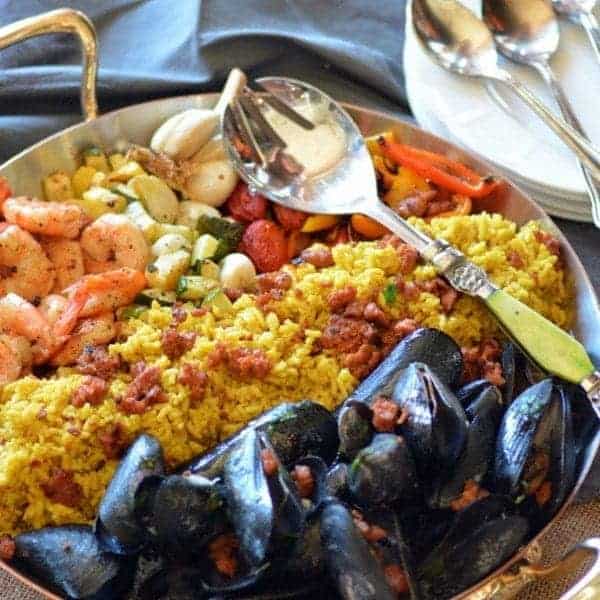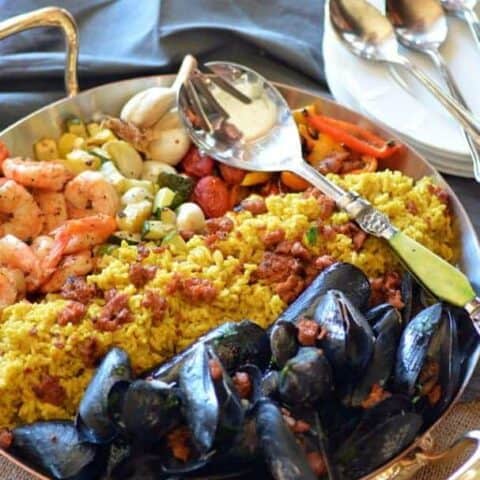 Easy Latin Paella
Ingredients
Preheat oven to 400
4 cups water
8 Tbl. Butter, salted (divided)
1 ½ tsp. sea salt (divided)
3 threads of saffron
½ tsp. ground turmeric
½ tsp. pepper
½ tsp. ground cumin
2 cups uncooked yellow rice
2 cups zucchini, cut into bite size cubes
2 cups yellow squash, cut into bite size cubes
1 garlic bulb, break off a few pieces, peel most of paper from these pieces & the bulb
2 cups mini sweet peppers, cut into strips
1 cup cherry tomatoes
Cooking spray, canola
1 Tbl. Lemon pepper seasoning
1 cup chicken broth
2 cups pinot grigio
1 Tbl. Fresh ginger, grated
1 lb. fresh mussels, cleaned, beards removed
1/3 cup flat parsley, chopped
1 (3 ounce) link chorizo, removed from casing and crumbled
1 lb. large shrimp, peeled, deveined, tail-on
½ large lemon, juice
Instructions
Combine the water, 4 tablespoons of butter, saffron, turmeric, pepper and cumin in a large microwavable bowl. Blend and stir. Add the rice. Cover tightly and microwave on high for 14 minutes. Remove, blend and fluff with a fork, recover with the lid and let the rice steam for about 30 minutes. Stir occasionally. Set aside until ready to put in the paella serving pan.
Combine the zucchini, squash, garlic bulb, peppers, and tomatoes on a parchment paper covered cookie sheet. Coat well with cooking spray then sprinkle with the lemon pepper. Roast in a preheated 400 oven for about 17-20 minutes then remove and set aside until ready to put in the paella serving pan.
Combine chicken broth, wine, ginger and two tablespoons of butter in a large skillet over medium high heat and bring to a boil. Add the mussels. Cover with a lid and bring to a boil cooking until for about 3 minutes. Flip and turn the mussels over and cook another 2-3 minutes. Toss in the parsley. Set aside.
In a medium sized non-stick skillet over medium heat. Add the chorizo and brown and cook about 5-6 minutes breaking it into crumbles. Remove the chorizo to a small bowl. Add two tablespoons of butter to the chorizo skillet (do not clean out). Add the shrimp, sprinkle with ½ teaspoon of salt and cook about 2 minutes each side. Squeeze on the lemon, toss and blend, and set aside.
Arranging the paella pan: Put the cooked rice in the center of the pan in a long 'strip'. Add the chorizo crumbles to the top. Put the mussels on one side of the rice. On the other side of the rice place the vegetables/garlic and shrimp.
Notes
Mix up your paella and serve it with just veggies. Swap out seafood for chicken drumettes & chorizo!