eggplant parmesan quick version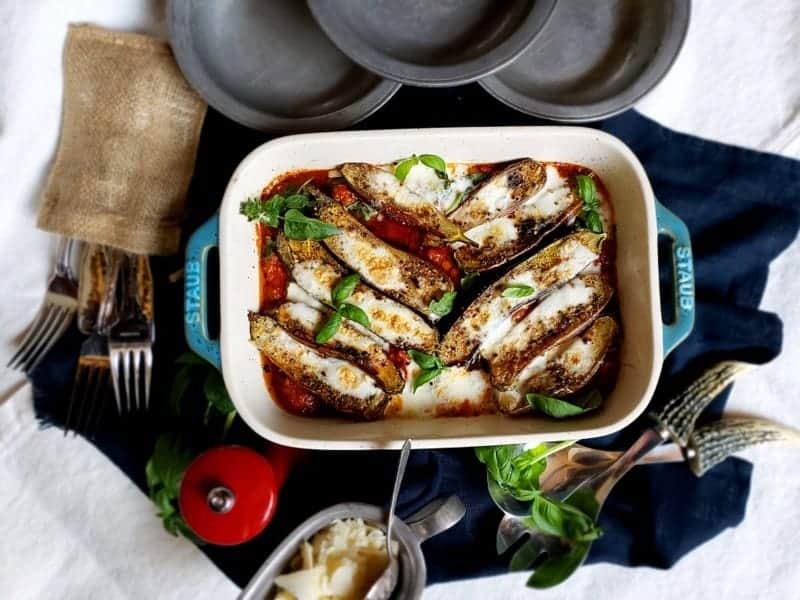 Skip a few steps with this quick eggplant parmesan and you won't even miss the extra calories! Quick, easy, healthier version of this classic dish!
Easy Recipes with Eggplant
This eggplant parmesan, my quick version, will be a hit for your family's dinner! When you make bolognese, it's usually a big pot.
There's plenty leftover for freezing. And, why not transform it into this quick version of eggplant parmesan.
How to Make Eggplant Parmesan
During the Summer when Farmers' Markets are buzzing, you can find some interesting veggies. And, I stumbled upon these petite eggplants!
Thought they'd be really tender and perfect for this quick version of eggplant parmesan.
Easy Eggplant Recipes
And, yes, I know they kind of look like sardines, but they're not!
Of course, you can use regular sized eggplant in this recipe. Just adjust the cooking time depending upon the thickness of your slices.
Italian Eggplant
I have several bolognese recipes, but there are two of my favorites. Check below!
Making a bolognese can take a little time, but, trust me, it's worth it in the end! I promise!!
Eggplant in Italy
We've traveled to Italy many times. Our goal is to really live the Italian life. That means staying almost a month, renting a villa in a small village, usually in the country, and shopping the farmers' markets and local retailers.
Eating so many different eggplant dishes the Italian way has helped inspire my use of eggplant!
Hey, if you love eggplant then check out all these recipes that Sumptuous Spoonfuls has put together! Killer good!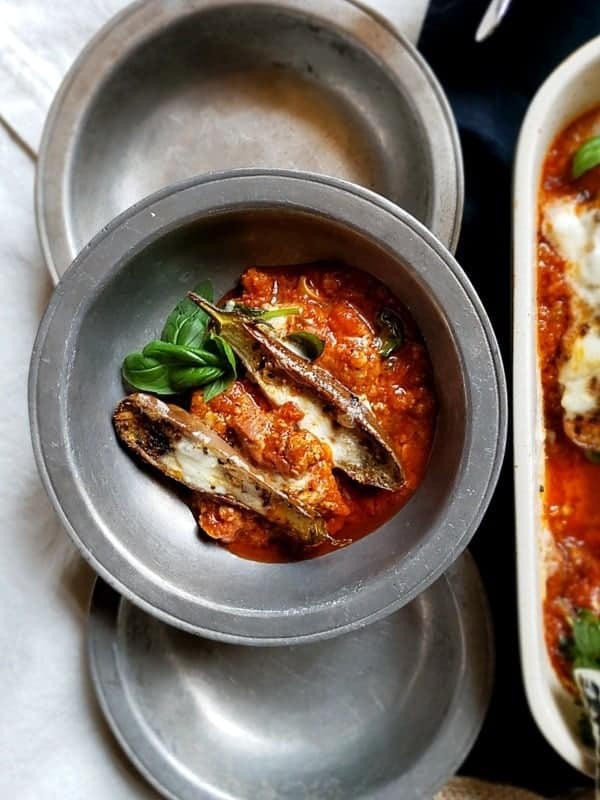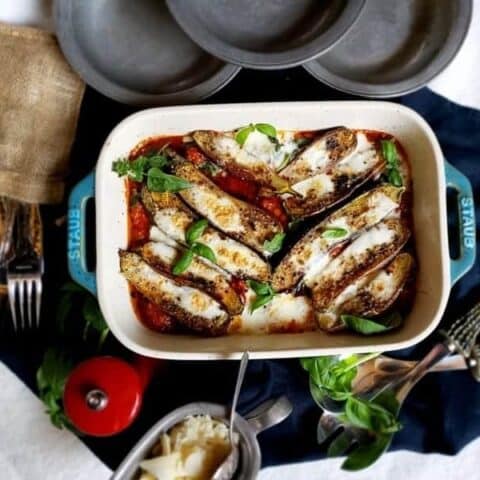 quick eggplant parmesan
Ingredients
Preheat oven to 350 then to Broil
3 cups bolognese sauce, can substitute marinara
6-7 eggplant, very small size, sliced lengthwise in halves
1/3 cup extra virgin olive oil
2 tsp. Kirkland's No-Salt Organic Seasoning Mixture, or Italian seasoning mixture
1/2 tsp. sea salt
1/2 tsp. coarse ground pepper
6 oz. mozzarella cheese
1/2 cup fresh basil leaves + more for garnish
Instructions
Put the eggplant (cut side up) in a casserole dish (about 8 x 10 size). Use a pastry brush to coat the eggplant then drizzle the rest of the olive oil all around.
Sprinkle on the seasoning mixture, salt and pepper. Place in the preheated 350 oven for about 12-15 minutes. Turn oven to broil for 2-3 minutes to brown the eggplant.
Remove the casserole and the eggplant from the dish. Set aside. Put the Bolognese in the casserole dish and spread out. Return the eggplant to the top and place the mozzarella on the eggplant and all around.
Return to the oven (about 10-12" from the broiler) and melt the cheese (about 3 minutes). Remove and garnish with fresh basil. Ready to serve.
Notes
You can certainly use a good brand of jarred marinara sauce in this recipe.

If you want meat in your sauce, put some oil in the skillet, crumble the meat, brown then add the marinara sauce and simmer about 20-30 minutes.

You can use a larger size eggplant, but I recommend cutting into rounds (about 1/2" thick) rather than lengthwise in halves.