mexican style meatballs albondigas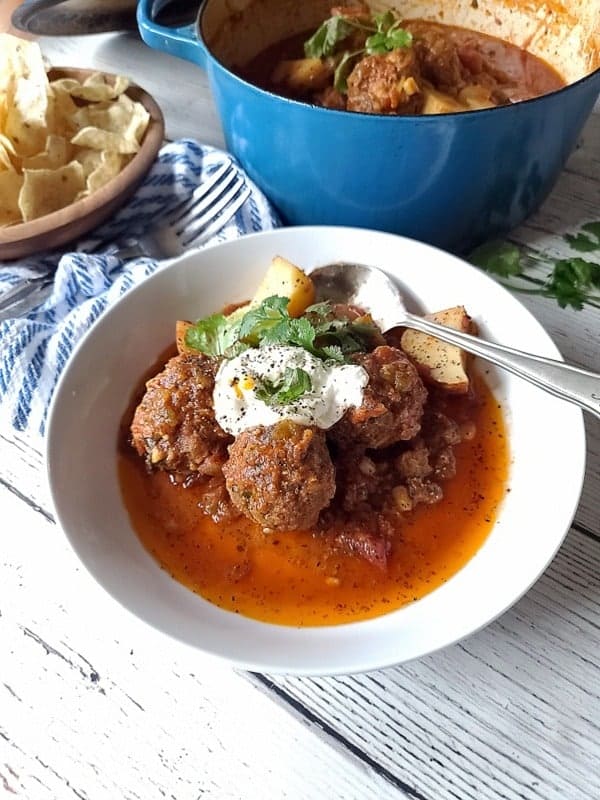 Get ready for eating THE BEST Mexican style meatball, or albondigas, that you've ever tasted! Moist tender and perfect for a party or weeknight dinners!
Mexican Style Meatballs
According to our trusty friends at Wikipedia, "Albóndigas are thought to have originated as a Berber or Arab dish imported to Spain during the period of Muslim rule. Spanish albóndigas can be served as an appetizer or main course, often in a tomato sauce. Mexican albóndigas are commonly served in a soup with a light broth and vegetables." Over the centuries the recipe for albondigas, like most any dish, have morphed into so many variations it's impossible to know all. Usually served in a 'soup' base, albondigas are versatile and can be eaten with a spoon if you choose or wrapped in your tortilla. The possibilities are endless!
Mexican Meatballs Recipe
For me, this Mexican meatballs recipe is very similar to a regular meatball recipe, whether it's Italian, Swedish, Turkish, Spanish or another ethnic/cultural variation. You're gonna start with your ground meats. And, for this recipe, I'm combining pork, actually hot ground sausage, and grassfed ground beef. Then we're going to use some of those beautiful Mexican spices like cumin, oregano, paprika and garlic and simple magic will happen. Now unlike an Italian meatball, the sauce is not going to be a marinara but it's what we'd expect for this beautiful Latin cuisine, salsa! Homemade would be amazing. But, for convenience and time sake, we can use a purchase fresh or jarred salsa. Fresh preferred.
Albondigas
If you want to be truly authentic with these Mexican style meatballs, when you serve them you'll refer to them as 'albondiags'. Yes, that's the official name for Mexican meatballs. And, if you're not sure of the pronunciation, then head over to YouTube and you can hear it pronounced. There're lots of voices saying the world 'albondigas'. And, while these Chicken Chorizo Meatballs have an Italian twist, hey, they could also work well for albondigas.
Mexican Foods
Oh, I love the flavors and textures of Mexican foods! From grilled corn or elote (Mexican street corn), tacos, tortillas, and guacamole to carnitas, churros and pineapple empanadas, Mexican foods are bursting with ingredients that are fresh, robust and spicy to whatever level you choose.
Meatballs as Appetizers
The great thing about this recipe is that you have the power. Yes, you can change the size of the meatballs. And, if you want them large, dinner size, go for it. And, if you want them to be more bite size for appetizers, then it's all up to you and how you roll 'em! And, another option. You can omit the potatoes. If you're making these mexican meatballs or albondigas as appetizers, then you might want to swap out potatoes and just serve them with tortilla chips.
Giada Meatballs
While the famous Giada meatballs of Food Network are great, Ally has quite an inventory of delicious meatballs!
Country Style Meatballs with Gravy
Mediterranean Meatballs with Red Gravy
Isn't it great to have this kind of power! And, it happens in the kitchen with each and every recipe you make! xox ~ally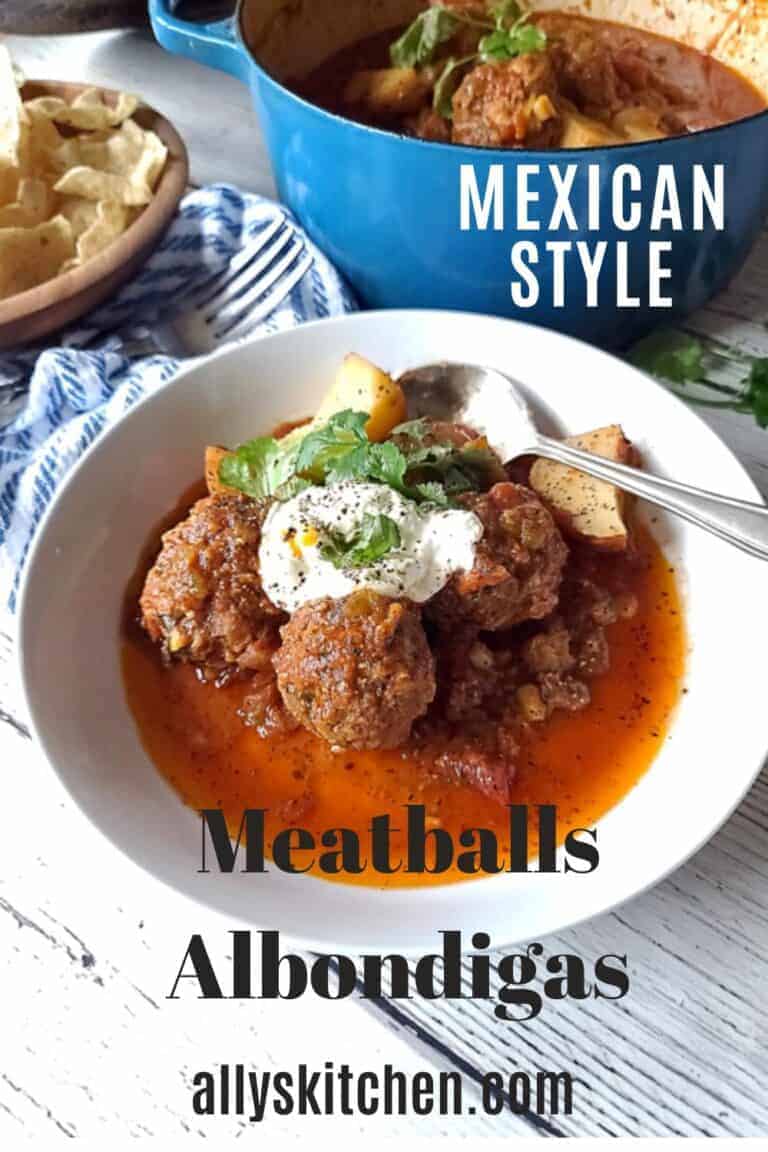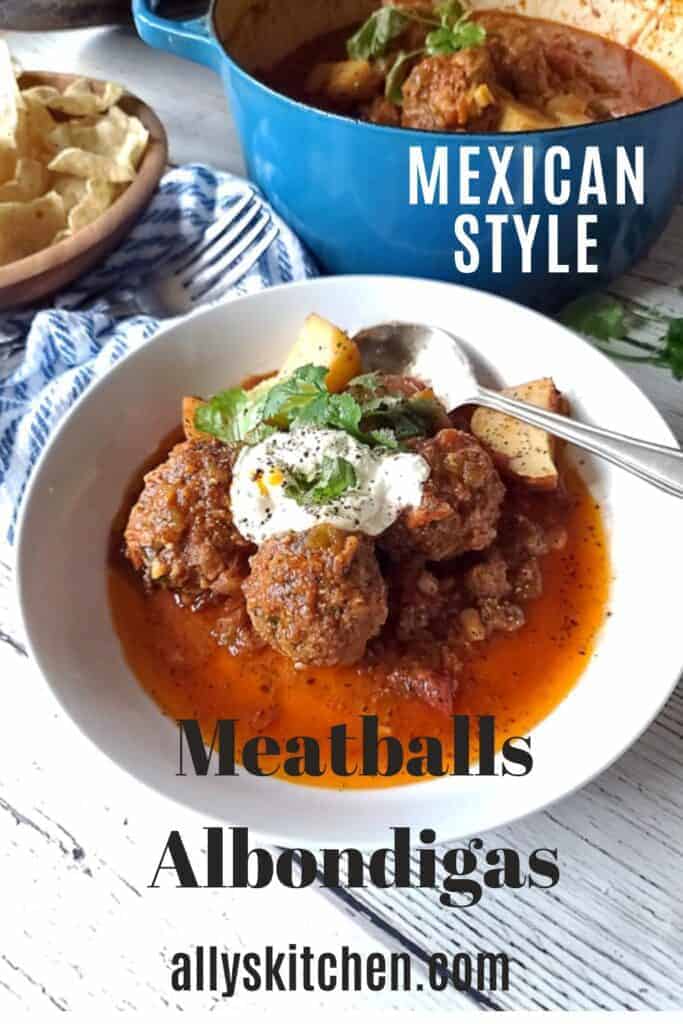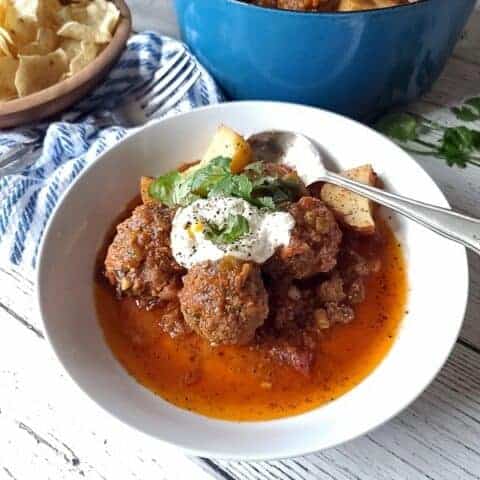 mexican style meatballs albondigas
Get ready for eating THE BEST Mexican style meatball, or albondigas, that you've ever tasted! Moist tender and perfect for a party or weeknight dinners!
Ingredients
Preheat oven to 375
2 tsp. ground cumin
2 tsp. garlic powder
2 tsp. smoked paprika
2 Tbl. oregano, fresh, finely chopped
2 Tbl. fresh flat parsley, finely chopped
2 Tbl. fresh cilantro, finely chopped
1 lb. hot ground sausage
1 lb. grassfed ground beef
2 eggs
1 cup corn, previously frozen
1 1/2 cups fried onions, packaged, crushed
3 cups red potatoes, cut into cubes, optional
1 tsp. sea salt
1 jar (16 oz.) fresh salsa
1 can (14.5 oz.) tomatoes, finely chopped + 1 cup water
1 can (7 oz.) diced green chiles
Instructions
Preheat the oven to 375

In a small bowl, combine the cumin, garlic powder, paprika, oregano, parsley and cilantro. Set aside.

In a large mixing bowl, combine the ground sausage, ground beef, eggs, corn, crushed fried onions and herbs/spices. Blend well. Form into meatballs slightly larger than the size of a golfball. Place into a Dutch oven pot or large heavy pot.

Add the potatoes in/around the meatballs. Sprinkle the potatoes with the salt.

Pour the salsa, chopped tomatoes and water and green chiles on top of the meatballs and potatoes.

Bake in a preheated 375 oven for 45 to 60 minutes.

Remove and let them rest about 10-15 minutes.
Notes
Serve with sliced green onions, sour cream, shredded cheese and fresh cilantro and a wedge of lime.

Use leftover meatballs as a filling for soft tortillas.

Meatballs can be made into smaller sizes and used as appetizer meatballs. You can omit the potatoes.