serrano corn soufflé casserole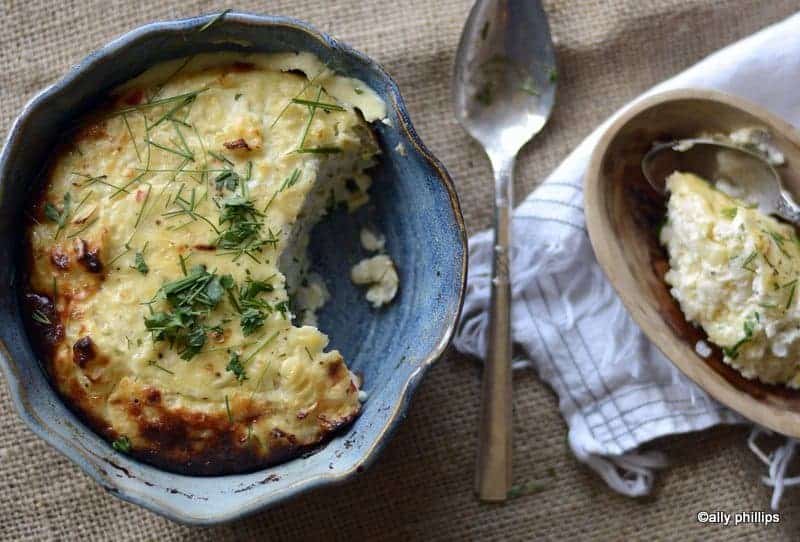 Call it corn souffle, corn casserole or corn pudding, this fresh corn, creamy yogurt or sour cream, with a bite of serrano is sure to be a dinner favorite.
Creamy Corn Casserole
Seems when we have corn on the cob, I usually have a few ears left over. And, being the thrifty prudent no waste whatsoever person I am, I could not bear to throw out those ears of corn.
That's how this serrano corn soufflé or creamed corn casserole or corn pudding came about.
After cutting the corn off the cobs, I had about one and half cups of succulent fresh corn kernels and knew I had to find something wonderful to do with it.
What better than a creamy corn casserole? Perfect for dinner or even a brunch. This casserole will not disappoint.
Corn Pudding Casserole
Corn pudding casseroles don't get any easier than this.
You have the option of using fresh or frozen corn kernels. I think canned corn will work well too.
Next you dice up a sweet, red onion. I have used white or yellow onions as well and also enjoyed the results so feel free to swap it in if need be.
Get out a couple of eggs, some plain greek yogurt, oil, salt, pepper, fresh chives or parsley and if willing, a minced serrano pepper! That is it.
You need to know that serrano peppers are hot so use them sparingly, especially if you have never tried one before.
You can remove the 'heat' by leaving out the minced serrano pepper and this corn bake will still impress!
Regardless, with or without the serrano peppers, this creamy corn casserole could not be tastier or easier for that matter. Especially using only a few ingredients!
I hate it when recipes require a lot of them. At least this corn bake does not.
Sweet Corn Casserole
When you make this sweet corn casserole you will first need a mixing bowl. Not too big. Not too small.
Combine corn, onion, eggs, yogurt, serrano, oil, salt, pepper and blend together well. You can easily swap out the greek yogurt for sour cream if need be.
Sometimes I have to do that myself.
More often than not though I use Greek yogurt. Overall we like the tang it brings to this fabulous corn bake but remember that sour cream will do just fine too.
Pour corn pudding casserole mixture into a baking dish lightly coated in cooking spray.
Bake and garnish with the fresh chives and parsley.
Oh I can smell this sweet corn casserole baking right now.
Corn Bake
Once this corn bake is ready you have a couple options that I need to discuss with you.
First, you can add a dollop of sour cream with fresh squeezed lime juice to each serving.
Talk about amazing!
As an alternative, maybe some chunky salsa or pico de gallo tastes incredible too. The tomatoes go beautifully with this sweet corn casserole too.
Decisions. Decisions.
You can also be like my son and eat this corn bake with nothing at all.
I never understood it but my son has never enjoyed anything extra on his food. Not just with this creamy corn casserole.
I mean he even loves cheeseburgers plain. He counts the cheese as a topping.
This is something I will never understand but love him just the same!
And, for the record, both his wife and children add sour cream and a squeeze of lime juice to this easy corn pudding casserole.
Baked Corn Recipes
Corn has been a staple in humankind diet for hundreds of years!
And, when you think about baked corn recipes, adding some creamy yogurt and a touch of heat from the spicy serrano, of course, that is if that's your palate's preference, then you're making one special baked corn recipe.
Your family will love it.
It'll be the hit at holiday dinners. In fact, while you're looking at this recipe, you must check out another corn souffle casserole pudding that I've created. OMG! Caramelized onions, cumin, cilantro and more!
Corn Souffle from Scratch
Everyone needs a simple easy recipe for corn souffle from scratch! I mean, it's not difficult.
Actually, the hardest part is probably just removing the fresh corn from the cob if you're using fresh corn in season. And, who doesn't want to do that when corn is in season?
Regardless, frozen or drained, canned corn will work and work well in this corn souffle from scratch.
We used to buy canned, cream corn, so many years ago but once I discovered this sweet corn casserole I haven't looked back.
Once I realized how simple it is to make a corn souffle from scratch I have never looked back.
Neither will you. I can almost guarantee it!
Leftover Corn Ideas
There were so many things I could have done with this corn other than a corn souffle. Besides just warming it, adding some butter, salt and pepper, I could have devoured it all myself. What other things could I have done with it?
Create a Breakfast Frittata
Make a Corn Salad
Toss in my Cornbread batter
Throw into a regular Salad
Make some Succotash
Use in a Tortilla with Cheese or add to this Pork Fajita Recipe!
Toss into the Blender with my Smoothie
Freeze and save for Later
OK, leave a comment and tell me what you're thinking!
Since we had company and since I was fixing breakfast, I thought it'd be cool to have a sorn soufflé to go with our eggs and bacon.
Honestly, I could have made myself sick and eaten it all, but I exercised restraint and just took that first little scoop that you see in the picture.
Next time, I make this recipe, you can be dang sure that I'll probably triple this recipe.
With corn in season, the wonderful Silver Queen in South Carolina and Olathe corn in Colorado, this recipe is one that's perfect for any occasion.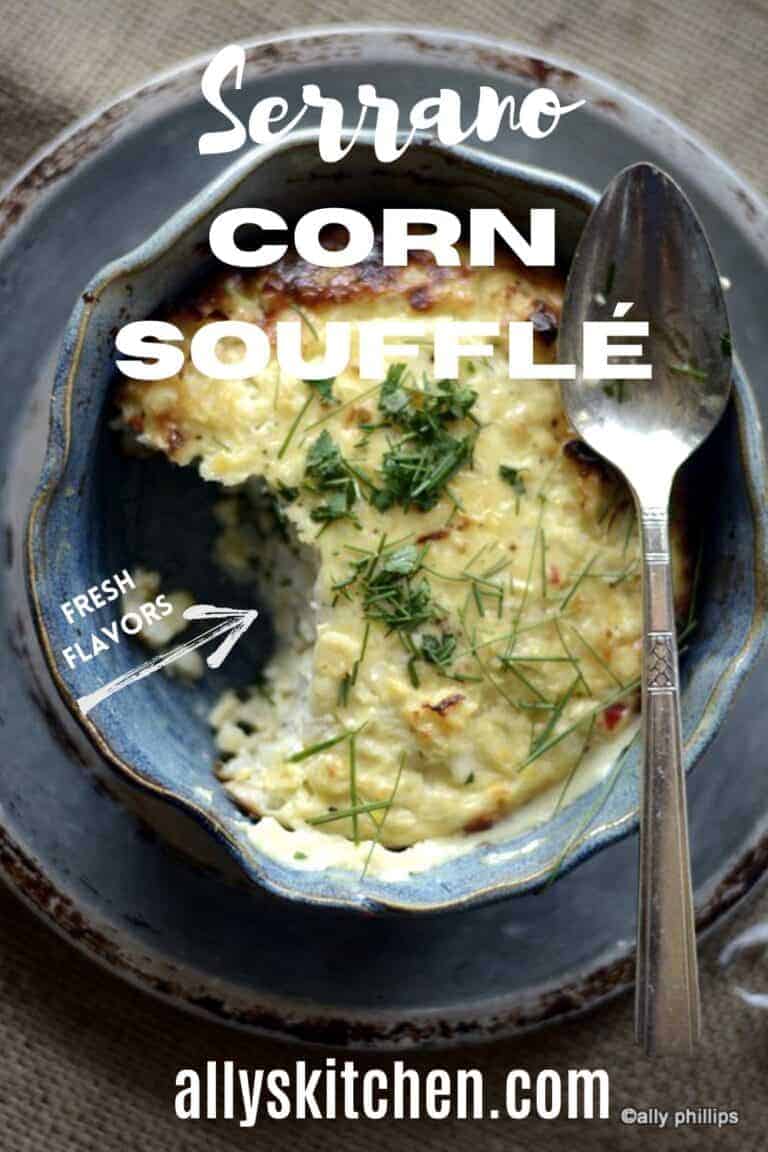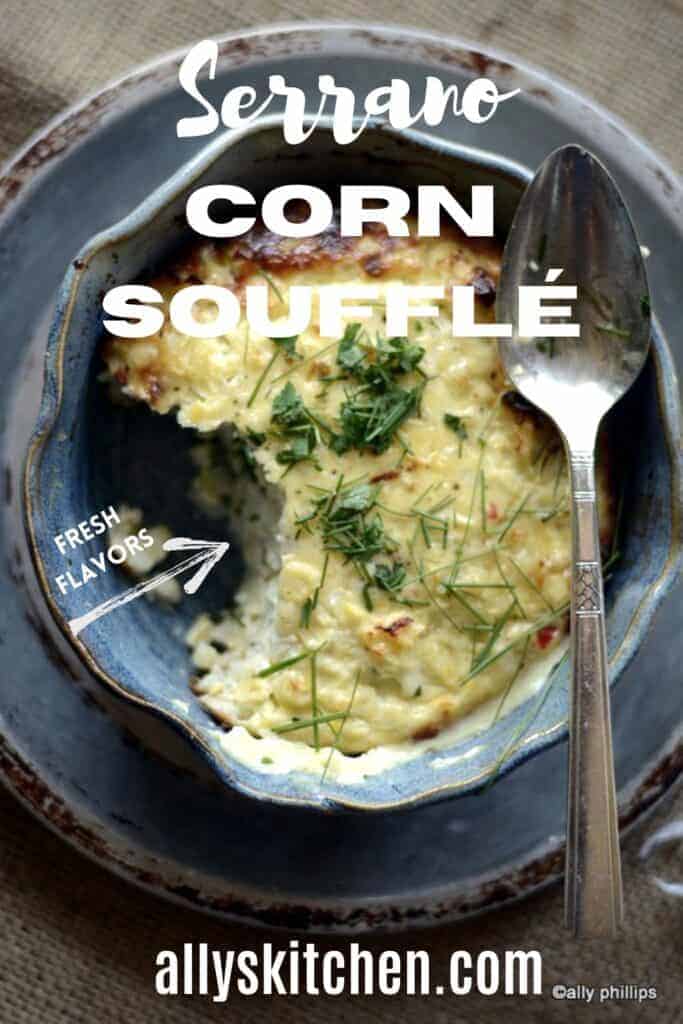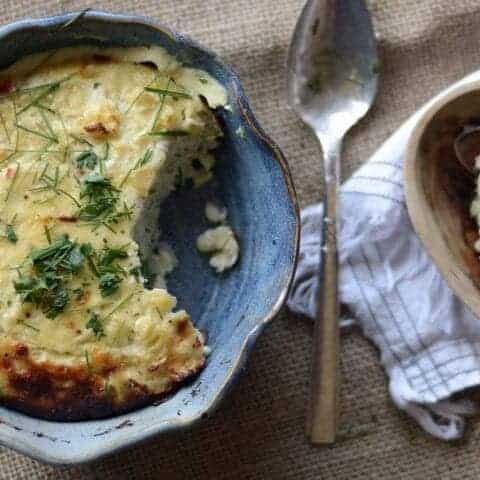 serrano corn soufflé casserole
Yield: About 4 folks or One small casserole dish (about 6 ½" round and 3" deep)
Ingredients
Preheat oven to 400
1 ½ cups corn, frozen kernels or cut off the cob fresh corn
½ cup sweet onion, diced
2 eggs, beaten
1/3 cup Greek yogurt, plain
½ tsp. serrano pepper, minced. of course this is OPTIONAL
1 Tbl. oil, safflower
1 tsp. sea salt
1 tsp. coarse ground pepper
1/2 tsp. each fresh chives and parsley, chopped
Instructions
In a medium mixing bowl, combine the corn, onion, eggs, yogurt, serrano, oil, salt, pepper and blend together well.

Pour into a baking dish coated with cooking spray. Bake in a preheated 400 oven about 35-40 minutes or until a toothpick comes clean from the center.

Remove and garnish with the chives and parsley. Serve immediately.
Notes
Add a dollop of sour cream with lime juice to each serving. Talk about good!

Chunky salsa or pico de gallo are other toppers that will be perfect for garnishing servings.

You can remove the 'heat' by leaving out the minced serrano pepper!