Nothing speaks of comfort food than country style beef meatballs with gravy. Rich and hearty, turning simple ground beef into these tasty meatballs makes you think you're eating something like prime rib! There's just enough fat in this 85/15 ground beef to add some deep flavor and after you season with all the ingredients, you take the beef to another level.
Now gravy is the perfect accompaniment for these meatballs~~and, you want to use the same skillet that you browned the meatballs in because all these drippings, and even small pieces of meat, from turning and frying the meatballs and getting that golden brown exterior become surprise flavoring for the gravy. I served these meatballs in a bowl over some garlic butter mashees~~yes, spuds simmered and mashed then good stuff added~~here's my recipe for the mashees!
Enjoy, luvs, and remember, it doesn't take prime rib to make you happy, it's the adventure of the imagination that hits the palate with these meatballs~ xoxo ~peace & meatballs~ ally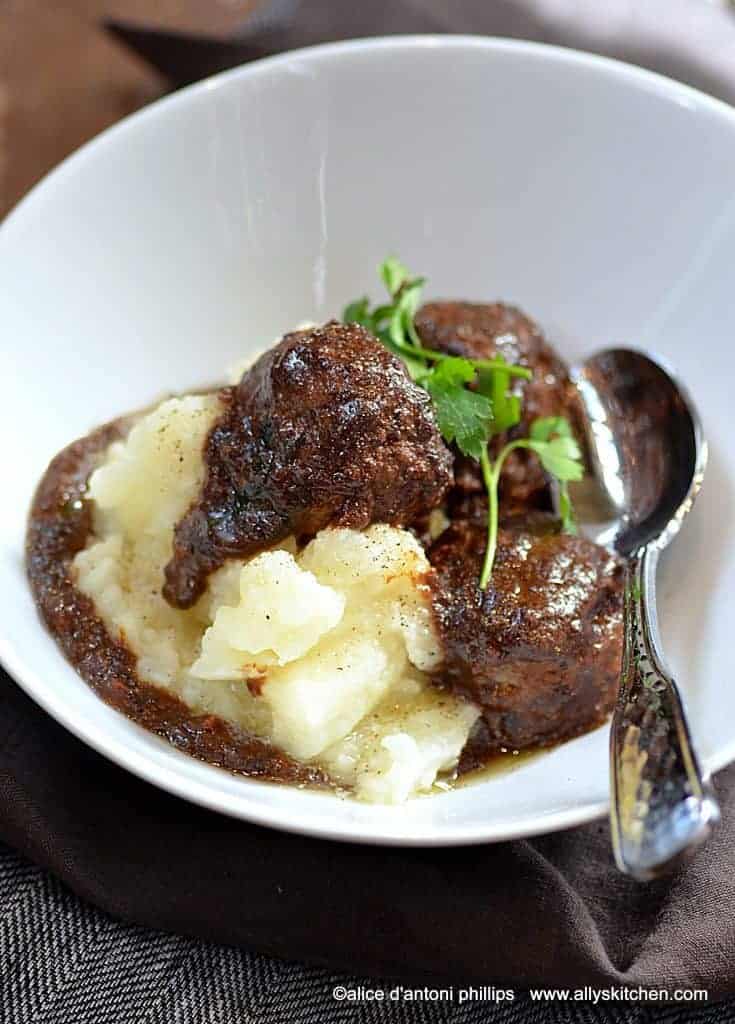 country style beef meatballs with gravy
Ingredients
Meatballs:
4 Tbl. olive oil (divided)
3 Tbl. shallots, minced
1 Tbl. garlic, minced
1 lb. ground beef, 85/15
2 eggs, beaten
¼ cup Greek plain yogurt
2 Tbl. Worcestershire sauce
1 tsp. sea salt
1 tsp. pepper
¼ cup flat parsley, chopped
2 Tbl. green onion tops, chopped fine
1/3 cup Italian bread crumbs
Gravy:
2 Tbl. olive oil
2 Tbl. all-purpose flour
1 cup 2% milk
3 tsp. Kitchen Bouquet, browning & seasoning sauce (this is optional~I wanted my gravy dark and rich looking. Add one teaspoon at a time, blend and then stop adding when you have the hue that you love.)
½ tsp. sea salt
½ tsp. pepper
Instructions
In a large (about 10" diameter) heavy cast iron skillet over medium heat, put one tablespoon of oil, shallots and garlic. Sauté about 3-5 minutes. Let cool.
In a large mixing bowl, crumbled the ground beef and add the eggs, yogurt, Worcestershire sauce, salt, pepper, parsley, green onions, breadcrumbs, and scoop in the sautéed shallots/garlic. (Note: Put skillet back on stove because you'll pan sear the meatballs in it.) Blend this meat mixture together well with your hands. Shape into 12 equal sized meatballs placing on a cookie sheet lined with parchment paper.
Put the remaining 3 tablespoons of oil in the skillet. Turn heat to medium high. Place six meatballs at a time and brown well on all sides. Remove and place on a dish. Repeat with the remaining meatballs, browning them well, then removing to a plate. Your meatballs will lose some of their 'roundness'—that's ok.
Use this same skillet to make the gravy. Turn heat to medium. Add the oil and let it get hot. Add the flour and whisk in cooking about a minute. Slowly add in the milk and continue whisking the entire time to make a gravy. Add the Kitchen Bouquet and blend. This will darken your gravy. Add the salt and pepper and blend.
Add the meatballs (and any juices from the plate) back to the gravy, turn and coat each with some gravy. Turn heat to simmer. Cover with a lid and let the meatballs bask in the gravy for about 20 minutes before serving. If gravy thickens too much, just add a little milk to thin.
https://allyskitchen.com/country-style-beef-meatballs-with-gravy/
©ally's kitchen intellectual property