french onion lamb meatballs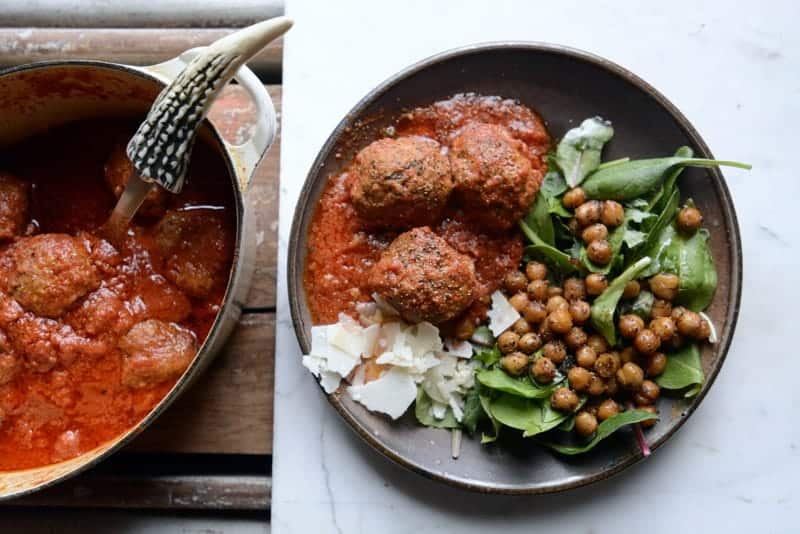 French onion lamb meatballs made with your favorite French onion dip and other spices! Yes, these lamb meatballs will become your go to meatball recipe! These are crazy good spice lamb meatballs!
Spiced Lamb Meatballs
Spiced lamb meatballs are more than just rolling seasoned ground meat into balls and cooking. Really good meatballs, I mean moist tender and deeply flavored, but not overwhelmingly so, meatballs call for ingredients and techniques that give you that end result. And, that's precisely what these french onion lamb meatballs are, the very best, most moist and tender flavorful meatballs you'll ever taste!
Lamb Meatballs Recipe
Now most people think the perfect lamb meatballs recipe is a combination of beef, pork and sometimes veal. But, I'm here to tell you that ground lamb is the bomb when you're making meatballs! You might think that the lamb would give the meatballs a real Middle Eastern slant, since that's typically where you see ground lamb used, in Middle Eastern meatballs and kefta. However, this recipe for french onion lamb meatballs blasts that myth, or rather taste. And, you're going to use an ingredient that maybe you've haven't tried in a meatballs recipe, French onion dip/
French Onion Dips
French onion dips are perfect for fresh vegetables, chips, pretzels, crackers and snacking. But why not use French onion dip in recipes. That's my thinking. Basically French onion dips are sour cream with spices.
Originally known as California dip, French onion dip was 'discovered' in the 1950s in Los Angeles. As the story and legend goes, and unknown French cook combined sour cream and instant onion soup. Bam! It spread like wildfire once it was printed in a local newspaper!
Meatball Dishes without Pasta
Seems that pasta and meatballs automatically go together, But, what meatball dishes can you make without pasta. OK, check out these ideas, my friends!
Honey Ginger Glazed Brussels Sprouts
Oven Roasted Garlic and Herb Veggies
Lamb Meatballs with Mint
Another ingredient used in these lamb meatballs is mint. You might not regularly use that in your meatballs. But, lamb and mint just go together. And, it's quite popular in the Middle East, so here's to lamb meatballs with mint. You could surely use fresh mint too. I'd recommend about two teaspoons of finely minced fresh mint. Oh, that would be divine!
Meatballs Lamb
Ground lamb has a ton of nutritional value. Yes. it's a little pricier than regular beef and pork, but the benefits are worth the extra investment. Lamb, which is mostly protein, does have varying amounts of fat in it. It's a warehouse of vitamins and minerals like B12, selenium, zinc, niacin, phosphorous, and iron. And, because the lamb has a higher fat content than beef, you can cut out the pork in these meatballs and just stick with straight lamb. If you're interested in looking at the comparison between lamb and beef, the check out this article. And, there, of course, are many more in cyberspace!
Bottom line on this recipe is that these meatballs meet all the important criteria to me for a great meatball! While the meatballs had a more Italian flair, I decided to serve with a distinctively Middle Eastern side versus pasta. So I simply put some olive oil, drained garbanzo beans in a skillet over medium heat and seasoned them with salt, pepper, harissa and ground cumin then served them over a mound of fresh European greens. I'm telling you this is about as fine a dish as you could order in a fancy dancy restaurant!
I have lots of meatballs recipes, so try something different with beef, chorizo, chicken!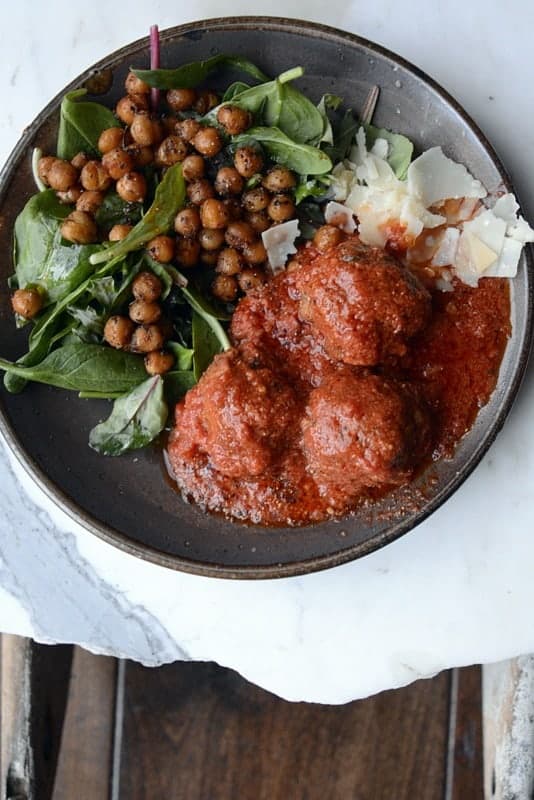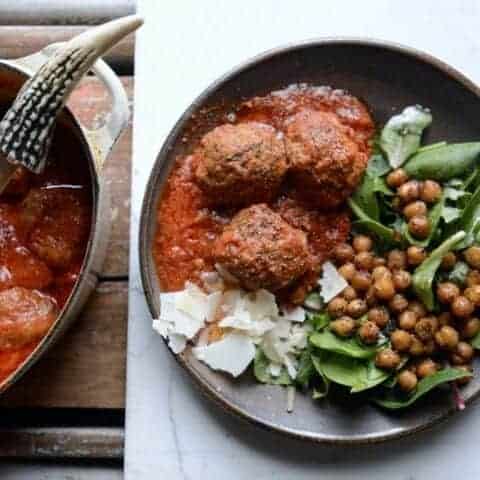 french onion lamb meatballs
Yield: About 4 hungry folks!

French onion lamb meatballs made with your favorite French onion dip and other spices! Yes, these lamb meatballs will become your go to meatball recipe!
Ingredients
1 lb. lamb, ground, grassfed and/or organic
½ cup French onion dip
½ cup parmesan, grated
2 eggs, beaten
1 ½ tsp. Garlic Herb Seasoning Mixture, WalMart organic brand
1 tsp. dried mint
1 tsp. sea salt
½ tsp. dried rosemary
½ tsp. red chili flakes
¾ cup bread crumbs
½ cup flat parsley, fresh, packed and finely chopped
1/4 cup extra virgin olive oil
1 (28 oz.) can Cento San Marzano peeled tomatoes + 1 cup water
1/2 cup shaved parmesan
SIDE DISH to serve with Meatballs:
4-5 cups fresh greens, mixture of arugula, spinach, baby kale, etc.
1/4 cup extra virgin olive oil
2 (14.5 oz.) cans garbanzo beans, drained
2 tsp. harissa
1 tsp. ground cumin
1/2 tsp. salt
Instructions
In a large mixing bowl, put the lamb, French onion dip, parmesan, eggs, garlic herb seasoning, mint, salt, rosemary and chili flakes. Blend together really well combining all the ingredients into a thick meat mixture.

Add the bread crumbs and parsley and blend together. Don't overwork the mixture, just enough to incorporate all ingredients. The mixture is now ready for rolling into meatballs.

Pinch about two heaping tablespoons and roll in to a meatball. Repeat until all the meat is rolled into meatballs. There should be about 10 to 12 meatballs. Of course, the size of your meatballs will determine the total number you get from the mixture.

Put a Dutch oven (medium size) on a medium blaze. Let it get hot. Add the olive oil. Add five to six meatballs and brown on all sides. Use tongs and remove these meatballs to a bowl. Add the remaining meatballs and brown. Then return the first batch of browned meatballs to the pot.

Cover the meatballs with the tomatoes and water. Cover with a lid. Cook for thirty minutes on medium stirring occasionally.

Reduce heat to low and simmer until ready to serve. The tomatoes will cook down and become a 'marinara' type sauce consistency. Stir occasionally.

Whille the meatballs are cooking, prepare the garbanzo beans. Heat a medium skillet on medium heat. Add the olive oil, beans, harissa and cumin. Toss and blend well. Cook about 7-10 minutes over medium low heat.

When serving, put some of the greens on the plate, top with some of the beans and several of the meatballs and sauce.
Notes
Shaved parmesan reggiano for garnishing and serving with meatballs.

For the breadcrumbs, I put leftover broken naan chips in the food processor and pulsed into a sandy mixture.

The French Onion Dip is found in the refrigerated section of your grocer. It is made with sour cream.