Thanks to Dole Sunshine for partnering with me on this tropical meatballs recipe! I am the creator of this recipe and for the description and information that follows. For a full disclosure, click here!
Meatballs are always a hit at a party whether it's just a few friends or a crowd. And, these tropical meatballs are quite different in flavor than your typical meatball. Spiced with ginger and nutmeg, these meatballs have added flavoring with some lean ground pork then rounding out the meat is ground turkey. Of course, if you prefer ground chicken, then no problem with substituting.
The size of the meatball is always a personal preference. For this recipe, I'm thinking appetizer size meatballs, so they're a tad bit smaller than dinner meatballs. But, again, like the meat swap, if you want larger meatballs and prefer to serve them as a dinner meatball, then that option is there.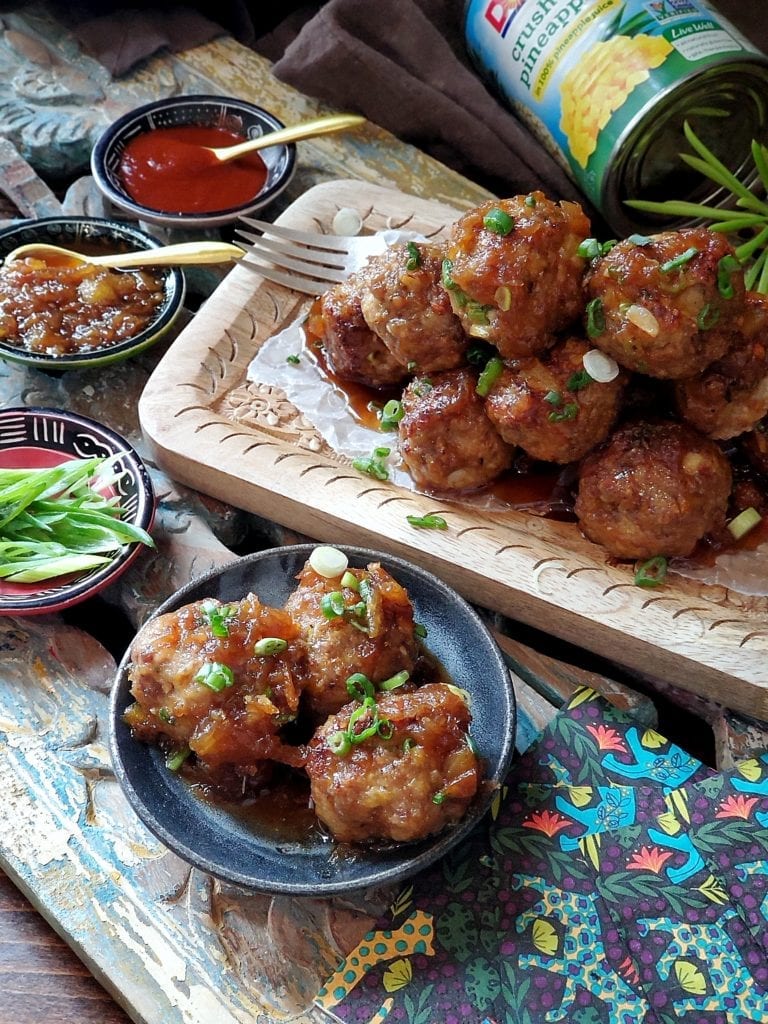 Ingredients
1 can (20 oz.) DOLE® Crushed Pineapple
¾ lb. ground chicken or turkey
¾ lb. ground pork
1 ½ cups Italian breadcrumbs
3/4 cup green onion, thinly sliced, divided
1/2 cup teriyaki sauce, divided
2 egg(s), beaten
1 tsp. ground ginger
1/2 tsp. ground nutmeg
2 Tbl. orange marmalade
Instructions
Drain 1/2 cup crushed pineapple, reserving remaining pineapple and juice for sauce.
Combine ground turkey, pork breadcrumbs, one-half cup drained pineapple, one-half cup green onions, one-fourth cup teriyaki sauce, eggs, ginger and nutmeg in large bowl, mixing well.
Scoop mixture and gently roll into desired meatball size. Place on a parchment paper lined cookie sheet. Bake at 350º 25 to 30 minutes or until meatballs are done.
As the meatballs are cooking, make the sauce. Combine the remaining pineapple and juice, 1/4 cup teriyaki sauce and orange marmalade in medium saucepan; heat to boiling. Reduce heat and simmer uncovered about 3 to 4 minutes. Stir in remaining 1/4 cup green onions.
Coat the meatballs with the sauce and put any remaining in a small serving bowl. Serve with toothpicks as appetizer meatballs.
https://allyskitchen.com/tropical-meatballs/
©ally's kitchen intellectual property