smoked paprika beef stroganoff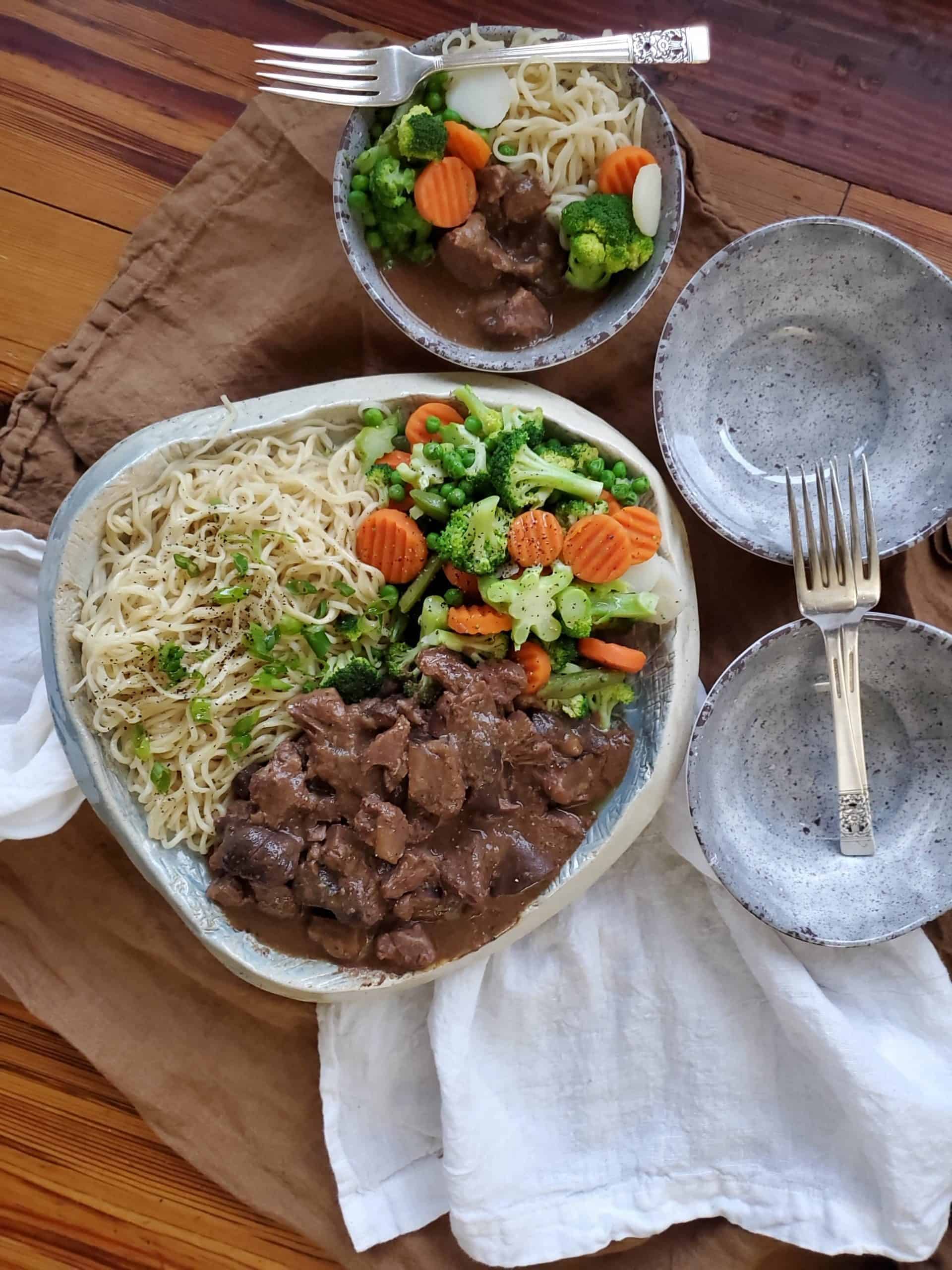 Paprika Spice
Pull out that multicooker because you're gonna so wanna make this smoked paprika beef stroganoff! It's just a dump, set, and wait for the yumminess!
Paprika spice is the fourth most consumed spice in the world! It's a powder made from grinding the pods of various kinds of Capsicum peppers. Purposefully, it's used for both flavor and color. Paprika is also used in several spice mixtures like baharat. I thought it would be a palate adventure to use this spice in this traditional strognaoff recipe. And, my paprika beef goulash is another belly filling rustic meal!
Best Beef for Stroganoff
Best beef for stroganoff in my opinion is a tender cut of meat that you can cube easily. I'd recommend either New York Strip or ribeye. The latter has more fat in it and you'll have a tad bit more flavor. I know both of these cuts of beef are on the high-end side cost-wise, but we're talking about making a gourmet beef stroganoff.
This smoked paprika beef stroganoff is a hearty belly-filling meal. I've teamed it with some unexpected sides. Ramen noodles and Asian-like veggies. I mean who doesn't love a fusion of culinary cultures to make food even more interesting!
Try this! Yet another great beef recipe: Cowhand Beef! And, you'll see I've found some really pretty serving dishes that you might want to take a peek. Presentation with food is just so important!
Beef Stroganoff InstaPot
An InstaPot is basically a multi-coooker. And, that's what I used for this recipe. My multi-cooker is a Cuckoo, which is similar to other popular multi-cookers. You could also do this recipe in a slow cooker. Just adjust the time.
According to the Stroganoff Foundation, which is dedicated to "preserving the artistic legacy left to Russia by the Stroganoff family," the origins of the Stroganoff clan date back to just before the reign of Ivan the Terrible. In the 1300s, the family swelled its fortunes through trade, land acquisition, and salt mining.
Then, as Ivan the Terrible sealed his control over Moscow and all its surrounding states, the Stroganoff family matriarch (Anika Feodorovitch, 1488–1570) made a daring gambit by seizing much of Siberia and allying herself with Ivan, ceding her territory to him in exchange for a long-term land grant. Effectively, this made the Stroganoff family the de facto manager of all of Siberia."
Gourmet Beef Stroganoff
Gourmet beef stroganoff doesn't have to be difficult. With the best cut of meat you can afford and a few other ingredients, you're going to be tasting something that melts in your mouth.
Hands down two things about this smoked paprika beef stroganoff recipe. One, it's insanely easy because you're using a multi-cooker. And, if no multi-cooker then a slow cooker or crock pot! Second thing about this recipe is that it's so stinkin' easy to make. I mean you're gonna think you're channeling Julia as you make it!
How to Make Beef Stroganoff
As you know, most all recipes and iconic dishes, like beef stroganoff, come with some kind of ancestry. And, this dates back years and years. According to Bon Appetit, yes, a great source for us on food, "This dish was invented sometime in the early 1800s and had its American heyday in the 1950s and 1960s, but since then has fallen out of favor (and flavor).
We, however, aren't quite ready to send beef stroganoff off to pasture, because this dish can be so much more than the standard recipe of ground beef, onions, and cream of mushroom soup. For instance we've got one version that calls for tri-tip, Hungarian sweet paprika, and chanterelles. Another version calls for tenderloin, Cognac, and whipping cream."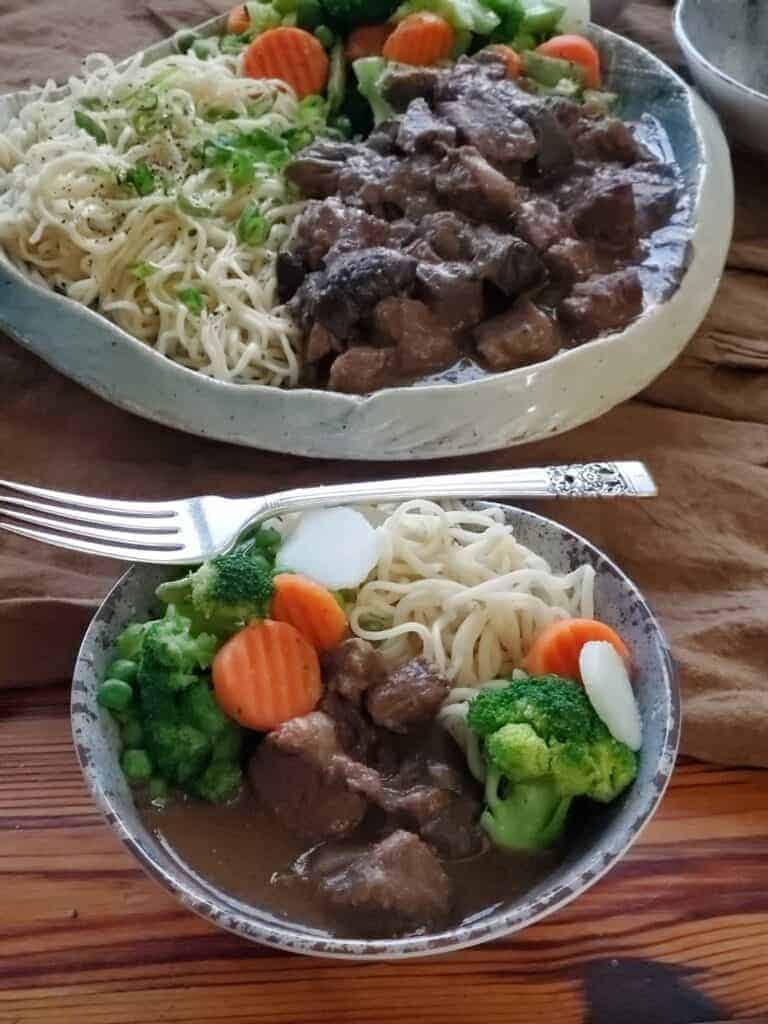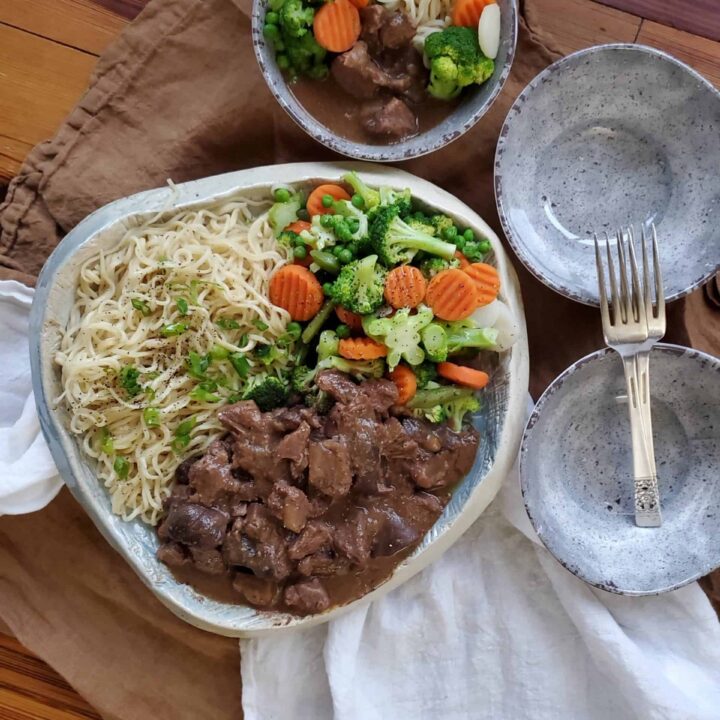 smoked paprika beef stroganoff
Pull out that multicooker because you're gonna so wanna make this smoked paprika beef stroganoff! It's just a dump, set, and wait for the yumminess!
Ingredients
1 (32 oz.) box mushroom soup (I used Imagine Mushroom Portobello Soup.) + 1 cup water
2 to 2 ½ lbs. beef, tender cut (NYStrip, ribeye), cut into 1-2" chunks
1/3 cup flour, all purpose
2 tsp. sea salt
1 tsp. pepper
4 cups sweet onions, medium dice
4 cups mushrooms, sliced
2 tsp. Italian seasoning mixture
1 Tbl. smoked paprika
1/2 tsp. red chili flakes, optional for a little heat
Instructions
Put the soup in the multicooker (pressure cooker).
In a large mixing bowl, put the beef, flour, salt and pepper. Toss and coat. Put into the multicooker with the soup.
Add the onions, mushrooms, Italian seasoning, paprika. Stir and blend.
Set multicooker (pressure cooker) to [Meat] and cook for 1.5 hours.
If using a slow cooker, set at High for 4.5 to 5 hours or until tender.
Notes
Some folks have made this recipe and added ingredients to ramp up flavor!

Green chiles (thanks, Robin!), sriracha (1 Tbl.) (thanks, Sherry!), and minced serrano pepper (remove some of seeds, about 1 tsp.), (thanks, Richard!).