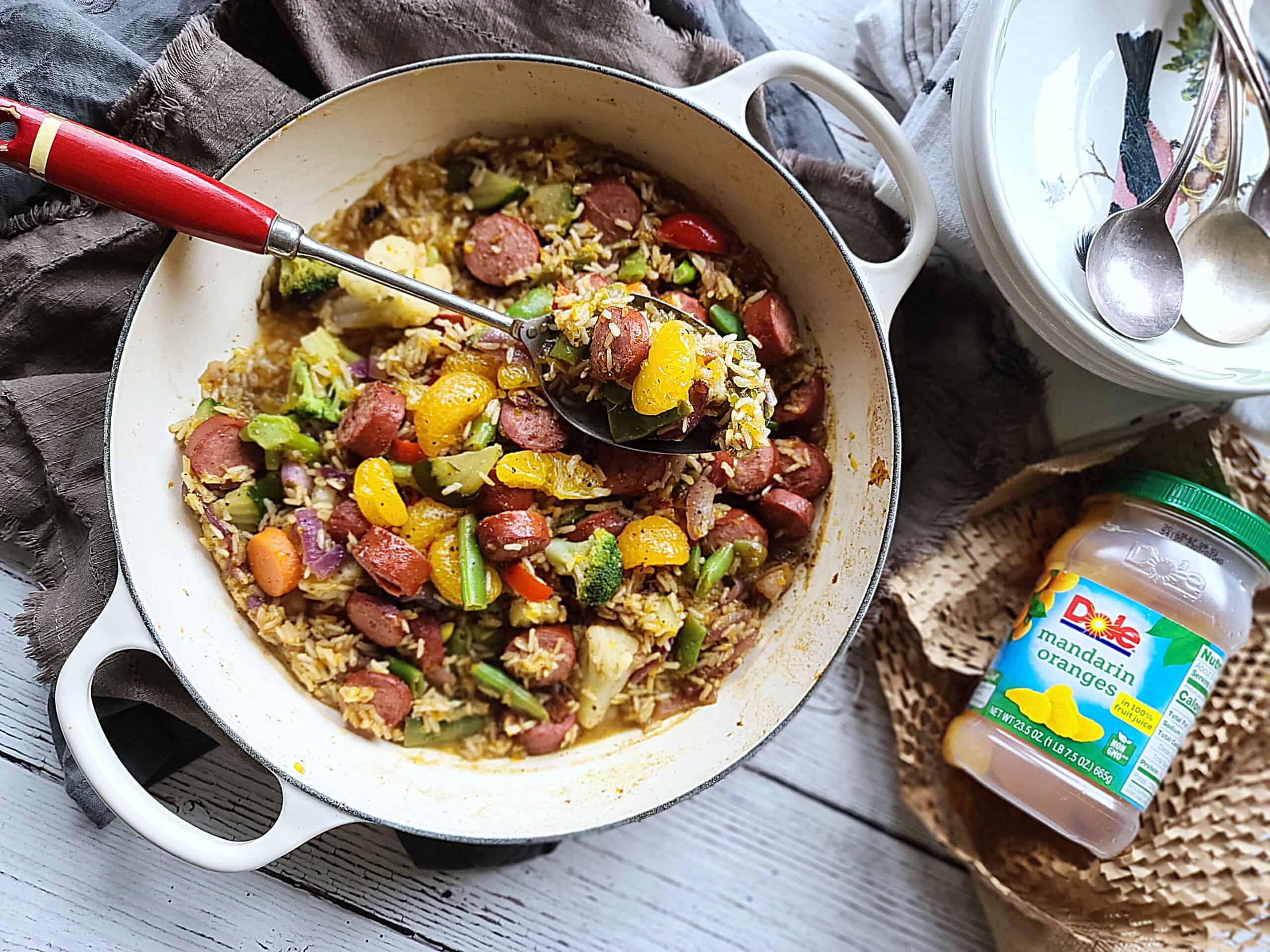 How about just 7 ingredients to make easy mandarin jambalaya! It's a meal for a family and guaranteed to be gobbled up!
Recipes Using Canned Mandarin Oranges
Thanks to Dole Sunshine for partnering with me on this recipe! I am the creator of this recipe and for the description and information that follows. For full disclosure, click here!
Mandarin Orange Recipes
Talk about a versatile fruit! That's what mandarin oranges are. They're not just for snacking.
What to do with Mandarin Oranges
First of all, they're great for snacking. And, when you want them for things like topping yogurt, oatmeal, cereal, salads and more then you've got to buy Dole Sunshine's mandarins.
They're great for so many things. As Dole's website says, DOLE® Jarred Mandarin Oranges are not only great to eat right out of the jar, but they are delicious in so many easy snacks. You can even add them and other jarred favorites to your Charcuterie board! And, yes, I use them on my charcuteries, too!
Easy Cajun Recipes
Now who doesn't love the spice and kick of Cajun mixed with the sweet and juice of mandarin oranges!
Rice for Jambalaya
For me the best rice for jambalaya is leftover rice. Or if you need to, make that rice a day ahead and refrigerate it. What happens is that the cooked grains are more separated and individual. Less sticky. Another option to save some time would be to use a pre-cooked rice. And, I really recommend wild rice. Hey, even the flavors in a pre-cooked wild rice would be great in this recipe.
Jambalaya with Sausage
Now you have the choice of sausage in this easy mandarin jambalya. For me, I love to use a turkey or chicken sausage. And, I'll choose smoked and if I can find it an andouille spice. Again, much more bang for you buck in terms of flavors.
Sausage Jambalaya
Mandarin jambalaya is not jammed without sausage. So, don't even think about skirting that ingredient. You can also toss in some small shrimp (tail off and deveined please).
Jambalaya Seasoning
If you want to substitute a jambalaya seasoning mixture for the no salt multi-seasoning that I used, that's perfectly fine. Cajun. Creole. Old Bay. Your choice. Just remember that these spice mixtures have a healthy amount of salt, so please taste as you go along to see if you need more salt.
Cajun Jambalaya
Now I love Cajun and Creole, and have some other recipes, maybe a tad bit more ingredients, that you might want to look at. You can always add these mandarins to these recipes, too. That's the beauty of Dole fruit, it's going to enhance just about anything you make, sweet or savory.
Southern Grits and Andouille Sausage
Andouille Sausage Jambalaya
I actually used the andouille turkey/chicken sausage in my recipe. There are so many options for this ingredient. If you shop at Costco, check out their brands.
Mandarin Shrimp
As I said, you can add shrimp to this recipe. And, there's nothing more delicious than mandarins and shrimp. A really simple recipe is to sauté some shrimp in butter, add some mandarin juice and mandarins, simmer and cook shrimp (it cooks quickly!), then toss in a handful of fresh herb mixture, Italian parsley, lemon thyme, basil. Yes, this is fine eating. Quick!
Mandarin Chicken
And, chicken goes with mandarin like peas n' carrots. Again, the more simple and easy you make it, the better. If you've got really succulent farm fresh chicken with mandarins, then you're in business, like these Mandarin Spicy Chicken Wings.
Also, have a look at these mouth-watering memorable dinner recipes:
grilled chicken sun dried tomatoes
madras curry shrimp
Black Bean Spinach & Cherry Tomato Pizza
bone-in pork chop & beurre blanc sauce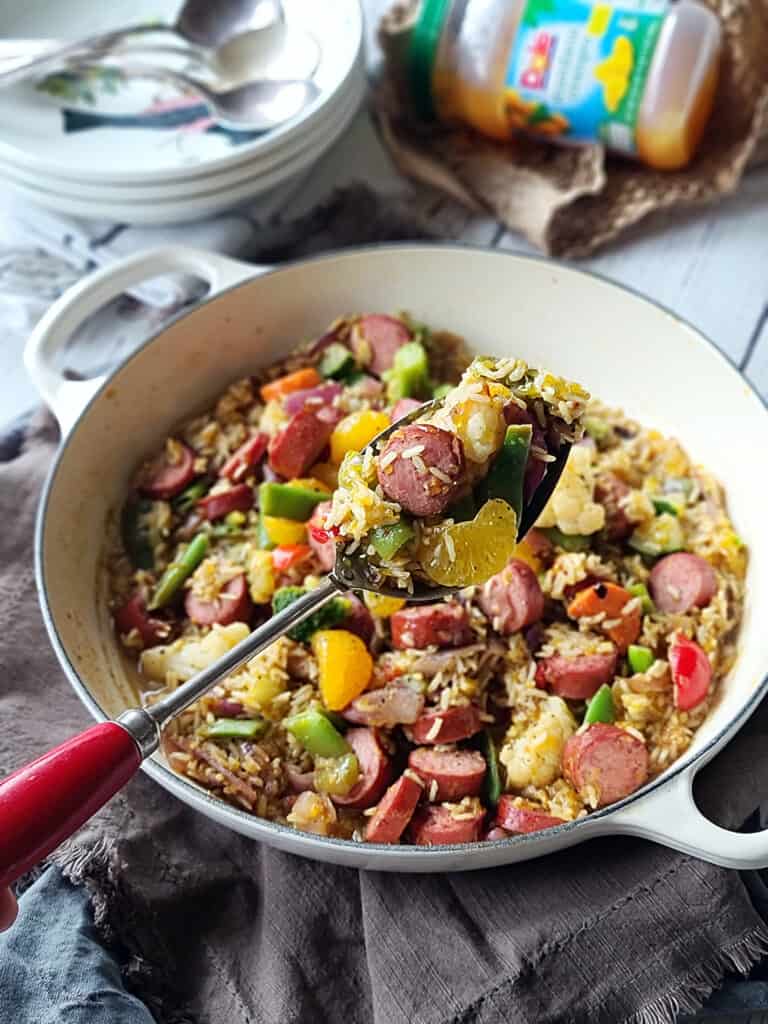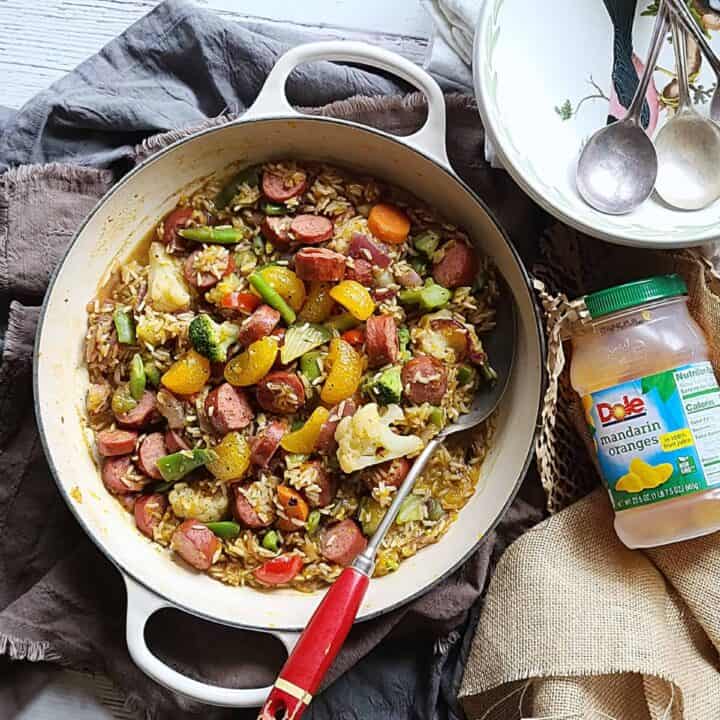 easy mandarin jambalaya
Ingredients
4 Tbl. oil, coconut or olive oil
1 onion, thin slices, quarter moon shape, or dice
13 oz. package turkey kielbasa, andouille, smoked, your choice
1 Tbl. no salt spice mixture
1 can (14.5 oz.) Dole Sunshine Mandarin oranges, drain off one-half cup juice, set aside
1 cup (uncooked) brown rice, follow package directions for cooking using microwave or stove top
1 (10 oz.) bag frozen mixed vegetables
Instructions
Prepare the rice per package directions.


In a large skillet over medium high heat, put the oil and add the onions. Sauté for about 3 minutes. Push the onions to one side of the skillet.


Add the kielbasa pieces and brown for a few minutes on both sides. Mix onions and kielbasa and add the spice mixture and reserved mandarin juice to deglaze the skillet.


Turn heat to medium, add remaining mandarin oranges/juice. Blend. Cover and cook 15 minutes.


Add the rice and veggies, blend, turn heat to low and let the mixture cook another about 20 minutes stirring occasionally.


Salt and pepper to taste. Serve immediately.