italian sausage and sauerkraut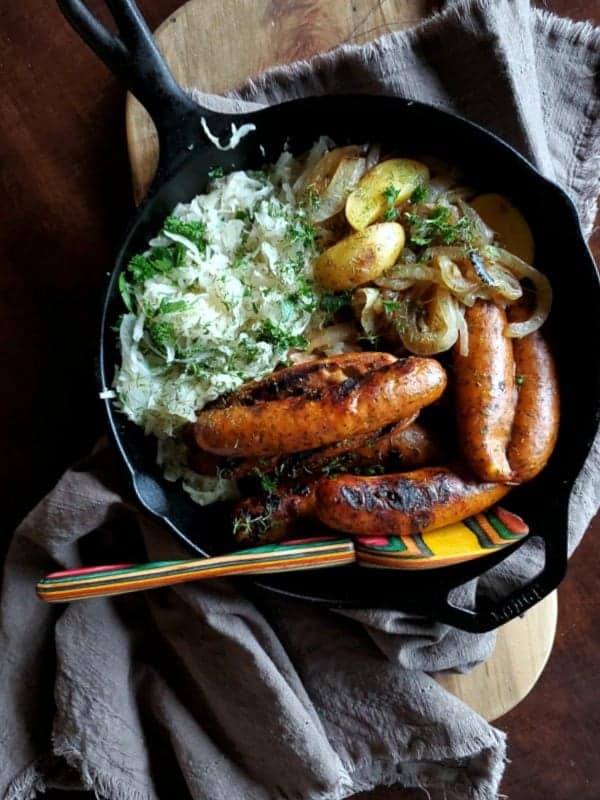 Sauerkraut and Sausage
I suppose it's the inspiration of the Fall season that sparked this lunch of sauerkraut and sausage. Or maybe it's the two Octoberfest celebrations we've been to in September where the smells of the sausage, brats and more were just intoxicatingly mesmerizing. And, yes, we forked over $5-7 bucks for just one big grilled slammin' good brat with sauerkraut and worth every penny of it!
Using pre-packaged (refrigerated) sauerkraut that's well done, like Boar's Head, makes this recipe so simple. Just add a few spices and herbs to it, and you've got something that lip smackin', mouth watering, tart tingly boholicious. No need to get fancy or extravagant. Some good mustard, a grilled sausage or brat, and you're in business. Actually, I could have used some good ol' fried taters as a side!
Easy Weeknight Dinners for Two
In today's crazy busy world, we're always want our cake and eat it, too. We want nutritious eats but we want the preparation to be easy. And, if you're cooking for just two, it can become even more of a challenge. That's why this Italian sausage and sauerkraut is one of the best easy weeknight dinners for two that you can make.
Healthy Filling Dinners
What makes this meal so filling and healthy is that is good protein with the sauerkraut which is full of nutrition. Don't get the heat too high when you're adding in your sauerkraut. High heat will kill off the good probiotics that are naturally in the saurerkraut. According to Living Goodness, "Although heat does kill the good bacteria living in your sauerkraut, it only happens at 46°C (115°F). So if you're cooking at a very, very low temperature, you should still retain a large amount of these probiotics."
And, if you can find refrigerated saurerkraut, then go for that versus canned. There are lots of options out there. Here are just a few.
Quick Ideas for Dinner
So, if you're looking for some quick ideas for dinner, look no further. You'll be chowing down on this Italian sausage and sauerkraut at no time at all. Make it for a quick lunch or a delectable dinner. You won't be disappointed nor will be walk away hungry! In fact, double the recipe and help yourself to seconds.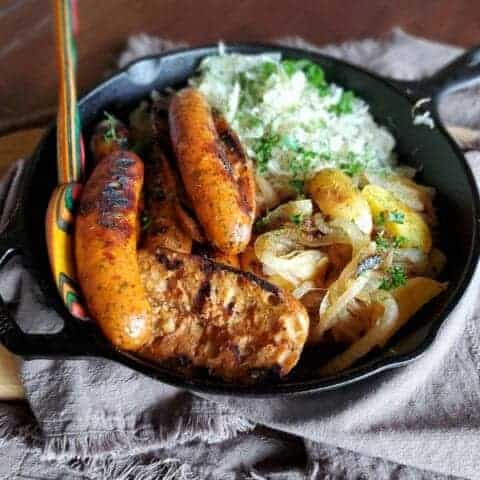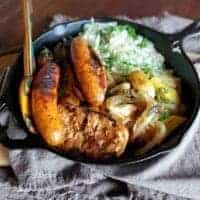 italian sausage & sauerkraut
Yield: About 2 hungry folks!
Ingredients
Cooking Spray
4-5 large italian sausages, kielbasa or bratwurst
1 (16 oz.) package refrigerated pre-made saurerkraut (I used Boar's Head brand.)
1/2 tsp. dried dill (or 1 tsp. fresh chopped dill)
1/2 tsp. celery seeds
1/4 tsp. sea salt
2 Tbl. stone ground mustard + more for garnish drizzle on meat
1/3 cup chopped fresh flat parsley, optional to add fresh thyme and chives
Instructions
Coat your cast iron skillet with cooking spray. Turn the heat to medium high. Coat both sides of the meat with cooking spray. For larger sausages, you may choose to slice through the middle and butterfly.
Put in the hot skillet and pan sear on each side about 3 minutes to a golden brown. Turn heat to medium low, cover with a lid, and cook another 5-7 minutes until done.
Scoot meat to one side and add the sauerkraut (juice also). Turn heat to medium high. Add the dill, celery seeds, salt, and mustard, fresh herbs and blend into the juice/kraut. Cook and toss with tongs for about 5 minutes.
Turn heat to simmer. Cover with a lid and let the goodness steep for about 10 minutes. Ready to serve!
Drizzle more mustard on your meat and dig in. Yummmers!
Notes
There are options for adding potatoes, onions and other vegetables in your skillet with your sausage and sauerkraut. With potatoes and onions, put them in the skillet first and cook on medium to medium low until tender. Then remove to a plate. Continue with the recipe starting with preparing the sausage. Then add the potatoes/onions back into the skillet before serving.

Using small Dutch Yukon potatoes, skin on, works well. Slice into smaller wedges or pieces.