turkish lamb asiago meatballs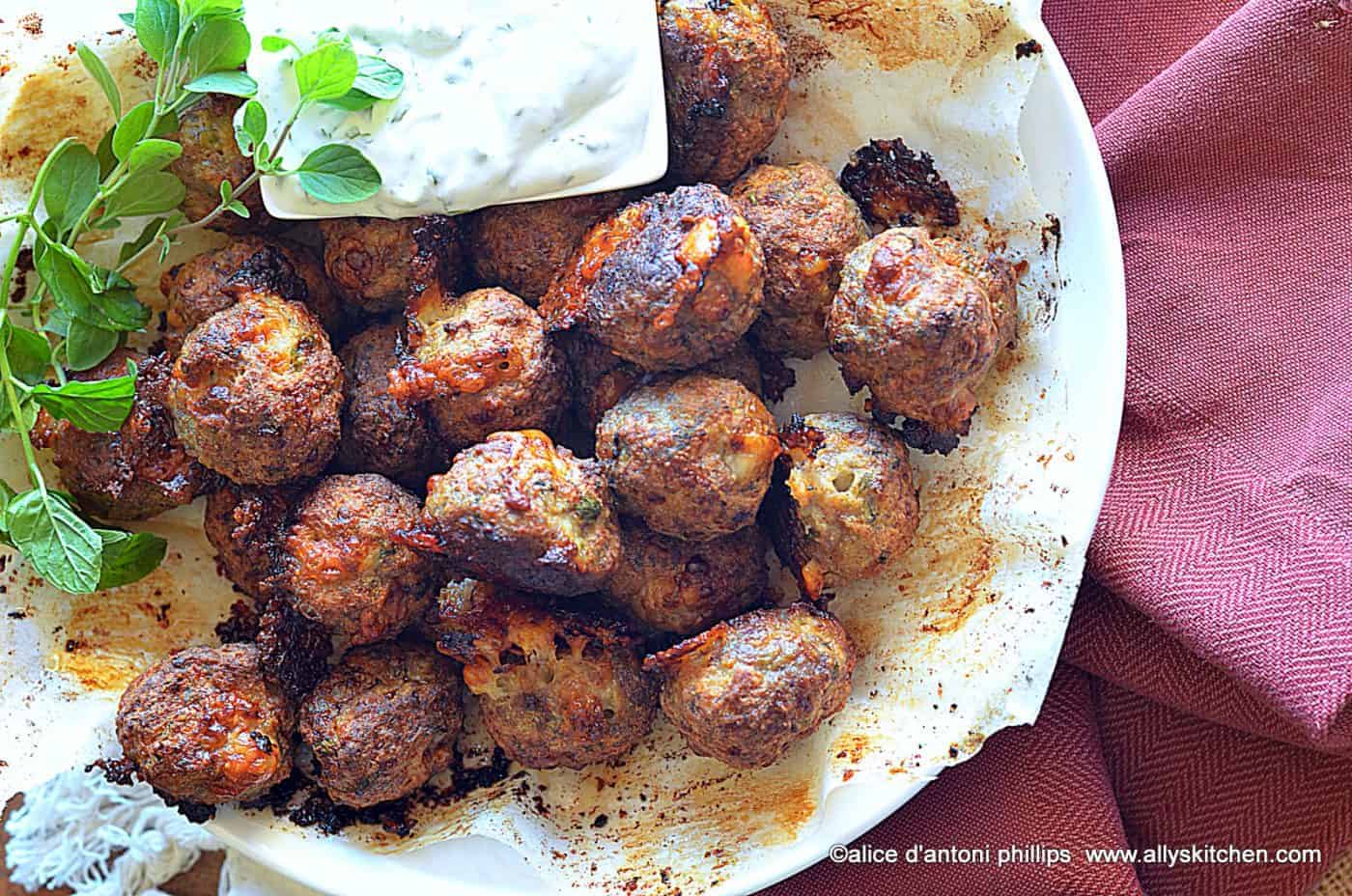 Asiago lamb meatballs will be perfect as an appetizer or for dinner! So simple to make, you'll bite into glorious global flavors and creamy asiago cheese!
Greek Meatballs
Lamb meatballs or Greek meatballs are a welcome variation of the traditional Italian meatball. Spiced lamb meatballs that will give you options the next time you make meatballs!
Spiced Lamb Meatballs
All the finest ingredients in these spiced lamb meatballs. Mint, oregano, parsley, rosemary, cumin and more. Then you're going to have the creaminess of Greek yogurt and bites of warm asiago cheese.
Turkish Lamb Meatballs
In Turkish cuisine, the word meatballs is 'kofte' and these are shaped into balls with typically ground beef. Pulled together with spices, these lamb meatballs can be cooked on the grill, in the oven or on the stove.
These are Turkish inspired lamb meatballs that you'll eat like gum balls! I call them luscious luvs with bursts of asiago cheese in them that's an unexpected surprise. Then there's a full canvas of fresh herbs that work together collaboratively to create interesting new triggers of happiness on your palate. Then there's the slight charring and crispies around the meatballs from the melting cheese that just bring joy to your chew!
Giada Meatballs
While the famous Giada meatballs of Food Network are great, Ally has quite an inventory of delicious meatballs!
Ground Chicken Chorizo Meatballs
Famous Meatball Recipe
I can assure you that in my house I make a famous meatball recipe. And, a lot of different kinds of meatballs. So, check out these for more ideas!
Country Style Meatballs with Gravy
Mediterranean Meatballs with Red Gravy
Ground Chicken Chorizo Italian Meatballs
Meatballs as Appetizers
The great thing about this recipe is that you have the power. Yes, you can change the size of the meatballs. And, if you want them large, dinner size, go for it. And, if you want them to be more bite size for appetizers, then it's all up to you and how you roll 'em! And, another option. You can omit the potatoes. If you're making these Mexican meatballs or albondigas as appetizers, then you might want to swap out potatoes and just serve them with tortilla chips.
Store Bought Tzatziki
Make sure you create your favorite dipping sauce for the meatballs. I love a lemon herb labneh sauce or maybe a tzatziki, even if it's store bought tzatziki! However, I have recipes for both of these great sauces in my cookbook. You'll not go wrong with a marinara dipping sauce either! These meatballs will be fabulous for a sandwich, too.
Isn't it great to have this kind of power! And, it happens in the kitchen with each and every recipe you make!
Go ahead get your boho brain working and make some magic! xoxo ~ally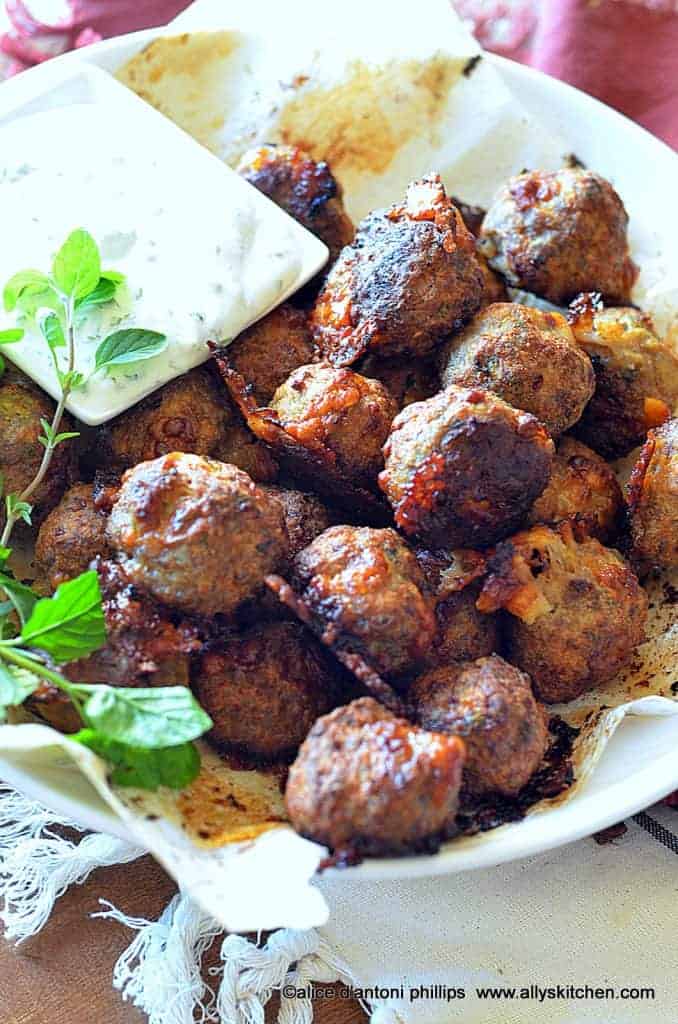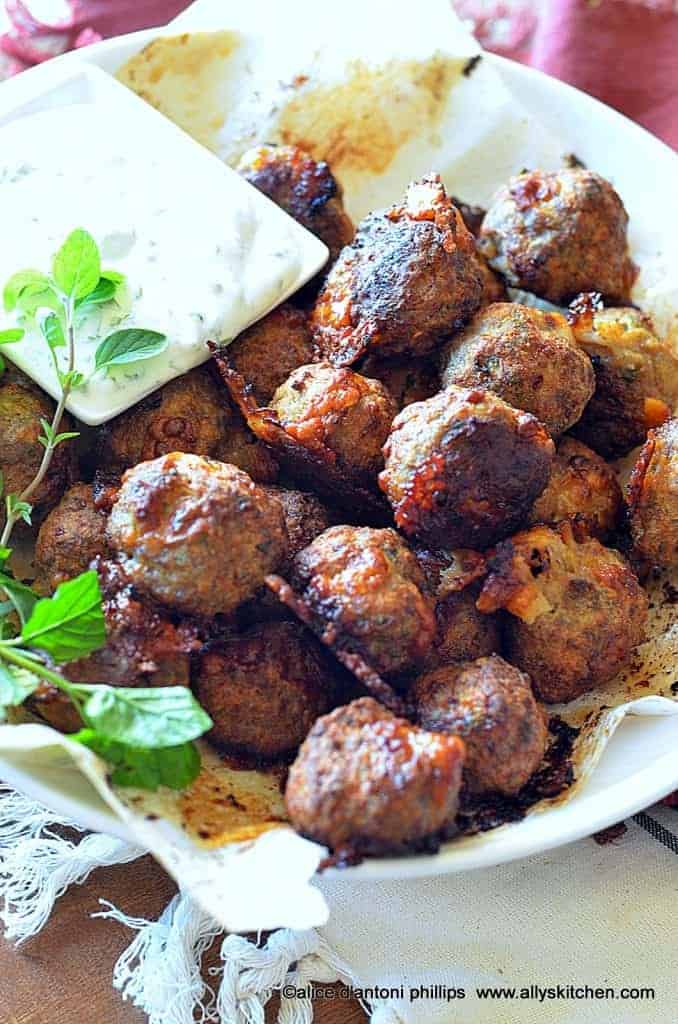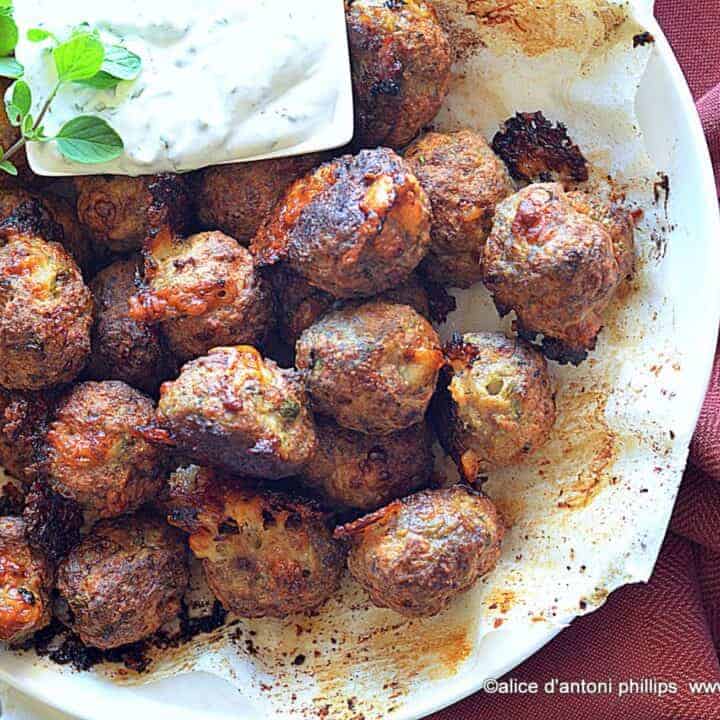 turkish lamb asiago meatballs
Yield: Makes: About 18 meatballs

Asiago lamb meatballs will be perfect as an appetizer or for dinner! So simple to make, you'll bite into glorious global flavors and creamy asiago cheese!
Ingredients
Preheat oven to 400
1 lb. ground lamb
1/2 cup asiago cheese, diced
1 Tbl. fresh mint, finely chopped
1 Tbl. fresh oregano, finely chopped
1 Tbl. fresh parsley, finely chopped
1 Tbl. fresh rosemary, finely chopped
1/2 tsp. sea salt
1/2 tsp. red chili flakes
1 tsp. paprika
1 tsp. ground cumin
1 tsp garlic granuales
3 Tbl. oil (coconut or canola)
1/2 cup Greek yogurt, plain
2 eggs, beaten
3/4 cup Italian bread crumbs (or you can use one cup of whole oats pulsed in a food processor into a fine mixture)
Instructions
Put the ground lamb and asiago in a mixing bowl, In another small bowl mix together the mint, oregano, parsley, rosemary, salt, chili flakes, paprika, and cumin. Sprinkle on the lamb/cheese, add the oil and work into the meat with your hands.

Add the yogurt and eggs and blend into the mixture. Add the oats and mix well. Form into equal size meatballs~~the size is your choice. I like mine about golf ball size. Bake in a preheated 400 oven about 25-30 minutes. Remove and let cool.