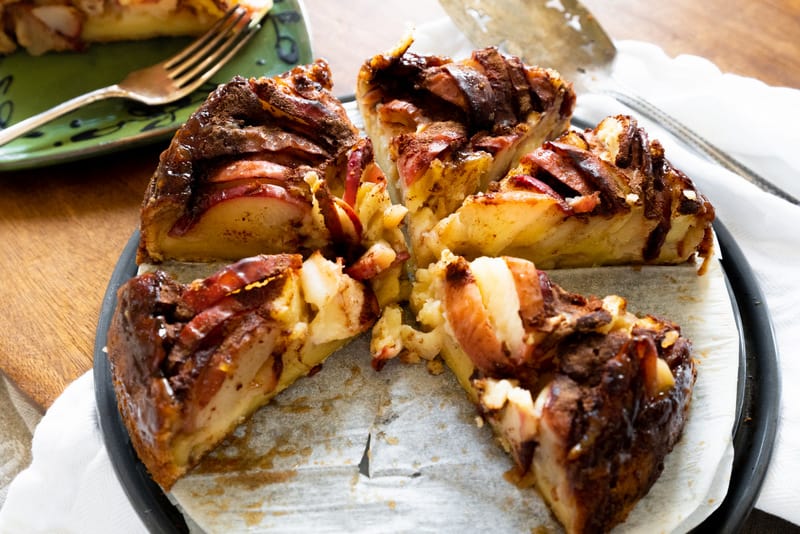 Maple syrup apple cake is moist dense and full lof sweet natural apple flavor! So simple and easy to make. Have a slice with morning coffee!
Apple Cinnamon Cake
Nothing better than slicing into a moist appleeeee apple cinnamon cake! And, this recipe will not disappoint!
Best Apple Cake Recipe
I've made several apple cakes, lots of apple pies, and, in general, apple desserts. Here are a few below. But, this conceivably is my best apple cake recipe.
Applesauce Cranberry Walnut Bread
Applesauce Currant Walnut Bread
Moist Apple Cake Recipe
You can probably see from my pictures that this is one exceptionally moist cake! All the apples on top just ooze the juice into the batter as it bakes.
Apple Cake Recipe from Scratch
Making this apple cake from scratch isn't difficult at all. The batter is made a tad bit differently, but it's really hard to mess it up. So, hopefully you'll given it a try.
Apple Maple Spice Cake
There's a healthy dose of cinnamon mixed with the maple syrup, and that also just oozes into the apples and the batter. I love maple syrup for cooking. Here are a couple of other recipes that showcase maple syrup!
Maple Syrup Fried Apples & Dates
Apple and Maple Syrup Cake
Apples and maple syrup just go together. And, baking together in the cake joins luscious flavors. I'd strong recommend you use organic real maple syrup in this recipe rather than imitation. You want to enjoy the realness of the flavors. And, if you want to cut back somewhat on the amount of maple syrup you drizzle on top, then you can.
Apple and Maple Syrup Cake Recipe
Honestly, eating a slice of this apple and maple syrup cake is almost like eating big ol' thick pancake with apples and syrup. I'm tempted to oven fry some bacon to go with it and have for breakfast!. Have you tried my oven fried bacon? To die for! No mess and sooooooooooooo good every time!
Maple Syrup Apple Cake
Because this cake is so darn moist and dense, it's going to stay fresh for a couple of days. Refrigerate if you prefer. Or put it in a cool area and it should be find for a day or two. Haven't tried to freezer it because, well, darn it, it's all gone in no time at all. Bon appetit!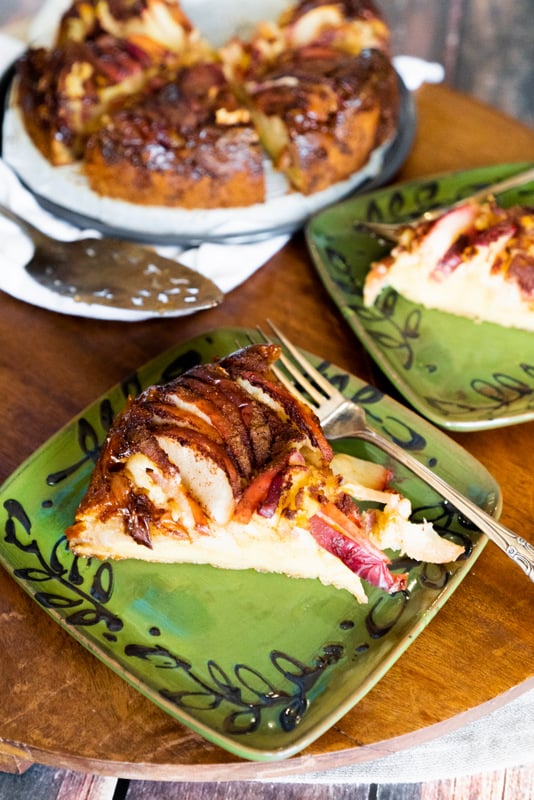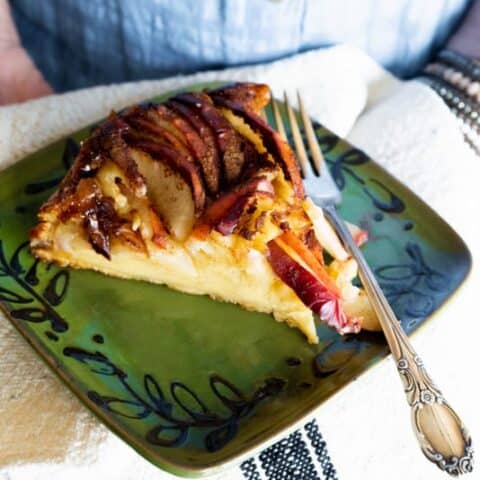 maple syrup apple cake
Yield:
One Springform Pan 9"
Ingredients
Preheat oven to 400
3 large crispy apples, skin on, sliced in halves, then quarters, then thin slices
1 lemon, juice only
4 Tbl. butter, unsalted, cut into four pieces
¼ cup water
½ cup whole milk
3 Tbl. sugar, divided
1 ¼ cups flour, all purpose
¼ tsp. salt
1 Tbl. baking powder
4 eggs
2 tsp. cinnamon
½ cup maple syrup
Instructions
Preheat oven to 400. Prepare the springform pan with parchment paper on the bottom and slightly up the sides of the pan. Lightly coat the sides with cooking spray.
Put the apple slices in the lemon juice and toss and blend well. Set aside.
Put the butter, water, milk and two tablespoons of sugar in a medium saucepan over medium heat. Melt the butter and blend well. Mix together the flour, remaining sugar, salt and baking powder. Add to the butter/milk mixture and blend well into a mixture.
Remove pan from heat. Let it cool somewhat. Add the eggs, one at a time, and incorporate well into the dough. Put the thick batter in the prepared springform pan.
Mix the cinnamon and maple syrup together well. (I use a glass measuring cup to mix in.) Put the apples on top the dough making a circle of slices and filling into the center. Drizzle on the cinnamon/syrup.
Put the pan on a cookie sheet. Bake in a preheated 400 oven about 55 to 60 minutes. Use a thin wooden skewer to test the centermost part for doneness. If the skewer comes basically clean, it's done.
Remove from oven to a cooling rack. Immediately take a butter knife around the inside to help with sugar sticking. Unlatch and gently loosen the springform pan, but do not take completely off the cake. Run the butter knife around again.
Let the cake cool completely. Dislodge from pan, remove then slice and serve.
Notes
The maple syrup/cinnamon topping will ooze into/around the cake as it bakes. Be sure to bring the parchment paper up the sides slightly, maybe an couple of inches for those 'just in case' baking moments!
If you want the syrup/cinnamon to ooze more into the batter, gently make holes in/around the apple slices. Use the end of a wooden spoon. Some of the syrup mixture should ooze into the batter.
Cake will rise as it bakes. Once removed from the oven, it will 'deflate' somewhat. No problem. That's the way it should be.

If the cake is 'stuck' to the pan because of the sugar baking and caramelization, carefully and intently pull apart to release the outer pan from the cake.