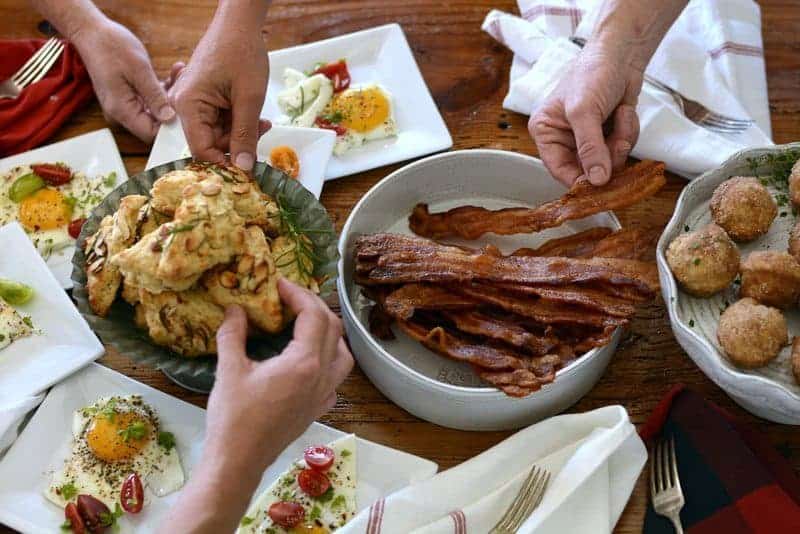 Bacon
Perfect fried bacon just got easier! Yes, your oven is going to do all the work for this crispy delicious bacon! Perfect way to 'fry' bacon for a crowd!
Who doesn't love bacon! Cooked bacon is something that mysteriously disappears in my kitchen before I can even get it on the table. And, frying bacon in a cast iron skillet is what I did for decades. Well, that was before I learned to cook bacon in the oven!
Bacon in the Oven
Bacon in the oven is a convenient and mess-free way to 'fry' bacon. While it's cooking, you're free to do so many other things, unlike having to watch, turn, and fry bacon the old-fashioned way on the stove top. While it's got these definite positives, I must say that sometimes I pull out my cast iron skillet and fry my bacon on a blaze. For me, it's a way of conjuring up so many beautiful and rich childhood memories.
Oven-Fried Bacon
Oven-fried bacon is pretty simple. My steps are:
Use a cookie sheet.
Line it with parchment paper.
Use a cooling rack (optional) to put the bacon on or place the bacon strips directly on the parchment paper.
Be sure to leave about one-half inch between bacon slices.
Place in oven. Turn heat to 375.
Typically, by the time the oven preheats to 375, the bacon is pretty much done. Cook it to your liking. Really crispy requires a little more time.
Use tongs to remove the bacon slices.
Drain the bacon drippings into a heat-proof small jar, like a canning jar, and refrigerate. Bacon drippings are a wonderful good fat with which to cook.
Bacon in Cold Oven
Bacon in a cold oven works! I use a cold oven because it lets the bacon slowly shrivel and cook more evenly. Rather than putting on a draining rack while cooking, I simple put the bacon strips on parchment paper. The bacon drippings begin to sizzle as the heat rises in the oven and the bacon slowly 'fries' in the drippings. Once it's done, I remove the bacon to paper towels to let it drain, much the same as I would if I were frying in a skillet.
For me, and I hope for you, this is a pretty fail safe way to make bacon without a lot of muss and fuss. Depending upon the number of slices you'll be 'frying' will determine the size of your cookie sheet and the number of cookie sheets you'll be using. I always use thick cut bacon with this technique. I'm sure you can use regular cut, but you'll just need to adjust the time it's cooked.
How to Cook the Perfect Bacon
No popping. No splattering. No mess. Just a little clean up. I'm talking about the perfect 'fried' bacon. Yes, I'm talking perfect fried bacon. It's important to get the best brand of bacon that you can afford. Interestingly, The Huffington Post lists the best and worst. Consumer Reports highlights their picks. And, Cook's Illustrated dishes on what they found with bacon brands. So, take a look. Of course, everything's relative and based upon your experience with bacon, so stick with what works for you.
Trust me, when you take this bacon out of the oven, it's gonna be gobbled up! Plus, you have all the great aromas wafting through the house that becomes your wake up call for good eats!
xoxo ~ally
PS…Let me repeat, don't discard those drippings. Put in a glass jar with a lid. Hey, this is precious 'gold' for food seasoning!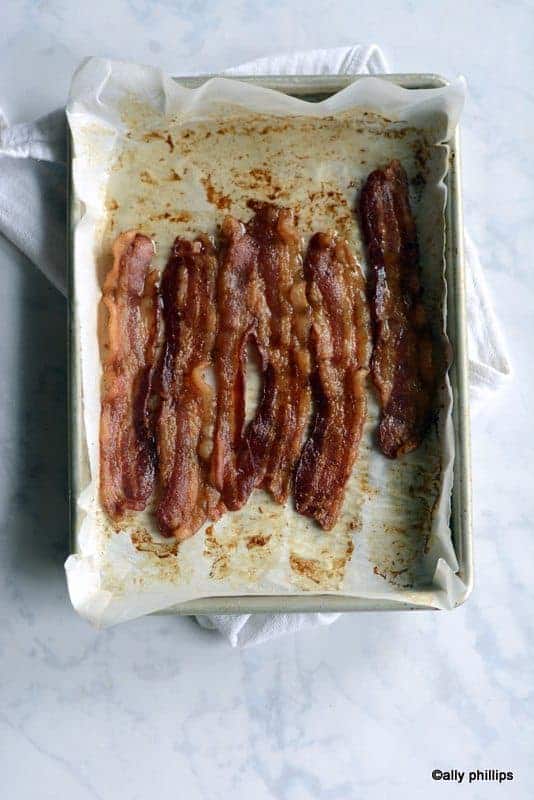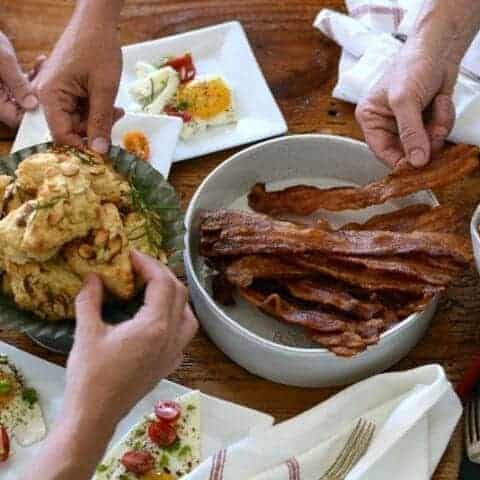 perfect fried bacon
Perfect fried bacon just got easier! Yes, your oven is going to do all the work for this crispy delicious bacon! Perfect way to 'fry' bacon for a crowd!
Ingredients
Cold oven set at 375
6 slices thick cut hardwood smoked bacon
Instructions
Lay the bacon strips on a parchment paper lined cookie sheet. Don't crowd.

Put in a cold oven set for 375 degrees.

Cook about 13-16 minutes or until the bacon is at your desired crisp level.