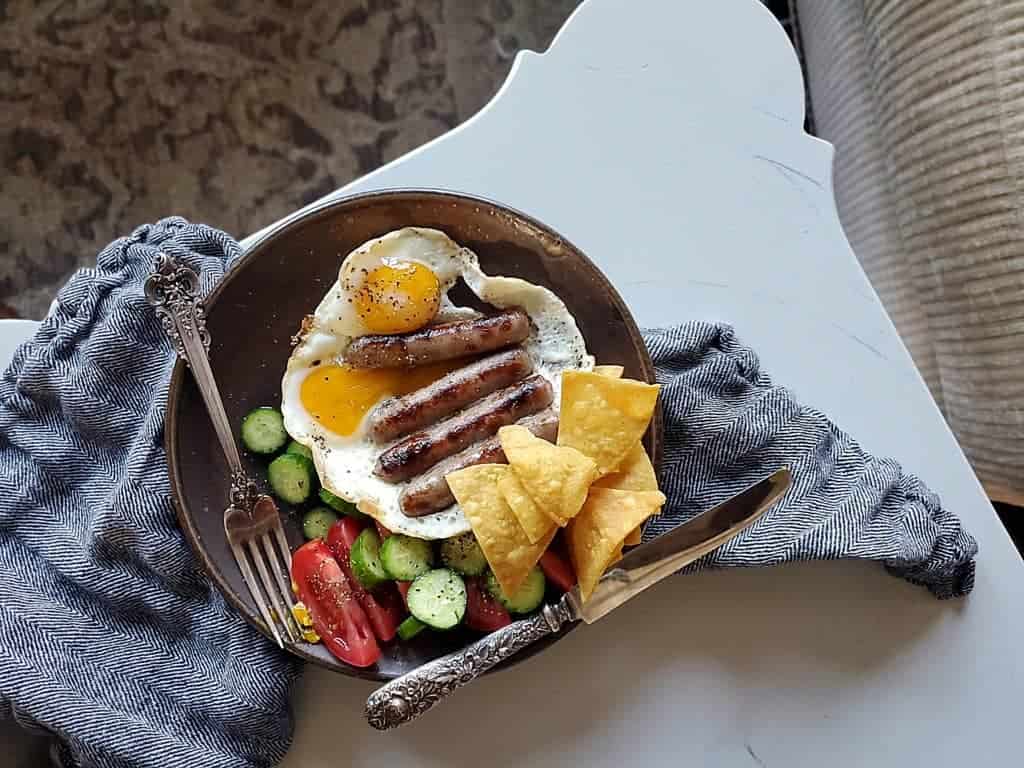 More of a cooking technique than a 'recipe', you'll find the way these sausage links and eggs are cooked together in one skillet make for super easy!
Keto Egg Breakfast Ideas
This 'recipe' for sausage links and eggs is more a way to cook the links and sausage together than a 'recipe' as you might think of the word recipe.
However, if you want an Asian version of soft boiled eggs, then check out my Shoyu Eggs!
Keto Breakfasts
Cooking the links and eggs in the same skillet allows for several benefits. Makes for one of those easy keto breakfasts!
First, less clean up. Yes, only one skillet. Secondly, both the links and eggs come out at the very same time. And, as you can see, the egg whites and take the shape of the small skillet making for one piece.
Breakfast Recipes Low Carb
What you're basically doing is cooking the sausage links about seventy-five percent completely done, then the links continue to finish out cooking as they're nested in the egg whites Lastly, it's kind of cool how the whites disperse in and around the links and then the yolks find their own little nestling place to cook in the skillet.
Quick Low Carb Breakfast
I didn't play around with arranging the links differently. Hey, I think that might be fun to create designs. But, you well know that I'm into food and the way it looks and is served, so I'm the exception with loving unique designs!
And, nothing makes for unique serving than my French Scrambles. Nothing like American scrambles, they're creamy, velvety deliciousness!
Low Carb Breakfast Easy
However, if you're having a special weekend, breakfast in bed, maybe a special occasion, well, this could be an idea for a delightfully beautiful plate! And, you might want to serve them alonside these crispy waffle babies! But, wait that will make it UN keto! And, you can decide if you want to add a tortilla chip or two! xox ~ally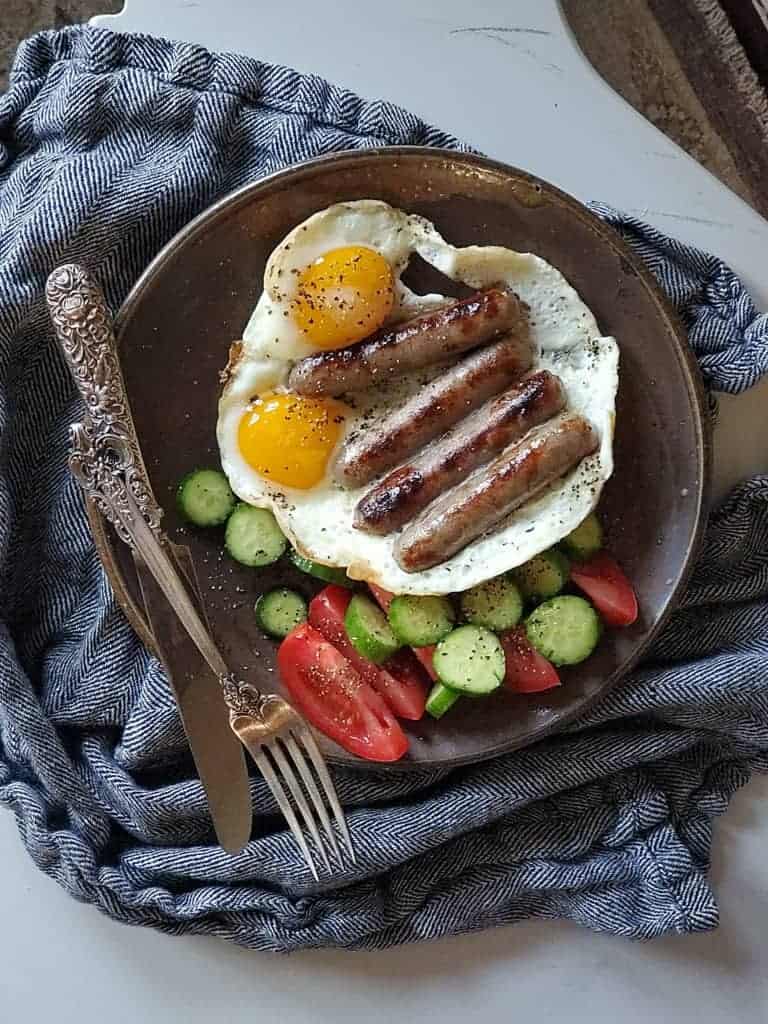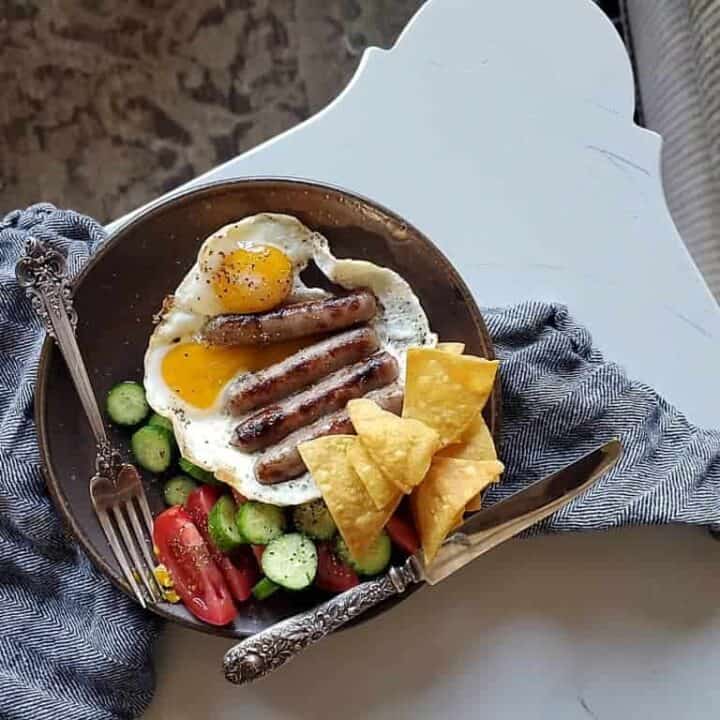 sausage links and eggs
Ingredients
4 sausage links
Cooking spray
1/2 cup cucumbers, sliced
1/2 cup tomatoes, bite size cuts
1/4 cup sweet onions, finely minced, optional
1 Tbl. extra virgin olive oil
2 tsp. fresh lemon juice
Sea Salt & Pepper to taste
Optional: Serve with tortilla chips
https://allyskitchen.com/wp-content/uploads/2020/03/20200307_081746-002.jpg
Instructions
Heat a small skillet (about 7-9"diameter) over medium high heat. When hot, coat lightly with cooking spray and cook the sausage links, rotating and turning, until lightly golden brown all around (several minutes).
Crack the eggs into a small bowl. Pour over the sausage links in the skillet. Reduce heat to medium low and slowly cook the eggs until the yolks are to your liking and the whites are done.
If you want more cooked yolks, place a lid on the skillet while the eggs slowly cook.
When done, remove from the heat.
Mix the cucumbers, tomatoes and onions and blend with the olive oil and lemon juice. Salt and pepper to taste.
Serve the eggs and cuke salad together with tortilla chips (optional).