Cleopatra's Waldorf Salad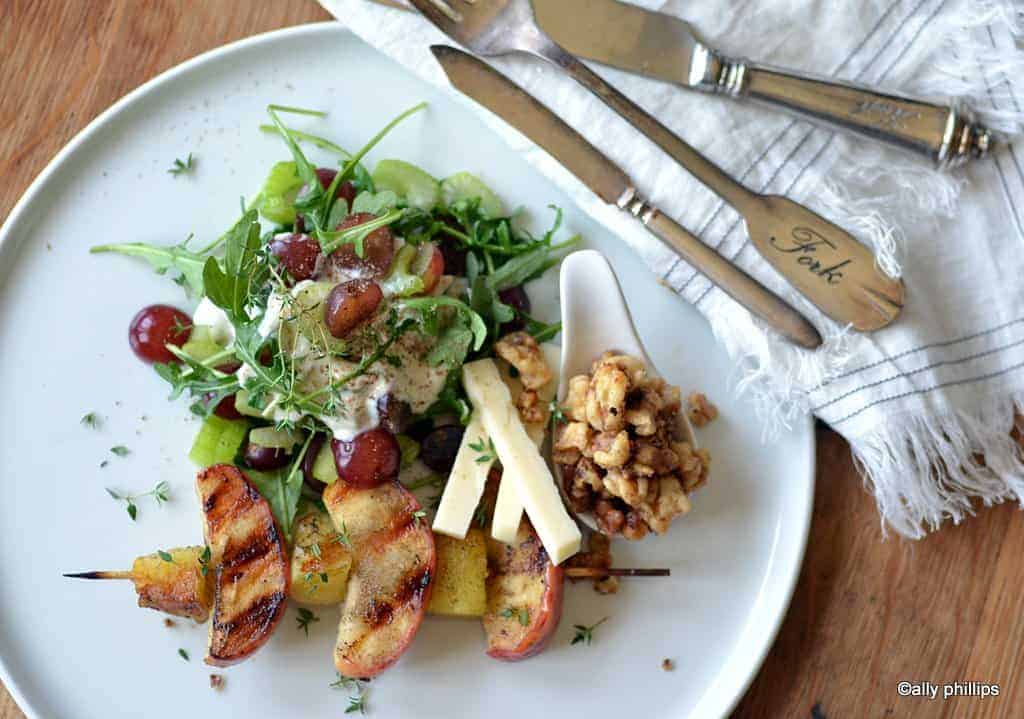 Now why in the world would I call this 'Cleopatra's Waldorf Salad'? Well, a few reasons. Besides being delicious, it's got a story behind it!
Healthy Waldorf Salad
As we know Cleopatra was the exotic goddess pharaoh of the Egypt. After Caesar's assassination, she aligned with Mark Antony and had three children with him.
Waldorf Salad with Apples
It is said that she lured Mark Antony with the burning of cardamom incense. Yes, known as the 'queen of spices' it's used in this chic reinvention of the historic Waldorf salad.
Waldorf Salad Ingredients
Created in the late 19th century not by a chef but by the maître d'hôtel, Oscar Tschirky, of the famous Waldorf Hotel on Park Avenue, it was basically apples, celery and mayonnaise.
About ten years later walnuts were added to the original recipe.
Modern Waldorf Salad
Now this home cook is putting the freshness of Dole Packaged Foods frozen pineapple chunks in it and the juiciness of red seedless grapes.
And, you'll see a more modern version of a Waldorf salad right here!
Waldorf Salad Best Recipe
Cleopatra's Waldorf Salad combines the history of the Nile with the chic and hipness of the 21st century to this quintessential salad.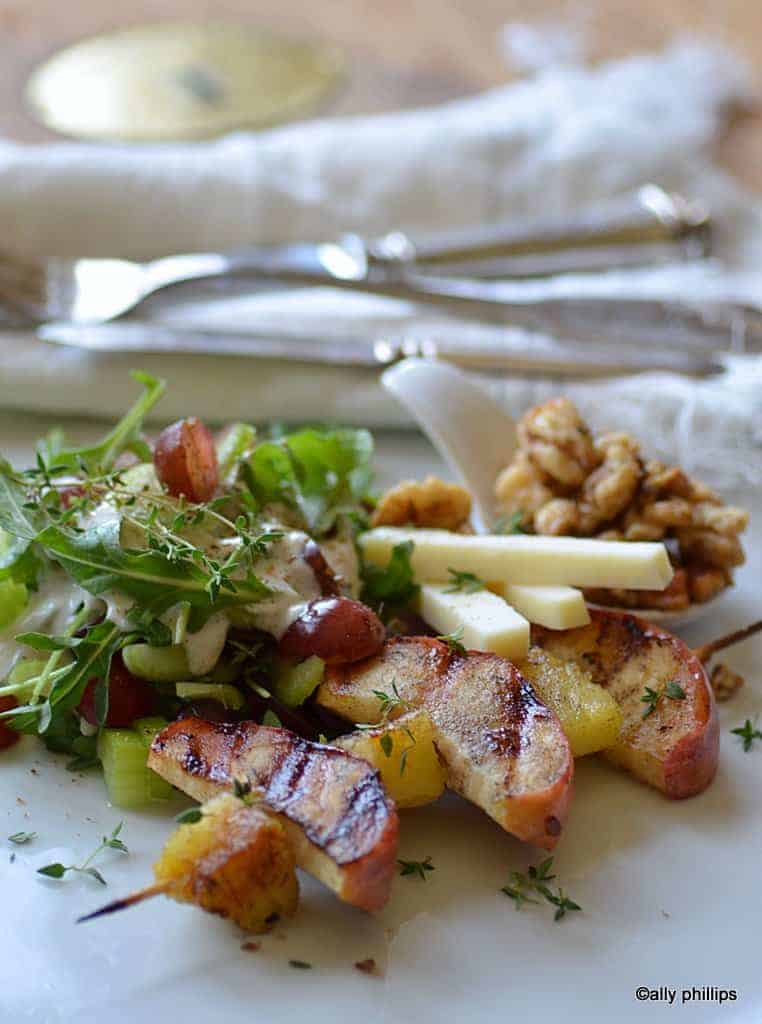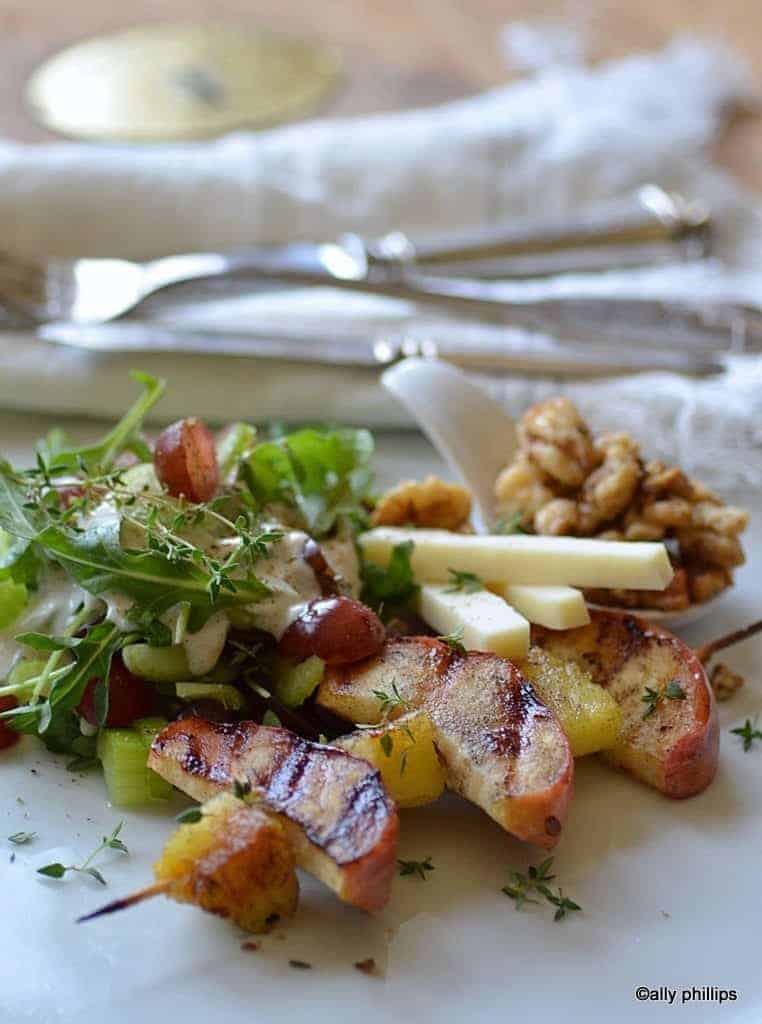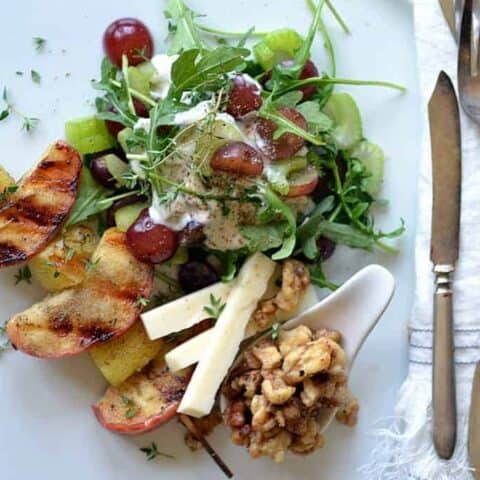 Cleopatra's Waldorf Salad
Ingredients
APPLE PINEAPPLE SKEWERS:
4 6-8" skewer sticks, previously soaked in water
12 crisp apple wedges, peel on
2 Tbl. Lemon juice
12 chunks of pineapple, previously frozen chunks or fresh 
Cooking spray
1 tsp. ground cardamom
3 Tbl. coconut sugar
¾ cup walnuts, roughly chopped
1 Tbl. butter, salted
SALAD:
1 cup celery, thin slices
1 cup red seedless grapes, sliced lengthwise in halves
1/8 tsp. sea salt
1 cup arugula, packed
2 tsp. lemon thyme
Thyme sprigs (garnish)
SAUCE:
½ cup Greek yogurt, plain
2 Tbl. Honey
1 tsp. lemon juice
½ tsp. ground cardamom
Pinch salt
Garnish:
Fresh thyme sprigs
4 oz. asiago cheese, cut in 2" sticks (12 sticks)
Fresh cracked pepper
Instructions
Apple/Pineapple Skewers & Walnuts:
In a medium mixing bowl, toss the apple wedges in the lemon juice. Thread each skewer with three apple wedges and three pineapple chunks starting with the apple, then a pineapple chunk, and so on. Coat both sides with cooking spray.
Combine in a small bowl the cardamom and sugar and blend. Sprinkle half of this mixture on both sides of the apple/pineapple skewers. Heat a non-stick skillet on medium, add the butter. Once it's melted add the nuts and sprinkle with the remaining cardamom/sugar mixture. Toss and cook about 3-4 minutes. Remove from heat and set aside.
Heat a grill to about 450-500 degrees. Put the apple/pineapple skewers on. Cover and cook about 3 minutes. Gently flip using tongs and cook on the other side about 3 minutes. Remove to a cookie sheet until ready to plate and serve.
Sauce: In a medium mixing bowl, combine the yogurt, honey, lemon juice, cardamom and salt and blend.
Plating:
Put a mound of the salad on the dinner size plate, a dollop of the sauce on top and a sprig of fresh thyme. Add a couple of twists of fresh cracked pepper.
Place an apple/pineapple skewer stick on each plate.
Place equal amounts of walnuts on each plate along with three asiago cheese sticks.