I've been making applesauce cake for decades. It's one of my favorite cakes! Why? Well, it's simple. It's got a great texture, nice and dense. It keeps for several days. Of course, covered. I'll put an extra few apple slices in with it for moisture. Learned that from my Mama. It's got lots of nuts. I'm crazy for nuts in cakes. Oh, there're a lot of other reasons, but for now, you get the idea.
Super Simple Cake to Make
While you see a list of ingredients, don't get antsy thinking this recipe is really complicated. It's actually quite simple. Dry ingredients. Wet ingredients. Mix together, Bake. And, that's it! Now, I love the bundt pan for baking, but if you want to bake it in another shape or type of baking dish, go for it. Just adjust the baking time.
This applesauce spice cake is perfect for so many occasions. Whether it's the holidays or just the weekends or even the week mornings for a brekkie, you're gonna find it hits the spot and curbs that gnawing hungries.
Ya know, when I go back and look at my cake recipes, there are some deeelish ones. I even amaze myself because I'm known as the 'rogue baker' which means I don't know what the heck I'm doing. But, for some reason, it comes out pretty darn good! You might want to try this nut cake. Ohhhh, French Vanilla Almond Cake!
One Last Thing
Bundt pans have come a long way! Check out these beauties. Oh, yeah, don't forget a cake stand!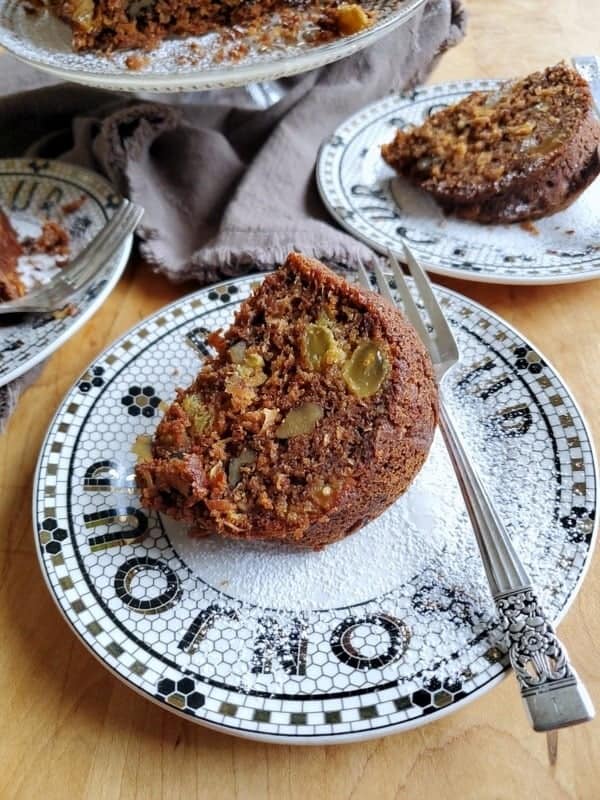 old-fashioned applesauce walnut bundt cake
Ingredients
Preheat oven to 350
2 cups fresh apples, peeled and chopped up well in food processor
2 cups applesauce, unsweetened
1 cup coconut, unsweetened
2 eggs
1/3 cup oil, vegetable
2 ½ cups flour, all-purpose
1 Tbl. baking powder
1 tsp. baking soda
1/8 tsp. salt
1 cup coconut sugar, can use regular sugar
2 tsp. ground cinnamon
2 tsp. ground allspice
¾ cup golden raisins
1 cup walnuts, chopped
Instructions
In a medium mixing bowl, combine the apples, applesauce, coconut eggs and oil. Blend together.
In a large mixing bowl, blend together the flour, baking powder, baking soda, salt, sugar, cinnamon and allspice.
Add the wet ingredients into the dry and blend well. Add the raisins and walnuts and blend into the batter.
Grease a bundt pan well and dust with flour. Put the batter in the pan.
Bake in a preheated 350 oven for 45 to 55 minutes or until a toothpick comes clean from the center.
Remove to a cooling rack. When cool, remove from the bundt pan.
Notes
You can certainly bake this batter in another type baking dish. Adjust the time baked depending upon the baking dish.
This cake keeps well for several days. Cover and keep in a cool area.
The cake also freezes well.
If you want to make a simple powdered sugar/lemon juice drizzle that would add a pop of flavor. You might even want to sprinkle on some chia seeds!
https://allyskitchen.com/old-fashioned-applesauce-spice-cake/
©ally's kitchen intellectual property