Old-Fashioned Applesauce Spice Cake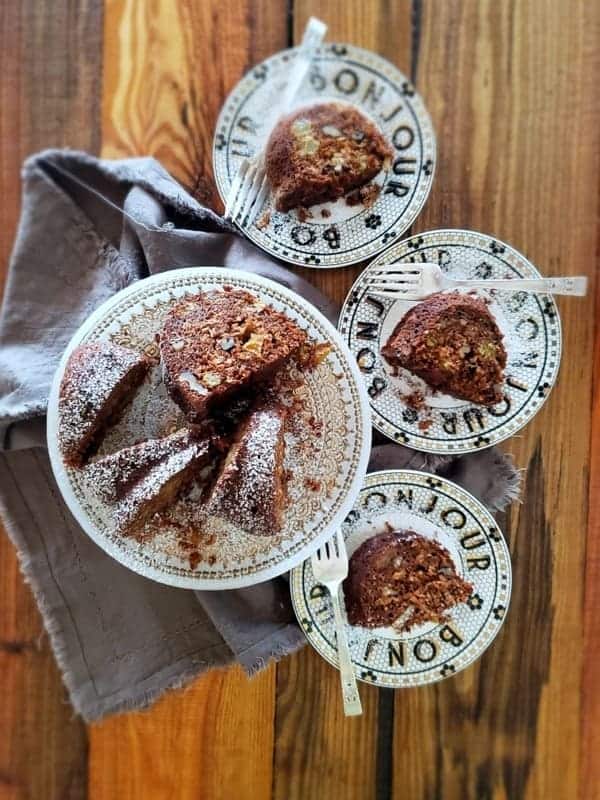 Ya know the great thing about this applesauce sauce cake is that you can make it bundt or not bundt! Your choice. You're the baker!
Old-Fashioned Applesauce Spice Cake
I've been making applesauce cake for decades. It's one of my favorite cakes! Why? Well, it's simple. It's got a great texture, nice and dense. It keeps for several days. I'll put an extra few apple slices in with it for moisture. Learned that from my Mama. It's got lots of nuts. I'm crazy for nuts in cakes. Oh, there're a lot of other reasons, but for now, you get the idea.
Applesauce Cake
This applesauce spice cake is perfect for so many occasions. Whether it's the holidays or just the weekends or even the week mornings for a break, you're gonna find it hits the spot and curbs that gnawing hungries.
Applesauce Walnut Cake
The cake just melts in your mouth; you can eat it only with your lips! Special walnut cakes and creamy apple cream give a wonderful combination, which you can't help but like! This walnut cake is the most useful and nutritious nut that heals the heart, cleanses blood vessels from cholesterol and plaques, nourishes and improves brain function, improves sleep, strengthens bones and relieves joint pain, and is useful for diabetes.
What is Applesauce Cake
An apple pie with protein cream is prepared quite easily, but in the end it turns out to be tender, tasty and airy. Old Fashioned Applesauce Cake is a moist, tender spice cake with applesauce and a hint of cocoa that melts in your mouth. Serve for dessert or breakfast!
Of if you're looking for a killer good muffin made with fresh apples and almonds, then you must check out this one that I created for my 11 month-old grandsons!
Applesauce Bundt Cake
While you see a list of ingredients, don't get antsy thinking this recipe is really complicated. It's actually quite simple. Dry ingredients. Wet ingredients. Mix together, Bake. And, that's it! Now, I love the bundt pan for baking, but if you want to bake it in another shape or type of baking dish, go for it. Just adjust the baking time.
What is a Bundt Cake
Make a bundt cake for the ultimate centrepiece dessert. This bundt cake is simple enough for absolutely anyone to make, classic enough to satisfy everyone's taste buds, but special enough that you'll turn to it time and time again.
How to Remove a Bundt Cake?
Allow your cake to cool for approx. 10 min. in the pan. Turn a cooling rack upside down on top of the pan. Put one hand on the cooling rack and slide with the other hand under the bundt pan. Then, flip it! After that, remove the pan from your cake carefully.
Bundt Cake Recipes
A cake at home is always a holiday, a cozy tea party with family and loved ones, a sacrament that brings people together. And a homemade cake is always a great gift made with love with your own hands. Join us – we will bake cakes together! Bundt pans have come a long way! Check out these beauties. Oh, yeah, don't forget a cake stand! And, here are my favorite recipes that you should try such as:
Apple filled scone cake
Applesauce Coconut Cranberry Walnut Bread
Applesauce currant walnut bread
Pumpkin spice bundt cake
Healthier banana walnut bundt cake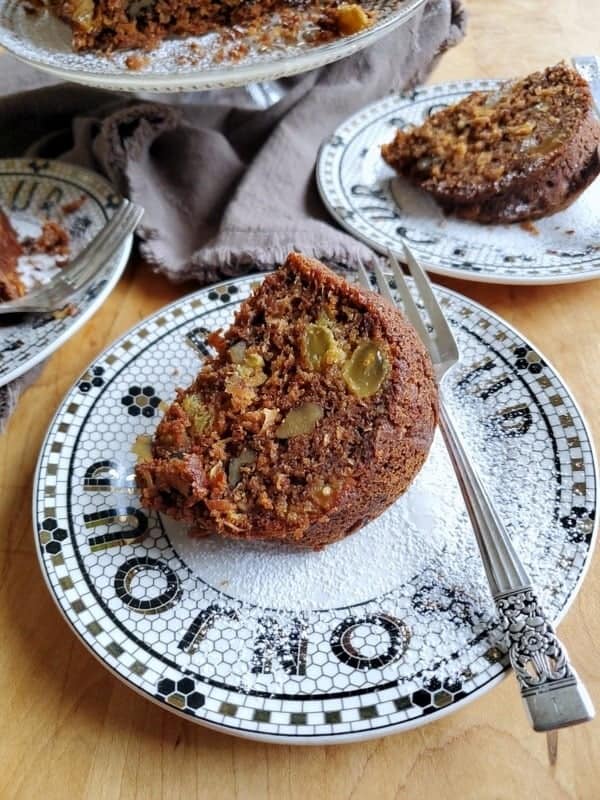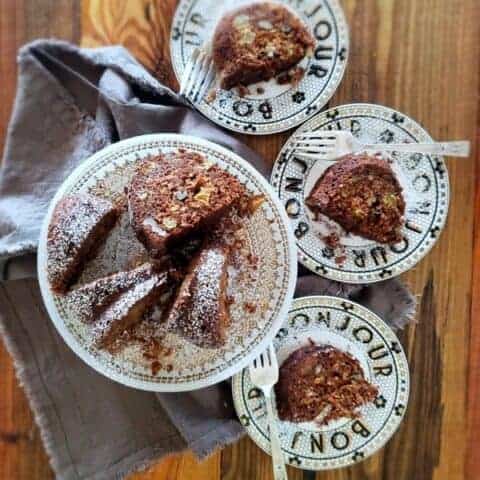 Old-Fashioned Applesauce Walnut Bundt Cake
Yield: One Bundt Cake Pan

Ya know the great thing about this applesauce sauce cake is that you can make it bundt or not bundt! Your choice. You're the baker!Ya know the great thing about this applesauce sauce cake is that you can make it bundt or not bundt! Your choice. You're the baker!
Ingredients
Preheat oven to 350
2 cups fresh apples, peeled and chopped up well in food processor
2 cups applesauce, unsweetened
1 cup coconut, unsweetened
2 eggs
1/3 cup oil
2 ½ cups flour, all-purpose
1 Tbl. baking powder
1 tsp. baking soda
1/8 tsp. salt
1 cup coconut sugar, can use regular sugar
2 tsp. ground cinnamon
2 tsp. ground allspice
¾ cup golden raisins
1 cup walnuts, chopped
Instructions
In a medium mixing bowl, combine the apples, applesauce, coconut eggs and oil. Blend together.

In a large mixing bowl, blend together the flour, baking powder, baking soda, salt, sugar, cinnamon and allspice.

Add the wet ingredients into the dry and blend well. Add the raisins and walnuts and blend into the batter.

Grease a bundt pan well and dust with flour. Put the batter in the pan.

Bake in a preheated 350 oven for 45 to 55 minutes or until a toothpick comes clean from the center.

Remove to a cooling rack. When cool, remove from the bundt pan.
Notes
You can certainly bake this batter in another type baking dish. Adjust the time baked depending upon the baking dish.

This cake keeps well for several days. Cover and keep in a cool area.

The cake also freezes well.

If you want to make a simple powdered sugar/lemon juice drizzle that would add a pop of flavor. You might even want to sprinkle on some chia seeds!